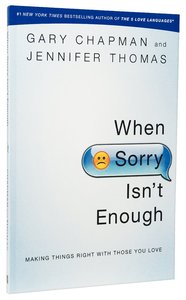 When Sorry Isn't Enough - Making Things Right With Those You Love
$16.99
Paperback
About "When Sorry Isn't Enough - Making Things Right With Those You Love"
When you've hurt someone all you want to do is make things right.
Same thing if you've been wronged.
But sometimes just saying or hearing, "Sorry," isn't enough.
Relationships are fragile. And whether fractured by a major incident or a minor irritation, the ensuing emotions can often feel insurmountable preventing the relationship from moving forward or the offended from moving on. In order to make things right, something more than "sorry" is needed. #1 New York Times bestselling author Gary Chapman and Jennifer Thomas have teamed up to deliver this groundbreaking study of how we give and receive apologies. It's not just a matter of will, but it's a matter of how you say, "I'm sorry" that ultimately makes things right with those you love. This book will help you discover why certain apologies clear the path for emotional healing, reconciliation, and freedom, while others fall desperately short.
- Publisher
Meet the Authors
Gary Chapman
New York Times best-selling author, Dr. Gary Chapman seeks to fulfil his call to the ministry as a pastor, speaker, and author. He speaks extensively throughout the U.S. and internationally on marriage, family, and relationships. The government of Singapore invited him to present his marriage seminar there and the Chaplainfds Office of NATO issued a special invitation for Dr. Chapman to speak to the NATO forces in Germany. Other engagements have taken him to England, Africa, Saudi Arabia, Turkey, Mexico and Hong Kong.

Sales exceeding 5 million copies earned him the Platinum Book Award from the Evangelical Publishers Association for The Five Love Languages, which has been translated into over 36 languages. Almost 30 other books including: The whole Love Languages series; The Five Languages of Apology; Desperate Marriages: Moving Toward Hope and Healing in Your Relationship; Now What? Marriage After Children; Profit Sharing: Making Money An Asset in Your Marriage and Anger: Handling a Powerful Emotion in a Healthy Way, Love is a Verb; God Speaks Your Love Language; The Family You've Always Wanted, plus five DVD series are also among his publications. He also hosts a weekly radio program Building Relationships with Dr. Gary Chapman, which airs on more than 170 stations.

On the home front, Dr. Chapman is Senior Associate Pastor of Calvary Baptist Church in Winston-Salem, North Carolina with over 35 years of pastoring and marriage counselling experience. He and his wife, Karolyn, have two adult children and two grandchildren.

Dr Gary Chapman holds the following educational qualifications:

Southwestern Baptist Theological Seminary
Ph.D., Adult Education
M.R.E., Education Administration

Wake Forest University
M.A., Anthropology

Wheaton College
B.A., Anthropology; Minor: Bible

Moody Bible Institute
Diploma, Pastor's Course

Duke University
Graduate work: History of Education; Educational Psychology

University of North Carolina
Graduate work: Philosophy of Education; Comparative Education
- Publisher.
Jennifer Thomas
Dorota Skrzypek was born in Poland, grew-up in Canada, and moved to Southern California in 1997. After many years of flying airplanes, designing airports, and exploring the world, she decided to focus on writing fiction. Her first book: The Dentist and The Toothfairy is a tale about a dentist whose soul is saved by a toothfairy's undying love. This coffee table book is is a collaborative effort of literature, artwork, and a music soundtrack. Sex, Life, & Hannah is Dorota's juicy woman-on-top book series chronicling the exploits of Hannah, a female professional trying desperately to make sense
Table Of Contents
acknowledgments  / 9
introduction  / 11

1. Why Apologize?  / 17

2. Apology Language #1: Expressing Regret  / 25
    "i Am Sorry."

3. Apology Language #2: Accepting Responsibility  / 37
    "i Was Wrong."

4. Apology Language #3: Making Restitution  / 53
    "what Can I Do To Make It Right?"

5. Apology Language #4: Genuinely Repenting  / 69
    "i'll Try Not To Do That Again."

6. Apology Language #5: Requesting Forgiveness  / 91
    "will You Please Forgive Me?"

7. Discovering Your Primary Apology Language  / 105

8. Apologizing Is A Choice  / 119

9. Learning To Forgive  / 137

10. Learning To Apologize In The Family  / 153

11. Teaching Your Child To Apologize  / 173

12. Apologizing In Dating Relationships  / 193

13. Apologizing In The Workplace  / 205

14. Apologizing To Yourself  / 219

15. What If We All Learned To Apologize Effectively?  / 231

notes  / 235
group Study Guide  / 239
the Apology Language Profile  / 269