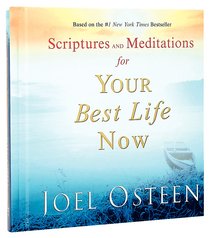 Scriptures & Meditations For Your Best Life Now
$13.99
Hardback
About "Scriptures & Meditations For Your Best Life Now"
"If you're like me, you don't want to live your life with a 'barely-get-by' mentality. You want to crack the ordinary mold and become the best you can be. You want to break the power of the past and the chains of limitations and feelings of inadequacy. You want to learn how to live your best life now and discover the joy, peace, and enthusiasm that God has for you. In this book, you will discover just how to do that! Allow the Scriptures to speak to you. Be still and listen to what God is saying through His words. Explore what it means to enlarge your vision. Learn what God has to say about you and allow Him to rebuild your self-image. Understand the power of your thoughts and words, and begin to let go of the past. Renew your strength despite whatever adversity you face. Learn to live as a person who gives generously without reservations, and choose to be happy."
- Joel Osteen.
- Publisher
A beautifully illustrated collection of some of the most inspiring messages from #1 New York Times bestselling author Joel Osteen's Your Best Life Now. Since the publication of Your Best Life Now, millions of people have been discovering what it means to live happy, successful, fulfilled lives. In his book, Joel Osteen reassured us that living life to our fullest potential is within our reach. His seven step plan taught us how to make the most of our lives by realizing how a healthy self-image and a vision for the future are just some of the keys to unlocking our potential. Now Joel offers a book of Scriptures and meditations based on his seven steps that allow readers to truly focus on the primary themes of Your Best Life Now.
- Publisher
Meet the Author
Joel Osteen
Joel Osteen is a native Texan and the Pastor of Lakewood Church, which according to Church Growth Today is America's largest and fastest growing church. In 2005 Joel had to move Lakewood Church into larger premises - a new 16,000-seat home. It is the largest regularly-used worship centre in the United States. Each week Joel delivers God's message of hope and encouragement to more than 38,000 attendees. According to Nielsen Media Research, Joel is the most watched inspirational figure in America. His weekly sermon is broadcast into every U.S. television market where it is viewed by seven million Americans each week and more than 20 million each month. His weekly broadcast is also seen in almost 100 nations around the world. His first book, Your Best Life Now, was released debuting at the top of the New York Times bestsellers list and quickly rising to #1. It remained on there for more than 2 years and has sold more than 4 million copies. His book Become a Better You, has sold over two million copies, remaining on the New York Times bestseller list for five months.

Joel, the son of John Osteen, a highly respected minister of the Gospel and the founder of Lakewood Church, attended Oral Roberts University in Tulsa, Oklahoma where he studied radio and television communications. In 1982, Joel returned to Houston and founded Lakewood's television ministry where he produced John Osteen's televised sermons for 17 years until January 1999 when his father passed away suddenly from a heart attack.

For many years, John Osteen encouraged Joel to preach, but he always declined preferring to work behind the scenes. But, in early 1999 Joel felt compelled to accept his father's invitation and he preached his first sermon on January 17th of that year. Little did anyone know that would be the last Sunday of John Osteen's life. Two weeks later, Joel began preaching and later that year was installed as the new Senior Pastor of Lakewood Church.

Joel's extraordinary success can be found in his core message: That our God is a good God who desires to bless those who are obedient and faithful to Him through Jesus Christ. It is Joel's deepest desire that his own life be an example of that principle and that everyone who hears this message of hope and encouragement would choose to accept God's goodness and mercy and to become all that God wants them to be.
- Lakewood.cc