Unwrapping The Pharaohs (With Dvd)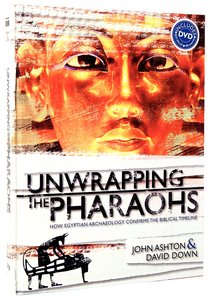 Enjoy a breathtaking journey through the pyramids and temples of Egypt with author and archaeologist David Down. Go deep into ancient tombs, discover the fascinating architecture and history of the pyramids, and experience Egyptian history in a way you never have before. From the ancient to the sacred, you cannot miss the opportunity to delve within the secret rooms of the pharaohs and find an astonishing connection to the biblical timeline!

Adults and children alike have been fascinated with the Egyptian civilization for decades, but most modern archaeologists have lately tried to use Egyptian chronology to dispute the biblical record of Joseph, Moses, and the Exodus. Students from high school to the college level are faced with a challenge to their faith as teachers cite the traditional chronology as fact to discredit the biblical account of Exodus. Those who wish to defend their faith in the accuracy of the Bible now have hope in this exciting new book that provides an accurate and compelling new chronology that confirms the biblical account. 240 pages, from New Leaf Press.


- Publisher
Other Formats
About "Unwrapping The Pharaohs (With Dvd)"
Enjoy a breathtaking journey through the pyramids and temples of Egypt with author and archaeologist David Down. Go deep into ancient tombs, discover the fascinating architecture and history of the pyramids, and experience Egyptian history in a way you never have before. From the ancient to the sacred, you cannot miss the opportunity to delve within the secret rooms of the pharaohs and find an astonishing connection to the biblical timeline!

Adults and children alike have been fascinated with the Egyptian civilization for decades, but most modern archaeologists have lately tried to use Egyptian chronology to dispute the biblical record of Joseph, Moses, and the Exodus. Students from high school to the college level are faced with a challenge to their faith as teachers cite the traditional chronology as fact to discredit the biblical account of Exodus. Those who wish to defend their faith in the accuracy of the Bible now have hope in this exciting new book that provides an accurate and compelling new chronology that confirms the biblical account. 240 pages, from New Leaf Press.

- Publisher

Meet the Authors
John Ashton
John Ashton was formerly University Lecturer in New Testament Studies, and Fellow of Wolfson College, Oxford.ý
David Down
Dr. David Down is an archaeologist who excavates regularly in Israel, working with the Israel Antiquities Authority. He has been involved in excavations at nine different sites. David is editor/publisher of the journal Diggings and the magazine Archaeological Diggings in which there are frequent articles on the pyramids and the revised chronology. He is also the co-author of Unwrapping the Pharoahs and a frequent conference speaker on archeology and Creation Science.
Customer Reviews For "Unwrapping The Pharaohs (With Dvd)"
Write Your Own Review