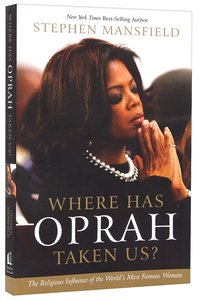 Where Has Oprah Taken Us?
$12.99
Paperback
Other Formats
Other Formats
About "Where Has Oprah Taken Us?"
An evocative exploration of Oprah Winfrey's religious beliefs, from her rejection of her Baptist upbringing to her controversial rise as "an icon of church-free spirituality."
Born into poverty in Mississippi in 1954 and rising through talent, hard work and despite tragedy - she was raped at the age of nine and lost an infant son at 14 - Oprah Winfrey has become one of the wealthiest, most powerful, and most popular women of her age. These facts alone would make Winfrey worthy of study, yet what makes her of even more profound impact on American society is her decision to champion the cause of "New Age Christianity." She is, as Christianity Today has proclaimed, "a postmodern priestess-an icon of church-free spirituality." Rejecting her Baptist roots, Winfrey has become a champion of the Course in Miracles, a seminar in which Christianity is reinterpreted in terms of self-actualization, personal divinity, and self-empowerment. She has also become a disciple of Eckhart Tolle, the increasingly popular teacher of a form of spirituality that blends Buddhism, Hinduism, Taoism, and Christianity.


- Publisher
Meet the Author
Stephen Mansfield
Stephen Mansfield is the New York Times bestselling author of The Faith of George W. Bush, The Faith of the American Soldier, Never Give In: The Extraordinary Character of Winston Churchill, and ReChurch: Healing Your Way Back to the People of God among other works of history and biography. Founder of The Mansfield Group, a research and communications firm, and Chartwell Literary Group, which creates and manages literary projects, Stephen is also in wide demand as a lecturer and inspirational speaker. He lives in Nashville with his wife, Beverly, a successful producer and songwriter.