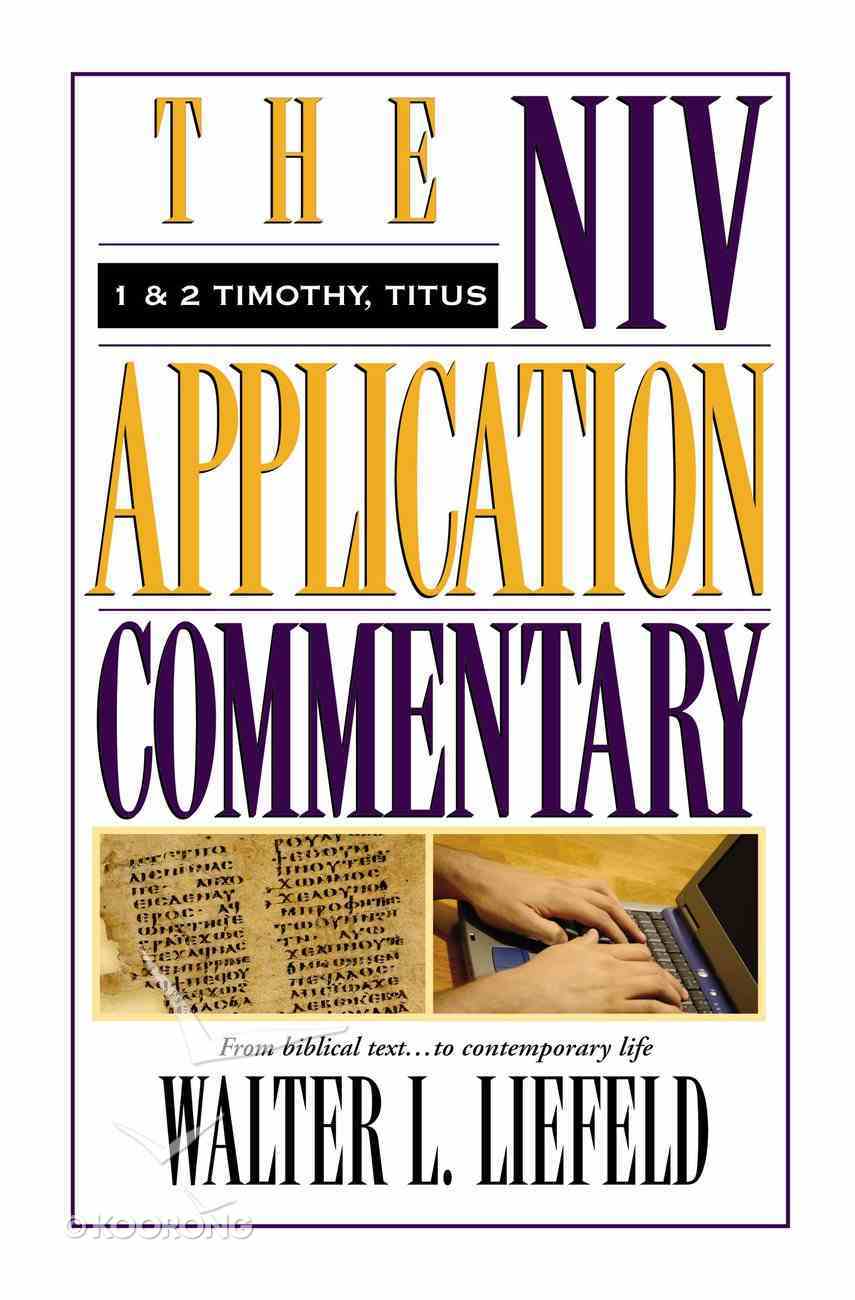 1 & 2 Timothy (Niv Application Commentary Series)
As he established churches, the Apostle Paul dealt with many challenges that were not unlike those facing pastors today. This down-to-earth yet incisive commentary reveals how Paul dealt with such matters, including the role of women, ethics, repentance and false...
---
Expected to ship tomorrow from Australia.
---
Free Shipping
for orders over $99.
As he established churches, the Apostle Paul dealt with many challenges that were not unlike those facing pastors today. This down-to-earth yet incisive commentary reveals how Paul dealt with such matters, including the role of women, ethics, repentance and false teaching. In his superb analysis, Liefeld illuminates Paul's original meaning in his pastoral letters, as well as providing invaluable contemporary application. From Zondervan
This volume of the NIV Application Commentary Series, helps readers learn how the message of 1 & 2 Timothy and Titus can have the same powerful impact today that they did when they were first written.
-Publisher
Most Bible commentaries take us on a one-way trip from the twentieth century to the first century. But they leave us there, assuming that we can somehow make the return journey on our own. In other words, they focus on the original meaning of the passage but don't discuss its contemporary application. The information they offer is valuable -- but the job is only half done! The NIV Application Commentary Series helps us with both halves of the interpretive task. This new and unique series shows readers how to bring an ancient message into modern context. It explains not only what the Bible means but also how it can speak powerfully today.
-Publisher
This Item Is In The Following Kit
New Testament Set Complete (20 Volumes) (Niv Application Commentary Series)
PRODUCT DETAIL
Catalogue Code 

86278

Product Code 

0310501105

EAN 

9780310501107

UPC 

025986501105

Pages 

384

Department Academic
Category New Testament Commentaries
Sub-Category 1 Timothy
Publisher Zondervan
Publication Date 

Aug 1999

Sales Rank 

33814

Dimensions 

241 x 162 x 31

mm

Weight 

0.680

kg
Walter L. Liefeld (Ph.D., Columbia University) is distinguished professor emeritus of New Testament at Trinity Evangelical Divinity School in Deerfield, Illinois. He has also served as pastor of Christ Church in Lake Forest, Illinois. Among his several books are New Testament Exposition; Interpreting the Book of Acts and (cowritten with Ruth Tucker) Daughters of the Church. He has written Luke (Expositor's Bible Commentary series); Ephesians (IVP New Testament Commentary series) and 1-2 Timothy, Titus (NIV Application Commentary Series).
Koorong -Editorial Review.
Contents
9 Series Introduction
13 General Editor's Preface
15 Author's Preface
17 Abbreviations
19 Introduction
39 Outline
42 Annotated Bibliography
45 Text And Commentary On 1 Timothy
220 Text And Commentary On 2 Timothy
308 Text And Commentary On Titus
361 Scripture Index
371 Subject Index
PAUL, AN APOSTLE of Christ Jesus by the command of God our Savior and of Christ Jesus our hope, 2To Timothy my true son in the faith: Grace, mercy and peace from God the Father and Christ Jesus our Lord. THE OPENING LINES of letters at the time of the New Testament followed a conventional style, which included the names of both sender and recipient, with some kind words concerning the latter and solicitous wishes for his or her well-being. The Sender and His Authority (1:1a) PAUL'S IDENTIFICATION OF himself as 'an apostle of Christ Jesus' is similar to the way he identifies himself in every other letter except Philippians and 1 and 2 Thessalonians. In Galatians, where he was preparing to make some strong authoritative declarations about what the true gospel is and what it means, he enlarged on the implications of his unique apostleship (Gal. 1:1-- 2). Here, where he is going to address false teaching, he uses the unusual phrase 'by the command of God our Savior.' We know from several passages that Paul understood his being an apostle as a calling (cf. Rom. 1:1) 'by the will of God' (1 Cor. 1:1; 2 Cor. 1:1; Eph. 1:1), but this is the only salutation in a letter where he attributes his ministry to God's 'command.' The strong word used here (epitage) occurs again in 1:5, 18; 4:11; 5:7; 6:13, 17; Titus 1:3; 2:15.2 Distinctive Elements About God and Jesus (1:1b) PAUL CALLS GOD 'our Savior.' We are so used to thinking of Jesus as our Savior that the use of that term to describe God arrests our attention. The phrase 'God our Savior' occurs only five times in the entire Old Testament (1 Chron. 16:35; Ps. 65:5; 68:19; 79:9; 85:4) and only six times in the New Testament, of which five are in the Pastoral Letters (here; 1 Tim 2:3; Titus 1:3; 2:10; 3:4; Jude 25). In Titus 1:3 the phrase occurs in the salutation, as here, where it is also linked with the word 'command.' It is striking to realize that although the word 'salvation' appears fortysix times in the New Testament and the word 'save' 107 times, 'Savior' occurs only twenty-four times. In Paul's letters it occurs only twice outside of the Pastorals (Eph. 5:23; Phil. 3:20), but ten times within them (1 Tim. 1:1; 2:3; 4:10; 2 Tim. 1:10; Titus 1:3, 4; 2:10, 13; 3:4, 6). Almost half of the appearances of this word in the New Testament, therefore, are in the Pastoral Letters. Such words give Paul's opening words to Timothy (and also those to Titus) a weight of authority and majesty. The God who brought about the salvation of Israel time and time again has the authority to command Paul regarding the preservation of the true faith. Paul goes on to describe Christ Jesus as 'our hope.' This phrase does not occur anywhere else, nor does the phrase 'God our hope,' but certainly the idea does. For example, 'May your unfailing love rest upon us, O LORD, even as we put our hope in you' (Ps. 33:22). Three texts in Titus have the word 'hope': 'the hope of eternal life' (1:2; 3:7), and 'the blessed hope---the glorious appearing of our great God and Savior, Jesus Christ' (2:13). Significantly, the words 'God' and 'Savior' reappear in that phrase in connection with Jesus Christ. The Recipient (1:2a) TIMOTHY IS PAUL'S 'true son in the faith.' The word for 'true' (gnesios) is different from the more common one (alethes), which means true as opposed to false. The present word means 'genuine' as opposed to illegitimate or fake. The word could be used of a child born within a legitimate marriage, and the implication in the figurative statement here refers to the quality of Timothy's relationship to Paul. Paul had met this young man in Lystra; Acts 16:1 describes him as a 'disciple,' with a Jewish mother and Gentile father. Second Timothy 1:5 refers to Timothy's 'sincere faith,' which 'first lived' in his grandmother and mother, Lois and Eunice. From his infancy Timothy had known the Scriptures, through which he had come to 'salvation through faith in Christ Jesus' (3:15). This repeated terminology about faith and the identification of his believing mother provides a background for Paul's reference to Timothy as his 'true son in the faith.' Timothy's mother provided the environment of Jewish faith in which he had grown up; Paul provided the nurture of his Christian faith. Since he is called a 'disciple' at the outset of the Acts 16 narrative, he probably had become a Christian before Paul's arrival, possibly through Paul's earlier ministry in Lystra (Acts 14:8--20). Paul also had a part in the conferral of a spiritual endowment on Timothy (1 Tim. 4:14; 2 Tim. 1:6). The other extant Pauline letters are to churches (and, at Philippi, to their leaders), not to individuals. Outside the Pastoral Letters only Philemon, which is clearly personal, is addressed to an individual. This fact gives the impression that the early churches had a plural leadership and that Timothy and Titus are addressed individually only because they have a special mission as 'apostolate delegates' (i.e., sent by the apostle as his authorized representatives). These letters are probably not only for their personal reading but function as public documents attesting the authority bestowed on these two delegates. Kind Wishes (1:2b) IT WAS CUSTOMARY for letters in the first century to convey kind wishes for the continued well-being of the recipients. Paul uses some Christian terms for this purpose, but also uses common terminology with a Christian meaning. Here he expresses these thoughts with the words 'grace, mercy and peace.' Those who spoke Greek would normally greet a friend with the word chaire. The word for 'grace,' charis, has a similar sound. Paul's third greeting, eirene (from which we derive our word irenic), means 'peace.' This word recalls the Hebrew greeting shalom, which connotes wholeness and well-being as well as peace. In addition to these usual two words of greeting in Paul's letters, 1 and 2 Timothy add 'mercy' (cf. also 2 John 3). This word can shade towards the idea of pity or compassion. It recalls the Hebrew h. esed, with its overtones of mercy and kindness to those within God's covenant. The terms grace and mercy imply that those who receive those benefits have a need they cannot fulfill themselves. In most of his letters, Paul indicates, as here, that these beneficial favors come 'from God the Father and Christ Jesus our Lord.' This is not to deny the fact that the Holy Spirit gives gifts, but it simply attributes generosity to God as Father (James 1:17) and adds the name of Christ, who conveys God's grace to us. BRIDGING CONTEXTS IS always important, but because opening greetings seem so familiar, we may not realize that they also require attention. It is helpful to read such a text as these first two verses carefully, as though for the first time. Apostle. Since communication requires shared points of reference, mention of a concept, event, person, or object is meaningless unless the reader or hearer has some knowledge of the subject. If we, for example, received a letter from an unknown person who identified him or herself as 'the Chancellor,' we would need to know the significance of that word in the sender's vocabulary. Is this from the honorary head of some American university, from the prime minister of a foreign country, or perhaps from a British government official? In a similar manner, we cannot simply assume that a contemporary reader of Paul's letters knows what the term apostle means, especially how this word was used in a different culture and a different language nearly two thousand years ago. Even if such a person knew that messengers, such as official envoys, were called apostles in ancient Greek, that person might not know the special use of the term for Jesus' apostles and for a few others, such as Paul.
Bestsellers in New Testament Commentaries