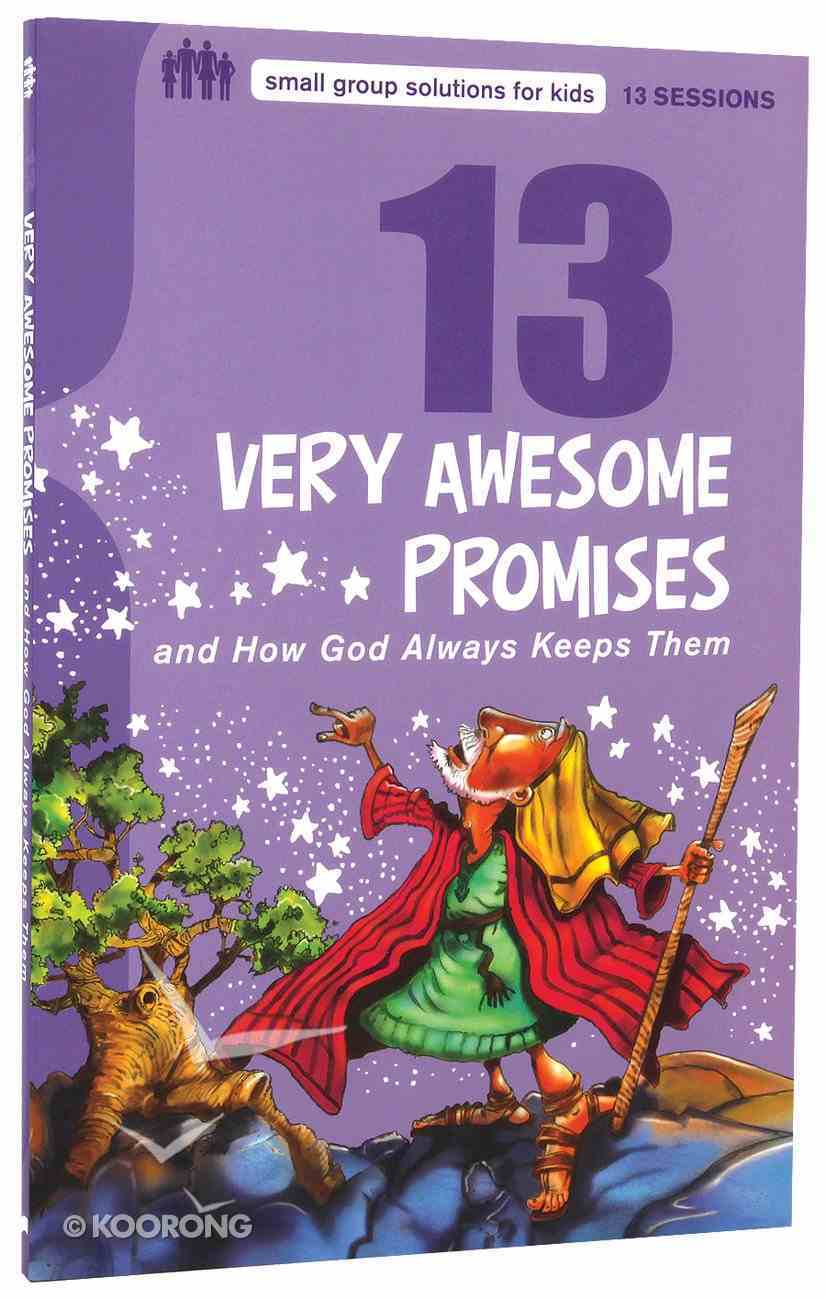 13 Very Awesome Promises (Small Group Solutions For Kids Series)
The Small Group Solutions for Kids series is ideal for use during adult small groups, at house churches, in Sunday school, and with evening programs in smaller churches. Sessions are geared to a range of ages, and there's almost no...
Out of Stock
Available to Order
---
Expected to ship in 4 to 5 weeks from Australia.
---
Free Shipping
for orders over $99.
The Small Group Solutions for Kids series is ideal for use during adult small groups, at house churches, in Sunday school, and with evening programs in smaller churches. Sessions are geared to a range of ages, and there's almost no prep required. With this book in the series, kids will discover God s promises promises they can remember when they re afraid, lonely, sick, or in any other tough situation. Along the way your kids will be encouraged to keep their promises and to place their faith in a God who has never broken a promise and never will!"
-Publisher
:<div><div>contents</div><div><br /> How To Use These Sessions</div><div>page 7</div><div><br /> Session 1: God&amp;rsquo;s Promise&amp;#160; To His People</div><div>page 9</div><div>nothing Is Too Hard For God To Do. Exodus 6:1&amp;ndash;8; 13:17&amp;ndash;18; 14:21&amp;ndash;31</div><div><br /> Session 2: God&amp;rsquo;s Promise To Noah</div><div>page 17</div><div>we Can Trust God To Keep His Word. Genesis 7:17&amp;ndash;24; 9:1&amp;ndash;17</div><div><br /> Session 3: God&amp;rsquo;s Promise To Abram</div><div>page 25</div><div>god Keeps His Promises, But We May Have To Wait. Genesis 12:1&amp;ndash;7; 13:14&amp;ndash;18; 21:1&amp;ndash;5</div><div><br /> Session 4: God&amp;rsquo;s Promise To David</div><div>page 33</div><div>god Knows The Future.2 Samuel 23:5; 2 Chronicles 13:4&amp;ndash;5; Matthew 1:1, 17</div><div><br /> Session 5: God&amp;rsquo;s Promise Of A Savior</div><div>page 41</div><div>god Sent Jesus For Us. Isaiah 9:6&amp;ndash;7; Luke 1:67&amp;ndash;75</div><div><br /> Session 6: God&amp;rsquo;s Promise To Zechariah And Elizabeth</div><div>page 47</div><div>god Does What He Promises. Luke 1:5&amp;ndash;20, 57&amp;ndash;64</div><div><br /> Session 7: Jesus&amp;rsquo;s Promise To A Woman In Pain</div><div>page 55</div><div>we Can Count On Jesus&amp;rsquo;s Power. Luke 13:10&amp;ndash;13<div><br /> Session 8: Jesus&amp;rsquo;s Promise To Rise From The Dead</div><div>page 63</div><div>jesus Is God. Luke 9:21&amp;ndash;23; Matthew 28:1&amp;ndash;7</div><div><br /> Session 9: God&amp;rsquo;s Promise To See And Love Us</div><div>page 71</div><div>god Knows What&amp;rsquo;s Happening To Us, And He Cares. Psalm 139:1&amp;ndash;2; Matthew 10:29&amp;ndash;31</div><div><br /> Session 10: God&amp;rsquo;s Promise That It Will All Work Out</div><div>page 79</div><div>when We Love And Follow God, We End Up Okay. Romans 8:28, 31</div><div><br /> Session 11: God&amp;rsquo;s Promise To Help Us Stand Strong</div><div>page 87</div><div>we&amp;rsquo;re Not In This Alone&amp;mdash;god Is With Us. 1 Corinthians 10:13; Ephesians 6:10&amp;ndash;17</div><div><br /> Session 12: God&amp;rsquo;s Promise That There&amp;rsquo;s Nothing To Fear</div><div>page 95</div><div>we Don&amp;rsquo;t Need To Be Afraid. Isaiah 46:9; Philippians 4:13; 1 John 4:4</div><div><br /> Session 13: God&amp;rsquo;s Promise Of Eternal Life</div><div>page 103</div><div>we Can Live With Jesus In Heaven Forever. John 14:2&amp;ndash;3; Romans 6:23; 10:9<br /> &amp;#160;</div></div></div>
Bestsellers in Children's Ministry