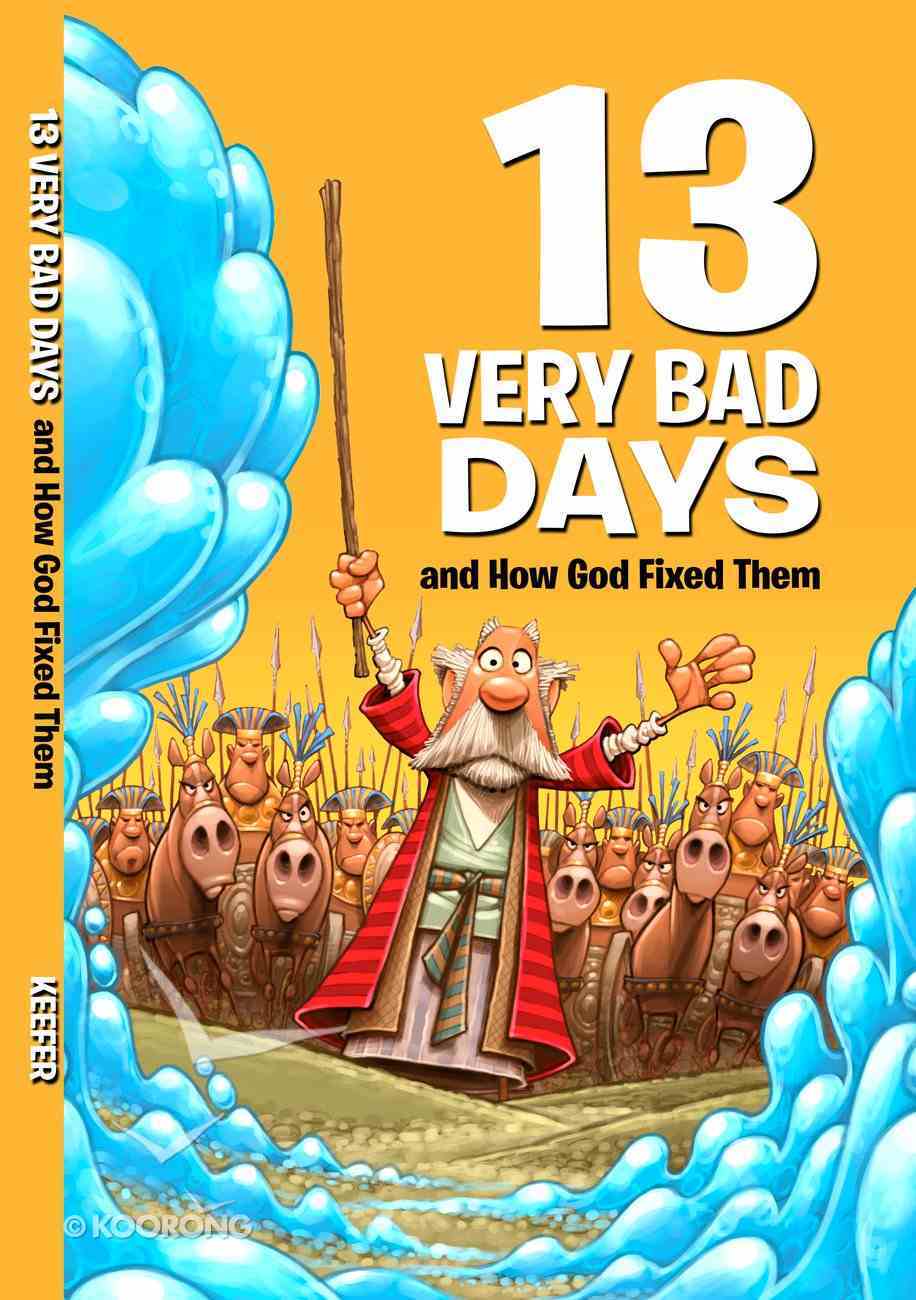 13 Very Bad Days (Small Group Solutions For Kids Series)
$16.99
20% OFF
―
save $3.40
With this book in the series, kids will discover how God fixed some very bad days for 13 people, including Noah, Daniel, Mary, Lazarus, and Stephen. Kids will learn that the same God of long ago watches over them and...
Available Now.
3 Available
---
Expected to ship on Monday from Australia.
---
Free Shipping
for orders over $99.
With this book in the series, kids will discover how God fixed some very bad days for 13 people, including Noah, Daniel, Mary, Lazarus, and Stephen. Kids will learn that the same God of long ago watches over them and that God knows how to fix their very bad days too!


-Publisher
:<div><div>contents<br /> &amp;#160;</div><div>how To Use These Sessions</div><div>page 9</div><div><br /> Session 1:&amp;#160; Noah&amp;rsquo;s Bad Day</div><div>page 11</div><div>god Wants Us To Obey Him. Genesis 6:5&amp;mdash;7:5</div><div><br /> Session 2:&amp;#160; Joseph&amp;rsquo;s Bad Day</div><div>page 19</div><div>god Is In Control. Genesis 37:12&amp;ndash;36</div><div><br /> Session 3:&amp;#160; Moses&amp;rsquo;s Bad Day</div><div>page 27</div><div>god Has A Plan. Exodus 14:5&amp;ndash;31</div><div><br /> Session 4: Daniel&amp;rsquo;s Bad Day</div><div>page 33</div><div>god Wants Us To Trust Him. Daniel 6:1&amp;ndash;24</div><div><br /> Session 5:&amp;#160; Jonah&amp;rsquo;s Bad Day</div><div>page 41</div><div>god Forgives Us. Jonah 1:1&amp;mdash;2:10</div><div><br /> Session 6:&amp;#160; Mary&amp;rsquo;s Bad Day</div><div>page 49</div><div>god Keeps His Promises. Luke 2:1&amp;ndash;7</div><div><br /> Session 7: The Disciples&amp;rsquo; Bad Day</div><div>page 57</div><div>jesus Takes Care Of Us. Mark 4:35&amp;ndash;41</div><div><br /> Session 8: Lazarus&amp;rsquo;s Bad Day</div><div>page 63</div><div>jesus Is Powerful. John 11:1&amp;ndash;16, 38&amp;ndash;44<div><br /> Session 9: Jesus&amp;rsquo;s Bad Day</div><div>page 71</div><div>jesus Loves Us. Matthew 27:32&amp;ndash;50</div><div><br /> Session 10:&amp;#160; The Women&amp;rsquo;s Bad Day</div><div>page 77</div><div>jesus Rose From The Dead. Luke 24:1&amp;ndash;12</div><div><br /> Session 11: Stephen&amp;rsquo;s Bad Day</div><div>page 83</div><div>jesus Saves Us. Acts 6:8&amp;mdash;7:1; 7:51&amp;ndash;60</div><div><br /> Session 12</div><div>saul&amp;rsquo;s Bad Day</div><div>page 91</div><div>god Can Use Us All. Acts 9:1&amp;ndash;8, 19b&amp;ndash;22</div><div><br /> Session 13:&amp;#160; A Jailer&amp;rsquo;s Bad Day</div><div>page 99</div><div>god Desires Action, Not Just Words. Acts 16:25&amp;ndash;33</div></div></div>
Bestsellers in Children's Ministry