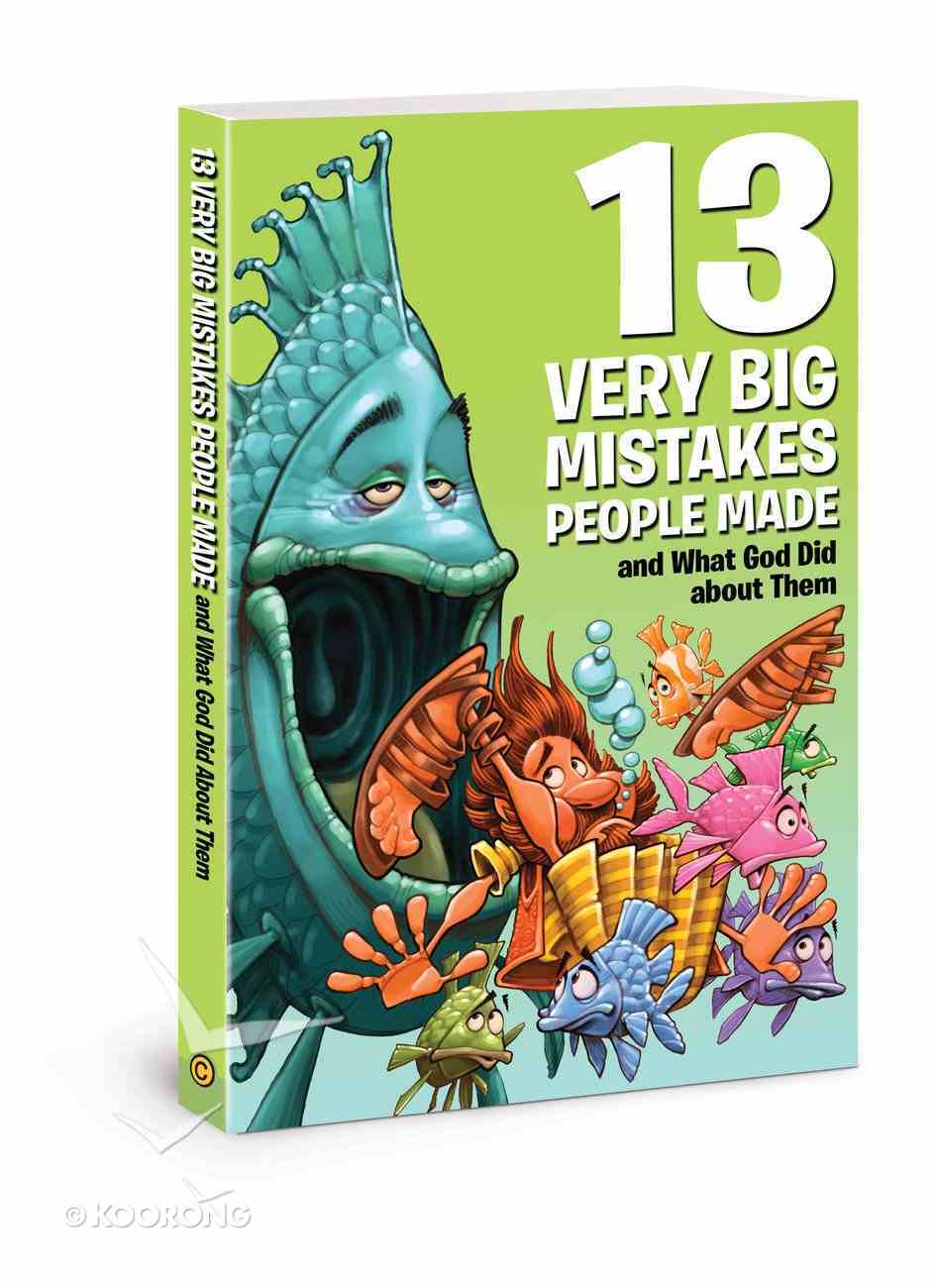 13 Very Big Mistakes People Made and What God Did About Them (Small Group Solutions For Kids Series)
$16.99
20% OFF
―
save $3.40
: If you want kids to do God's Word and not just hear it-you're in exactly the right place. Each session focuses on one key Bible truth-kids will discover it, think about it, talk about it, pray about...
Available Now.
5 Available
---
Expected to ship on Monday from Australia.
---
Free Shipping
for orders over $99.
:
If you want kids to do God's Word and not just hear it-you're in exactly the right place.

Each session focuses on one key Bible truth-kids will discover it, think about it, talk about it, pray about it, and apply what they learn. You'll drive that point home through Bible exploration, fun discussions, giggle-worthy games, and oh-wow activities that engage kids in multiple ways.

Just add an adult or teenage leader to these easy-to-lead sessions to keep kids engaged, entertained, and growing in their faith! Each session is Flexible-sessions work for 1 or 2 kids, 12 kids, or more Multi-aged-suitable for all elementary kids Low-prep-using easy-to-find supplies 45 minutes of fun-with time stretchers to fill an hour Relational-children grow close to Jesus and each other Perfect for any children's ministry program-Sunday school, children's church, and more!

Help kids discover the faith-building, life-changing truths tucked into the stories of 13 very big mistakes people made. They will see how Adam and Eve, Jonah, King Saul, and others stepped away from God and straight into big trouble. And along the way, kids will be challenged to never step away from God and will grow in their certainty that God loves them-no matter what!


-Publisher
:<div><div><div><div><div>contents</div><div><br /> How To Use These Sessions</div><div>page 7</div><div><br /> Session 1: Adam And Eve&amp;rsquo;s Big Mistake</div><div>page 9<br /> We Honor God When We Obey Him. Genesis 2:15&amp;ndash;18, 22; 3:1&amp;ndash;19</div><div><br /> Session 2: Cain&amp;rsquo;s Big Mistake</div><div>page 17</div><div>being Jealous Hurts Everybody. Genesis 4:3&amp;ndash;16</div><div><br /> Session 3: Pharaoh&amp;rsquo;s Big Mistake</div><div>page 25</div><div>god Is More Powerful Than Anyone. Exodus 5:1&amp;ndash;4; 7:14&amp;ndash;24</div><div><br /> Session 4: Aaron&amp;rsquo;s Big Mistake</div><div>page 33</div><div>we Worship Only God. Exodus 20:1&amp;ndash;4; 32:1&amp;ndash;8</div><div><br /> Session 5: Saul&amp;rsquo;s Big Mistake</div><div>page 41</div><div>god Knows Best. 1 Samuel 13:8&amp;ndash;14</div><div><br /> Session 6: Elijah&amp;rsquo;s Big Mistake</div><div>page 49</div><div>god Gives Us Strength To Do What He Wants. 1 Kings 19:1&amp;ndash;12, 18</div><div><br /> Session 7: Jonah&amp;rsquo;s Big Mistake</div><div>page 57</div><div>we Can&amp;rsquo;t Hide From God, And We Don&amp;rsquo;t Need To. Jonah 1:1&amp;ndash;5, 15&amp;ndash;17</div><br /> Session 8: The Teachers&amp;rsquo; Big Mistake</div></div><div><div><div>page 65</div><div>god Cares About Our Hearts And Our Actions. Matthew 23:1&amp;ndash;7, 27&amp;ndash;28</div><div><br /> Session 9: Peter&amp;rsquo;s Big Mistake</div><div>page 73</div><div>we Can Trust Jesus. Matthew 14:22&amp;ndash;31</div><div><br /> Session 10: Paul&amp;rsquo;s Big Mistake</div><div>page 81</div><div>let&amp;rsquo;s Make Sure We&amp;rsquo;re Doing What God Wants. Acts 9:1&amp;ndash;6; 13:2&amp;ndash;5</div><div><br /> Session 11: Ananias And Sapphira&amp;rsquo;s Big Mistake</div><div>page 89</div><div>god Wants Us To Tell The Truth. Acts 5:1&amp;ndash;10</div><div><br /> Session 12: The Rich Young Man&amp;rsquo;s Big Mistake</div><div>page 97</div><div>god Wants Us To Put Him First. Luke 18:18&amp;ndash;30</div><div><br /> Session 13: The Disciples&amp;rsquo; Big Mistake</div><div>page 105</div><div>jesus Loves Children. Luke 18:15&amp;ndash;17</div></div></div><div><div><div>&amp;#160;</div></div></div><div><div><div>&amp;#160;</div></div></div><div><div><div>&amp;#160;</div></div></div><div><div><div>&amp;#160;</div></div></div><div><div><div>&amp;#160;</div></div></div><div><div><div>&amp;#160;</div></div></div><div><div><div>&amp;#160;</div></div></div><div><div><div>&amp;#160;</div></div></div><div><div><div>&amp;#160;</div></div></div><div><div><div>&amp;#160;</div></div></div><div><div><div>&amp;#160;</div></div></div><div><div><div>&amp;#160;</div></div></div><div><div><div>&amp;#160;</div></div></div><div><div><div>&amp;#160;</div></div></div><div><div><div>&amp;#160;</div></div></div><div><div><div>&amp;#160;</div></div></div><div><div><div>&amp;#160;</div></div></div><div><div><div>&amp;#160;</div></div></div><div><div><div>&amp;#160;</div></div></div><div><div><div>&amp;#160;</div></div></div><div><div><div>&amp;#160;</div></div></div><div><div><div>&amp;#160;</div></div></div><div><div><div>&amp;#160;</div></div></div><div><div><div>&amp;#160;</div></div></div><div><div><div>&amp;#160;</div></div></div><div><div><div>&amp;#160;</div></div></div><div><div><div>&amp;#160;</div></div></div><div><div><div>&amp;#160;</div></div></div><div><div><div>&amp;#160;</div></div></div><div><div><div>&amp;#160;</div></div></div><div><div><div>&amp;#160;</div></div></div><div><div><div>&amp;#160;</div></div></div><div><div><div>&amp;#160;</div></div></div><div><div><div>&amp;#160;</div></div></div><div><div><div>&amp;#160;</div></div></div><div><div><div>&amp;#160;</div></div></div><div><div><div>&amp;#160;</div></div></div><div><div><div>&amp;#160;</div></div></div><div><div><div>&amp;#160;</div></div></div><div><div><div>&amp;#160;</div></div></div><div><div><div>&amp;#160;</div></div></div><div><div><div>&amp;#160;</div></div></div><div><div><div>&amp;#160;</div></div></div></div></div>
Bestsellers in Children's Ministry