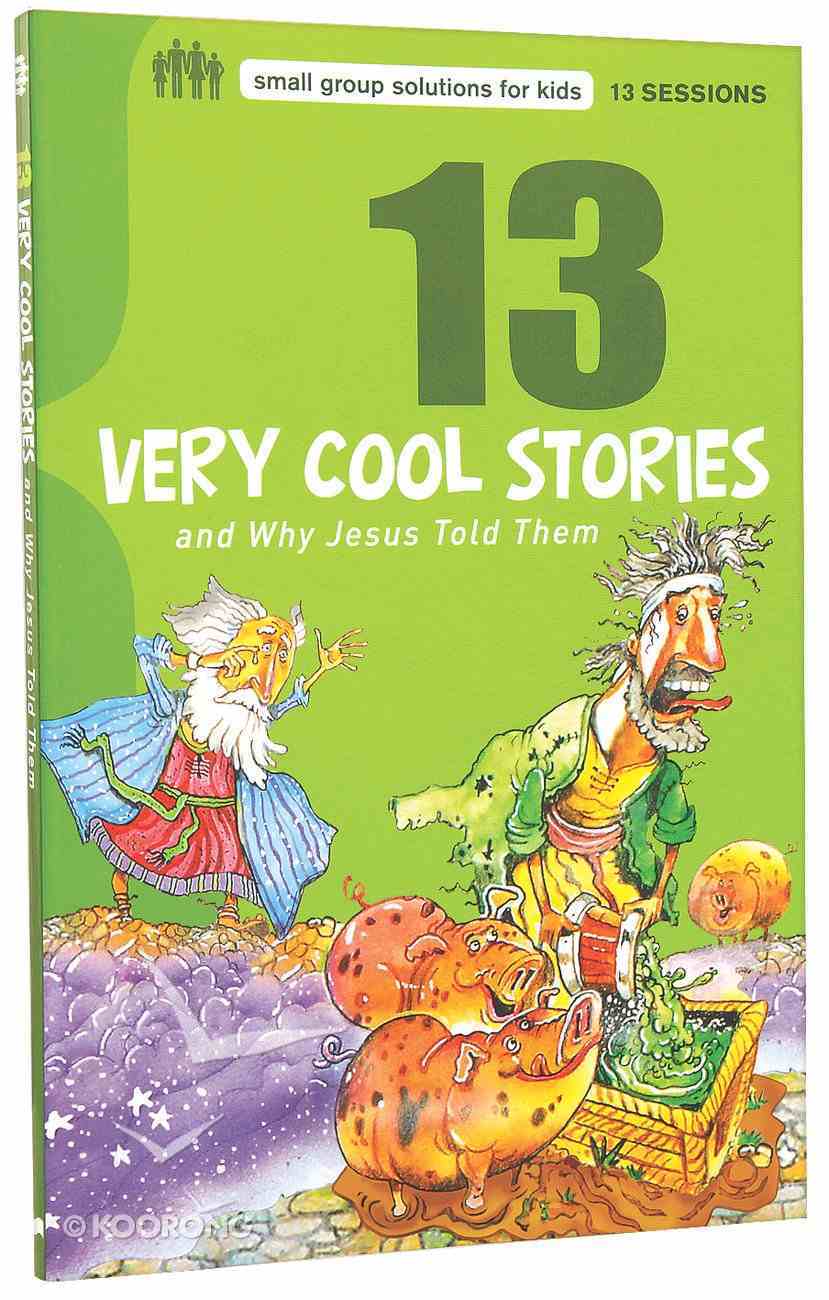 13 Very Cool Stories (Small Group Solutions For Kids Series)
Help your kids discover 13 Very Cool Stories Jesus Told and explore the eternal truths Jesus wrapped in those stories. Along the way, they will meet a lost and found son, a rich fool, disgruntled vineyard workers, a pretty good...
Out of Stock
Available to Order
---
Expected to ship February 2021.
---
Free Shipping
for orders over $99.
Help your kids discover 13 Very Cool Stories Jesus Told and explore the eternal truths Jesus wrapped in those stories. Along the way, they will meet a lost and found son, a rich fool, disgruntled vineyard workers, a pretty good Samaritan, and many more memorable characters!


-Publisher
:<div><div>contents</div><div><br /> How To Use These Sessions</div>page&amp;#160; 7<br /> &amp;#160;<div>session 1: The Story Of The Good Shepherd</div><div>page 9</div><div>trust Jesus. John 10:11&amp;ndash;15<br /><br /> Session 2: The Story Of The Good Samaritan</div><div>page 17</div><div>we Can Help Our Neighbors.&amp;#160; Luke 10:30&amp;ndash;37</div><div><br /> Session 3: The Story Of The Vineyard</div><div>page 25</div><div>life&amp;rsquo;s Not Fair&amp;mdash;but God Is Always Loving. Matthew 20:1&amp;ndash;15</div><div><br /> Session 4:&amp;#160; The Story Of The Lost Coin</div><div>page 33</div><div>god Wants You&amp;mdash;a Lot! Luke 15:8&amp;ndash;10</div><div><br /> Session 5: The Story Of The Found Son</div><div>page 41</div><div>god Is Forgiving. Luke 15:11&amp;ndash;32</div><div><br /> Session 6: The Story Of The 10 Talents</div><div>page 49</div><div>use Your Talents To Serve God. Matthew 25:14&amp;ndash;29</div><div><br /> Session 7: The Story Of The Rich Fool</div><div>page 57</div><div>keep God First! Luke 12:16&amp;ndash;21</div><div><br /> Session 8: The Story Of The Two Builders</div><div>page 63</div><div>obey Jesus. Matthew 7:24&amp;ndash;27<div><br /> Session 9: The Story Of The Vine &amp;amp; Branches</div><div>page 71</div><div>stay Connected To Jesus. John 15:1, 4&amp;ndash;5</div><div><br /> Session 10: The Story Of The Mean Servant</div><div>page 79</div><div>we Can Forgive Others. Matthew 18:21&amp;ndash;35</div><div><br /> Session 11: The Story Of The Wedding Feast</div><div>page 87</div><div>you&amp;rsquo;re Invited To God&amp;rsquo;s Party! Luke 14:16&amp;ndash;24</div><div><br /> Session 12: The Story Of The Mustard Seed</div><div>page 95</div><div>god Helps Our Faith Grow. Matthew 13:31&amp;ndash;32</div><div><br /> Session 13:&amp;#160; The Story Of The Precious Pearl</div><div>page 103</div><div>jesus Is Worth Everything. Matthew 13:45&amp;ndash;46</div></div></div>
Bestsellers in Children's Ministry