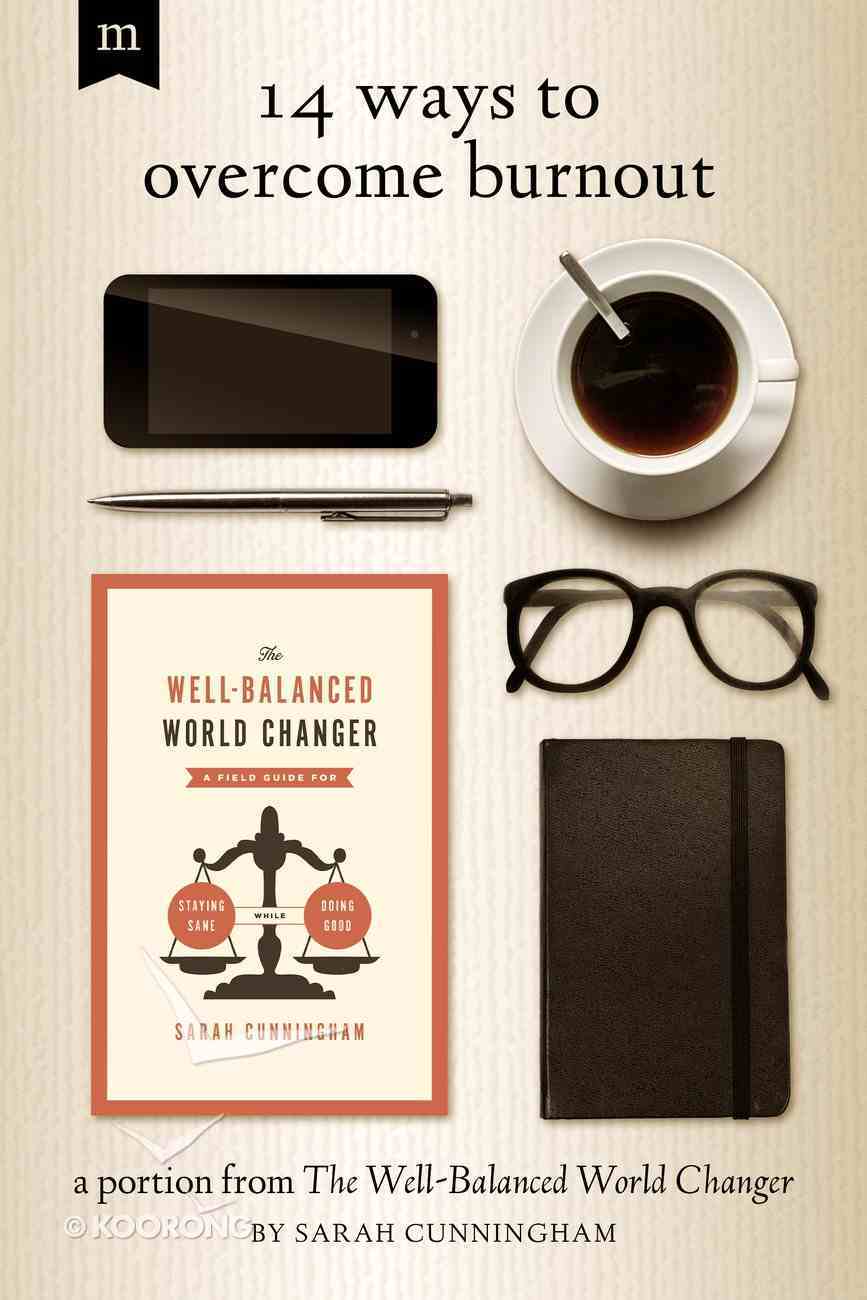 14 Ways to Overcome Burnout
When Sarah Cunningham was in her twenties, she was ready to change the world, full of energy, passionate about her work, and really, unstoppable. Or so she thought. But in trying to change the world, we all encounter opposition-people...
Instant download
---
Read using our free app on your tablet or mobile!
---
Free Shipping
for orders over $99.


When Sarah Cunningham was in her twenties, she was ready to change the world, full of energy, passionate about her work, and really, unstoppable. Or so she thought. But in trying to change the world, we all encounter opposition-people who don't understand our cause, problems that we can't solve, frustration we don't know how to handle.


Eventually, the passion we once had starts to burn out. And so do we.


Sarah, still trying to change the world in her thirties, has encountered the burnout that comes with great dreams. But she also knows that burnout can be overcome. As a friend and experienced advisor, Sarah talks through 14 truths (pulled from her book The Well-Balanced World Changer) that will help us get beyond burnout and back to a place where we can pursue our dreams in a healthy way.


Moody Collective Portions are short pieces of content taken from our full-length books. Our goal is to introduce our readers to a complete idea in a brief, concise, and inexpensive format. Most portions will take about 20 minutes to read.





-Publisher
Sarah Raymond Cunningham is a high school teacher, part-timeSarah Raymond Cunningham is a high school teacher, part-time college professor and chief diaper changer. She is a popula college professor and chief diaper changer. She is a popular church and conference speaker, the author of Dear Church, r church and conference speaker, the author of Dear Church, and a contributor to several books, including unChristian. Sand a contributor to several books, including unChristian. Sarah lives with her husband, Chuck their son, Justus, and tharah lives with her husband, Chuck their son, Justus, and th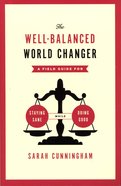 <div> <p>when Sarah Cunningham Was In Her Twenties, She Was Ready To Change The World, Full Of Energy, Passionate About Her Work, And Really, Unstoppable. Or So She Thought. But In Trying To Change The World, We All Encounter Opposition-people Who Don't Understand Our Cause, Problems That We Can't Solve, Frustration We Don't Know How To Handle.</p> <p>eventually, The Passion We Once Had Starts To Burn Out. And So Do We.</p> <p>sarah, Still Trying To Change The World In Her Thirties, Has Encountered The Burnout That Comes With Great Dreams. But She Also Knows That Burnout Can Be Overcome. As A Friend And Experienced Advisor, Sarah Talks Through 14 Truths (pulled From Her Book <i>the Well-balanced World Changer</i>) That Will Help Us Get Beyond Burnout And Back To A Place Where We Can Pursue Our Dreams In A Healthy Way.</p> <p><b>moody Collective Portions</b> Are Short Pieces Of Content Taken From Our Full-length Books. Our Goal Is To Introduce Our Readers To A Complete Idea In A Brief, Concise, And Inexpensive Format. Most Portions Will Take About 20 Minutes To Read.</p> <p> </p> </div>
Bestsellers in Christian Living