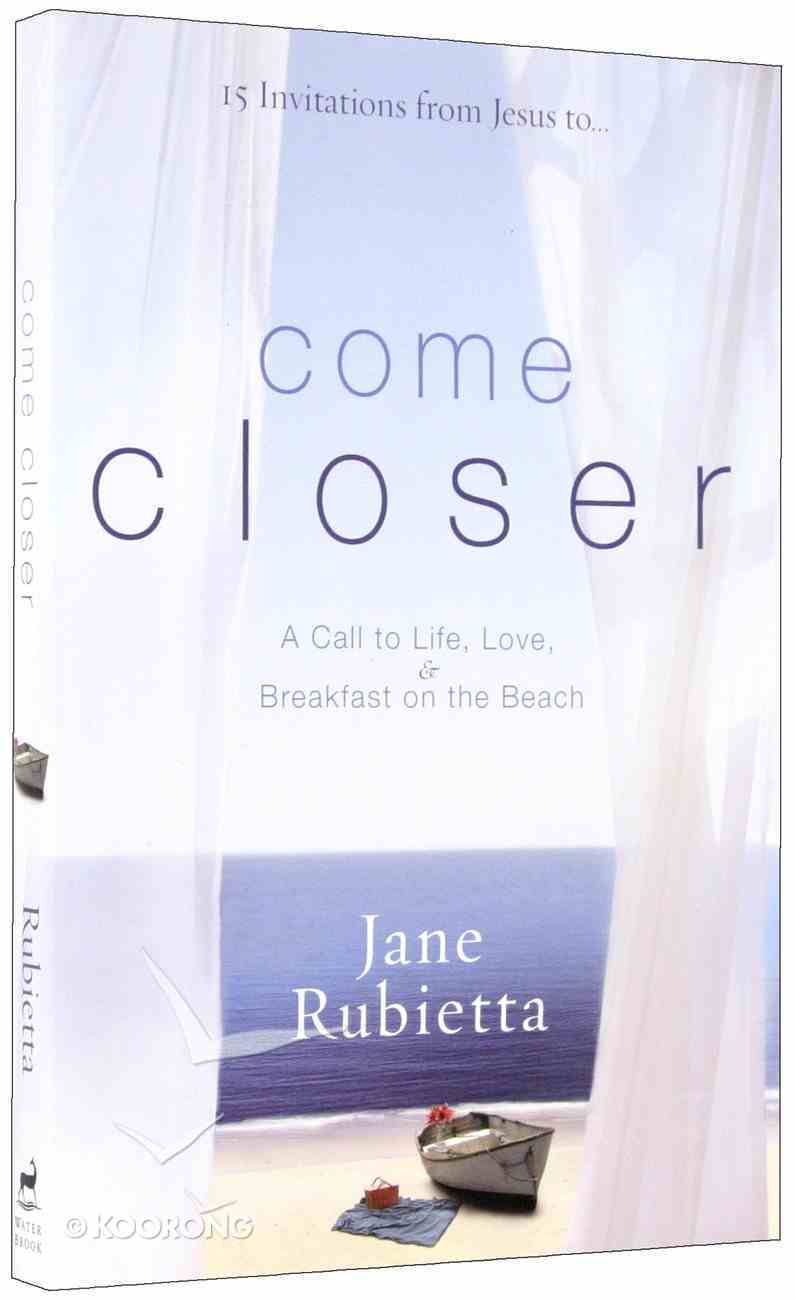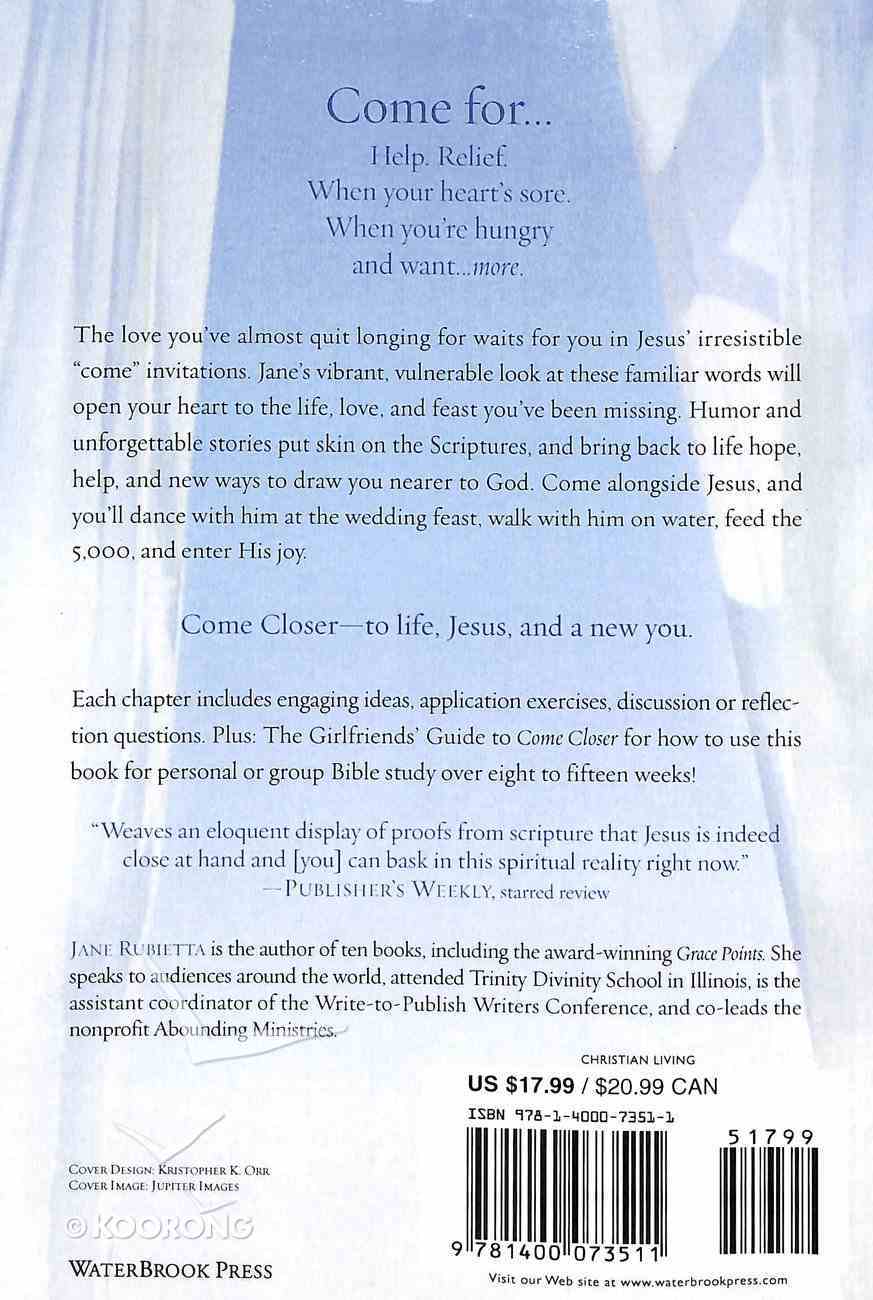 15 Invitations From Jesus To...Come Closer
For every reader who's bought into the idea of working harder, doing more, smiling bigger, or running faster to get more out of life-and then faced disappointment, fatigue, or the unnerving unexpected, award-winning author Jane Rubietta offers relief and irresistible...
Locally Sourced
Available to Order
---
Expected to ship within 10 days from Australia.
---
Free Shipping
for orders over $99.
For every reader who's bought into the idea of working harder, doing more, smiling bigger, or running faster to get more out of life-and then faced disappointment, fatigue, or the unnerving unexpected, award-winning author Jane Rubietta offers relief and irresistible promise." ^"Her fresh approach to fifteen of Jesus's familiar but too-often forgotten invitations in the New Testament remind readers of His promise that: "Life" "can be better, " "more sure and satisfying, more beautiful, and truly tasty-not just someday, in heaven, but here and now."^"^"With humor, unforgettable experiences, and gracious encouragement, Jane plumbs Scripture to bring alive these invitations of help, hope, and the refuge of Home. She takes readers on an exploration of the fifteen times in Scripture that Jesus invites followers to come-for relief, light, help, hope, and even breakfast. Jane then offers engaging ideas and tangible things readers can do to draw near to these promises. ^"Come Clos
-Publisher
1.Chapter 1: Come for Abundance "I came that they may have life, and have it abundantly." John 10:10b 1.Who is the mostaliveperson you know? What is attractive about that person? When have you felt the most alive, and whendon'tyou? 2.Re-read John 5:1-15. Where do you notice death, the facets of death? How does Jesus challenge death? Read John 5:16-18. What reaction does Jesus get? How do you see the same reaction when you challenge death? 3.Compare the John 5 passage with Matt. 16:25. How does what you cling to, prohibit life? 4.Read Galatians 2:20 out loud (even if you are alone). Let the words sink into your soul. What difference will Jesus' promise make for you?2.Chapter 2: Come from Death "Lazarus, come forth!" John 11:43 1.In chapter 1, we find Jesus offering life, and now we plunge into the death of Lazarus. This is reality, isn't it? We seek life and then death confronts us at every turn. When do you see that? 2.When do you feel abandoned by Jesus, like Mary and Martha, who said, "If you'd been here, this wouldn't have happened"? (John 11:21, 32) You expect life and death shows up instead? What do you do to fight for life? 3.When I encountered Jesus' tears at Lazarus's death, it struck me that Jesus was mourning more than the loss of his friend. [Some scholars even told me that Jesus wasn't really mourning, and I had to protest to keep this part of the book's text.] What facets of grief do you see? When have you felt Christ's sorrow and grief for you? How does that provide solace? 4.John 11:25-26 invites us to enter into the juxtaposition between life and death. When do you believe Christ's promise, and what difference does it make for you?3.Chapter 3: Come, Follow Me "Looking at him, Jesus felt a love for him and said to him, '...come, follow Me.'" Mark 10:21 1.What is your version of the "But Mom, it followed me home!" story? 2.In Chapter 2, we see Jesus' compassion in his grief. Here, in Mark 10:17-29, we see Jesus loving in another arena. In what ways is his love evident? 3.Read Lev. 19:2. Compare to Lev. 22:32. How do you define holiness? When are you tempted to substitute rule-following for relationship? For holiness? How does that show up for you? How does this fit in with the wealthy man's request? 4.What does "follow me" look like for you? Where does it challenge you? How does Eph. 1:3-4 relate to this passage from Mark?4.Chapter 4: Come and See "Rabbi...where are You staying?"... "Come, and you will see." John 1:38-39 1.What is a hospitality story where you were surprised by guests and embarrassed by the state of your home (or your hair...)? How likely are you to host an impromptu party? 2.Jesus says, "Come and see." What would you have to do, if you invited someone else to "come and see" your life, your heart, your thoughts? 3.Read John 1 and trace the ripple effect of Jesus' invitation to "Come and see." What stands out to you? 4.Where are you most "at home"? How can you make your heart more and more Christ's home? (See John 15:1-10)5.Chapter 5: Come for Healing "I will come and heal him." Matthew 8:7 1.When do you "play church"? Do all the right things, sing all the right songs, say all the right words, but still feel like a liar, or paralytic, or half-alive? I think there is value in doing the right thing even when you don't feel like it, kn
-Publisher
PRODUCT DETAIL
Catalogue Code 

258258

Product Code 

9781400073511

ISBN 

1400073510

EAN 

9781400073511

Pages 

240

Department General Books
Category Christian Living
Sub-Category General
Publisher Waterbrook Press
Publication Date 

Jul 2007

Sales Rank 

67408

Dimensions 

209 x 139 x 12

mm

Weight 

0.283

kg
Based in the northwestern suburbs of Chicago, Jane Rubietta Based in the northwestern suburbs of Chicago, Jane Rubietta is a popular retreat speaker and the author of Quiet Places,is a popular retreat speaker and the author of Quiet Places, Still Waters and Between Two Gardens (Bethany House), and H Still Waters and Between Two Gardens (Bethany House), and How to Keep the Pastor You Love, Grace Points and Resting Plaow to Keep the Pastor You Love, Grace Points and Resting Place (InterVarsity Press). ce (InterVarsity Press). C
Bestsellers in Christian Living