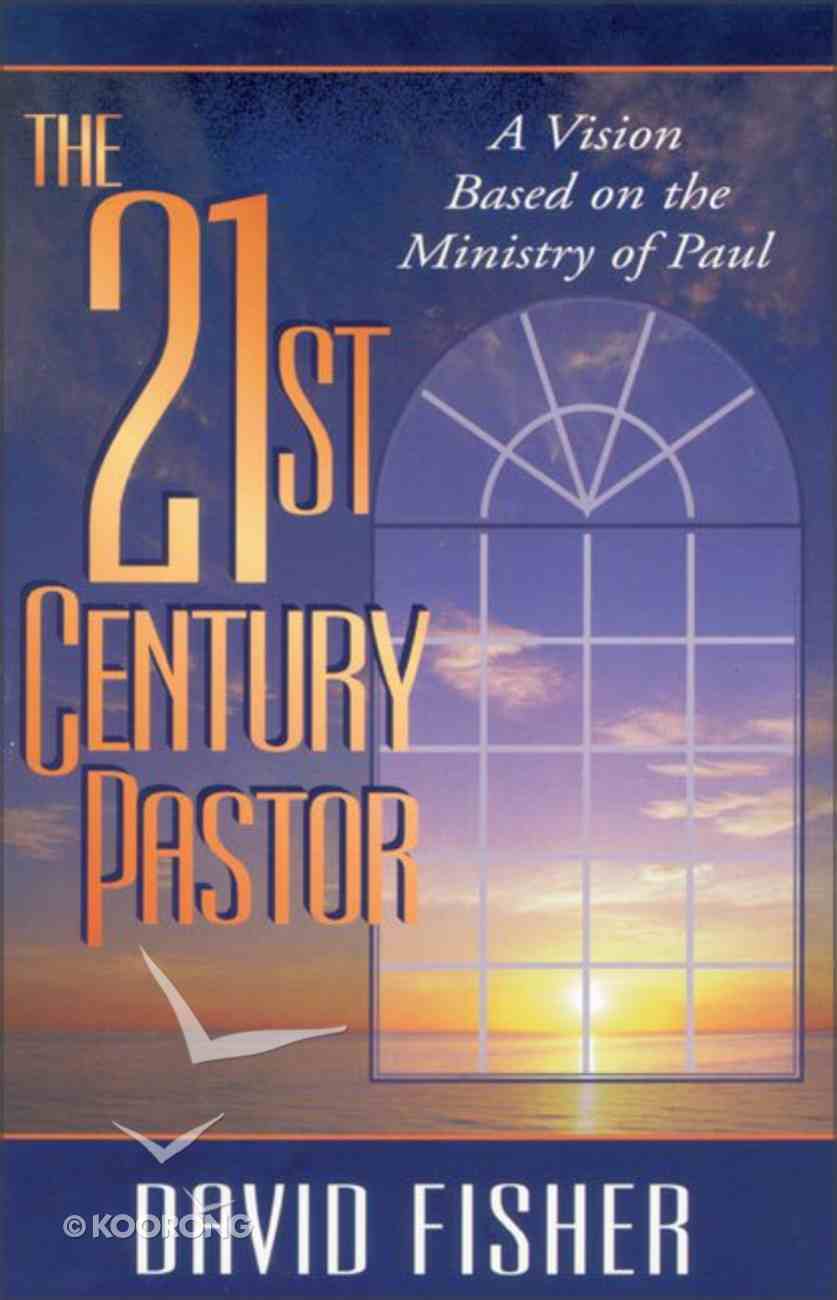 David FisherDavid Fisher presents a roadmap for todays pastor that is scholarly,practical, dynamic and inspiring. 252 pages, from Zondervan.
Out of Stock
Available to Order
---
Expected to ship in 5 to 6 weeks from Australia.
---
Free Shipping
for orders over $99.
David FisherDavid Fisher presents a roadmap for todays pastor that is scholarly,practical, dynamic and inspiring. 252 pages, from Zondervan.
The third millennium. It's a time of tremendous opportunity for the church--and tremendous challenge. More than ever, pastors need a model for ministry that can equip them for the rigors of a restless, increasingly secularized culture. In the 21st Century Pastor, David Fisher explores the apostle Paul's concept of ministry to offer a paradigm that is both biblical and relevant. Paul's view is fleshed out with examples from Fisher's own twenty-five years of pastoral experience, presenting a roadmap for today's pastor that is scholarly, practical, dynamic, and inspiring. The 21st Century Pastor first addressees crucial issues of pastoral identity, the significance of geography, time, and ecclesiology. It then explores Paul's metaphors for ministry (jars of clay, farmers and builders, servants and stewards, and others) to reveal an accurate portrait of an effective, biblical pastor--the kind who will speak to the heart of modern culture rather than languish on its fringes. Filling the ra
-Publisher
PRODUCT DETAIL
Catalogue Code 

98681

Product Code 

0310201543

EAN 

9780310201540

UPC 

025986201548

Pages 

252

Department Academic
Category Leadership
Sub-Category Church Leadership
Publisher Zondervan
Publication Date 

Apr 1996

Dimensions 

190 x 150 x 17

mm

Weight 

0.249

kg
Fisher has enjoyed a successful career in television before and since beginning a literary partnership with Anthony Read.
Contents
Introduction: Welcome To The Ministry
Part 1
Four Crucial Questions For Pastors
1 Who Am I? The Question Of Pastoral Identity
2 What's My Address? The Significance Of Geography
3 What Time Is It? The Question Of Date
4 Whose Church Is This? The Question Of Ecclesiology
Part 2
A Portrait Of A Pastor
5 Christ's Prisoners: The Pastor's Call
6 Jars Of Clay: The Pastor's Burden
7 God's Penmen: The Pastor's Impact
8 Both Father And Mother: The Pastor's Heart
9 Farmers And Builders: Growing Christ's Church
10 Servants And Stewards: The Power Of Pastoral Integrity
11 Ambassador And Preacher: The Pastor's Authority
Notes
Introduction: Welcome to the Ministry THE PASTORAL CRISIS Being a pastor today is more difficult than anytime in memory. This century witnessed the collapse of the Christian consensus that held American culture together for centuries. The secularization of our culture pushed the churches to the margins of our nation's consciousness. The moral relativism that accompanies a secular view of reality deeply affects the work of the church and its ministry. According to a 1992 Christianity Today survey, 66 percent of Americans believe there is no absolute truth. Significantly, among Americans ages eighteen to twenty-five, the number is 72 percent. The Christian faith adheres to a multitude of absolutes. No wonder ministry in and to this culture is more complex than ever. No wonder pastors and churches are increasingly viewed as curiosities or even threats to the public. The world is experiencing rapid and perpetual change. Cultural quakes and shifts are documented in books like Russell Chandler's Racing Toward 2001, Leith Anderson's Church for the 21st Century, and Leonard Sweet's FaithQuakes. Suffice it to say, each of these quakes and shifts deeply affects the church and pastors. The result of culture quakes and shakes is an increasingly unchristian America. George Hunter claims that 120 million Americans are virtually secular. They have no Christian influence, no Christian memory or vocabulary, and no Christian assumptions or worldview. Hunter thinks that America is the largest mission field in the Western world, noting that the percentage of practicing evangelical Christians in Uganda, once a Western mission field, is higher than in America. The challenge for Christian ministry is unprecedented, and the opportunity for the church to be the church is staggering---but only if we change the way we think about the church and the ministry. Hunter and others are calling for change in the way we do ministry. We must come to terms with the fact that we labor in a mission field and then change the ministry and the church to meet the new order. Loren Mead suggests that because we are at a shift in the ages, we are going to experience a reformation in church and ministry. I hope so. However, a huge reality stands in the way of reformation: Widespread evidence shows that pastoral ministry is in trouble. Greg Asimakoupoulos began a review of two books on the pastoral crisis in Leadership magazine with these words, 'Warning: the list of endangered species is growing. To bald eagles, koalas, and spotted owls, add another: ordained pastors energized by what they do.' He goes on to claim that the majority of American ministers are suffering from burnout. The two books Asimakoupoulos reviewed have ominous titles: Pastors at Risk by H. B. London and Neil Wiseman and Pastors Off the Record by Stefan Ulstein. London and Wiseman quote a Focus on the Family study that claims that 70 percent of the pastors they surveyed wonder if they should remain in ministry. The conclusion, 'Pastors are discouraged and often outraged.' A friend told me he is leaving pastoral ministry. Though he loves the ministry, he is tired of dealing with the pettiness that characterizes so much of church life. Another surrendered his credentials because, in his words, 'I can't take the pounding any more.' Why is it that so many of us begin with such high hopes and dreams and end up tired and discouraged? Psychiatrist Louis McBurney reports that low self-esteem is the number-one problem pastors face. Why? We are in a high-demand, low-stroke profession in a culture that does not value our product or our work. We labor among people with unrealistic expectations, and deep inside we expect far more from ourselves and the church. It's no wonder McBurney's study identified depression as the second most identified pastoral problem. The problem is not new. For fifty years church leaders have spoken about a 'crisis in the ministry' and 'ferment in the ministry.' Back in 1954, H. R. Niebuhr wrote about the church and ministry and called pastorate the 'perplexed profession.' Niebuhr correctly suggested that the crisis in ministry is primarily a crisis of identity. The communities in which we work no longer value our product or our role the way society once honored the church and its ministry. We are providing a service to a world that no longer wants it. Professional religious leaders are an anachronism in a secular culture. Even our congregations wonder about us. Contemporary Christians are affected by the secular nature of our world more than they may realize. By calling, by training, and quite often by personality type and interests, we pastors are different. We work and speak for God in a world that recognizes no God, a world in which it is not politically correct to speak openly of God. Increasingly, we are pushed to the margins. What is a Christian pastor in our society? Who are we in churches of the last part of the twentieth century?
Bestsellers in Leadership