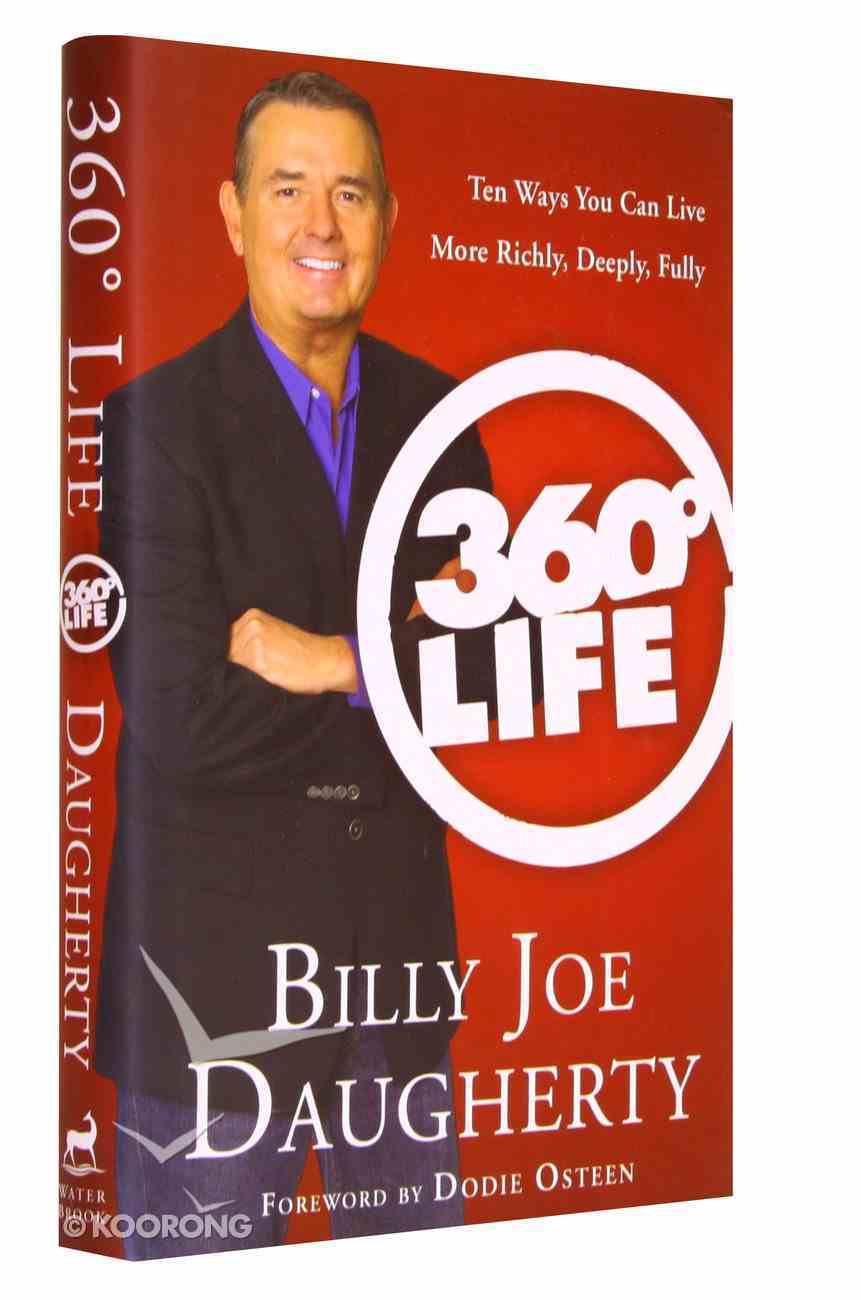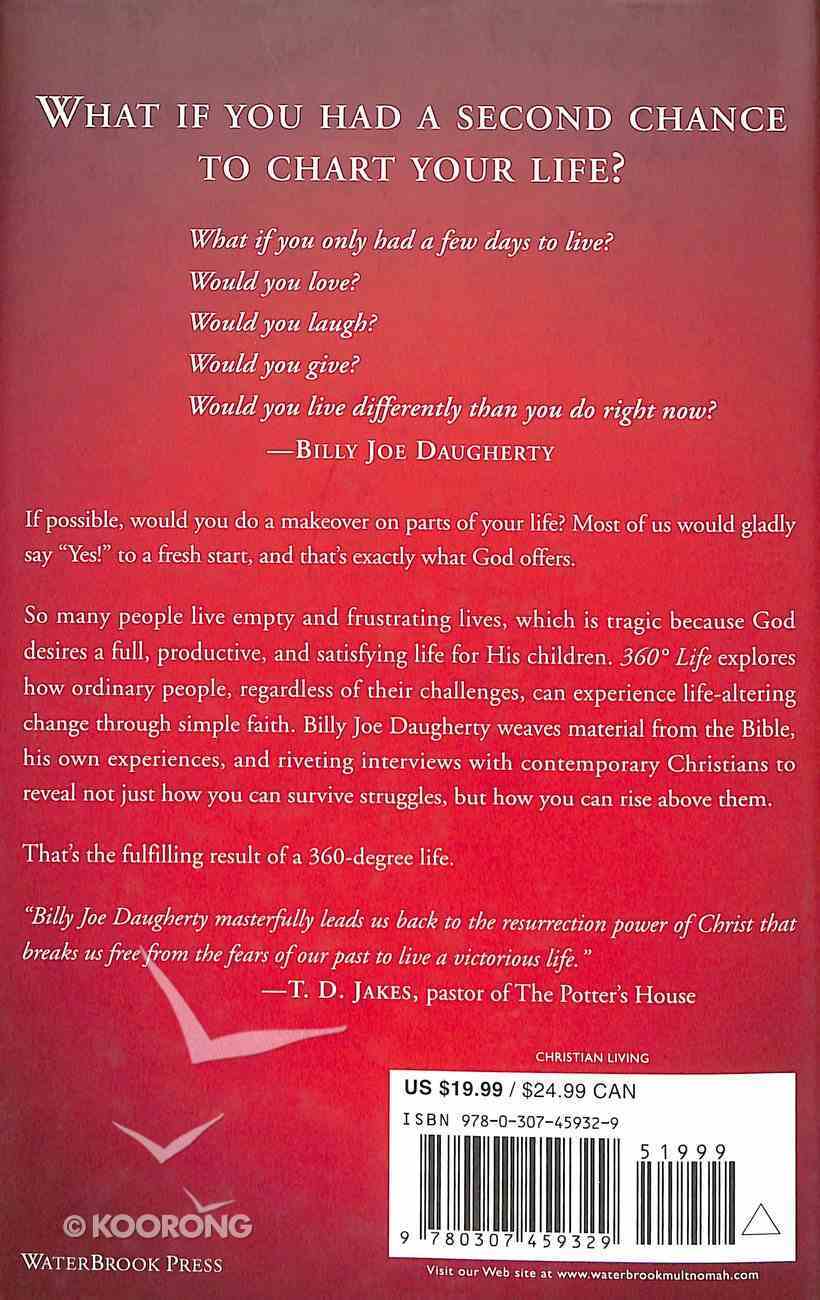 What if you had a second chance to chart your life? What if you only had a few days to live? Would you love? Would you laugh? Would you give? Would you live...
---
Free Shipping
for orders over $99.
What if you had a second chance to chart your life?


What if you only had a few days to live?
Would you love?
Would you laugh?
Would you give?
Would you live differently than you do right now?
            --Billy Joe Daugherty

If possible, would you do a makeover on parts of your life? Most of us would gladly say "Yes!" to a fresh start, and that's exactly what God offers. 
 
So many people live empty and frustrating lives, which is tragic because God desires a full, productive, and satisfying life for His children.  360° Life explores how ordinary people, regardless of their challenges, can experience life-altering change through simple faith.  Billy Joe Daugherty weaves material from the Bible, his own experiences, and riveting interviews with contemporary Christians to reveal how not just to survive struggles, but to rise above them. 
 
That's the fulfilling result of a 360-degree life. 
 
"Billy Joe Daugherty masterfully leads us back to the resurrection power of Christ that breaks us free from the fears of our past to live a victorious life."
                                    —T. D. Jakes, pastor of The Potter's House
 
 
-Publisher
Billy Joe Daugherty, until his death in November of 2009, pastored the 17,000 member Victory Christian Center in Tulsa, Oklahoma. The daily "Victory in Jesus" and weekly "360deg; Life" television programs reach more than 75 million households in North America. Billy Joe authored a number of books includingNo FearandGod Is Not Your Problem. Billy Joersquo;s wife, Sharon, continues to minister at Victory Christian Center, along with their four children and two sons-in-law.
This thing called the Resurrection changed everything! Everyone who witnessed the execution of Jesus Christ thought it was over when He was nailed to a Roman cross and brutally crucified.
   The great man was suddenly a dead man.
   His friends wiped away their tears and buried Jesus in a borrowed stone tomb. His enemies were excited—and suspicious. They pressed the Roman governor until he posted a squad of Roman soldiers at the sealed tomb. They didn't want any monkey business.
   Their problem was larger than monkeys, however: they were trying to interfere with God's plan. From the beginning of time, He had intended for humankind—His highest creation—to experience a wonder-filled life: a life spent with Him, a life that was free of disease, hatred, anger, violence, hunger, and loneliness.
   From their beginning at Creation, Adam and Eve enjoyed that blessed life, but they lost it when they disobeyed God's warnings and chose their own way in the Garden of Eden. (See the Bible account in Genesis 3.)
   That first sin of rejecting God's way tainted our entire human race with sin and death—we all have inherited their defective DNA of the soul. This spiritual disease called sin was passed from one generation to the next, with a death sentence that was unavoidable.
   The result wasn't God's intention. It was humankind's choice. 
   But God loved us so much that He gave His innocent Son, His only Son, to save us. Jesus shed His blood and washed away our sins and failures through the wounds He experienced on the cross and in the savage beating by temple guards and Roman soldiers lashing away with their bone-and-stone-embedded scourges.
   He died in your place. He paid for your sins. If you receive Him, He declares you, "Not guilty!" He justified you just as if you had never sinned. This is the mercy and grace of God.
   Everyone, friend and enemy alike, thought it was over after the followers of the Carpenter placed His battered body in that cold stone tomb. Few remembered and no one believed that Jesus would rise from the grave on the third day.
   He knew it, believed it, and willingly laid down His life in full confidence that His Father was able and committed to raise Him from death. The Bible says the Spirit of God entered His dead body and raised Him from death (see Romans 8:11).
   
WE ALL FEAR DEATH
   
   The Resurrection is important because we all fear death. We work hard to mask it, reframe it, or pretend otherwise. Yet death is a hot topic in our culture. It dominates our television dramas, novels, TV and Internet news, and blog sites. We watch and read about death by war, disease, murder, and natural disaster—as told by victims, survivors, crime-scene investigators, and the mourners left behind. We are fascinated by death. We just don't want it to visit our house.
   A dark fear lurks inside the human heart, framed in the burning question: "What will happen to me when I die?"
   I have good news on this topic! God broke the power of death on the third day when He raised Jesus from the grave! He stripped Satan of the power he had gained through Adam's sin. And that was when Jesus, fresh from His resurrection, said, "All authority has been given to Me in heaven and on earth" (Matthew 28:18, NASB).
   Jesus regained what Adam had lost. He paid the ultimate price—His life—to purchase eternal life for you and me. His resurrection from the dead declared He was the only Son of God. He is alive forevermore!
   Now do you see why the Resurrection is so important?
   That same Spirit that raised Christ from the dead can come to live inside of you! You can be transformed and born again from the inside out. The old you will pass away, and you will be a new creation in Christ Jesus (see 2 Corinthians 5:17).
   This is how you become a child of God! And this is why the fear of death should have no power over you! With Christ as your Savior, when your body is finally laid to rest, your spirit—the real you—will slip out of your body and remain alive forever with God.
   If you put your hand in a glove, that glove moves when you move. Once you pull your hand out of the glove, it lies motionless and empty. Your hand represents your "spirit man," and your body is your "earth glove." When the earth glove wears out, the same power that raised Christ from the dead also removes your spirit man from the empty body—and your life continues.
   That is the power of the Resurrection! Now you can live without the fear of death and fully enjoy life! Because He lives, you can live—with joy, peace, and right standing with God. Fear will release its grip on your life.
   "O Death, where is your sting? O Hades, where is your victory?… But thanks be to God, who gives us the victory through our Lord Jesus Christ" (1 Corinthians 15:55, 57).
   During His stay on earth, Jesus showed that He had power over death. The report of one incident reveals His love and compassion toward those dealing with the painful reality of death:
    
And behold, there came a man named Jairus, and he was a ruler of the synagogue. And he fell down at Jesus' feet and begged Him to come to his house, for he had an only daughter about twelve years of age, and she was dying.
   But as He went, the multitudes thronged Him.…
   While He was still speaking, someone came from the ruler of the synagogue's house, saying to him, "Your daughter is dead. Do not trouble the Teacher."
   But when Jesus heard it, He answered him, saying, "Do not be afraid; only believe, and she will be made well." When He came into the house, He permited no one to go in except Peter, James, and John, and the father and mother of the girl. Now all wept and mourned for her; but He said,"Do not weep; she is not dead, but sleeping." And they ridiculed Him, knowing that she was dead.
   But He put them all outside, took her by the hand and called, saying, "Little girl, arise." Then her spirit returned, and she arose immediately. (Luke 8:41–42, 49–55)

But the power Jesus displayed over death did not disappear when He ascended to heaven. Just ask Heather.

Clinically Dead, Supernaturally Raised!
 
THE  HEATHER  ROSS  STORY

The family doctor thought he had a simple case with an obvious treatment when seventeen-year-old Heather came to his office.
    Heather's mother had brought her in the moment she realized Heather's symptoms were worse than usual. The doctor decided she had strep throat. "The doctor prescribed penicillin—even though everyone else in my family was very allergic to it. I told him I'd never taken the antibiotic before, but he wasn't worried about it."
   The doctor wasn't worried, so Heather didn't worry either. Once she took the penicillin, things took a sudden turn…"I got really ill and laid down. When I woke up, I felt like I needed to vomit so I started to get up, but I could barely stand.
   "When I started down the hall to the bathroom (about twenty feet), I was so unsteady that my head was bouncing against both walls. I finally made it, but as I began to vomit I passed out and everything lodged into my throat while I was unconscious."
   The normal flow of oxygen to Heather's brain had been interrupted. She was dying minute by minute. She passed out around 11:30 that morning, after her mother had gone to work. Her mother returned from work just after 4:30 p.m. and discovered Heather sprawled on the floor. Five long hours had gone by.
   Panic hit because Heather was a type 1 diabetic. Her mother feared that Heather's blood sugar levels had dropped to dangerous levels. When none of the usual procedures she did seemed to work, Heather's mother called the paramedics.                                                  
   Once the doctors at the hospital completed their initial examination, they came out with some shocking news: Heather was clinically brain dead. (Her mother remembers the doctors saying,"She is a vegetable.") No one knew at the time that Heather was much more aware of her surroundings than anyone suspected. Heather said, "I could hear people around me talking! I remember the nurse who told my aunt and uncle, 'You know, she's pretty much gone.'                                              
   "During that time, God asked me,  What are you doing for Me? What are you doing with your life? What is the purpose of your life? And I didn't have any answers.                                                                  
   "I was a typical teenager who thought, Hey, I'm seventeen. I'll do whatever I want. After all, it doesn't affect anyone else! But now in my heart I was crying out,  Oh, God,  just get me through this. Just give me one more chance, just one more day!"
   Heather's mother finally left the hospital room to pray. In the middle of her tears and brokenhearted pleas, God spoke to her heart: You can give up, or you can fight. It's up to you. She knew the answer. "Okay, I'm gonna fight for this!" She renewed her battle for the life of her child and began to pour out her heart in urgent prayer and determined intercession in the name of Jesus.
   "For the first time in two and a half days, I opened my eyes. And within a week I was out of the hospital, walking and talking! I was just as good as I was before I got sick, only twelve times better!
   "Once you die and come back to life again, you have a new realization of what true life can be. I am living proof of God's hope and healing." (Adapted from videotaped interview.)

GOD LOVES YOU: THE RESURRECTION IS THE PROOF !

   Jesus did not die for Himself; He died for you and me. It was the greatest act of love in all of history: Jesus died for people who didn't even know Him or care!
   We all need forgiveness, and we need someone who is innocent to pay for our sins. Jesus, the pure and holy Son of God, took the blame for our sins and paid the price so that we could be forgiven and enjoy a brand-new start! Have you messed up? Have things gone wrong? This is your time—right now—to receive forgiveness for your sin and healing for your brokenness. Before you were born, God knew what you would need. Because Jesus loved you, you can start a new life and leave your past behind. He will help you overcome every obstacle that you will face! Let God wipe your slate clean.
   This is the beginning of your new day! Decide now. Receive Jesus. Know that He is waiting to embrace you and celebrate your life!
   Are you thinking, Well, how does He feel about me with all of the bad things that I've done? He loves you and when you admit your wrongs and turn away from them, He will forgive you of them forever! Actually, He loved and forgave you before you were born! He only requires that you repent. Simply pray, Jesus, forgive me. I receive Your love. Let it happen in your life—now! Here's an incredible story of what Jesus can do!
   
"I'm Saved! Love Healed and Delivered Me!"

THE KIRBY MCCAULEY STORY

Kirby remembers the adult whispers about her father's "strange relationship" with her, but as a little girl she had no clue they were talking about sexual abuse. He died when she was ten years old, and she still can't pinpoint when the abuse started.
   "Quite a few cousins and younger siblings lived at home with us, and they were being molested too.
    "Since my mom had been molested during her childhood too, I think it was hard for her to acknowledge the problem and stop it."
   Kirby grew up in a family of nine in a home with no love. "I didn't know what love was," Kirby said. After her dad died, Kirby's mother had to leave the children in the care of the eldest sister while she went to work each day. She was only twelve herself, so she really couldn 't provide parental guidance to her siblings.
   "We started to experiment sexually during that time, and we did a lot of things that the average child probably wouldn't do," Kirby said.
   "I began to 'experiment' with a guy who was seventeen years old. I'm sure he knew what he was doing, but I didn't.
   "Mom always worked, and when she finally got home at night, she didn't have much time or energy for us. When Mom finally realized what had happened and told me (I was going to have a baby), I was already five months pregnant but still playing out in the backyard with my brothers and sisters!"
   Despite having a baby, Kirby still didn't know how she had gotten pre gnant. Predictably, she had a second baby at sixteen. Her experimentation also led to drug addiction and truancy. Eventually, it even led Kirby into prostitution.
    When Kirby's mother learned her daughter was pregnant the second time, she said, "Kirby, if you go out there and you have those kids, then you're gonna have to provide for them." So Kirby moved out of her mother's house and into a relationship at age seventeen.
    "This guy noticed I wanted a father figure in my young son's life. He started coming over and acted as if he would meet that need, but he actually wanted an 'exchange.'
   "He would invest his money if I would provide sex. I thought it was love, because love to me was sex. I had never known anything else.
    "He was a drug dealer and his activities put us all in jeopardy. Several times people came to my home with handguns or shotguns looking for him. I lived in constant fear for almost three years."
   The man beat Kirby, and on the last day before she escaped from that relationship, he threatened her children as well. She slipped out of the back door and called the police from her neighbor's house. They took her boyfriend to jail, and they also took her children into protective custody.
   "I'll never forget that night. I was already an alcoholic, so I left my apartment to find something to drink. I wanted to drown my pain with alcohol.
    "It was hard seeing my kids placed in such a bad situation. I felt as if I couldn't do anything about it. Then I was introduced to cocaine, and my behavior and personality quickly took a more dangerous turn. I wasn't even myself. I could tell the addiction was taking over, but I didn't know what to do."
   Some friends invited Kirby to church services sometimes, but she always came back unchanged…because she still hadn't encountered Jesus personally.
    "After I lost the kids, I smoked crack and drank beer for four straight months. Then I found out I was four months pregnant!
   "It didn't change a thing; I still tried to stay high on crack cocaine for the entire nine months of my pregnancy to erase my pain.
   "Things got so bad that when I went to the crack house to buy drugs, I moved in there! It was awful. "
    Kirby didn't want to face her past or her miserable present because it brought her torment. She wanted to drown out those thoughts by any means possible, but time was running out. She discovered that even when she injected crack cocaine she wasn't getting high anymore. Kirby began to walk the streets at night, crying out to "somebody, anybody" for help.
   "I'll never forget the nineteenth of June," Kirby said. "I was walking down a street when I heard some live music that just seemed to draw me, and I didn't know why." A woman noticed that Kirby was crying and asked what was going on.
    "I thought I wanted to kill myself, but something inside me really wanted to live. This lady said, 'Well, just come down here. We have a street ministry.'
    "I don't remember what the message was, but afterward a guy called me up and started praying over me. That's when a feeling came over me. Something literally came up out of my body! All of the heaviness that had been weighing on me just disappeared!
   "I just kept saying, 'I'm saved!' It must have been God, because I didn't even know what 'I'm saved' meant. I couldn't help it. In my joy, I just kept saying, 'I'm saved! I'm saved!'
    "Today I can tell you that through His resurrection Jesus saved me from hell, from the dark world, and from the destructive hurts and pain I was experiencing. He literally saved me from 'where I was going.' "God's love for me is the greatest thing that could have ever happened. Love is what healed and delivered me!" (Adapted from videotaped interview.)


EMBRACE JESUS, EMBRACE YOUR NEW LIFE

There are no limits to God's power! It is the power made available through the resurrection of Jesus. And that same resurrection power can be right where you are this very moment!
    Do you sense the Holy Spirit drawing near to you right now? He may be whispering to your heart, "You can have a resurrection in your life too! I can raise the dreams that have died. I can restore what has been destroyed, wasted, or ruined."
    Jesus can resurrect broken families, rebuild destroyed marriages, and restore wasted lives. Just pray, "Yes, Lord. I receive what You did for me." Simply believe and receive. Put your trust in Jesus and receive eternal life from Him through the power of the Resurrection.
   Are you wondering, How do I believe?
   You begin by believing what you have heard from the Word of God: Jesus was declared to be the Son of God by His resurrection from the dead (see Romans 1:4). Only in Jesus can you know that you will live with God forever!
    "How do you know?" you ask. Jesus puts His Spirit on the inside of you. He is God's living "witness" or confirmation in your heart. It produces an unshakable "knowing" that you belong to God as one of His children, a member of God's family.
    God is saying to you, I desire you and love you so much that I gave My only Son so that you who believe in Him would not perish—would not go to hell—would not be destroyed, but would have everlasting life! (see John 3:16).
    Once your life is under new management from heaven, God's resur-rection life inside you transforms who you are and gives you hope, peace, joy, and confidence.
    Why wait to accept this gift of eternal life from God? Just pray this prayer out loud: "Jesus, I believe You are the Son of God. I believe You died for me. I believe You were raised from the dead, and I confess You as my Lord. This day, Jesus, I receive Your resurrection power inside of me." 
   Now find another Christian, and tell him or her what God has done in your life! Find a church that preaches the Bible, and study the Bible for yourself (begin with the gospel of John in the New Testament).
    Finally, make sure you talk to the Lord every day. He is the Friend who will never leave you. He always hears and has your very best in mind.
    Receive your good news! This is the new beginning you have longed for!
    Welcome to the family!
Bestsellers in Christian Living