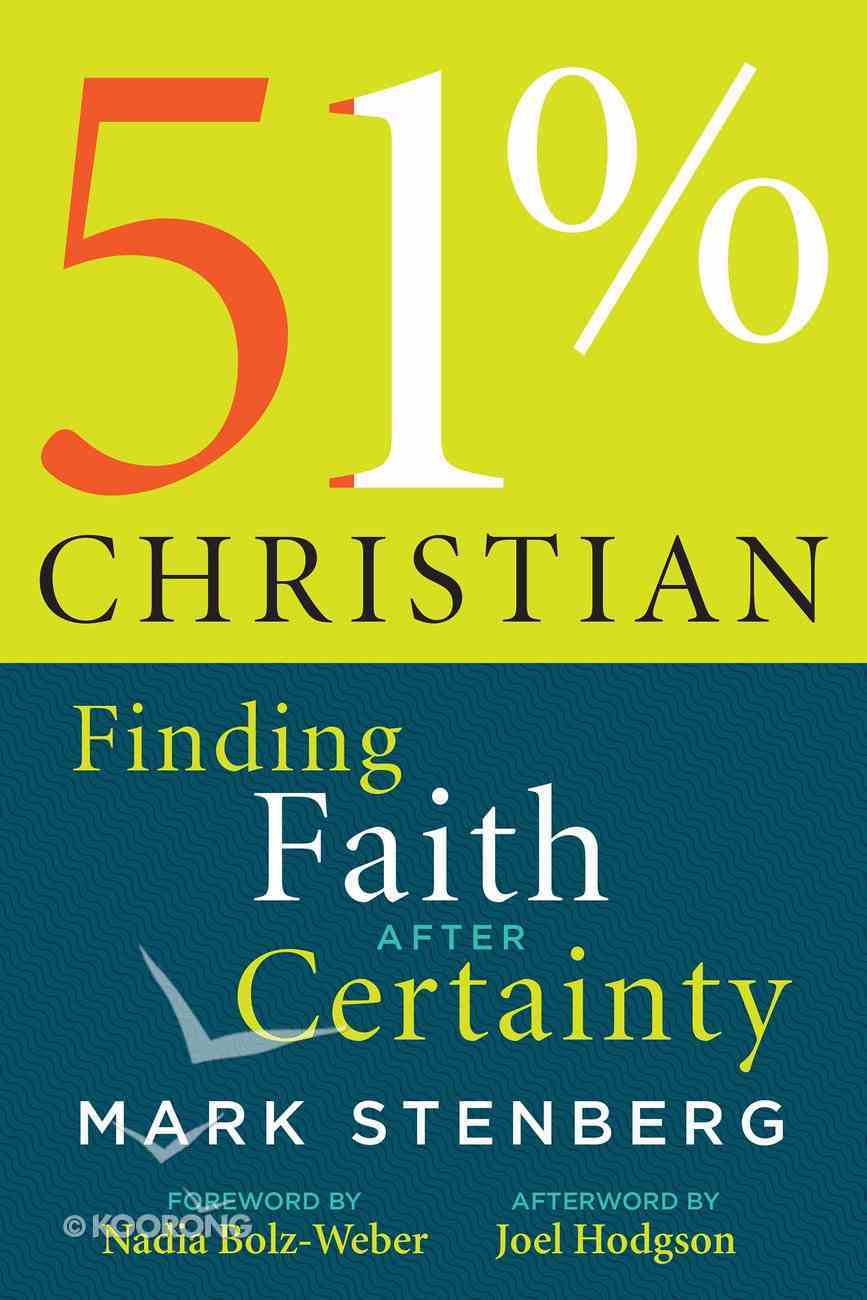 God is not an idea. Christian faith is not a set of propositions you either believe or reject. According to a proper Trinitarian understanding, God is essentially relationship, a relationship of sheer, active, ecstatic, self-giving love. If we truly are...
Instant download
---
Expected to ship on Monday from Australia.
---
Read using our free app on your tablet or mobile!
---
Free Shipping
for orders over $99.

God is not an idea. Christian faith is not a set of propositions you either believe or reject. According to a proper Trinitarian understanding, God is essentially relationship, a relationship of sheer, active, ecstatic, self-giving love. If we truly are encountered by this magnificent love of the Trinity, then faith becomes a living and active daily practice. Just like a healthy marriage or a close and loyal friendship, it becomes something you choose every day.


This "51% Christian" moniker is a ridiculous label with a deadly serious point. You now have permission to doubt, to question, to get angry at God. But, in the end, it's not about you. Faith is about relationship: a living, daily relationship, based on trust, and active in concrete, daily practices.


With this sort of freedom in grace, Stenberg takes a fresh new look at theology, thirteen topics that, one by one, examine the best of what the Bible and the history of Christian practitioners have to say. Looking through this grace-based, radically relational lens, the author offers a lively and engaging discussion of topics such as creation, violence, love, death, heaven, and hell. You might not always agree.


-Publisher
Mark Stenberg is a founding pastor of two innovative, emerging churches: House of Mercy Church in St. Paul, Minnesota and Mercy Seat Lutheran Church in Northeast Minneapolis. He holds a PhD from Northwestern University and regularly teaches preaching practicums at Luther Seminary
<p><a Id="_dx_frag_startfragment" Name= "_dx_frag_startfragment"></a><span>god Is Not An Idea. Christian Faith Is Not A Set Of Propositions You Either Believe Or Reject. According To A Proper Trinitarian Understanding, God Is Essentially Relationship, A Relationship Of Sheer, Active, Ecstatic, Self-giving Love. If We Truly Are Encountered By This Magnificent Love Of The Trinity, Then Faith Becomes A Living And Active Daily Practice. Just Like A Healthy Marriage Or A Close And Loyal Friendship, It Becomes Something You Choose Every Day.</span></p> <p><span>this "51% Christian" Moniker Is A Ridiculous Label With A Deadly Serious Point. You Now Have Permission To Doubt, To Question, To Get Angry At God. But, In The End, It's Not About You. Faith Is About Relationship: A Living, Daily Relationship, Based On Trust, And Active In Concrete, Daily Practices.</span></p> <p><span>with This Sort Of Freedom In Grace, Stenberg Takes A Fresh New Look At Theology, Thirteen Topics That, One By One, Examine The Best Of What The Bible And The History Of Christian Practitioners Have To Say. Looking Through This Grace-based, Radically Relational Lens, The Author Offers A Lively And Engaging Discussion Of Topics Such As Creation, Violence, Love, Death, Heaven, And Hell. You Might Not Always Agree.</span><a Id="_dx_frag_endfragment" Name= "_dx_frag_endfragment"></a></p>