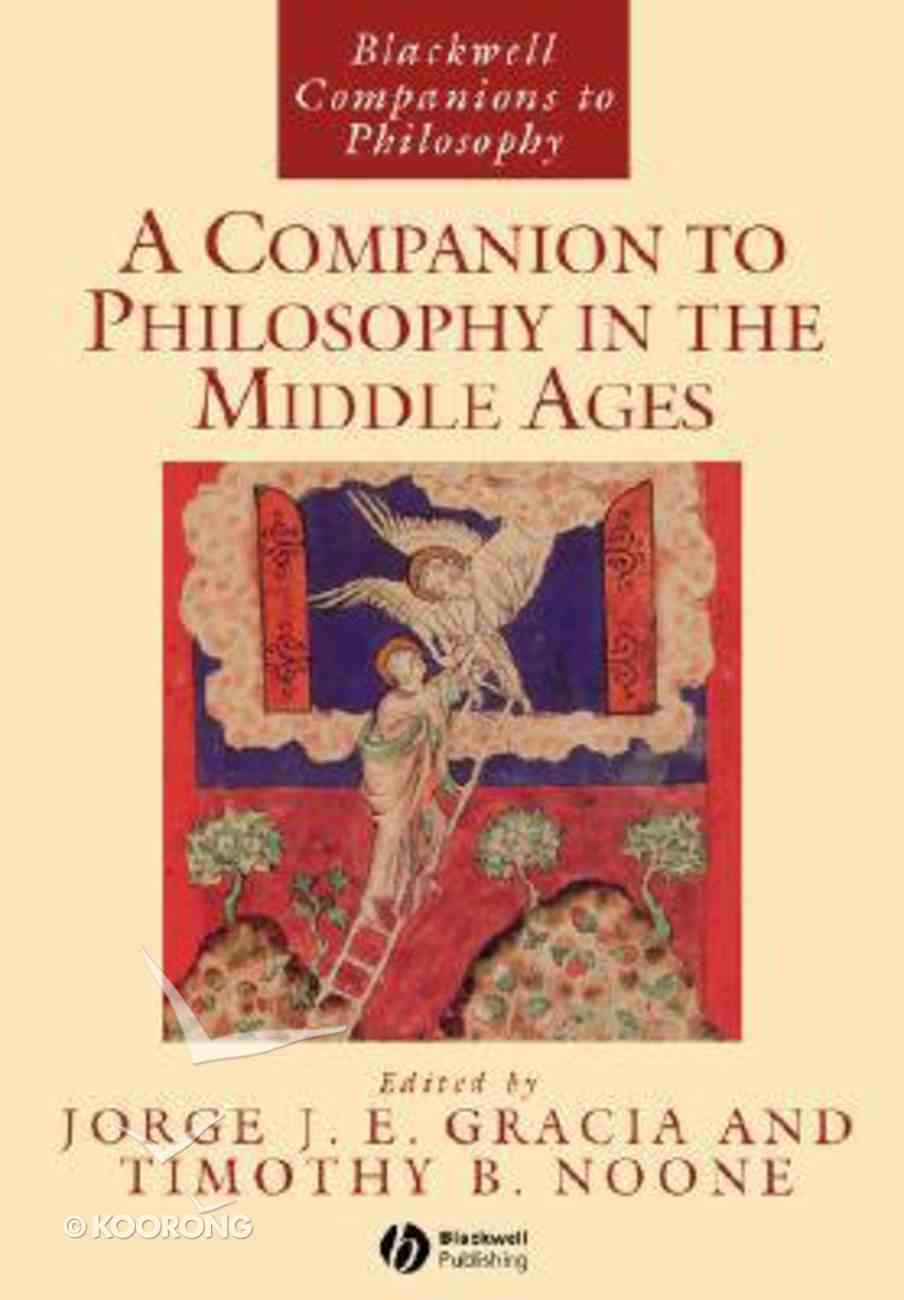 A Companion to Philosphy in the Middle Ages
List of Contributors. Preface. Chronological List of Philosophers. Philosophy in the Middle Ages: An Introduction: Jorge J. E. Gracia (State University of New York at Buffalo). Part I: The Historical Context: The Ancient Philosophical Legacy and its Transmission to the...
Special Order
Payment is by credit card only. Orders for this item cannot be cancelled or returned.
---
Free Shipping
for orders over $99.
List of Contributors. Preface. Chronological List of Philosophers. Philosophy in the Middle Ages: An Introduction: Jorge J. E. Gracia (State University of New York at Buffalo). Part I: The Historical Context: The Ancient Philosophical Legacy and its Transmission to the Middle Ages: Charles H. Lohr (University of Freibourg). The Patristic Background: Stephen F. Brown (Boston College). Philosophy in the Latin Christian West: 750-1050: Peter King (Ohio State University). The School of Chartres: Winthrop Wetherbee (Cornell University). Religious Orders: M. Michele Mulchahey (Fordham University) and Timothy B. Noone (The Catholic University of America). Scholasticism: Timothy B. Noone (The Catholic University of America). The Parisian Condemnations of 1270 and 1277: John F. Wippel (The Catholic University of America). Part II: The Authors: Adam de Wodeham: Rega Wood (Stanford University). Adelard of Bath: Jeremiah Hackett (The Pennsylvania State University). Alan of Lille: John Marenbon (Cambridge University). Albert of Saxony: Edward Grant (Indiana University). Albertus Magnus: Mechthild Dreyer (Albertus Magnus Institute, Cologne). Albumasar (Abu Ma'shar): Jeremiah Hackett (South Carolina University). Alexander of Hales: Christopher M. Cullen (Fordham University). Alfarabi (Al-Farabi): Deborah L. Black (University of Toronto). Algazali (Al-Ghazali): Therese-Anne Druart (The Catholic University of America). Alhacen (Al-Hasan): David C. Lindberg (University of Wisconsin, Madison). Alkindi (Al-Kindi): Jean Jolivet (University of Paris). Alrazi (Al-Razi): Therese-Anne Druart (The Catholic University of America). Anselm of Canterbury: Jasper Hopkins (University of Minnesota). Arnaldus de Villanova: Francisco Bertelloni (University of Buenos Aires). Augustine: Scott MacDonald (Cornell University). Avempace (Ibn Bajjah): Idris Samawi Hamid (Colorado State University). Avencebrol (Ibn Gabirol): Tamar Rudavsky (Ohio State University). Averroes (Ibn Rushd): Richard C. Taylor (Marquette University). Avicenna (Ibn Sina): David B. Burrell (University of Notre Dame). Bernard of Clairvaux: Brian Patrick McGuire (Roskilde University, Denmark). Berthold of Moosburg: Bruce Milem (University of Oregon). Boethius: John Magee, (University of Toronto). Boethius of Dacia: B. Carlos Bazan (University of Ottawa). Bonaventure: Andreas Speer (University of Wurzburg). Dante Alighieri: Timothy B. Noone (The Catholic University of America). Denys the Carthusian: Kent Emery, Jr. (University of Notre Dame). Dietrich of Freiberg: Roland J. Teske (Marquette University). Dominicus Gundissalinus: R. E. Houser (University of St. Thomas, Houston). Durand of St. Pourain: Russell L. Friedman (University of Copenhagen). Francis of Marchia: Russell L. Friedman (University of Copenhagen). Francis of Meyronnes: Roberto Lambertini (University of Macerata). Gabriel Biel: Russell L. Friedman (University of Copenhagen). Gaetano of Thiene: Stephen E. Lahey (Le Moyne College). Gersonides: Sarah Pessin (Ohio State University). Gilbert of Poitiers: John Marenbon (Cambridge University). Giles of Rome: Silvia Donati (University of Padua). Godfrey of Fontaines: John F. Wippel (The Catholic University of America). Gonsalvo of Spain: A. G. Traver (Southeastern Louisiana University). Gregory of Rimini: Jack Zupko (Emory University). Guido Terrena: Francisco Bertelloni (University of Buenos Aires). Hasdai Crescas: Tamar Rudavsky (Ohio State University). Henry of Ghent: R. Wielockx (Pontifical University of the Holy Cross, Rome). Henry of Harclay: Mark G. Henninger (University of Detroit). Hervaeus Natalis: Roland J. Teske (Marquette University). Heymeric of Camp: Peter J. Cassarella (The Catholic University of America). Hildegard of Bingen: Bruce Milem (Univer
-Publisher
This comprehensive reference volume features essays by some of the most distinguished scholars in the field. ^Provides a comprehensive "who's who" guide to medieval philosophers. ^Offers a refreshing mix of essays providing historical context followed by 140 alphabetically arranged entries on individual thinkers. ^Constitutes an extensively cross-referenced and indexed source. ^Written by a distinguished cast of philosophers. ^Spans the history of medieval philosophy from the fourth century AD to the fifteenth century.
-Publisher
ist of Contributors.reface.hronological List of Philosophers.hilosophy in the Middle Ages: An Introduction: Jorge J. E. Gracia (State University of New York at Buffalo).art I: The Historical Context:he Ancient Philosophical Legacy and its Transmission to the Middle Ages: Charles H. Lohr (University of Freibourg).he Patristic Background: Stephen F. Brown (Boston College).hilosophy in the Latin Christian West: 750-1050: Peter King (Ohio State University).he School of Chartres: Winthrop Wetherbee (Cornell University).eligious Orders: M. Michele Mulchahey (Fordham University) and Timothy B. Noone (The Catholic University of America).cholasticism: Timothy B. Noone (The Catholic University of America).he Parisian Condemnations of 1270 and 1277: John F. Wippel (The Catholic University of America).art II: The Authors:dam de Wodeham: Rega Wood (Stanford University).delard of Bath: Jeremiah Hackett (The Pennsylvania State University).lan of Lille: John Marenbon (Cambridge University).lbert of Saxony: Edward Grant (Indiana University).lbertus Magnus: Mechthild Dreyer (Albertus Magnus Institute, Cologne).lbumasar (Abu Ma''shar): Jeremiah Hackett (South Carolina University).lexander of Hales: Christopher M. Cullen (Fordham University).lfarabi (Al-Farabi): Deborah L. Black (University of Toronto).lgazali (Al-Ghazali): Therese-Anne Druart (The Catholic University of America).lhacen (Al-Hasan): David C. Lindberg (University of Wisconsin, Madison).lkindi (Al-Kindi): Jean Jolivet (University of Paris).lrazi (Al-Razi): Therese-Anne Druart (The Catholic University of America).nselm of Canterbury: Jasper Hopkins (University of Minnesota).rnaldus de Villanova: Francisco Bertelloni (University of Buenos Aires).ugustine: Scott MacDonald (Cornell University).vempace (Ibn Bajjah): Idris Samawi Hamid (Colorado State University).vencebrol (Ibn Gabirol): Tamar Rudavsky (Ohio State University).verroes (Ibn Rushd): Richard C. Taylor (Marquette University).vicenna (Ibn Sina): David B. Burrell (University of Notre Dame).ernard of Clairvaux: Brian Patrick McGuire (Roskilde University, Denmark).erthold of Moosburg: Bruce Milem (University of Oregon).oethius: John Magee, (University of Toronto).oethius of Dacia: B. Carlos Bazan (University of Ottawa).onaventure: Andreas Speer (University of Wurzburg).ante Alighieri: Timothy B. Noone (The Catholic University of America).enys the Carthusian: Kent Emery, Jr. (University of Notre Dame).ietrich of Freiberg: Roland J. Teske (Marquette University).ominicus Gundissalinus: R. E. Houser (University of St. Thomas, Houston).urand of St. Pourain: Russell L. Friedman (University of Copenhagen).rancis of Marchia: Russell L. Friedman (University of Copenhagen).rancis of Meyronnes: Roberto Lambertini (University of Macerata).abriel Biel: Russell L. Friedman (University of Copenhagen).aetano of Thiene: Stephen E. Lahey (Le Moyne College).ersonides: Sarah Pessin (Ohio State University).ilbert of Poitiers: John Marenbon (Cambridge University).iles of Rome: Silvia Donati (University of Padua).odfrey of Fontaines: John F. Wippel (The Catholic University of America).onsalvo of Spain: A. G. Traver (Southeastern Louisiana University).regory of Rimini: Jack Zupko (Emory University).uido Terrena: Francisco Bertelloni (University of Buenos Aires).asdai Crescas: Tamar Rudavsky (Ohio State University).enry of Ghent: R. Wielockx (Pontifical University of the Holy Cross, Rome).enry of Harclay: Mark G. Henninger (University of Detroit).ervaeus Natalis: Roland J. Teske (Marquette University).eymeric of Camp: Peter J. Cassarella (The Catholic University of America).ildegard of Bingen: Bruce Milem (University of Oregon).ugh of St. Victor: Michael Gorman (The Catholic University of America).saac Israeli: Sarah Pessin (Ohio State University).sidore of Seville: Sandro D''Onofrio (University of San Ignacio).ames of Metz: Russell L. Friedman (University of Copenhagen).ames of Viterbo: Mark D. Gossiaux (St. John''s University).ean de la Rochelle: Gerard S
-Publisher
:<p>list Of Contributors Xii</p> <p>preface Xv</p> <p>chronological List Xviii</p> <p>philosophy In The Middle Ages: An Introduction 1<br /><i>jorge J. E. Gracia</i></p> <p><b>part I: The Historical Context</b></p> <p>1 The Ancient Philosophical Legacy And Its Transmission To The Middle Ages 15<br /><i>charles H. Lohr</i></p> <p>2 The Patristic Background 23<br /><i>stephen F. Brown</i></p> <p>3 Philosophy In The Latin Christian West: 750&amp;ndash;1050 32<br /><i>peter King</i></p> <p>4 The School Of Chartres 36<br /><i>winthrop Wetherbee</i></p> <p>5 Religious Orders 45<br /><i>m. Michle Mulchahey And Timothy B. Noone</i></p> <p>6 Scholasticism 55<br /><i>timothy B. Noone</i></p> <p>7 The Parisian Condemnations Of 1270 And 1277 65<br /><i>john F. Wippel</i></p> <p><b>part Ii: The Authors</b></p> <p>1 Adam Of Wodeham 77<br /><i>rega Wood</i></p> <p>2 Adelard Of Bath 86<br /><i>jeremiah Hackett</i></p> <p>3 Alan Of Lille 88<br /><i>john Marenbon</i></p> <p>4 Albert Of Saxony 90<br /><i>edward Grant</i></p> <p>5 Albertus Magnus 92<br /><i>mechthild Dreyer</i></p> <p>6 Albumasar (abu Ma&amp;rsquo;shar) 102<br /><i>jeremiah Hackett</i></p> <p>7 Alexander Of Hales 104<br /><i>christopher M. Cullen</i></p> <p>8 Alfarabi (al-farab) 109<br /><i>deborah L. Black</i></p> <p>9 Algazali (al-ghazal) 118<br /><i>thrse-anne Druart</i></p> <p>10 Alhacen (al-hasan) 127<br /><i>david C. Lindberg</i></p> <p>11 Alkindi (al-kindi) 129<br /><i>jean Jolivet</i></p> <p>12 Alrazi (al-raz) 136<br /><i>thrse-anne Druart</i></p> <p>13 Anselm Of Canterbury 138<br /><i>jasper Hopkins</i></p> <p>14 Arnaldus Of Villanova 152<br /><i>francisco Bertelloni</i></p> <p>15 Augustine 154<br /><i>scott Macdonald</i></p> <p>16 Avempace (ibn Bjjah) 172<br /><i>idris Samawi Hamid</i></p> <p>17 Avencebrol (ibn Gabirol) 174<br /><i>tamar Rudavsky</i></p> <p>18 Averroes (ibn Rushd) 182<br /><i>richard C. Taylor</i></p> <p>19 Avicenna (ibn Sna) 196<br /><i>david B. Burrell</i></p> <p>20 Bernard Of Clairvaux 209<br /><i>brian Patrick Mcguire</i></p> <p>21 Berthold Of Moosburg 215<br /><i>bruce Milem</i></p> <p>22 Boethius 217<br /><i>john Magee</i></p> <p>23 Boethius Of Dacia 227<br /><i>b. Carlos Bazn</i></p> <p>24 Bonaventure 233<br /><i>andreas Speer</i></p> <p>25 Dante Alighieri 241<br /><i>timothy B. Noone</i></p> <p>26 Denys The Carthusian 243<br /><i>kent Emery, Jr.</i></p> <p>27 Dietrich Of Freiberg 245<br /><i>roland J. Teske</i></p> <p>28 Dominicus Gundissalinus 247<br /><i>r. E. Houser</i></p> <p>29 Durand Of St. Pourain 249<br /><i>russell L. Friedman</i></p> <p>30 Francis Of Marchia 254<br /><i>russell L. Friedman</i></p> <p>31 Francis Of Meyronnes 256<br /><i>roberto Lambertini</i></p> <p>32 Gabriel Biel 258<br /><i>russell L. Friedman</i></p> <p>33 Gaetano Of Thiene 260<br /><i>stephen E. Lahey</i></p> <p>34 Gersonides 262<br /><i>sarah Pessin</i></p> <p>35 Gilbert Of Poitiers 264<br /><i>john Marenbon</i></p> <p>36 Giles Of Rome 266<br /><i>silvia Donati</i></p> <p>37 Godfrey Of Fontaines 272<br /><i>john F. Wippel</i></p> <p>38 Gonsalvo Of Spain 281<br /><i>a. G. Traver</i></p> <p>39 Gregory Of Rimini 283<br /><i>jack Zupko</i></p> <p>40 Guido Terrena 291<br /><i>francisco Bertelloni</i></p> <p>41 Hasdai Crescas 293<br /><i>tamar Rudavsky</i></p> <p>42 Henry Of Ghent 296<br /><i>r. Wielockx</i></p> <p>43 Henry Of Harclay 305<br /><i>mark G. Henninger</i></p> <p>44 Hervaeus Natalis 314<br /><i>roland J. Teske</i></p> <p>45 Heymeric Of Camp 316<br /><i>peter J. Casarella</i></p> <p>46 Hildegard Of Bingen 318<br /><i>bruce Milem</i></p> <p>47 Hugh Of St. Victor 320<br /><i>michael Gorman</i></p> <p>48 Isaac Israeli 326<br /><i>sarah Pessin</i></p> <p>49 Isidore Of Seville 328<br /><i>sandro D&amp;rsquo;onofrio</i></p> <p>50 James Of Metz 330<br /><i>russell L. Friedman</i></p> <p>51 James Of Viterbo 332<br /><i>mark D. Gossiaux</i></p> <p>52 Jean De La Rochelle 334<br /><i>grard Sondag</i></p> <p>53 Jerome Of Prague 336<br /><i>jonathan J. Sanford</i></p> <p>54 John Baconthorpe 338<br /><i>richard Cross</i></p> <p>55 John Buridan 340<br /><i>gyula Klima</i></p> <p>56 John Capreolus 349<br /><i>kevin White</i></p> <p>57 John Dumbleton 351<br /><i>edith Dudley Sylla</i></p> <p>58 John Duns Scotus 353<br /><i>stephen D. Dumont</i></p> <p>59 John Gerson 370<br /><i>james B. South</i></p> <p>60 John Of Jandun 372<br /><i>james B. South</i></p> <p>61 John Of Mirecourt 377<br /><i>mauricio Beuchot</i></p> <p>62 John Of Paris 382<br /><i>russell L. Friedman</i></p> <p>63 John Pecham 384<br /><i>girard J. Etzkorn</i></p> <p>64 John Philoponus 388<br /><i>james B. South</i></p> <p>65 John Of Reading 390<br /><i>kimberly Georgedes</i></p> <p>66 John Of Salisbury 392<br /><i>c. H. Kneepkens</i></p> <p>67 John Scotus Eriugena 397<br /><i>carlos Steel And D. W. Hadley</i></p> <p>68 John Wyclif 407<br /><i>john D. Kronen</i></p> <p>69 Landulph Caracciolo 409<br /><i>christopher Schabel</i></p> <p>70 Marsilius Of Inghen 411<br /><i>maarten J. F. M. Hoenen</i></p> <p>71 Marsilius Of Padua 413<br /><i>francisco Bertelloni</i></p> <p>72 Martin Of Dacia 421<br /><i>jos Luis Rivera</i></p> <p>73 Matthew Of Aquasparta 423<br /><i>r. E. Houser</i></p> <p>74 Maximus Confessor 432<br /><i>eric D. Perl</i></p> <p>75 Meister Eckhart 434<br /><i>jan A. Aertsen</i></p> <p>76 Michael Of Massa 443<br /><i>christopher Schabel</i></p> <p>77 Moses Maimonides 445<br /><i>alfred L. Ivry</i></p> <p>78 Nicholas Of Autrecourt 458<br /><i>mauricio Beuchot</i></p> <p>79 Nicholas Of Cusa 466<br /><i>louis Dupr And Nancy Hudson</i></p> <p>80 Nicole Oresme 475<br /><i>edward Grant</i></p> <p>81 Paul Of Pergula 481<br /><i>stephen E. Lahey</i></p> <p>82 Paul Of Venice 483<br /><i>alan Perreiah</i></p> <p>83 Peter Abelard 485<br /><i>john Marenbon</i></p> <p>84 Peter Auriol 494<br /><i>lauge Olaf Nielsen</i></p> <p>85 Peter Of Auvergne 504<br /><i>robert Andrews</i></p> <p>86 Peter Of Candia 506<br /><i>christopher Schabel</i></p> <p>87 Peter Ceffons 508<br /><i>christopher Schabel</i></p> <p>88 Peter Damian 510<br /><i>jonathan J. Sanford</i></p> <p>89 Peter Helias 512<br /><i>c. H. Kneepkens</i></p> <p>90 Peter Lombard 514<br /><i>philipp W. Rosemann</i></p> <p>91 Peter Olivi 516<br /><i>franois-xavier Putallaz</i></p> <p>92 Peter De Rivo 524<br /><i>christopher Schabel</i></p> <p>93 Peter Of Spain 526<br /><i>gyula Klima</i></p> <p>94 Peter The Venerable 532<br /><i>jonathan J. Sanford</i></p> <p>95 Philip The Chancellor 534<br /><i>r. E. Houser</i></p> <p>96 Pierre D&amp;rsquo;ailly 536<br /><i>richard A. Lee, Jr.</i></p> <p>97 Pierre De Maricourt 538<br /><i>jos Luis Rivera</i></p> <p>98 Pseudo-dionysius 540<br /><i>eric D. Perl</i></p> <p>99 Radulphus Brito 550<br /><i>gordon A. Wilson</i></p> <p>100 Ralph Strode 552<br /><i>kimberly Georgedes</i></p> <p>101 Ramon Lull 553<br /><i>charles H. Lohr</i></p> <p>102 Richard Brinkley 559<br /><i>kimberly Georgedes</i></p> <p>103 Richard Of Campsall 561<br /><i>kimberly Georgedes</i></p> <p>104 Richard Fishacre 563<br /><i>r. James Long</i></p> <p>105 Richard Fitzralph 569<br /><i>kimberly Georgedes</i></p> <p>106 Richard Kilvington 571<br /><i>edith Dudley Sylla</i></p> <p>107 Richard Of Middleton 573<br /><i>richard Cross</i></p> <p>108 Richard Rufus Of Cornwall 579<br /><i>rega Wood</i></p> <p>109 Richard Of St. Victor 588<br /><i>kent Emery, Jr.</i></p> <p>110 Richard Swineshead 595<br /><i>edith Dudley Sylla</i></p> <p>111 Robert Grosseteste 597<br /><i>neil Lewis</i></p> <p>112 Robert Of Halifax 607<br /><i>kimberly Georgedes</i></p> <p>113 Robert Holcot 609<br /><i>kimberly Georgedes</i></p> <p>114 Robert Kilwardby 611<br /><i>a. Broadie</i></p> <p>115 Roger Bacon 616<br /><i>jeremiah Hackett</i></p> <p>116 Roger Marston 626<br /><i>gordon A. Wilson</i></p> <p>117 Saadiah 630<br /><i>sarah Pessin</i></p> <p>118 Siger Of Brabant 632<br /><i>b. Carlos Bazn</i></p> <p>119 Simon Of Faversham 641<br /><i>john Longeway</i></p> <p>120 Thomas Aquinas 643<br /><i>brian Davies</i></p> <p>121 Thomas Bradwardine 660<br /><i>stephen E. Lahey</i></p> <p>122 Thomas Of Erfurt 662<br /><i>mauricio Beuchot</i></p> <p>123 Thomas Of Sutton 664<br /><i>gyula Klima</i></p> <p>124 Thomas Wilton 666<br /><i>cecilia Trifogli</i></p> <p>125 Ulrich Of Strassburg 668<br /><i>kent Emery, Jr.</i></p> <p>126 Vital Du Four 670<br /><i>a. G. Traver</i></p> <p>127 Walter Burley 672<br /><i>m. C. Sommers</i></p> <p>128 Walter Chatton 674<br /><i>girard J. Etzkorn</i></p> <p>129 William Of Alnwick 676<br /><i>stephen D. Dumont</i></p> <p>130 William Arnaud 678<br /><i>stephen E. Lahey</i></p> <p>131 William Of Auvergne 680<br /><i>roland J. Teske</i></p> <p>132 William Of Auxerre 688<br /><i>jack Zupko</i></p> <p>133 William Of Champeaux 690<br /><i>john Marenbon</i></p> <p>134 William Crathorn 692<br /><i>robert Pasnau</i></p> <p>135 William Heytesbury 694<br /><i>john Longeway</i></p> <p>136 William Of Ockham 696<br /><i>timothy B. Noone</i></p> <p>137 William Of Sherwood 713<br /><i>john Longeway</i></p> <p>138 William Of Ware 718<br /><i>richard Cross</i></p> <p>select Topical Bibliography 720</p> <p>index Of Names 725</p> <p>index Of Subjects 731</p>
Bestsellers in Philosophy