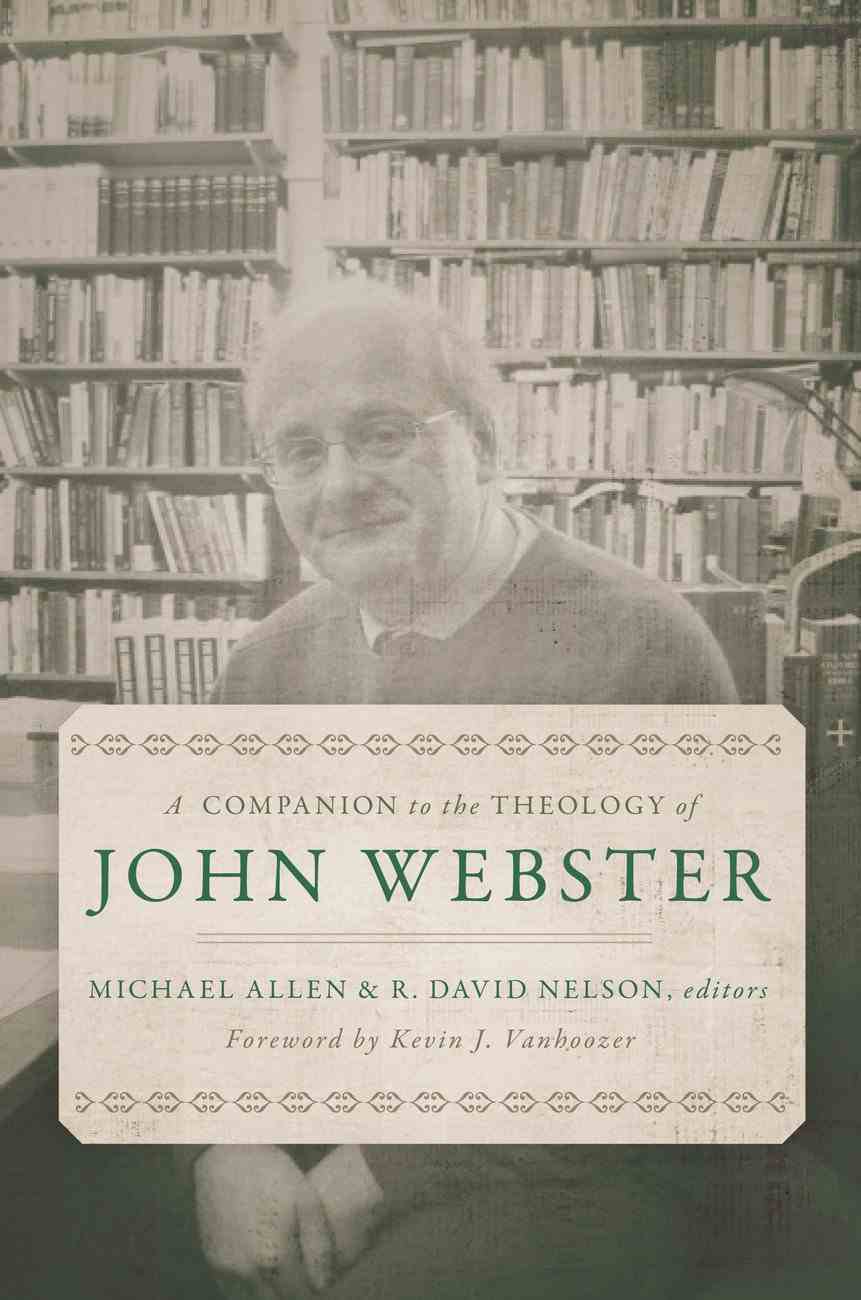 A Companion to the Theology of John Webster
$69.99
20% OFF
―
save $14.00
: An overview and analysis of John Webster's seminal contributions to Christian theology At the time of his death, John Webster was widely hailed as one of the leading Christian theologians in the world. Over the course of three...
---
Expected to ship tomorrow from Australia.
---
Free Shipping
for orders over $99.
:
An overview and analysis of John Webster's seminal contributions to Christian theology


At the time of his death, John Webster was widely hailed as one of the leading Christian theologians in the world. Over the course of three decades, he produced groundbreaking studies on the theologies of Eberhard Jüngel and Karl Barth and, especially since the turn of the millennium, numerous books and essays on various themes in Christian dogmatics. He then intended to write an encyclopedic systematic theology-a project sadly never able to be completed.

No substitute is possible for that lost opus, but the contributors offer this volume as an homage to Webster and an aid to those who want to learn from him. A Companion to the Theology of John Webster begins with an introductory section on Webster's theological development, then continues into an extensive overview of Webster's contributions to contemporary discussions of particular doctrines, and ends with an epilogue suggesting how Webster's theology might have unfolded had he lived longer and proposing ways his work might continue to influence the enterprise of Christian dogmatics. Readers hoping to understand the legacy of this great theologian, and also those eager for fresh insights into the present state and future trajectories of contemporary Protestantism, will find much to offer here.

Contributors: Michael Allen, Ivor J. Davidson, Christopher R. J. Holmes, Matthew Levering, Joseph L. Mangina, R. David Nelson, Paul T. Nimmo, Kenneth Oakes, Fred Sanders, Darren Sarisky, Katherine Sonderegger, Justin Stratis, Kevin J. Vanhoozer, Martin Westerholm, and Tyler R. Wittman.


-Publisher
:<p><b>table Of Contents</b></p><p>foreword&amp;#160;<i>by Kevin J. Vanhoozer</i><br /> Preface&amp;#160;<i>by Michael Allen And R. David Nelson</i><br /> &amp;#160; &amp;#160; &amp;#160;1. John Webster, 1955&amp;ndash;2016&amp;#160;<i>by Ivor J. Davidson</i><br /> Part One: John Webster&amp;rsquo;s Theological Development<br /> &amp;#160; &amp;#160; &amp;#160;2. Theological Theology: Webster&amp;rsquo;s Theological Project&amp;#160;<i>by Michael Allen</i><br /> &amp;#160; &amp;#160; &amp;#160;3. Webster On Eberhard J&amp;uuml;ngel&amp;#160;<i>by R. David Nelson</i><br /> &amp;#160; &amp;#160; &amp;#160;4. Webster On Karl Barth<i>&amp;#160;by Kenneth Oake</i>s<br /> &amp;#160; &amp;#160; &amp;#160;5. Webster On The Theology Of The University&amp;#160;<i>by Martin Westerholm</i><br /> &amp;#160; &amp;#160; &amp;#160;6. Webster&amp;rsquo;s Theological Exegesis Of Christian Scripture&amp;#160;<i>by Matthew Levering</i><br /> Part Two: John Webster On The Theological Topics<br /> &amp;#160; &amp;#160; &amp;#160;7. Scripture&amp;#160;<i>by Darren Sarisky</i><br /> &amp;#160; &amp;#160; &amp;#160;8. Reason<i>&amp;#160;by Michael Allen</i><br /> &amp;#160; &amp;#160; &amp;#160;9. The Triune God<i>&amp;#160;by Fred Sanders</i><br /> &amp;#160; &amp;#160; &amp;#160;10. The Perfection Of God&amp;#160;<i>by Christopher R. J. Holmes</i><br /> &amp;#160; &amp;#160; &amp;#160;11. Creation&amp;#160;<i>by Justin Stratis</i><br /> &amp;#160; &amp;#160; &amp;#160;12. Anthropology&amp;#160;<i>by Michael Allen</i><br /> &amp;#160; &amp;#160; &amp;#160;13. Jesus Christ<i>&amp;#160;by Katherine Sonderegger</i><br /> &amp;#160; &amp;#160; &amp;#160;14. Salvation By Ivor J. Davidson<br /> &amp;#160; &amp;#160; &amp;#160;15. The Church&amp;#160;<i>by Joseph L. Mangina</i><br /> &amp;#160; &amp;#160; &amp;#160;16. Metaphysics&amp;#160;<i>by Tyler R. Wittman</i><br /> &amp;#160; &amp;#160; &amp;#160;17. Ethics&amp;#160;<i>by Paul T. Nimmo</i><br /> Epilogue: Courses Charted But Not Taken&amp;#160;<i>by R. David Nelson</i><br /> Bibliography Of Published Works&amp;#160;<i>by John Webster</i></p>