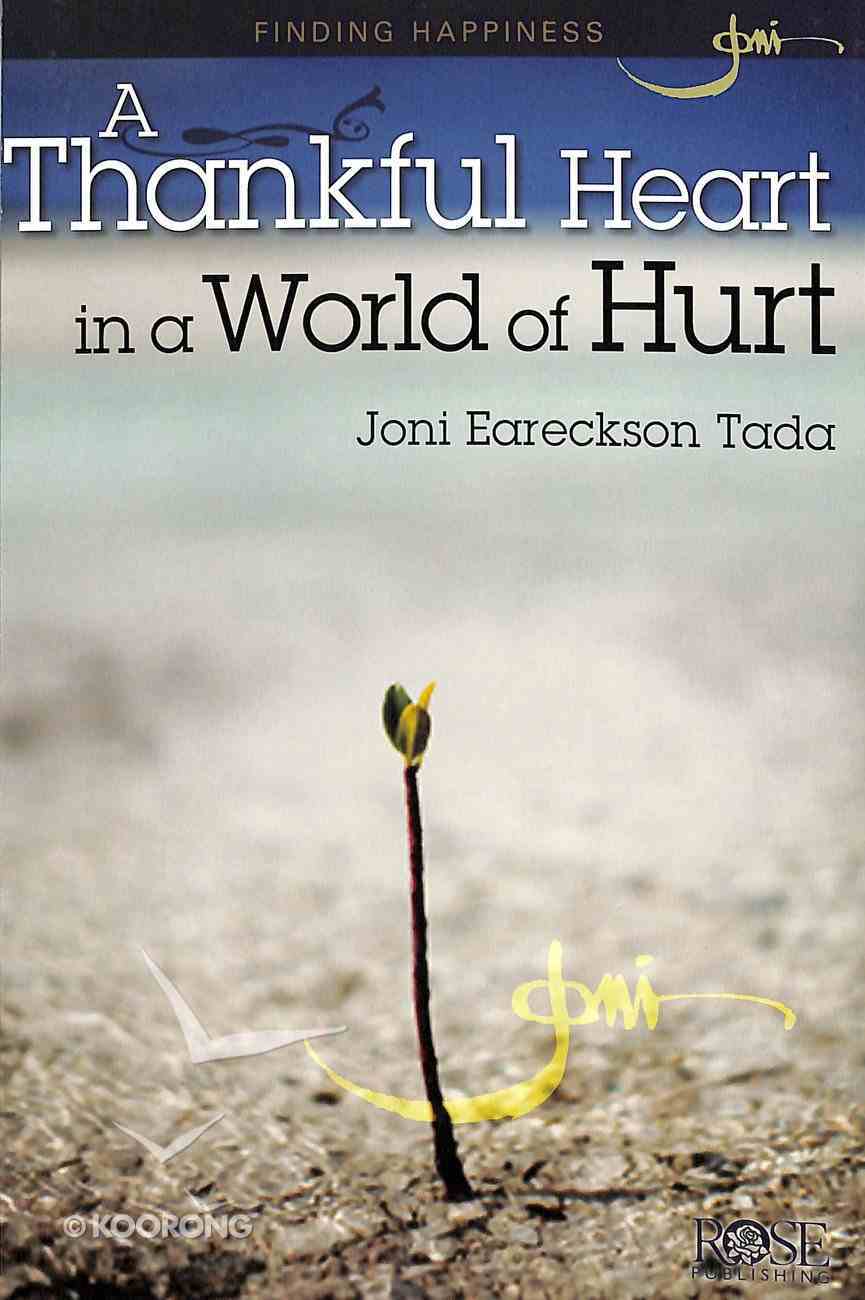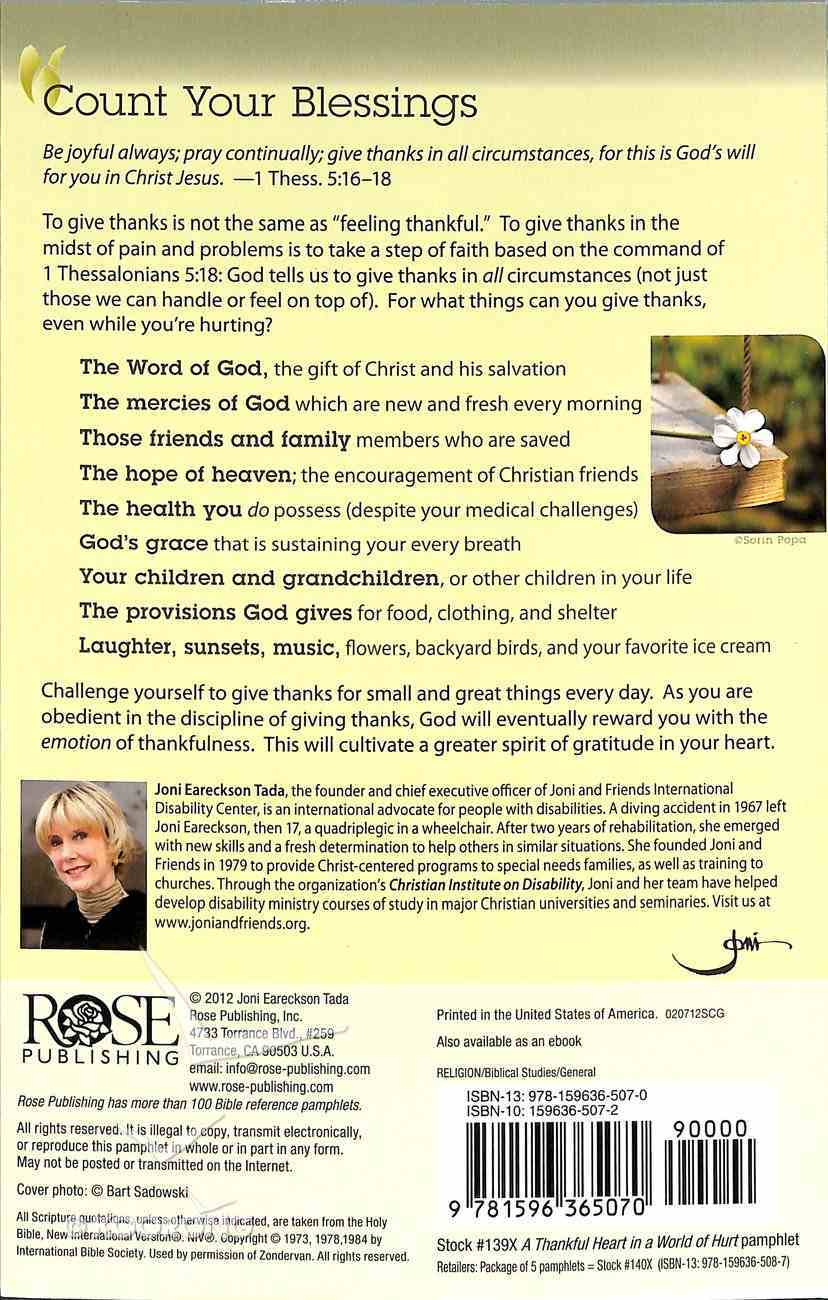 A Finding Happiness: Thankful Heart in a World of Hurt (Rose Guide Series)
It is hard to be grateful when you are looking into the jaws of mind-bending pain. Chronic illness, a heart attack, a terrible car accident, caring for a developmentally disabled child, facing betrayal and loneliness. These tough times make you...
Out of Stock
Available to Order
---
Expected to ship in 5 to 6 weeks from Australia.
---
Free Shipping
for orders over $99.
It is hard to be grateful when you are looking into the jaws of mind-bending pain. Chronic illness, a heart attack, a terrible car accident, caring for a developmentally disabled child, facing betrayal and loneliness. These tough times make you want to give up and throw in the towel. You try to overcome, but the exhaustion destroys your energy and hope. You try to pray, but the pain interrupts your concentration. You want to give up. In A Thankful Heart in a World of Hurt, author Joni Eareckson Tada avoids churchy lingo and easier-said-than-done advice. Instead, she tackles relevant questions such as: How can I really give thanks for all things?How can I cultivate a grateful spirit?What was the Apostle Paul's secret to a grateful heart? (He had been beaten, stoned, whipped, starved, shipwrecked and betrayed by people he thought were friends.)How is it possible to Rejoice in the Lord always? Includes practical tips and relevant insights that will help you experience God's peace even during tough times. Perfect for personal use, small group use, or to hand to a friend for encouragement. 14 panels, fits inside most Bibles, 8.5 x 5.5 inches, unfolds to 38 inches long. 3 Key Features of A Thankful Heart in a World of Hope Bible-Based--Packed with dozens of Scriptures and helps straight from the Word of God, get solid advice for navigating trials that will guide you towards thanksgiving and spiritual growth.Practical--This pamphlet isn't just fluffy encouragement and basic sentiments: get real, practical steps you can take today to apply God's Word to your life and allow him to help you overcome hurt and step into thanksgiving. Relevant--Instead of religious cliches or sugarcoated greeting-card advice, get a wealth of experience and eternal hope from someone who has been there and suffered the pains of loss and illness. Filled with real stories from real people, inspiring testimonies of those that found their hope in the Lord. The topics of fear and hopelessness, depression and suffering, loneliness and worry are issues that author, Joni Eareckson Tada, can speak to personally: A diving accident in 1967, when she was 17, left her a quadriplegic. She has lived 45 years in a wheelchair and she has experienced her share of ups and downs. But, she says, oh, the difference the grace of God has made in my life. Let Joni tell you her secrets to peace and joy, despite her wheelchair. She has spent decades studying the Word of God. She knows that God does not enjoy seeing your suffering. He has compassion for you and gives you many ways to deal with life's pain so that you can have peace. She has taken her most important insights on thankfulness and joy and encapsulated them into this 14-page pamphlet. Whether you or a loved one is suffering, this pamphlet will bring you comfort. Perfect for: Personal & individual useSmall group studyDevotionsHospital ministryChaplaincyOutreach ministryChurch giveawaysAnd more! About the Author Joni Eareckson Tada offers hope to people struggling with health and emotional challenges. After a 1967 diving accident left Joni Eareckson Tada a spinal cord-injured quadriplegic, she embarked on a lifelong study to make sense of suffering from God's perspective. Joni Eareckson Tada is now an international advocate for individuals with disabilities, and the founder of the non-profit organization, Joni & Friends.
-Publisher
Joni Eareckson Tada, the Founder and CEO of Joni and Friends International Disability Center, is an international advocate for people with disabilities.

A diving accident in 1967 left Joni Eareckson, then 17, a quadriplegic in a wheelchair. After two years of rehabilitation, she emerged with new skills and a fresh determination to help others in similar situations.

She founded Joni and Friends in 1979 to provide Christ-centred ministry to special-needs families, as well as training for churches. Joni and Friends serves thousands of special-needs families through Family Retreats, and has delivered over 170,000 wheelchairs and Bibles to needy individuals with disabilities in developing nations.

Joni survived stage III breast cancer in 2010, yet keeps a very active schedule. Her newest book, A Spectacle of Glory, won best devotional book in the Evangelical Christian Publishers Association's 2017 Christian Book Awards - it contains fresh biblical insights from her battle with chronic pain. Joni is General Editor of Tyndale's Beyond Suffering Bible, a special edition published for those who suffer chronic conditions, and their caregivers.
Bestsellers in Tracts/booklets