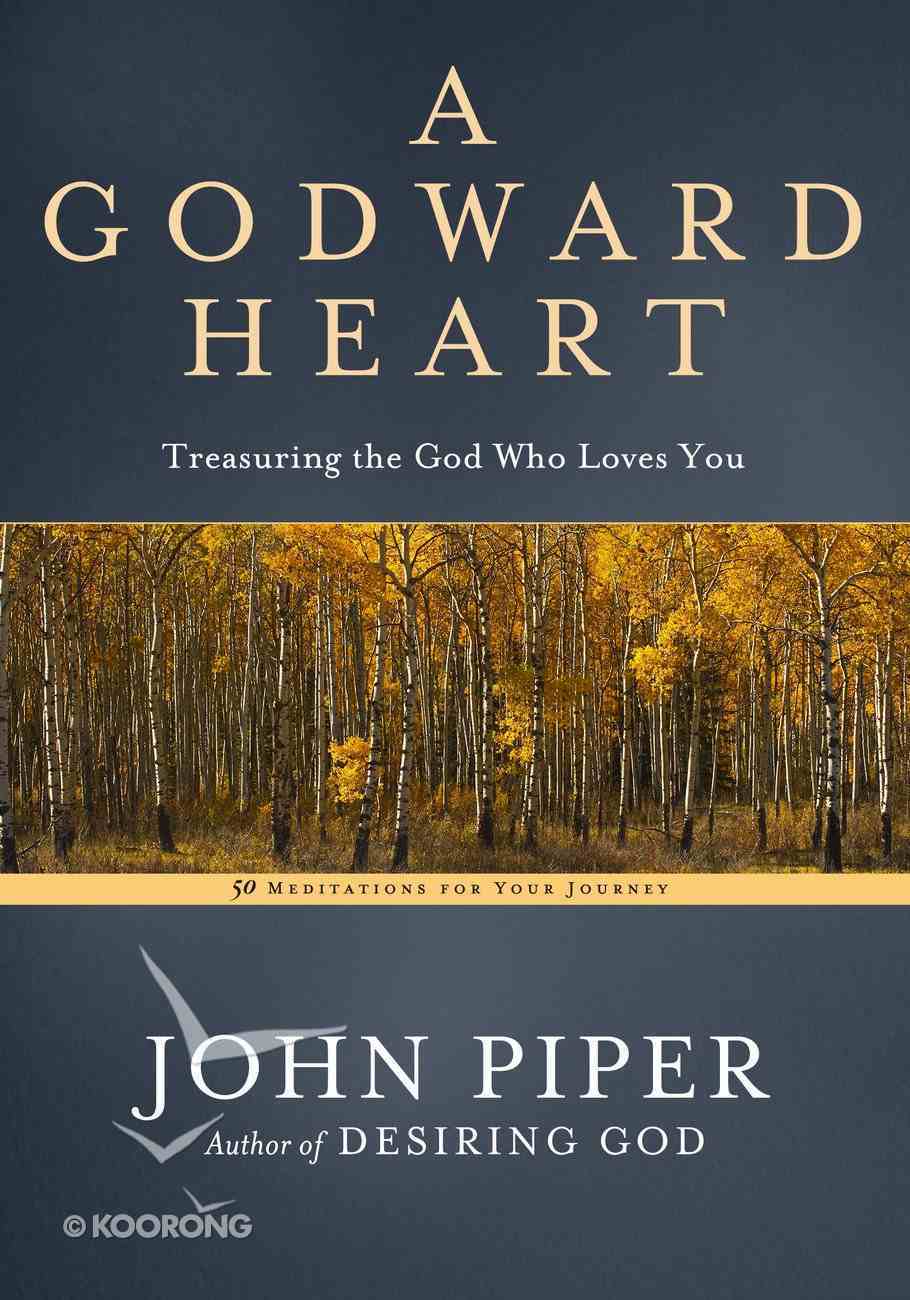 To Satisfy Your Soul — with God   John Piper invites you to experience deeper intimacy with God through these thought-provoking and soul-enriching meditations. Whether you are just discovering the divine richness of Scripture or have long been a passionate...
---
Free Shipping
for orders over $99.
To Satisfy Your Soul — with God
 
John Piper invites you to experience deeper intimacy with God through these thought-provoking and soul-enriching meditations. Whether you are just discovering the divine richness of Scripture or have long been a passionate student, you'll find a deeper understanding of God and renewed insight for your journey.
-Publisher
PRODUCT DETAIL
Catalogue Code 

381592

Product Code 

9781601425669

ISBN 

160142566X

EAN 

9781601425669

Pages 

224

Department General Books
Category Devotions
Sub-Category General
Publisher Multnomah Publishers
Publication Date 

Jan 2014

Sales Rank 

82016

Dimensions 

191 x 132 x 17

mm

Weight 

0.276

kg
John Stephen Piper was born 11 January 1946 in Chattanooga, Tennessee, to Bill and Ruth Piper. The Pipers soon moved to Greenville, South Carolina, where John spent his growing-up years. His father was an itinerant evangelist who also ministered through international radio and Bible courses. John has written a tribute to his mother, who died in 1974, in the booklet, What's the Difference (Crossway Books, 1990) which is also chapter one of the book, Recovering Biblical Manhood and Womanhood (Crossway Books, 1991).

At Wheaton College (1964-68), John majored in Literature and minored in Philosophy. Studying Romantic Literature with Clyde Kilby stimulated the poetic side of his nature and today he regularly writes poems to celebrate special family occasions and rich, biblical truths. At Wheaton John also met Noel Henry whom he married in 1968.

Following college, John completed a Bachelor of Divinity degree at Fuller Theological Seminary in Pasadena, California (1968-71). While at Fuller, John discovered the writings of Jonathan Edwards.

John did his doctoral work in New Testament Studies at the University of Munich, Munich, West Germany (1971-74). His dissertation, Love Your Enemies, was published by Cambridge University Press and Baker Book House (and is now available through Crossway). Upon completion of his doctorate, he went on to teach Biblical Studies at Bethel College in St. Paul, Minnesota for six years (1974-80).

In 1980, sensing an irresistible call to preach, John became the senior pastor of Bethlehem Baptist Church in Minneapolis, Minnesota, where he ministered for 33 years, until 2013. Together with his people, John was dedicated to spreading a passion for the supremacy of God in all things for the joy of all peoples through Jesus Christ - a mission he continues now for the wider church through the ministry of desiringGod.org. John says of his ministry:
"The ministry of preaching is the central labor of my life. My prayer is that through that ministry and everything else I do the great glory of our God and Savior Jesus Christ would be magnified as more and more people come to live out the obedience of faith more and more deeply."

John is the author of over 50 books and now frequently travels to speak, and writes regularly, through Desiring God.

John and Noel have four sons, a daughter, and twelve grandchildren.
:A Word to the Reader

One of the reasons I put together collections of short meditations is that my life has been changed as much by paragraphs as by books. Books on one topic are valuable. They let the author explore all the angles of an insight. But where do the insights themselves come from? Usually they come from paragraphs. Even sentences. For reasons
not entirely explainable, God can make a single paragraph life changing.

Perhaps some evening your soul is hungry. Not for anything in particular, just a soul-hunger. A longing. Something is needed beyond what television is going to give. Something about God, or about the meaning of your life, or about eternity. You're tired and you know you probably can't stay awake to read twenty pages. So you pick up a book that you know focuses on eternal things, a Godward book. And three minutes later you have seen something, and you will never be the same again.

It may take a lifetime to sound the depths of what you just saw. But the seeing happens in an instant. It's as if God takes the paragraph in his fingers and uses it to adjust the lens on the eye of your soul, and something wonderful comes into focus that you had never seen before.

Isn't it amazing to think about the relationship between God's focusing fingers and the human activity of writing and reading? You may have read that same paragraph before, perhaps just the other evening. But this time God put his fingers on it and turned the lens just one more focusing notch. What this means is that I should pray as a writer and you should pray as a reader. We should ask God to do this focusing.

I think of your reading and my writing as a kind of partnership in the pursuit of a Godward miracle. I write, you read, but God gives the sight. What we both want is this miracle of seeing—seeing lifechanging things about God and life and eternity.

In one of his letters the apostle Paul said, "By reading you can perceive my insight into the mystery of Christ" (Ephesians 3:4, author's translation). But was reading enough? A few sentences later he prayed that they "may have strength to…know the love of Christ" (Ephesians 3:18–19). Something more was needed than reading. Something from God—he called it "strength to know." Earlier he had prayed that the eyes of his readers' hearts would be "enlightened, that you may know" (Ephesians 1:18). Something from God is needed—in answer to prayer. This is what I meant when I said that God takes a human paragraph and puts his fingers on the lens of the eye of your
soul. The slightest turn and we are made strong with sight. We are never the same again.

So I have written. And you are reading. And God is ready to act. My words are not Scripture. They are not infallible like God's words. But my earnest aim in all I write is to be faithful to God's written Word in the Bible. To point to God and his Son and his works and his ways. My aim is a Godward book in the hope that God will put his fingers on its paragraphs and turn the lens of the eye of your soul, ever so delicately, and bring glories into focus.

This is how God forms us into his image. "Beholding the glory of the Lord, [we] are being transformed into the same image from one degree of glory to another" (2 Corinthians 3:18). This is our aim: From a Godward paragraph, to a sight of glory, to a Godward heart.

A very special word of thanks is due to David Mathis, executive editor at Desiring God. David helped me assemble these meditations from all the different places and times where I had written them. After I reworked them for this book, he provided his sharp theological, stylistic, and formatting eye to help me refine them for final release. I admire David's gifts and love his friendship. Thank you, David, for your partnership.

I have enjoyed a long and happy relationship with Multnomah Books, especially in bringing my shorter writings to publication. A Godward Heart is a continuation of what we began in A Godward Life, Book One (2001), continued in A Godward Life, Book Two (2003), Pierced by the Word (2003), Life as a Vapor (2004), and Taste and See (2005). I am thankful for this publishing partnership for the sake of spreading what I pray will prove to be life-changing, Christ-exalting paragraphs.