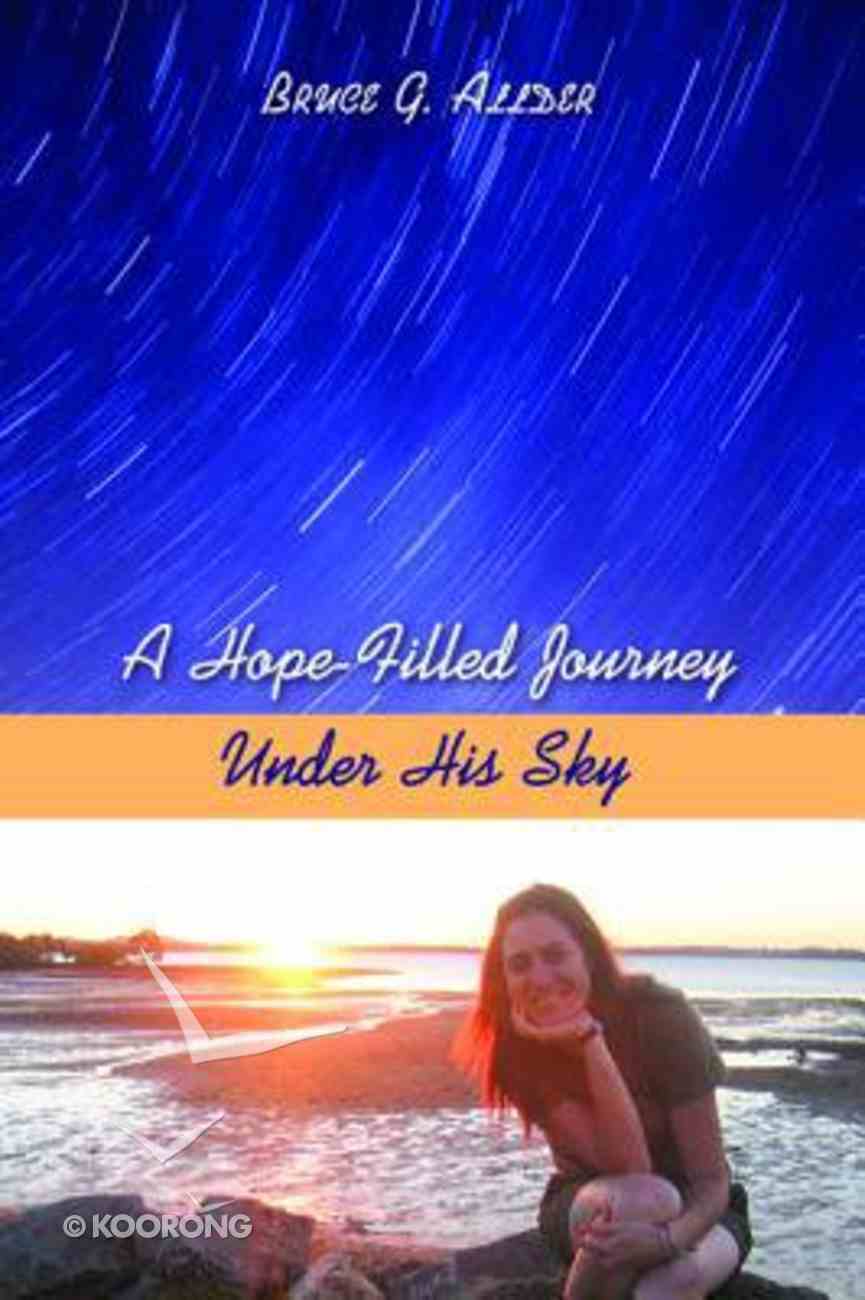 A Hope-Filled Journey Under His Sky
This book is a very personal reflection on the life of Belinda (BJ) Allder, a young missionary whose life was cut short through cancer. Her father, Bruce, a Christian pastor and educator, explores the influences that shaped BJ into an...
Print on Demand
Available to order. Your order will be printed by our Melbourne Supplier. Not available In-Store
---
Expected to ship in 3 to 4 weeks from Australia.
---
Free Shipping
for orders over $99.
This book is a very personal reflection on the life of Belinda (BJ) Allder, a young missionary whose life was cut short through cancer. Her father, Bruce, a Christian pastor and educator, explores the influences that shaped BJ into an effective missionary who impacted many people around the world. BJ's own reflections of her journey of life and faith through the battle with cancer are shared through excerpts from her own daily journal. While the emotions expressed are raw, there is a celebration of life and grace in the midst of tragedy. In this authentic and intellectually honest reflection, the focus is on serving in the midst of suffering. How does one make sense of unanticipated and devastating circumstances that came the way of BJ and her family? How does one ""lean into suffering"" and allow that response to make a significant impact? How does a pastoral family deal with the faith questions that inevitably come as a result of this journey of suffering? These are some of the questions explored through the retelling of specific events in the life of BJ Allder and her family. ""In sharing how his daughter Belinda dealt with terminal cancer, Bruce Allder writes about her choice to focus on living each day for God rather than her suffering. Flowing from a deep relationship with Christ formed in her earlier years, Belinda's passion to minister to people is a powerful witness to God's love, grace, and strength. If you want to be both inspired and encouraged to influence the lives of others, this is a must-read."" --David B. McEwan, Associate Professor of Theology and Pastoral Theology, Nazarene Theological College, Brisbane, Australia ""Allder's deeply human and faithful account of his beautiful daughter's missionary life, dying, and death is very aptly named. Allder's beautiful telling of BJ's story of faith, hope, and love, together with his profound theological reflection on meeting God in pain and grief, will surely touch his readers at the deepest levels of their humanity and life of faith."" --Neil Pembroke, author ofMoving Toward Spiritual Maturity: Psychological, Contemplative, and Moral Challenges in Christian Living ""Allder's account of his journey with his beloved daughter, Belinda, and her two-and-a-half-year battle with cancer, will encourage, inspire, and be a great help to many. A Hope-Filled Journey 'Under His Sky' is a compelling read."" --James Condon, Commissioner, The Salvation Army Australia ""Allder's ruminations can lift those facing life's most challenging circumstances as well as those who are walking alongside. These hope-filled reflections will comfort and encourage any sojourner who listens in to a father's heart."" --John Moore, Field Strategy Coordinator, Australia/New Zealand; Regional Education/Clergy Development, Asia Pacific Bruce G. Allder is former Principal of Nazarene Theological College (NTC), Brisbane, Australia, for seventeen years (1999-2015). Bruce is currently Director of the Culturally and Linguistically Diverse (CALD) program at Nazarene Theological College in Brisbane. He teaches in the area of Pastoral Theology and Christian Practice."
-Publisher