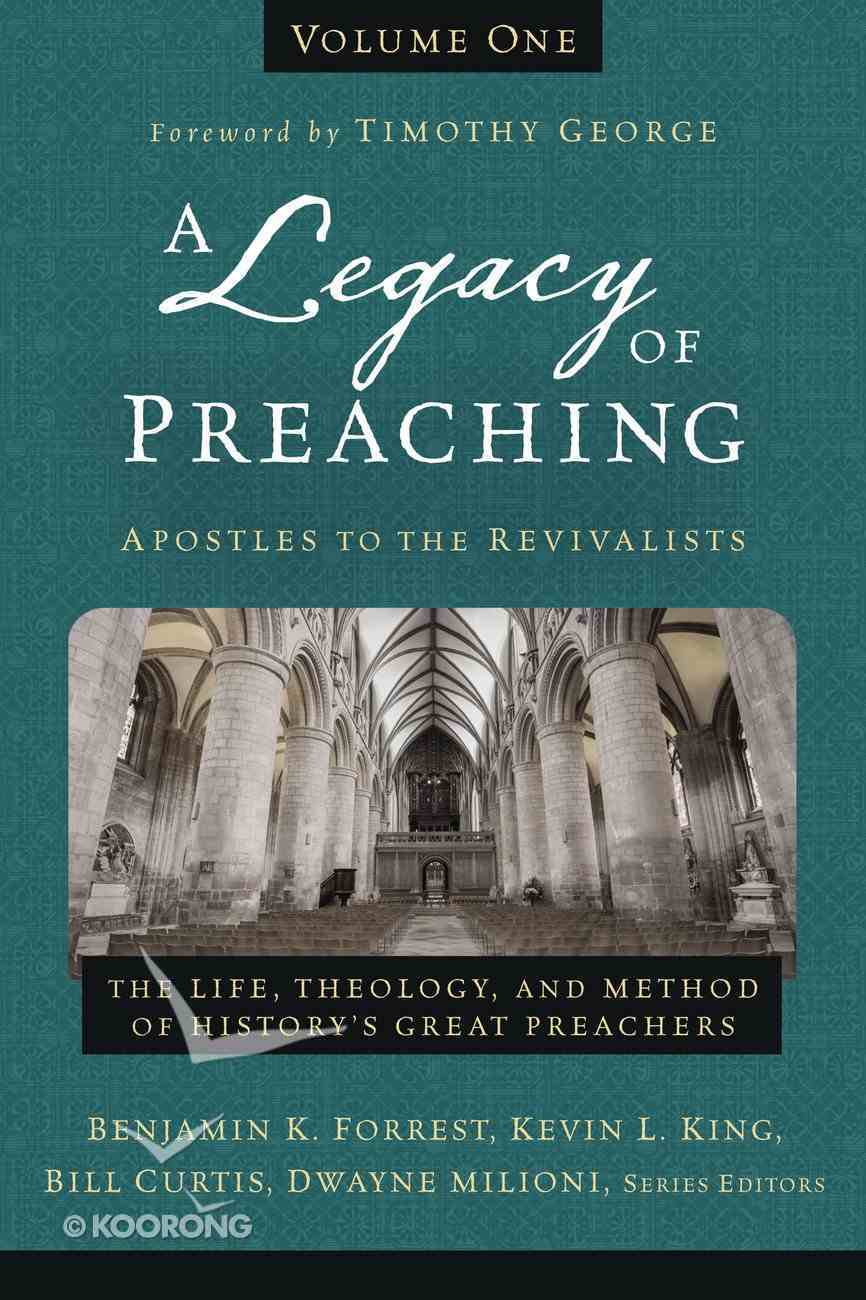 A Legacy of Preaching: Apostles to the Revivalists (Vol 1)
$59.99
20% OFF
―
save $12.00
: A Legacy of Preaching, Volume One--Apostles to the Revivalists explores the history and development of preaching through a biographical and theological examination of its most important preachers. Instead of teaching the history of preaching from the perspective of movements...
---
Expected to ship on Monday from Australia.
---
Free Shipping
for orders over $99.
:
A Legacy of Preaching, Volume One--Apostles to the Revivalists explores the history and development of preaching through a biographical and theological examination of its most important preachers. Instead of teaching the history of preaching from the perspective of movements and eras, each contributor tells the story of a particular preacher in history, allowing the preachers from the past to come alive and instruct us through their lives, theologies, and methods of preaching.


Each chapter introduces readers to a key figure in the history of preaching, followed by an analysis of the theological views that shaped their preaching, their methodology of sermon preparation and delivery, and an appraisal of the significant contributions they have made to the history of preaching. This diverse collection of familiar and lesser-known individuals provides a detailed and fascinating look at what it has meant to communicate the gospel over the past two thousand years. By looking at how the gospel has been communicated over time and across different cultures, pastors, scholars, and homiletics students can enrich their own understanding and practice of preaching for application today.


Volume One covers the period from the apostles to the revivalists and profiles thirty preachers including Paul, Origen of Alexandria, Augustine of Hippo, Francis of Assisi, Martin Luther, Jonathan Edwards, John Wesley, George Whitefield, and many more.


Volume Two, available separately, covers the period from the Enlightenment to the present day and profiles thirty-one preachers including Charles Haddon Spurgeon, D. L. Moody, Billy Sunday, Karl Barth, D. Martyn Lloyd-Jones, John Stott, Harry Emerson Fosdick, Martin Luther King Jr., Billy Graham, and more.


Covering a broad range of preaching over the centuries, the two-volume A Legacy of Preaching reference set is the definitive reference for experienced preachers who wish to deepen their own preaching as well as aspiring students who want to learn from the masters of the past.


-Publisher
:volume 1: The Apostles To The Puritansthe Preaching Of Paul: Preaching Christ Crucifiederic.rowe.phd@gmail.com Due To Editors: Already Submitted Eric Rowe (ph.d., University Of Notre Dame)the Preaching Of Peter: Proclaiming The Gospel In The Power Of The Spiritdbeck@sebts.edudue To Editors: Already Submitted David Beck (ph.d., Duke University) Is Associate Dean Of Biblical Studies And Professor Of New Testament And Greek At Southeastern Baptist Theological Seminary In Wake Forest, Nc. He Has Pastored Churches All The East Coast And Is The Co-editor Of Rethinking The Synoptic Problem With David Alan Black. Melito Of Sardis: Proclaiming Christ The Lambhartog.paul@gmail.com Due To Editors: Already Submittedpaul Hartog (ph.d., Loyola University Of Chicago) Is Vice President For Academic Services And Dean Of The College At Faith Baptist Bible College And Theological Seminary. He Has Published Extensively On Early Christianity. Tertulliandcalexander@liberty.edu Due To Editors: 12/31/2016 (if It Is Not Submitted By This Date It Will Be Cut From The Project)david Alexander (ph.d., University Of Edinburgh) Received His B.a. In History And Physics From Rice University (1991). He Completed The Program Elements Of Study For The M.th. En Route To Receiving His Ph.d. (1995) In Patristic Theology And History From The University Of Edinburgh, Scotland. In Addition To Published Academic Articles, He Is The Author Of Augustine's Early Theology Of The Church (2008, Peter Lang) And A Number Of Book Chapters, Most Recently On 'rethinking Constantine's Interaction With The North African 'donatist' Schism' (2014, Wipf And Stock), And Early 'north African Christianity And The Bauer Thesis' (with Dr. Edward Smither In Orthodoxy And Heresy In Early Christian Contexts, Forthcoming 2014).origen Of Alexandria: Preaching As Spiritual Edificationspresley@swbts.edu Due To Editors: Already Submittedstephen Presley (ph.d., University Of St. Andrews) Is Assistant Professor Of Biblical Interpretation At Southwestern Baptist Theological Seminary. His Dissertation Was Entitled, 'the Intertextual Reception Of Genesis 1-3 In Irenaeus Of Lyon,' And His Areas Of Research And Teaching Include Early Christian Theology And Exegesis, History Of Biblical Interpretation, New Testament, And Patristics. His Research Is Intentionally Interdisciplinary And Seeks To Integrate Biblical Studies, Theology And Hermeneutical Theory. He Is A Frequent Contributor To The Encyclopedia Of The Bible And Its Reception Published By De Gruyter, And Has Several Articles In The Area Of Early Christian Studies And Exegesis Including "irenaeus And The Exegetical Roots Of Trinitarian Theology," In Irenaeus: Life, Scripture, Legacy, And "the Lost Sheep Who Is Found: Irenaeus' Intertextual Reading Of Genesis 3 In Adversus Haereses 3.23.1-8," In Studia Patristica.saint Ephrem The Syrian: Preaching Christ Through Poetry And Paradoxjonathan.armstrong@moody.edudue To Editors: Already Submittedjonathan J. Armstrong (ph.d., Fordham University) Is Assistant Professor Of Bible And Theology At Moody Bible Instititue - Spokane. He Has Also Served As A Postdoctoral Researcher At The Friedrich-alexander-universität Erlangen-nürnberg In Germany And Has Lectured At Wycliffe Hall As A Full Member Of The Theology Faculty Of The University Of Oxford. Jonathan Is Also The Founder And President Of Aqueduct Project, A Non-profit Corporation Dedicated To Creating Access To Transformative Theological Education For The Entire Global Community.basil Of Cesarea: Ascetic Theologian And Preacherjonathan.morgan5545@indwes.edudue To Editors: Already Submittedjonathan Morgan (ph.d., Marquette University) Is Assistant Professor Of Systematic And Historical Theology At Toccoa Falls College. He Has Published Articles In A Number Of Scholarly Journals Including Pro Ecclesia, St. Vladimir's Theological Quarterly, Greek Orthodox Theological Review, And The Journal For The Study O