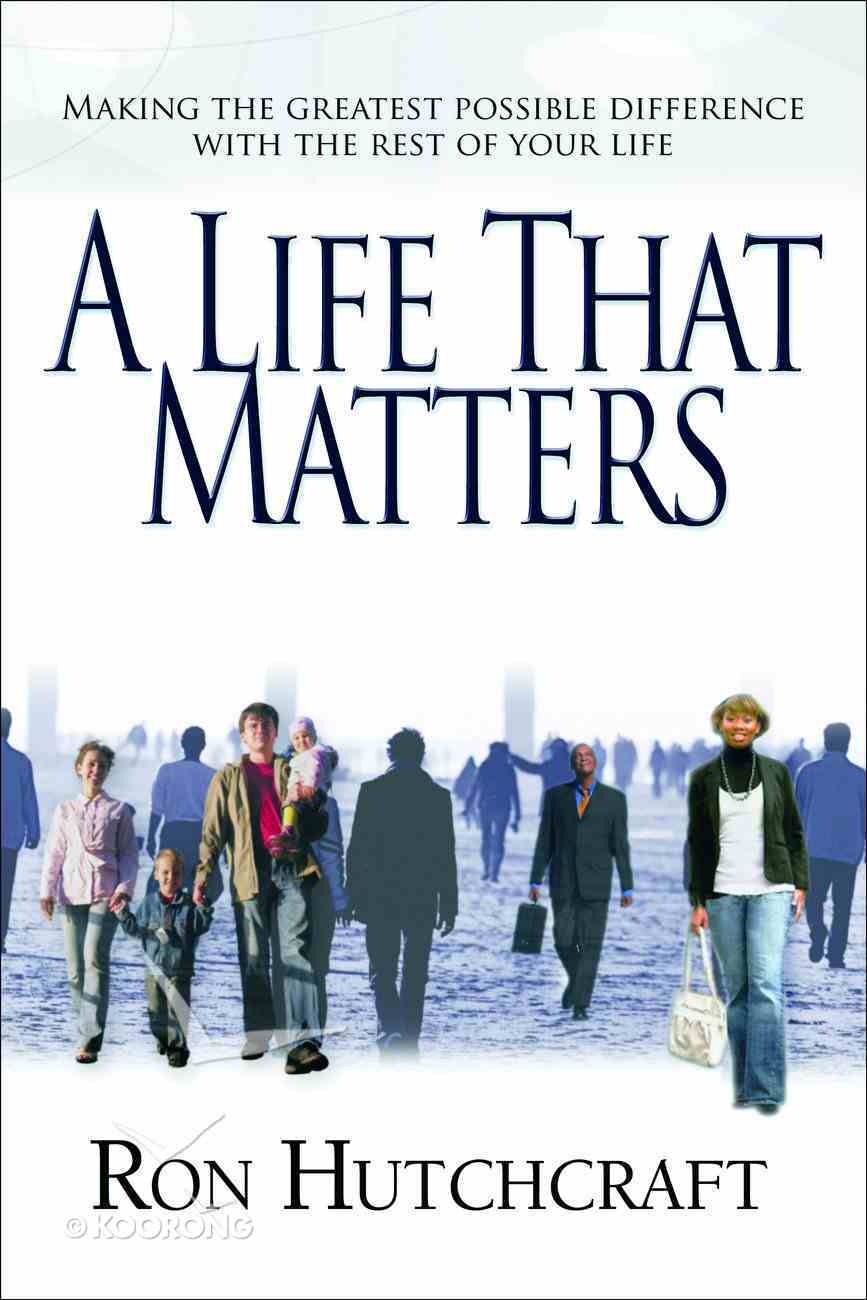 The choice to live an ordinary life is no longer an option! Greatness-lasting greatness-is a desire built into every human heart. For the believer in Christ, it is not only possible, but expected. How will your life matter? God wants...
Available for immediate download.
---
Read using our free app on your tablet or mobile!
---
Free Shipping
for orders over $99.

The choice to live an ordinary life is no longer an option! Greatness-lasting greatness-is a desire built into every human heart. For the believer in Christ, it is not only possible, but expected. How will your life matter? God wants your life to count for eternity. He wants you to join the team of rescuers He is sending into a desperate world.
^doing the right things, but you're hungry for something more.
Something bigger. ^Something greater.
Something that will leave a legacy.


WHAT IS ^IT THAT YOU ARE MISSING?


In his groundbreaking book, author Ron Hutchcraft ^answers this question like you've never heard it before. He puts asides clichéd ^thinking, Christian lingo, and religious assumptions and encourages you to explore ^an untouched side of your faith-communicating your faith to others.


With stories, ^Scriptures, and study questions after each chapter, A Life that Matters ^is ideal for personal devotions or group discussions. It is both inspiring and practical. ^You'll walk away ready to change your world.


For the believer in Christ, lasting greatness is expected. How will ^your life count for eternity? God wants you to join the team of rescuers He is sending ^into a desperate world.

The choice to live an ordinary life is no longer an option! Greatness-lasting ^greatness-is a desire built into every human heart. For the believer in Christ, ^it is not only possible, but expected. How will your life matter? God wants ^your life to count for eternity. He wants you to join the team of ^rescuers He is sending into a desperate world.

RON HUTCHCRAFT is a veteran of youth and family work, president ^of Ron Hutchcraft Ministries and a visiting faculty member for the Billy Graham ^Schools of Evangelism. He is the author of several books, including The Battle ^for a Generation, A Life That Matters, and Called to Greatness. Ron is ^the host of the popular radio broadcasts A Word With You and Call To Greatness. ^ He and Karen, his wife, are the parents of three adult children and reside in Harrison, ^Arizona.






CONTENTS




    Introduction: ^"A Life That Matters"  / 8

1. Out of the Holding Pattern  / 15

2. ^Your Personal Titanic  / 22

3. Your Clever Disguise  / 34

4. ^Getting into the Lives that Need You So Much  / 44

5. Breaking the Silence  ^/ 57

6. Would You Like to Supersize That?  / 75

7. Thinking Lost  ^/ 84

8. Beyond "Christianese"  / 98

9. Confidently Communicating ^Christ  / 108

10. The Story Only You Can Tell  / 121

11. ^"No Greater Honor"  / 132

12. A Road Map for Rescuers  / 144

13. ^Lifesaving Jesus' Way  / 153

14. Removing the Roadblocks  / 162

15. ^Eternity 9-1-1  / 175

      Epilogue: Turning ^the Lifeboats Around  / 186
      Notes  / ^190
      Resources to Assist You  / 192




Anybody who has been on the receiving end of Ron Hutchcraft's ministry ^knows the impact of both his life and his words.  In A Life That Matters ^he nags at our conscience on more time.  This time about something very ^close to the heart of Jesus...compassion in action.  You need to read this ^book!
-Joseph M. Stowell, Teaching Pastor, Harvest Bible Chapel and Former ^President, Moody Bible Institute

A Life That Matters may be the best ^evangelism-training manual I have ever seen!  Ron gives us the rich distillation ^of his years doing it in the trenches.  His insights are fresh, compelling, ^liberating, motivating, empowering...in other words, priceless.  In an easy-to-apply, ^easy-to-pass-along approach, Ron has anticipated my major questions, my greatest ^fears and my deepest longings.  No question about it: He's given me A LOT to ^pray about, and to expect God to do through me!
-David Bryant, Founder and ^President, Concert of Prayer International

This book is excellent, inspiring, ^captivating, and full of practical and godly wisdom.  It is an outstanding ^guidebook for Christians seeking God's high calling for their lives--reaching the ^lost, for whom Christ died.
-Steve Douglass, President, Campus Crusade for ^Christ International

In A Life That Matters, Ron Hutchcraft ^is sharing the passion of his heart, becoming a spiritual lifeline.  Christ ^has called us all to be witnesses; Ron understands this and shares it in his book.  ^With over ninety percent of our population believing in a god of some sort, God ^is calling His church today to become lifelines to those in need.  There is ^no greater calling than pitching the saving truth of Jesus Christ to others.  ^Ron Hutchcraft shows how one can rise to the greatest calling and do this with ease.  ^Anyone reading this book will not only understand how to share the greatest story ^of all but also how to do it in such a way that fear is lessened, and the desire ^to do so is enhanced.
-Tom Phillips, Vice President of Crusades and Training, ^Billy Graham Evangelistic Association

It's about time!  With passion ^and practicality, Ron Hutchcraft puts the cookies on the bottom shelf to help us ^draw those without Christ into a relationship with Him.  This book breaks down ^emotional barriers so that new believers can truly "taste and see that the Lord ^is good."
-June Hunt, Founder, Hope for the Heart Ministry

In ^Ron Hutchcraft's book A Life That Matters, he continually magnifies the ^grace, mercy, and loving provision of our heavenly Father for our daily needs.  ^There are numerous reminders that the lives of Christians do have divine purpose, ^order, and direction.  We live in faith and obedience by the empowering of ^the Holy Spirit.  Under this guidance comes the biblical truth that all of ^us can rise above the daily challenges to experience hope and fulfill the purpose ^for which our Lord placed on the earth!  We can both experience the abundant ^life Jesus Christ gives, and we can proclaim the availability of this eternal life ^to those desiring a personal relationship with Jesus Christ.
-Richard H. ^Harris, Vice President of Church plannting, North American Mission Board

Ron ^Hutchcraft has done it aaain.  He is one of the finest Christian communitcators ^of our day.  I believe that every Christian who wants to be used of God ^to the max will be encouraged and helped greatly by this remarkable book.
-Paul ^Cedar, Chairman and CEO, Mission America Coalition



-Publisher
Ron Hutchcraft is an author, speaker, and international radio host of such programs as "A Word With You" and "Alive! with Ron Hutchcraft," the most widely circulated Christian youth broadcast in the world. A thirty-four year veteran of youth and family work, Ron has spoken around the world to thousands of people, presenting practical answers to real-life issues. Ron has one wife, three crazy kids, and a pet parakeet named "Cherokee." ý Ron Hutchcraft es autor, hablante, y un presentar de los programas internacionales como "A Word with You" y "Alive! With Ron Hutchcraft," la difusion de prog

Bestsellers in Christian Living