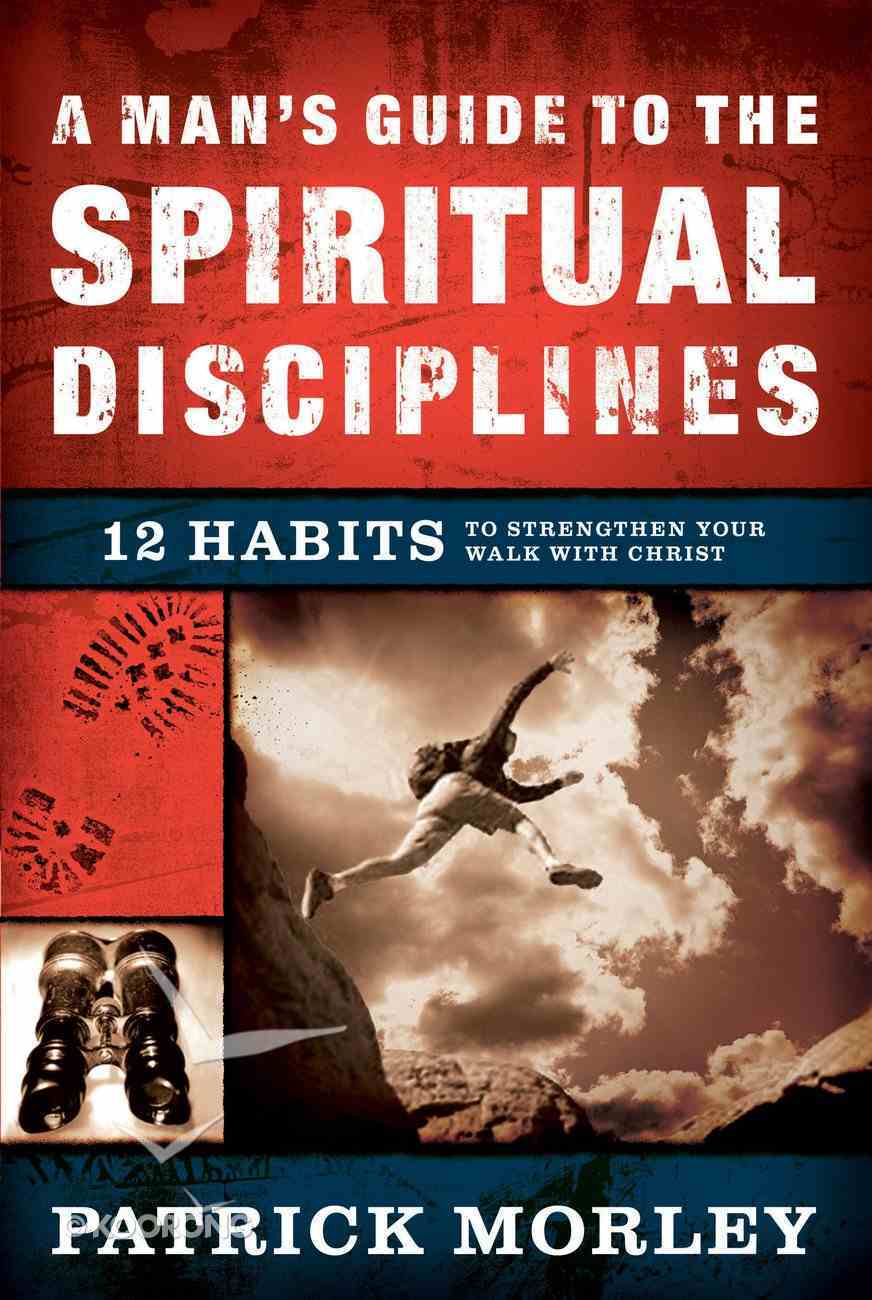 A Man's Guide to the Spiritual Disciplines
Spiritual disciplines are to the believer what medical school is to the doctor. A man came up to me at a conference where I was speaking and said, "Pat, do me a favor. Tell me how to be...
Instant download
---
Expected to ship within 2 hours from Australia.
---
Read using our free app on your tablet or mobile!
---
Free Shipping
for orders over $99.


Spiritual disciplines are to the believer what medical school is to the doctor.


A man came up to me at a conference where I was speaking and said, "Pat, do me a favor. Tell me how to be good. I already know how bad I am."


That statement captures the intent of this book - and the purpose of the spiritual disciplines. Spiritual strength, like surgical skill or athletic excellence, requires training and practice. To become the kind of man who walks with God and wields Christ's influence in your world, you'll want to begin a consistent regimen of spiritual exercises.


In A Man's Guide to the Spiritual Disciplines, Patrick Morley highlights twelve habits that will strengthen your walk with Christ, including:


-- Experiencing God in creation
-- Letting the Bible change your life
-- Learning the power of prayer
-- Grasping God's greatness through worship
-- Gaining strength through Sabbath
-- Thriving because of fellowship
-- Succeeding through wise counsel
-- And more ...


By presenting each discipline with a concise overview, several examples, and application ideas to get you going, this powerful guidebook will help you develop the maturity every man of God was designed to reflect.


^is to the doctor.


A man came up to me at a conference where I ^was speaking and said, "Pat, do me a favor. Tell me how to be good. I already know ^how bad I am."


That statement captures the intent of this book - and ^the purpose of the spiritual disciplines. Spiritual strength, like surgical skill ^or athletic excellence, requires training and practice. To become the kind of man ^who walks with God and wields Christ's influence in your world, you'll want to begin ^a consistent regimen of spiritual exercises.


In A Man's Guide to the ^Spiritual Disciplines, Patrick Morley highlights twelve habits that will strengthen ^your walk with Christ, including:


-- Experiencing God in creation
-- Letting ^the Bible change your life
-- Learning the power of prayer
-- Grasping God's ^greatness through worship
-- Gaining strength through Sabbath
-- ^Thriving because of fellowship
-- Succeeding through wise counsel
-- ^And more . . .


By presenting each discipline with a concise overview, several ^examples, and application ideas to get you going, this powerful guidebook will help ^you develop the maturity every man of God was designed to reflect.


"Spiritual disciplines are the regular practices men cultivate when they ^want a closer walk with Christ.  The spiritual disciplines can help us break ^a cycle or get out of a rut.  Disciplines are the spiritual habits by which ^we cultivate a deeper relationship with the Lord of heaven and earth.  We perform ^the disciplines because we want to please God, to lead peaceable lives, to be godly ^husbands, to raise godly children, and to be men of God." 

"An athlete ^who lifts weights as part of a training regimen probably doesn't lift just because ^he loves pumping iron.  He probably wants to improve his strength and endurance ^(and possibly his appearance).  Similarly, the disciplines are not ends in ^themselves-they are a means to an end."

"Spiritual disciplines do nothing ^to improve your record with God.  We don't perform the disciplines to make ^God happy (or avoid His wrath), or to earn favor or merit with God.  All the ^merit we need, we already have in Christ.  We place our trust in God-not in ^the disciplines."

 "Nevertheless, disciplines demonstrate to God how ^serious we are about following Him, and they also help us see how serious we are ^as well.  When all is said and done, spiritual disciplines are the designated ^means for us to grown in this relationship that we have with Jesus.  God is ^always speaking, so if we don't hear Him, it's not because He has suddenly gone ^silent.  It is more likely that we aren't listening-or perhaps don't know how ^to listen."
-From A Man's Guide to the Spiritual Disciplines

For every ten men in church, nine will
have children who leave the ^church.
Eight will fi nd their jobs unsatisfying.
Six will pay only the ^monthly minimum
on their credit cards. Five will have a
major problem with ^pornography. Four
will get divorced (affecting one million
children per ^year). Only one will have a
biblical worldview. All ten will wrestle
to ^balance work and family. The issues
facing men today require solutions
beyond ^just regular church attendance.
It takes discipline and determination to
^keep faith strong. This book will give
men the tools they need to refl ect Christ
^in all aspects of their lives.



CONTENTS


Acknowledgments  / 9
A Guide to Group Discussion  ^/ 11
An Introduction to the Spiritual Disciplines  / 15

Part ^1: Discipline Related to the Works of God

1. A Man and Creation  ^/ 21

Part 2: Discipline Related to the Word Of God

2. ^A Man and the Bible  / 35

Part 3: Disciplines Related to the ^"Whisper"of God

3. A Man and Prayer  / 49
4. A Man and Worship  ^/ 65
5. A Man and the Sabbath  /  81
6. A Man and Fellowship  ^/ 93
7. A Man and Counsel  / 105
8. A Man and Fasting  / 117
9. ^A Man and Spiritual Warfare  / 129




Part 4: Disciplines ^Related to a Witness for God


10. A Man and Stewardship  / 141
11. ^A Man and Service   / 155
12. A Man and Evangelism  /  / ^167
Afterword  / 183
Notes  / 185

PATRICK MORLEY founded Man in the Mirror in 1991 and has since impacted ^the lives of more than 10,000,000 men worldwide. Since 1986, he has taught a weekly ^Friday morning Bible study to 150 businessmen in Orlando, Florida. This study is ^broadcast on iTunes and webcast around the world. Pat also speaks to men daily ^through the Man in the Mirror radio program. He has written 16 books, including ^The Marriage Prayer, A Man's Guide to the Spiritual Disciplines and Pastoring ^Men. Pat lives in Winter Park, Florida with his wife, Patsy. They have two ^grown children and two granddaughters.


Spiritual disciplines are to the believer what medical school ^is to the doctor.


A man came up to me at a conference where I ^was speaking and said, "Pat, do me a favor. Tell me how to be good. I already know ^how bad I am."


That statement captures the intent of this book - and ^the purpose of the spiritual disciplines. Spiritual strength, like surgical skill ^or athletic excellence, requires training and practice. To become the kind of man ^who walks with God and wields Christ's influence in your world, you'll want to begin ^a consistent regimen of spiritual exercises.


In A Man's Guide to the ^Spiritual Disciplines, Patrick Morley highlights twelve habits that will strengthen ^your walk with Christ, including:


-- Experiencing God in creation
-- Letting ^the Bible change your life
-- Learning the power of prayer
-- Grasping God's ^greatness through worship
-- Gaining strength through Sabbath
-- ^Thriving because of fellowship
-- Succeeding through wise counsel
-- ^And more . . .


By presenting each discipline with a concise overview, several ^examples, and application ideas to get you going, this powerful guidebook will help ^you develop the maturity every man of God was designed to reflect.




Morley's book demonstrates his passion to help men become devoted ^disciples of Jesus Christ.  He knows that the life of a disciple is characterized ^by discipline.  And yet, he avoids the errors of those who see the disciplines ^as ends in themselves and thus muddy the pure waters of the Gospel. 
-Donald ^S. Whitney, professor of biblical spirituality, The Southern Baptist Theological ^Seminary; author of Spiritual Disciplines for the Christian Life and Spiritual ^Disciplines Within the Church


Patrick Morley has helped a generation ^of men reflect on what they should be in God's sight.  Now, A Man's Guide ^to the Spiritual Disciplines will help thousands more to manifest the character ^of God in the twenty-first century.
-R. Kent Hughes, pastor, College Church ^in Wheaton, and author of Disciplines of a Godly Man



-Publisher
PRODUCT DETAIL
Catalogue Code 

330928

Product Code 

9780802479877

ISBN 

0802479871

EAN 

9780802479877

Department General Books
Category Men
Sub-Category General
Publisher Moody Publishers
Publication Date 

Sep 2008

Size 

2.14 MB (EPUB)
Patrick Morley is the author of bestselling The Man in the Mirror. It was selected as one of the 100 Christian books that changed the twentieth century. After building one of Floridas 100 largest privately held companies, he founded Man in the Mirror in 1991, a nonprofit organization to help men find meaning and purpose in life. Patrick also trains leaders in the marketplace (www.MorleyLeadershipCenter.com). He is the author of 14 books including Walking with Christ in the Details of Life, The Rest of Your Life, and Two-Part Harmony