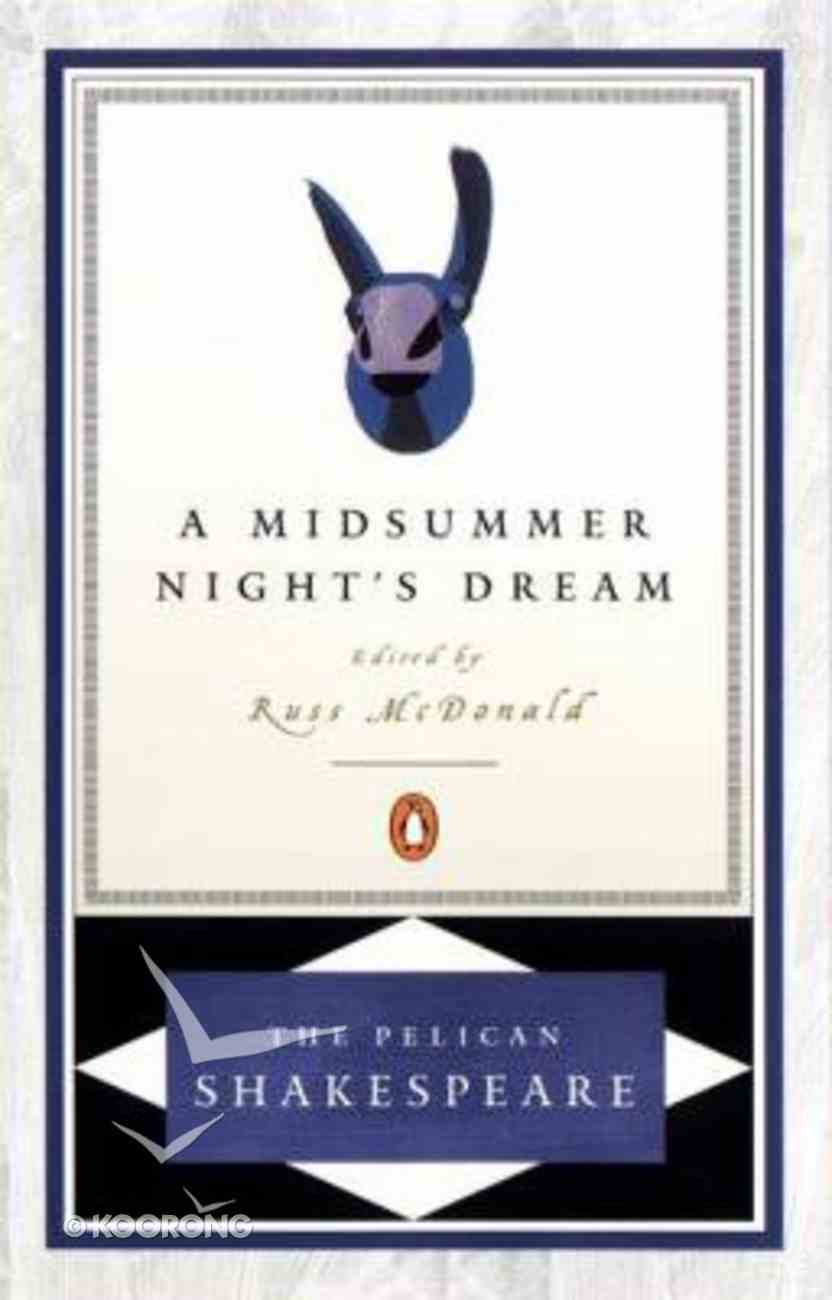 A Midsummer Night's Dream
"I feel that I have spent half my career with one or another Pelican Shakespeare in my back pocket. Convenience, however, is the least important aspect of the new Pelican Shakespeare series. Here is an elegant and clear text for...
Unavailable. Out of Print. Only available while stock lasts.
Out of Print
---
Free Shipping
for orders over $99.
"I feel that I have spent half my career with one or another Pelican Shakespeare in my back pocket. Convenience, however, is the least important aspect of the new Pelican Shakespeare series. Here is an elegant and clear text for either the study or the rehearsal room, notes where you need them and the distinguished scholarship of the general editors, Stephen Orgel and A. R. Braunmuller who understand that these are plays for performance as well as great texts for contemplation." (Patrick Stewart) The distinguished Pelican Shakespeare series, which has sold more than four million copies, is now completely revised and repackaged. Each volume features: * Authoritative, reliable texts * High quality introductions and notes * New, more readable trade trim size * An essay on the theatrical world of Shakespeare and essays on Shakespeare's life and the selection of texts
-Publisher
Authoritative and accessible editions for schools and colleges, offering: Complete and unabridged text Clear, concise notes, adjacent to text for easy reference Detailed explanations of difficult words and passages Illustrations to enhance understanding Thorough, updated notes feature: Social, historical, and literary context Insights into the play, and its characters and themes Lively and focused teaching ideas, including drama activities Suggestions for further readin and resources Guidance on Shakespeare's language Biographical and source information Plot synopsis and commentary
-Publisher
THE CLASSIC ONE-VOLUME SHAKESPEARE, INCLUDING ALL THE PLAYS AND POEMS, NOW COMPLETELY REVISED AND UPDATED.
The distinguished Pelican Shakespeare series has sold five million copies. Now Penguin is proud to offer this fully revised new hardcover edition of The Complete Pelican Shakespeare.
Since the series debuted more than forty years ago, developments in scholarship have revolutionized our understanding of William Shakespeare, his time, and his works. With new editors who have incorporated the most up-to-date research and debate, this revised edition of The Complete Pelican Shakespeare will be the premier choice for students, professors, and general readers for decades to come.
The general editors of the series-world-renowned Shakespeareans Stephen Orgel of Stanford University and A. R. Braunmuller of UCLA - devoted seven years to preparing introductions and notes with a team of eminent scholars to the forty volumes of Shakespeare's plays and poems. Now, the new series is complete and available in one lavish and complete edition.
•
•Authoritative and meticulously researched texts
•Illuminating new introductions and notes by distinguished authors
•Essays on Shakespeare's life, the theatrical world of his time, and the selection of texts
•A handsome new design inside and out * Deluxe packaging, including a full-linen case, ribbon marker, Smyth-sewn binding, printed endpapers, acid-free paper, and illustrations throughout
•Photos and drawings reflecting Shakespeare's theatrical legacy
•Line numbers marking every tenth line and footnote references
•Both glossorial and explanatory notes appearing conveniently at the foot of the page
-Publisher
PRODUCT DETAIL
Catalogue Code 

200075

Product Code 

0140714553

EAN 

9780140714555

Pages 

144

Department Academic
Category Reference
Sub-Category Textbook
Publisher Penguin Books
Publication Date 

Aug 2000

Dimensions 

195 x 129 x 10

mm

Weight 

0.113

kg
William Shakespeare, 1564 - 1616 Although there are many myths and mysteries surrounding William Shakespeare, a great deal is actually known about his life. He was born in Stratford-Upon-Avon, son of John Shakespeare, a prosperous merchant and local politician and Mary Arden, who had the wealth to send their oldest son to Stratford Grammar School. At 18, Shakespeare married Anne Hathaway, the 27-year-old daughter of a local farmer, and they had their first daughter six months later. He probably developed an interest in theatre by watching plays performed by traveling players in Stratford while still in his youth. Some time before 1592, he left his family to take up residence in London, where he began acting and writing plays and poetry. By 1594 Shakespeare had become a member and part owner of an acting company called The Lord Chamberlain's Men, where he soon became the company's principal playwright. His plays enjoyed great popularity and high critical acclaim in the newly built Globe Theatre. It was through his popularity that the troupe gained the attention of the new king, James I, who appointed them the King's Players in 1603. Before retiring to Stratford in 1613, after the Globe burned down, he wrote more than three dozen plays (that we are sure of) and more than 150 sonnets. He was celebrated by Ben Jonson, one of the leading playwrights of the day, as a writer who would be "not for an age, but for all time," a prediction that has proved to be true. Today, Shakespeare towers over all other English writers and has few rivals in any language. His genius and creativity continue to astound scholars, and his plays continue to delight audiences. Many have served as the basis for operas, ballets, musical compositions, and films. While Jonson and other writers labored over their plays, Shakespeare seems to have had the ability to turn out work of exceptionally high caliber at an amazing speed. At the height of his career, he wrote an average of two plays a year as well as dozens of poems, songs, and possibly even verses for tombstones and heraldic shields, all while he continued to act in the plays performed by the Lord Chamberlain's Men. This staggering output is even more impressive when one considers its variety. Except for the English history plays, he never wrote the same kind of play twice. He seems to have had a good deal of fun in trying his hand at every kind of play. Shakespeare wrote 154 sonnets, all published on 1609, most of which were dedicated to his patron Henry Wriothsley, The Earl of Southhampton. He also wrote 13 comedies, 13 histories, 6 tragedies, and 4 tragecomedies. He died at Stratford-upon-Avon April 23, 1616, and was buried two days later on the grounds of Holy Trinity Church in Stratford. His cause of death was unknown, but it is surmised that he knew he was dying.
:Chapter 1

list of parts

THESEUS, Duke of Athens
HIPPOLYTA, Queen of the Amazons, betrothed to Theseus
EGEUS, an Athenian courtier, father to Hermia
LYSANDER, in love with Hermia
HERMIA, in love with Lysander, but ordered by her father to marry Demetrius
DEMETRIUS, in love with Hermia, though once a suitor to Helena
HELENA, in love with Demetrius
Peter QUINCE, a carpenter and leader of an amateur dramatic group, who speaks the PROLOGUE to their play
Nick BOTTOM, a weaver, who plays PYRAMUS in the amateur play
Francis FLUTE, a bellows-mender, who plays THISBE in the amateur play
SNUG, a joiner, who plays a LION in the amateur play
Tom SNOUT, a tinker, who plays a WALL in the amateur play
Robin STARVELING, a tailor, who plays MOONSHINE in the amateur play
OBERON, King of Fairies
TITANIA, Queen of Fairies
ROBIN Goodfellow, also known as Puck, a sprite in the service of Oberon
PEASEBLOSSOM
COBWEB
MOTH
MUSTARDSEED
PHILOSTRATE, an official in Theseus' court
Other Attendants at the court of Theseus; other Fairies attendant upon Oberon

Act 1 [Scene 1] running scene 1

Enter Theseus, Hippolyta, with others [Philostrate and attendants]

THESEUS Now, fair Hippolyta, our nuptial hour
Draws on apace. Four happy days bring in
Another moon: but O, methinks, how slow
This old moon wanes; she lingers my desires,
Like to a stepdame or a dowager
Long withering out a young man's revenue.

HIPPOLYTA Four days will quickly steep themselves in
nights,
Four nights will quickly dream away the time.
And then the moon, like to a silver bow
New-bent in heaven, shall behold the night
Of our solemnities.

THESEUS Go, Philostrate,
Stir up the Athenian youth to merriments,
Awake the pert and nimble spirit of mirth,
Turn melancholy forth to funerals:
The pale companion is not for our pomp.

[Exit Philostrate]

Hippolyta, I wooed thee with my sword,
And won thy love doing thee injuries.
But I will wed thee in another key,
With pomp, with triumph and with revelling.

Enter Egeus and his daughter Hermia, Lysander and Demetrius

EGEUS Happy be Theseus, our renownèd duke.

THESEUS Thanks, good Egeus: what's the news with thee?

EGEUS Full of vexation come I, with complaint
Against my child, my daughter Hermia.
Stand forth, Demetrius. My noble lord,
This man hath my consent to marry her.
Stand forth, Lysander. And my gracious duke,
This man hath bewitched the bosom of my child.-
Thou, thou, Lysander, thou hast given her rhymes,
And interchanged love-tokens with my child.
Thou hast by moonlight at her window sung,
With feigning voice verses of feigning love,
And stol'n the impression of her fantasy
With bracelets of thy hair, rings, gauds, conceits,
Knacks, trifles, nosegays, sweetmeats - messengers
Of strong prevailment in unhardened youth -
With cunning hast thou filched my daughter's heart,
Turned her obedience, which is due to me,
To stubborn harshness.- And, my gracious duke,
Be it so she will not here before your grace
Consent to marry with Demetrius,
I beg the ancient privilege of Athens:
As she is mine, I may dispose of her;
Which shall be either to this gentleman
Or to her death, according to our law
Immediately provided in that case.

THESEUS What say you, Hermia? Be advised, fair maid,
To you your father should be as a god,
One that composed your beauties, yea, and one
To whom you are but as a form in wax
By him imprinted and within his power
To leave the figure or disfigure it.
Demetrius is a worthy gentleman.

HERMIA So is Lysander.

THESEUS In himself he is.
But in this kind, wanting your father's voice,
The other must be held the worthier.

HERMIA I would my father looked but with my eyes.

THESEUS Rather your eyes must with his judgement look.

HERMIA I do entreat your grace to pardon me.
I know not by what power I am made bold,
Nor how it may concern my modesty
In such a presence here to plead my thoughts:
But I beseech your grace that I may know
The worst that may befall me in this case,
If I refuse to wed Demetrius.

THESEUS Either to die the death or to abjure
Forever the society of men.
Therefore, fair Hermia, question your desires,
Know of your youth, examine well your blood,
Whether, if you yield not to your father's choice,
You can endure the livery of a nun,
For aye to be in shady cloister mewed,
To live a barren sister all your life,
Chanting faint hymns to the cold fruitless moon.
Thrice blessèd they that master so their blood,
To undergo such maiden pilgrimage.
But earthlier happy is the rose distilled
Than that which withering on the virgin thorn
Grows, lives and dies in single blessedness.

HERMIA So will I grow, so live, so die, my lord,
Ere I will yield my virgin patent up
Unto his lordship, whose unwishèd yoke
My soul consents not to give sovereignty.

THESEUS Take time to pause, and by the next new
moon -
The sealing day betwixt my love and me,
For everlasting bond of fellowship -
Upon that day either prepare to die
For disobedience to your father's will,
Or else to wed Demetrius, as he would,
Or on Diana's altar to protest
For aye austerity and single life.

DEMETRIUS Relent, sweet Hermia.- And, Lysander, yield
Thy crazèd title to my certain right.

LYSANDER You have her father's love, Demetrius:
Let me have Hermia's. Do you marry him.

EGEUS Scornful Lysander! True, he hath my love;
And what is mine my love shall render him.
And she is mine, and all my right of her
I do estate unto Demetrius.

LYSANDER I am, my lord, as well derived as he,
As well possessed: my love is more than his,
My fortunes every way as fairly ranked,
If not with vantage, as Demetrius',
And, which is more than all these boasts can be,
I am beloved of beauteous Hermia.
Why should not I then prosecute my right?
Demetrius, I'll avouch it to his head,
Made love to Nedar's daughter, Helena,
And won her soul: and she, sweet lady, dotes,
Devoutly dotes, dotes in idolatry,
Upon this spotted and inconstant man.

THESEUS I must confess that I have heard so much,
And with Demetrius thought to have spoke thereof,
But, being over-full of self-affairs,
My mind did lose it. But, Demetrius, come,
And come, Egeus, you shall go with me.
I have some private schooling for you both.
For you, fair Hermia, look you arm yourself
To fit your fancies to your father's will,
Or else the law of Athens yields you up -
Which by no means we may extenuate -
To death or to a vow of single life.-
Come, my Hippolyta. What cheer, my love?-
Demetrius and Egeus, go along:
I must employ you in some business
Against our nuptial and confer with you
Of something nearly that concerns yourselves.

EGEUS With duty and desire we follow you.

Exeunt all but Lysander and Hermia

LYSANDER How now, my love! Why is your cheek so pale?
How chance the roses there do fade so fast?

HERMIA Belike for want of rain, which I could well
Beteem them from the tempest of mine eyes.

LYSANDER Ay me, for aught that I could ever read,
Could ever hear by tale or history,
The course of true love never did run smooth.
But either it was different in blood-

HERMIA O cross! Too high to be enthralled to low.

LYSANDER Or else misgraffèd in respect of years-

HERMIA O spite! Too old to be engaged to young.

LYSANDER Or else it stood upon the choice of merit-

HERMIA O hell! To choose love by another's eyes.

LYSANDER Or if there were a sympathy in choice,
War, death or sickness did lay siege to it,
Making it momentary as a sound,
Swift as a shadow, short as any dream:
Brief as the lightning in the collied night,
That in a spleen unfolds both heaven and earth,
And ere a man hath power to say 'Behold!'
The jaws of darkness do devour it up:
So quick bright things come to confusion.

HERMIA If then true lovers have been ever crossed,
It stands as an edict in destiny.
Then let us teach our trial patience,
Because it is a customary cross,
As due to love as thoughts and dreams and sighs,
Wishes and tears, poor fancy's followers.

LYSANDER A good persuasion. Therefore hear me,
Hermia.
I have a widow aunt, a dowager
Of great revenue, and she hath no child.
From Athens is her house removed seven leagues,
And she respects me as her only son.
There, gentle Hermia, may I marry thee,
And to that place the sharp Athenian law
Cannot pursue us. If thou lov'st me, then
Steal forth thy father's house tomorrow night,
And in the wood, a league without the town,
Where I did meet thee once with Helena,
To do observance to a morn of May,
There will I stay for thee.

HERMIA My good Lysander!
I swear to thee, by Cupid's strongest bow,
By his best arrow with the golden head,
By the simplicity of Venus' doves,
By that which knitteth souls and prospers love,
And by that fire which burned the Carthage queen,
When the false Troyan under sail was seen,
By all the vows that ever men have broke,
In number more than ever women spoke,
In that same place thou hast appointed me,
Tomorrow truly will I meet with thee.

LYSANDER Keep promise, love. Look, here comes Helena.

Enter Helena

HERMIA God speed fair Helena, whither away?

HELENA Call you me fair? That fair again unsay.
Demetrius loves your fair: O happy fair!
Your eyes are lodestars, and your tongue's sweet air
More tuneable than lark to shepherd's ear
When wheat is green, when hawthorn buds appear.
Sickness is catching: O, were favour so,
Your words I catch, fair Hermia, ere I go,
My ear should catch your voice, my eye your eye,
My tongue should catch your tongue's sweet melody.
Were the world mine, Demetrius being bated,
The rest I'll give to be to you translated.
O, teach me how you look, and with what art
You sway the motion of Demetrius' heart.

HERMIA I frown upon him, yet he loves me still.

HELENA O, that your frowns would teach my smiles such
skill!

HERMIA I give him curses, yet he gives me love.

HELENA O, that my prayers could such affection move!

HERMIA The more I hate, the more he follows me.

HELENA The more I love, the more he hateth me.

HERMIA His folly, Helena, is none of mine.

HELENA None, but your beauty: would that fault were
mine!

HERMIA Take comfort: he no more shall see my face.
Lysander and myself will fly this place.
Before the time I did Lysander see,
Seemed Athens like a paradise to me.
O, then, what graces in my love do dwell,
That he hath turned a heaven into hell!

LYSANDER Helen, to you our minds we will unfold:
Tomorrow night, when Phoebe doth behold
Her silver visage in the wat'ry glass,
Decking with liquid pearl the bladed grass,
A time that lovers' flights doth still conceal,
Through Athens' gates have we devised to steal.

HERMIA And in the wood, where often you and I
Upon faint primrose beds were wont to lie,
Emptying our bosoms of their counsel sweet,
There my Lysander and myself shall meet,
And thence from Athens turn away our eyes,
To seek new friends and strange companions.
Farewell, sweet playfellow: pray thou for us,
And good luck grant thee thy Demetrius! -
Keep word, Lysander: we must starve our sight
From lovers' food till morrow deep midnight. Exit

LYSANDER I will, my Hermia.- Helena, adieu.
As you on him, Demetrius dote on you! Exit

HELENA How happy some o'er other some can be!
Through Athens I am thought as fair as she.
But what of that? Demetrius thinks not so:
He will not know what all but he doth know.
And as he errs, doting on Hermia's eyes,
So I, admiring of his qualities.
Things base and vile, holding no quantity,
Love can transpose to form and dignity.
Love looks not with the eyes, but with the mind,
And therefore is winged Cupid painted blind.
Nor hath love's mind of any judgement taste,
Wings and no eyes figure unheedy haste.
And therefore is love said to be a child,
Because in choice he is often beguiled.
As waggish boys in game themselves forswear,
So the boy love is perjured everywhere.
For ere Demetrius looked on Hermia's eyne,
He hailed down oaths that he was only mine.
And when this hail some heat from Hermia felt,
So he dissolved, and showers of oaths did melt.
I will go tell him of fair Hermia's flight:
Then to the wood will he tomorrow night
Pursue her; and for this intelligence,
If I have thanks, it is a dear expense.
But herein mean I to enrich my pain,
To have his sight thither and back again. Exit

[Act 1 Scene 2] running scene 2

Enter Quince the carpenter, Snug the joiner, Bottom the weaver, Flute the bellows-mender, Snout the tinker and Starveling the tailor

QUINCE Is all our company here?

BOTTOM You were best to call them generally, man by man, according to the scrip.

QUINCE Here is the scroll of every man's name, which is thought fit through all Athens to play in our interlude before the duke and the duchess on his wedding day at night.

BOTTOM First, good Peter Quince, say what the play treats on, then read the names of the actors, and so grow on to a point.

QUINCE Marry, our play is 'The most lamentable comedy and most cruel death of Pyramus and Thisbe.'

BOTTOM A very good piece of work, I assure you, and a merry. Now, good Peter Quince, call forth your actors by the scroll. Masters, spread yourselves.

QUINCE Answer as I call you. Nick Bottom, the weaver.

BOTTOM Ready. Name what part I am for, and proceed.

QUINCE You, Nick Bottom, are set down for Pyramus.

BOTTOM What is Pyramus, a lover or a tyrant?

QUINCE A lover that kills himself most gallantly for love.

BOTTOM That will ask some tears in the true performing of it. If I do it, let the audience look to their eyes: I will move storms; I will condole in some measure. To the rest - yet my chief humour is for a tyrant: I could play Ercles rarely, or a part to tear a cat in, to make all split.

The raging rocks

And shivering shocks

Shall break the locks

Of prison gates.

And Phibbus' car

Shall shine from far

And make and mar

The foolish Fates.

This was lofty. Now name the rest of the players. This is Ercles' vein, a tyrant's vein: a lover is more condoling.

QUINCE Francis Flute, the bellows-mender.

FLUTE Here, Peter Quince.

QUINCE You must take Thisbe on you.

FLUTE What is Thisbe? A wand'ring knight?

QUINCE It is the lady that Pyramus must love.

FLUTE Nay, faith, let not me play a woman: I have a beard coming.

QUINCE That's all one. You shall play it in a mask, and you may speak as small as you will.

BOTTOM An I may hide my face, let me play Thisbe too. I'll speak in a monstrous little voice. 'Thisne, Thisne!' 'Ah, Pyramus, my lover dear! Thy Thisbe dear and lady dear!'