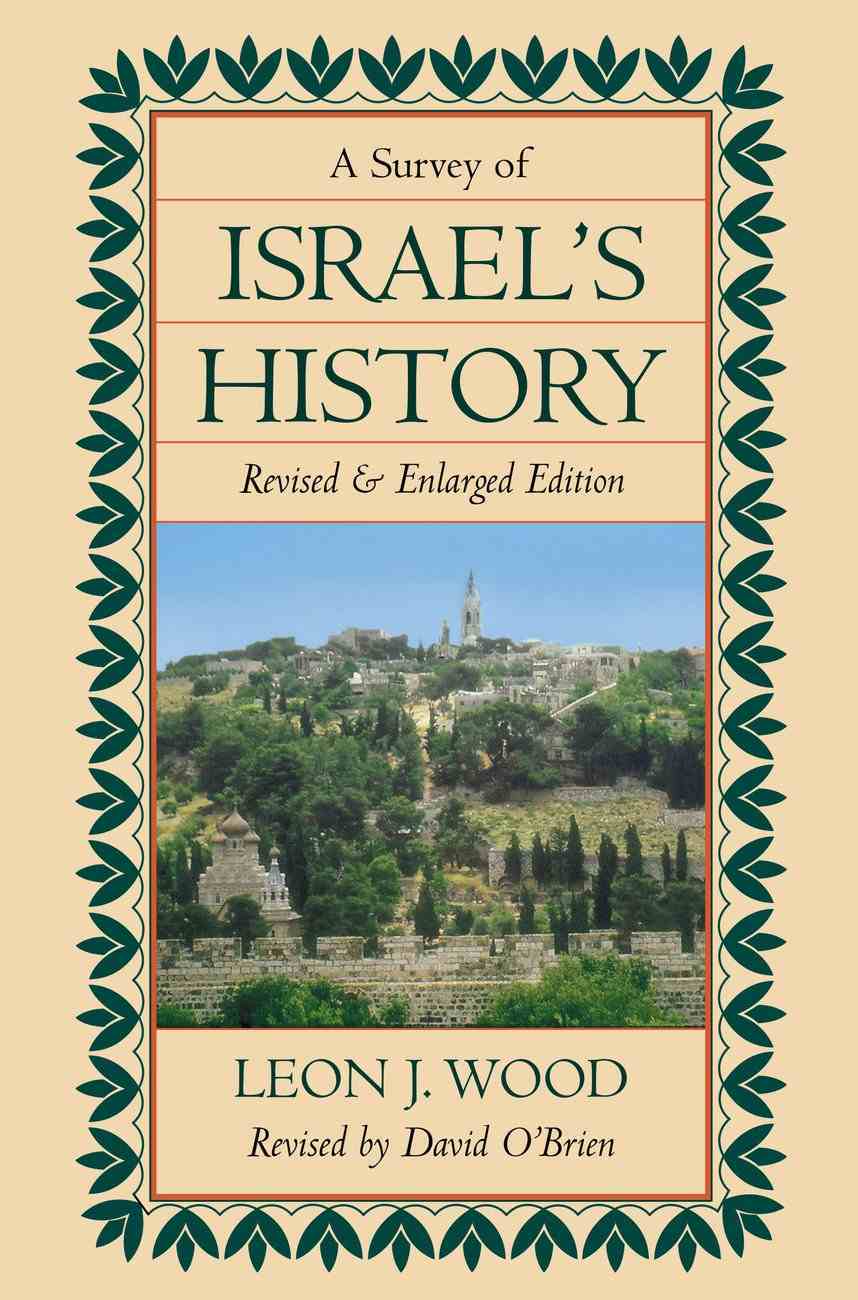 A Survey of Israel's History
Since its first publication in 1970, this book has established itself as a popular, useful text in Bible colleges and seminaries. The usefulness of the book has been increased by the addition of a chapter on the Inter-testamental Period.
Out of Stock
Available to Order
---
Expected to ship in 5 to 6 weeks from Australia.
---
Free Shipping
for orders over $99.
Since its first publication in 1970, this book has established itself as a popular, useful text in Bible colleges and seminaries. The usefulness of the book has been increased by the addition of a chapter on the Inter-testamental Period.
-Publisher
ContentsList of MapsForewordPublisher''s ForewordAbbreviations1.IntroductionSource MaterialImportance of IsraelIsrael''s Strategic LocationGeography of PalestineHistory Divisions2.Patriarchal BackgroundHistorical AccuracySignificance of Abraham''s CallDate of AbrahamAbraham''s CountryDeparture3.AbrahamThe New LandShechem, Bethel, Egypt, BethelRescue of Lot (Gen. 14)Destruction of Sodom (Gen. 18:1-19:38)CovenantWaiting the Promised Child (Gen. 16:1-18:15)Abimelech and the Philistines (Gen. 20-21)Near Sacrifice of Isaac (Gen. 22)Death and Burial of Sarah (Gen. 23)A Bride for Isaac (Gen. 24:1-25:11)Abraham, Man of Faith4.Isaac, Jacob, JosephIsaac (Gen. 25:9-26:35)Jacob (Gen. 28:1-36:43)Joseph (Gen. 37-50)5.Sojourn and Exodus ChronologyDuration of Egyptian SojournDate of the Exodus6.Life in EgyptFour Periods of Egyptian RuleEgyptian LifeJacob''s Descendants in EgyptIsrael in Servitude (Exod. 1:8-22)Moses (Exod. 2:1-10)Moses'' Choice (Exod. 2:11-25; Acts 7:23-29; Heb. 11:24-27)Moses'' Return to Egypt (Exod. 3:1-4:31)The Contest With Pharaoh (Exod. 5:1-12:36)Departure From Egypt7.Israel in the WildernessIsrael''s Route of TravelTo Mount Sinai (Exod. 15:22-18:27)Giving the Law (Exod. 19:3-24:18; 32:1-34:35)The LawThe Tabernacle (Exod. 25-31; 35-40)The Number of PeopleSinai to Kadesh-barnea (Num. 10:11-17:13; 33:16-19)Thirty-seven Years and Six Months of Fruitless Wandering (Num. 15-19; 33:19-36)Kadesh-barnea to the Jordan (Num. 20-21; 33:37-48; Deut. 2:1-3:14)At the Jordan (Num. 22-27; 31-32; Deut. 31, 34)Deuteronomy8.The ConquestThe Land of CanaanEntrance to the Land (Josh. 2:1-5:12)Conquest of Central Palestine (Josh. 5:13-9:27)Conquest of the South and the North (Josh. 10-12)The Land Divided (Josh. 13-22)Institutions9.The JudgesBackground MattersFailure to Occupy the Land Fully (Judg. 1:1-3:7)The Period of Mesopotamian Oppression (Judg. 3:8-11; 17-21)The Period of Moabite Oppression (Judg. 3:12-31)The Period of Canaanite Oppression (Judg. 4-5)The Period of Midianite Oppression (Judg. 6:1-10:5; Ruth 1-4)The Period of Ammonite Oppression (Judg. 10:6-12:15)The Period of Philistine Oppression (Judg. 13-16)Samuel10.King SaulThe Anointing of Saul (1 Sam. 9-12)The Rule of SaulThe Rejection of Saul (1 Sam. 13-15)Saul and David (1 Sam. 16-20)Saul''s Last Years (1 Sam. 22:6-19; 28:1-25; 31:1-13)David as Fugitive (1 Sam. 21-27; 29-30; 2 Sam. 1)11.DavidDavid at Hebron (2 Sam. 1:1-5:5)David Establishes the Kingdom of Israel (2 Sam. 5:6-8:18; 10:1-19)David''s GovernmentSignificant DeedsLast Years of David (2 Sam. 13-20; 1 Kings 1:1-2:11; 1 Chron. 22; 28-29)Israel''s Greatest King12.SolomonEstablished as King (1 Kings 2:12-46; 3:4-28; 2 Chron. 1:1-17)Solomon''s KingdomForeign RelationsBuilding Activity (1 Kings 5:1-9:9; 2 Chron. 2-7)Literary AgeSpiritual Decline and Punishment (1 Kings 11; 2 Chron. 9:29-31)Solomon the King13.The Northern KingdomThe Revolt (1 Kings 12:1-24; 2 Chron. 10)The Early Years (931-885; 1 Kings 12:25-16:20)The Dynasty of Omri (885-841; 1 Kings 16:23-22:53; 2 Kings 1-8)The Dynasty of Jehu (841-753; 2 Kings 9:11-10:36; 13; 14:16-29)The Decline of Israel (752-722; 2 Kings 15:13-17:41)Israel Under Assyrian ControlSummary14.The Kingdom of JudahA Period of Conflict With Israel (931-870; 1 Kings 14:21-15:24; 2 Chron. 10-16)A Period of Alliance With Israel (873-835; 1 Kings 22:41-50; 2 Kings 8:16-29; 11:1-16; 2 Chron. 17:1-23:15)Four God-approved Kings (835-731; 2 Kings 12-15; 2 Chron. 23:16-27:9)Years of Assyrian Dominance (743-640; 2 Kings 16-21; 2 Chron. 28-33)Babylon Becomes Dominant (640-586; 2 Kings 22-25; 2 Chron. 34-36)15.Exile and ReturnDevelopments in Judah (2 Kings 25:22-26; Jer. 40-44)The Babylonian Period (605-539)Captive JudahThe Persian PeriodThe First Return to Judah (Ezra 1-6)The Second Return (Ezra 7-10)The Third Return (Neh. 1-13)Esther (Esth. 1-10)The Elephantine Colony16.Between the TestamentsIsrael as a Vassal StateThe MaccabeesThe Hasmonean EraSocial DevelopmentsParties Within JudaismThe Literature of the Intertestamen
-Publisher
PRODUCT DETAIL
Catalogue Code 

23958

Product Code 

031034770X

EAN 

9780310347705

UPC 

025986347703

Pages 

434

Department Academic
Category Biblical Studies
Sub-Category General
Publisher Zondervan
Publication Date 

Sep 1986

Sales Rank 

28990

Dimensions 

241 x 162 x 35

mm

Weight 

0.644

kg
Contents
List Of Maps
Foreword
Publisher's Foreword
Abbreviations
1.
Introduction
Source Material
Importance Of Israel
Israel's Strategic Location
Geography Of Palestine
History Divisions
2.
Patriarchal Background
Historical Accuracy
Significance Of Abraham's Call
Date Of Abraham
Abraham's Country
Departure
3.
Abraham
The New Land
Shechem, Bethel, Egypt, Bethel
Rescue Of Lot (gen. 14)
Destruction Of Sodom (gen. 18:1--19:38)
Covenant
Waiting The Promised Child (gen. 16:1--18:15)
Abimelech And The Philistines (gen. 20--21)
Near Sacrifice Of Isaac (gen. 22)
Death And Burial Of Sarah (gen. 23)
A Bride For Isaac (gen. 24:1--25:11)
Abraham, Man Of Faith
4.
Isaac, Jacob, Joseph
Isaac (gen. 25:9--26:35)
Jacob (gen. 28:1--36:43)
Joseph (gen. 37--50)
5.
Sojourn And Exodus Chronology
Duration Of Egyptian Sojourn
Date Of The Exodus
6.
Life In Egypt
Four Periods Of Egyptian Rule
Egyptian Life
Jacob's Descendants In Egypt
Israel In Servitude (exod. 1:8--22)
Moses (exod. 2:1--10)
Moses' Choice (exod. 2:11--25; Acts 7:23--29; Heb. 11:24--27)
Moses' Return To Egypt (exod. 3:1--4:31)
The Contest With Pharaoh (exod. 5:1--12:36)
Departure From Egypt
7.
Israel In The Wilderness
Israel's Route Of Travel
To Mount Sinai (exod. 15:22--18:27)
Giving The Law (exod. 19:3--24:18; 32:1--34:35)
The Law
The Tabernacle (exod. 25--31; 35--40)
The Number Of People
Sinai To Kadesh-barnea (num. 10:11--17:13; 33:16--19)
Thirty-seven Years And Six Months Of Fruitless Wandering (num. 15--19; 33:19--36)
Kadesh-barnea To The Jordan (num. 20--21; 33:37--48; Deut. 2:1--3:14)
At The Jordan (num. 22--27; 31--32; Deut. 31, 34)
Deuteronomy
8.
The Conquest
The Land Of Canaan
Entrance To The Land (josh. 2:1--5:12)
Conquest Of Central Palestine (josh. 5:13--9:27)
Conquest Of The South And The North (josh. 10--12)
The Land Divided (josh. 13--22)
Institutions
9.
The Judges
Background Matters
Failure To Occupy The Land Fully (judg. 1:1--3:7)
The Period Of Mesopotamian Oppression (judg. 3:8--11; 17--21)
The Period Of Moabite Oppression (judg. 3:12--31)
The Period Of Canaanite Oppression (judg. 4--5)
The Period Of Midianite Oppression (judg. 6:1--10:5; Ruth 1--4)
The Period Of Ammonite Oppression (judg. 10:6--12:15)
The Period Of Philistine Oppression (judg. 13--16)
Samuel
10.
King Saul
The Anointing Of Saul (1 Sam. 9--12)
The Rule Of Saul
The Rejection Of Saul (1 Sam. 13--15)
Saul And David (1 Sam. 16--20)
Saul's Last Years (1 Sam. 22:6--19; 28:1--25; 31:1--13)
David As Fugitive (1 Sam. 21--27; 29--30; 2 Sam. 1)
11.
David
David At Hebron (2 Sam. 1:1--5:5)
David Establishes The Kingdom Of Israel (2 Sam. 5:6--8:18; 10:1--19)
David's Government
Significant Deeds
Last Years Of David (2 Sam. 13--20; 1 Kings 1:1--2:11; 1 Chron. 22; 28--29)
Israel's Greatest King
12.
Solomon
Established As King (1 Kings 2:12--46; 3:4--28; 2 Chron. 1:1--17)
Solomon's Kingdom
Foreign Relations
Building Activity (1 Kings 5:1--9:9; 2 Chron. 2--7)
Literary Age
Spiritual Decline And Punishment (1 Kings 11; 2 Chron. 9:29--31)
Solomon The King
13.
The Northern Kingdom
The Revolt (1 Kings 12:1--24; 2 Chron. 10)
The Early Years (931--885; 1 Kings 12:25--16:20)
The Dynasty Of Omri (885--841; 1 Kings 16:23--22:53; 2 Kings 1--8)
The Dynasty Of Jehu (841--753; 2 Kings 9:11-10:36; 13; 14:16--29)
The Decline Of Israel (752-722; 2 Kings 15:13--17:41)
Israel Under Assyrian Control
Summary
14.
The Kingdom Of Judah
A Period Of Conflict With Israel (931--870; 1 Kings 14:21--15:24; 2 Chron. 10--16)
A Period Of Alliance With Israel (873--835; 1 Kings 22:41--50; 2 Kings 8:16--29; 11:1--16; 2 Chron. 17:1--23:15)
Four God-approved Kings (835--731; 2 Kings 12--15; 2 Chron. 23:16--27:9)
Years Of Assyrian Dominance (743--640; 2 Kings 16--21; 2 Chron. 28--33)
Babylon Becomes Dominant (640--586; 2 Kings 22--25; 2 Chron. 34--36)
15.
Exile And Return
Developments In Judah (2 Kings 25:22--26; Jer. 40--44)
The Babylonian Period (605--539)
Captive Judah
The Persian Period
The First Return To Judah (ezra 1--6)
The Second Return (ezra 7--10)
The Third Return (neh. 1--13)
Esther (esth. 1--10)
The Elephantine Colony
16.
Between The Testaments
Israel As A Vassal State
The Maccabees
The Hasmonean Era
Social Developments
Parties Within Judaism
The Literature Of The Intertestamental Period
Conclusion
Basic Further Reading
A Chronological Chart
Subject Index
Scripture Index
Map Section
List Of Maps
Map 1 The Fertile Crescent
Map 2 The Ancient World---physical Features
Map 3 The Route Of Abraham
Map 4 The Campaign Of Genesis 14 And Main Areas Of Population
Map 5 The Route Of The Exodus And The Conquest Of Canaan
Map 6 The Tribal Divisions
Map 7 The Levitical Cities
Map 8 The Areas Actually Settled By Israelites
Map 9 The Kingdom Of Saul
Map 10 The Kingdom Of David
Map 11 The Kingdoms Of Israel And Judah Shortly After The Division
Map 12 The Campaigns Of Tiglath-pileser Iii
Map 13 Palestine Under Assyrian Control
Map 14 The Campaign Of Shishak
Map 15 The Cities Of The Prophets
Map 16 Necho's Route And Josiah's Battle
Map 17 The Fall Of Assyria And The Rise Of Babylonia
Map 18 Postexilic Judah
Bestsellers in Biblical Studies