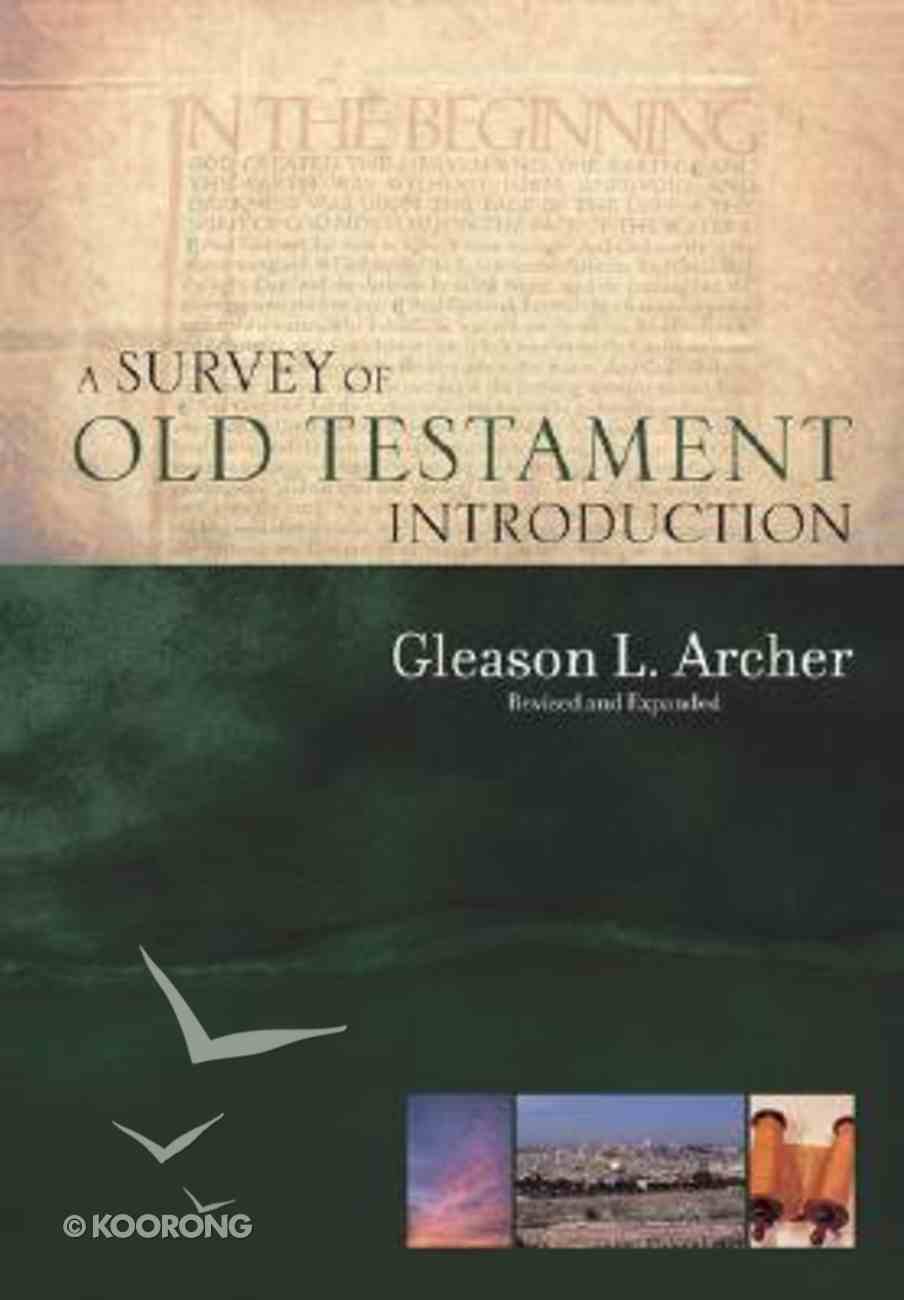 A Survey of the Old Testament Introduction
$59.99
20% OFF
―
save $12.00
---
Expected to ship within 1 hour from Australia.
---
Free Shipping
for orders over $99.
A Survey of the Old Testament Introduction
PRODUCT DETAIL
Catalogue Code 

261295

Product Code 

9780802484345

ISBN 

0802484344

EAN 

9780802484345

Pages 

512

Department Academic
Category Biblical Studies
Sub-Category Old Testament
Publisher Moody Publishers
Publication Date 

Oct 2007

Sales Rank 

60498

Dimensions 

247 x 171 x 35

mm

Weight 

1.360

kg
Dillon Burroughs is a graduate of Dallas Theological Seminary and author or coauthor of nearly 30 books on issues of faith and culture, including Defending the Faith, What's the Big Deal About Jesus? and Comparing Christianity with World Religions. He has served among at-risk American youth, constructed housing in Mexico's barrios, provided aid relief in Haiti, and was most recently nominated for a CNN Hero award for his efforts to fight human trafficking. Dillon lives in Tennessee with his wife, Deborah, and two children.
Gleason L. Archer (B.A., M.A., Ph.D., Harvard University; B.D., Princeton Theological Seminary; L.L.B., Suffolk Law School) is professor emeritus of Old Testament and Semitic languages at Trinity Evangelical Divinity School, in Deerfield, Illinois. He continues to teach part time at TEDS and has served as a minister of the Evangelical Free Church of America since 1966.Archer's books include Job: God's Answer to Undeserved Sufferingand Old Testament Quotations in the New Testament. He co-wrote A Theological Wordbook of the Old Testament. His instrumental work in the preparation of the Old Testament portion of the New American Standard Bible has gained wide acclaim and positioned him as a world-renowned scholar.
<div><p>illustrations&#160; / 9<br>preface To The First Edition&#160; / 12<br>abbreviations&#160; / 13<br>1. Introduction&#160; / 15<br>2. The Inspiration Of The Old Testament&#160; / 20<br><br>part One: General Introduction<br>3. The Hebrew Manuscripts And The Early Versions&#160; / 36<br>4. Lower Criticism Of The Old Testament&#160; / 50<br>5. The Canon Of The Old Testament&#160; / 61<br>6. History Of The Documentary Theory Of The Pentateuch&#160; / 71<br>7. Higher Criticism Of The Pentateuch In The Twentieth Century&#160; / 81<br>8. The Authorship Of The Pentateuch&#160; / 91<br>9. Variations And Doublets As Criteria For Source Division&#160; / 103<br>10. Late Words And Aramaisms As Criteria For Source Division&#160; / 115<br>11. Wellhausen's Reconstruction Of Hebrew History In The<br>&#160;&#160;&#160;&#160;&#160; Preprophetic And Prophetic Periods&#160; / 121<br>12. Wellhausen's Reconstruction Of Hebrew History In The <br>&#160;&#160;&#160;&#160;&#160;&#160; Priestly Period&#160; / 133<br>13. Archaeological Evidence For The Antiquity Of The Pentateuch&#160; / 139<br><br>part Two: Special Introduction<br>14. Genesis&#160; /154<br>15.&#160;genesis (continued)&#160; / 170<br>16. Exodus&#160; / 192<br>17. Leviticus And Numbers&#160; / 213<br>18. Deuteronomy&#160; / 226<br>19. Joshua,&#160;judges,&#160;and&#160;ruth&#160; / 237<br>20. 1 And 2 Samuel, 1 And 2 Kings&#160; / 260<br>21. Introduction To The Prophets: Obadiah, Joel, And Jonah&#160; / 275<br>22. Amos, Hosea, And Micah&#160; / 297<br>23. Isaiah&#160; / 307<br>24. Isaiah (continued)&#160; / 323<br>25. Nahum, Zephaniah, And Habukkuk&#160; /&#160;332<br>26. Jeremiah And Lamentations&#160; / 340<br>27. Ezekiel&#160; / 349<br>28. Daniel&#160; / 361<br>29. Daniel (continued)&#160; / 361<br>30. Postexilic Historical Books: 1 And 2 Chronicles, Ezra,&#160;<br>&#160;&#160;&#160;&#160;&#160; Nehemiah, Esther&#160; / 383<br>31. Postexilic Prophets: Haggai, Zechariah, Malachi&#160; / 400<br>32. Introduction To Hebrew Poetry&#160; / 411<br>33. Psalms&#160; / 416<br>34. The Books Of Wisdom: Job And Proverbs&#160; / 428<br>35. Ecclesiastes And Song Of Solomon&#160; / 444<br><br>appendix 1: Old Testament Chronology&#160; / 459<br>appendix 2: Anachronisms And Historical Inaccuracies In The Koran&#160; / 463<br>appendix 3: Anachronisms And Historical Inaccuracies In The&#160;<br>&#160;&#160;&#160;&#160;&#160;&#160;&#160;&#160;&#160;&#160;&#160;&#160;&#160;&#160;&#160;&#160;&#160;&#160;&#160;&#160;&#160;&#160;&#160;&#160;&#160;mormon Scriptures&#160; / 466<br>appendix 4: Inventory Of The Biblical Manuscripts From The Dead<br>&#160;&#160;&#160;&#160;&#160;&#160;&#160;&#160;&#160;&#160;&#160;&#160;&#160;&#160;&#160;&#160;&#160;&#160;&#160;&#160;&#160;&#160;&#160;&#160;&#160;sea Caves&#160; / 469<br>excursus 1: Predication And&#160;fulfillment As Proof Of Divine Inspiration&#160; / 474<br>excursus 2: Additional Data From Elba&#160;&#160;/ 480<br>excursus 3: Liberal Scholarship In The Twentieth Century&#160; / 482<br><br>selected Bibliography&#160; / 491<br>author Index&#160;&#160; / 494<br>subject Index&#160; / 497<br>scripture Index&#160; / 501</p></div>
Bestsellers in Biblical Studies