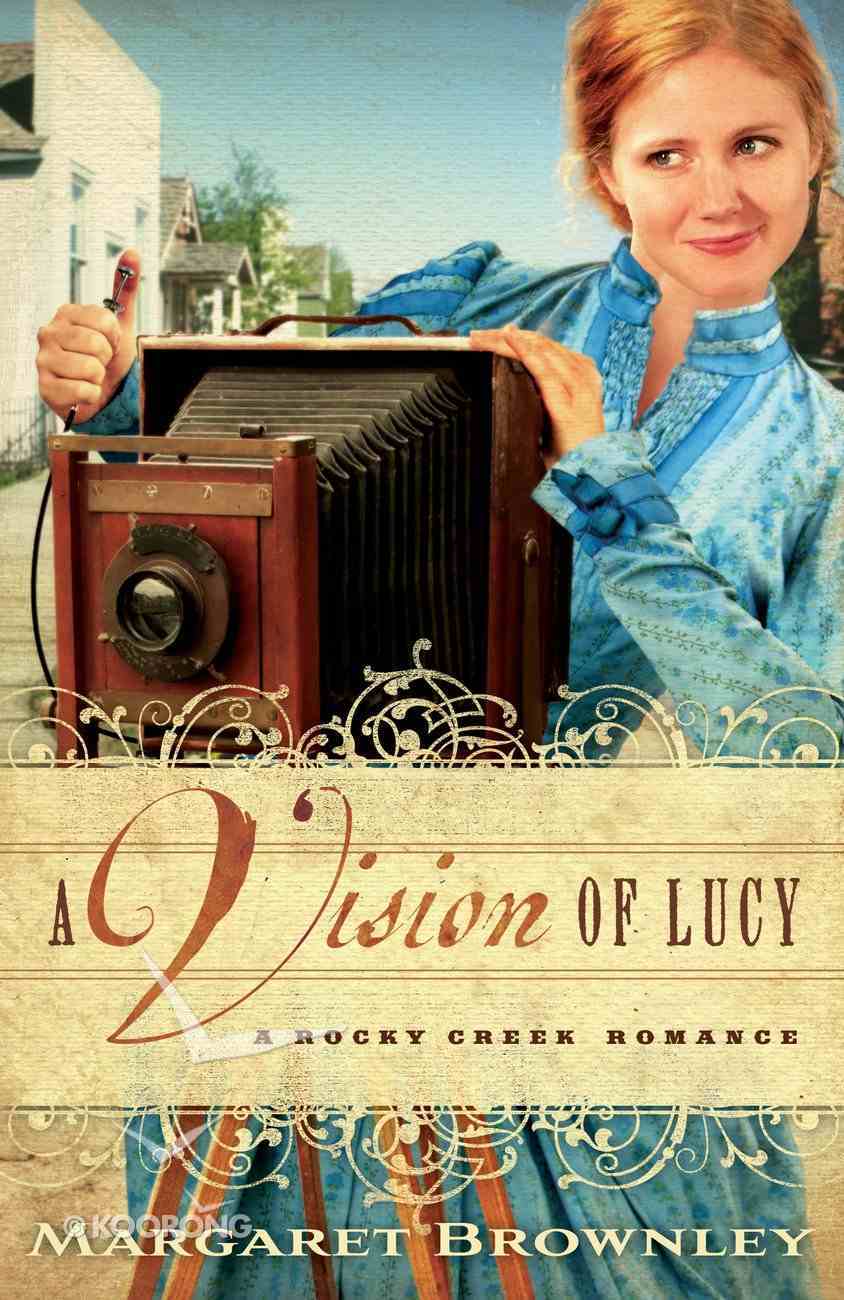 A Vision of Lucy (A Rocky Creek Romance Series)
Trouble follows Lucy wherever she goes. So does a vision of second chances ... and love. Lucy Fairbanks dreams of working as a photographer at the Rocky Creek newspaper. Her deepest hope is that her father will see her...
Available for immediate download.
---
Read using our free app on your tablet or mobile!
---
Free Shipping
for orders over $99.

Trouble follows Lucy wherever she goes. So does a vision of second chances ... and love.


Lucy Fairbanks dreams of working as a photographer at the Rocky Creek newspaper. Her deepest hope is that her father will see her as an artist, the way he thought of her deceased mother, whose paintings still hang on their walls.


But disaster follows Lucy on every photo assignment: a mess of petticoats and ribbons, an accidental shooting, even a fire.


When Lucy meets David Wolfùa rugged, reclusive man who lives on the outskirts of townùshe thinks she can catch the attention of the town with his photograph. She doesn't count on her feelings stirring whenever she's near him.


Two things happen next that forever change the course of Lucy's life. But will these events draw her closer to God or push her further away? And how will David accept this new vision of Lucy?

^
Lucy Fairbanks dreams of working as a photographer at the Rocky Creek newspaper. Her deepest hope is that her father will see her as an artist, the way he thought of her deceased mother, whose paintings still hang on their walls.

^
But disaster follows Lucy on every photo assignment: a mess of petticoats and ribbons, an accidental shooting, even a fire.

^
When Lucy meets David Wolf-a rugged, reclusive man who lives on the outskirts of town-she thinks she can catch the attention of the town with his photograph. She doesn't count on her feelings stirring whenever she's near him.

^
Two things happen next that forever change the course of Lucy's life. But will these events draw her closer to God or push her further away? And how will David accept this new vision of Lucy?


Trouble follows Lucy wherever she goes. So does a vision of second chances . . . and love.

^^
Lucy Fairbanks dreams of working as a photographer at the Rocky Creek newspaper. Her deepest hope is that her father will see her as an artist, the way he thought of her deceased mother, whose paintings still hang on their walls.

^^
But disaster follows Lucy on every photo assignment: a mess of petticoats and ribbons, an accidental shooting, even a fire.

^^
When Lucy meets David Wolf-a rugged, reclusive man who lives on the outskirts of town-she thinks she can catch the attention of the town with his photograph. She doesn't count on her feelings stirring whenever she's near him.

^^
Two things happen next that forever change the course of Lucy's life. But will these events draw her closer to God or push her further away? And how will David accept this new vision of Lucy?


-Publisher
Margaret Brownley is the author of several highly acclaimed historical romances, including her recent bestseller "Pistols and Petticoats," ýRaine Cantrell is the author of many historical romances, including the acclaimed "Darling Annie," and the winner of ten writing awards. ýNadine Crenshaw whose latest romance is "Viking Gold," was a nominee for the Romance Writers of America RITA Award, and winner of their Golden Heart Award. ýSandra Kitt, a leading romance writer, is the author of "The Color of Love,"ý