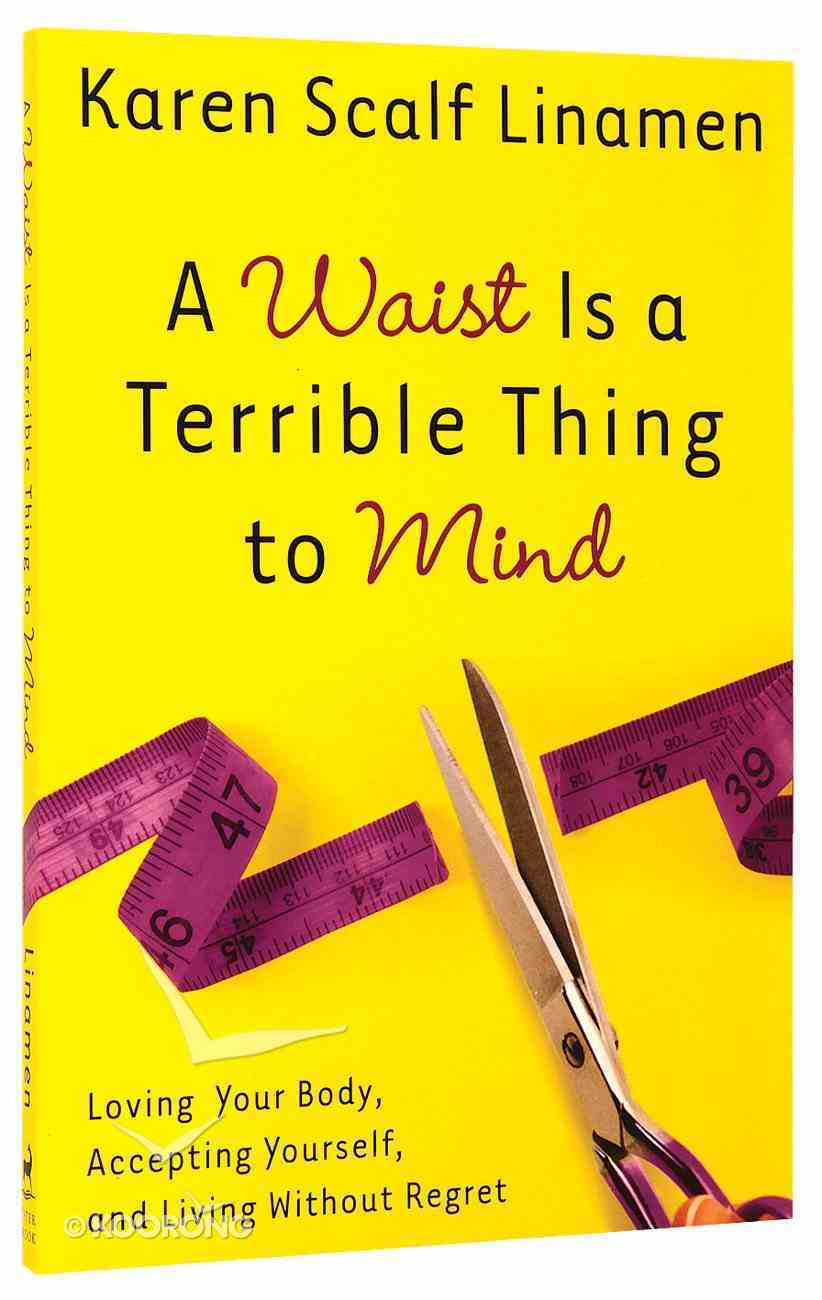 A Waist is a Terrible Thing to Mind
Get to Know the New, Improved, Imperfect You! The architects of pop culture have never been the leading authorities on what is best for you. So turn your back on the lies that you are not thin enough, not...
---
Free Shipping
for orders over $99.
Get to Know the New, Improved, Imperfect You!

The architects of pop culture have never been the leading authorities on what is best for you. So turn your back on the lies that you are not thin enough, not successful enough, and not glamorous enough! Physical perfection is not the goal. Instead, let Karen Scalf Linamen take you on a journey from a limiting and unhealthy body-image to a life of feeling good about yourself - body included. When you learn the secrets in A Waist Is a Terrible Thing to Mind you can change what you crave, what you eat, how you think, and ultimately how you live. Along with Karen's trademark humor, you'll find practical, common-sense tools to help you accept who you are today and take the steps that will make you the person you were created to be. Along the way, you'll enjoy the new, improved, imperfect you!


-Publisher
PRODUCT DETAIL
Catalogue Code 

306166

Product Code 

9781400074013

ISBN 

1400074010

EAN 

9781400074013

Pages 

208

Department General Books
Category Women
Sub-Category General
Publisher Waterbrook Press
Publication Date 

Apr 2010

Dimensions 

201 x 130 x 11

mm

Weight 

0.158

kg
Karen Linamen is the author or coauthor of seven books, including Pillow Talk and Happily Ever After. Two of her books have received recognition as finalists for the ECPA Gold Medallion Award. A contributing editor for Today's Christian Woman magazine and author of more than one hundred magazine articles, Linamen is a frequent speaker at churches, women's retreats, and writers' conferences.
Making Peace with Your Yo-Yo Diet

What's a Nice Girl Like Me Doing in a Size Like This?

Okay, fine. I admit it. I'm the girl of a thousand diets. I've tried them all: Atkins, Grapefruit, Egg, Weight Watchers, Nutrisystem, Diet Center. On and on, to ad diet nauseum.
   Actually, the diet with which I've had the most success is the Yo-Yo Diet, also known as the Déjà Moo Diet, the diet I turn to whenever I get the feeling that I have—once again—put on weight and feel like a cow. I wish I could tell you that going on all these diets has made me svelte. Actually they have, if svelte stands for Still Voraciously Eating Lotsa Treats Enthusiastically.
   Unfortunately, many of my friends share the same problem. Maybe they're not bouncing up and down the scale on yo-yo diets like I am, but almost every woman I know has something she would love to change about her body, her shape, or the way she looks.
   Knowing this about other people brings a bit of relief. Not that I want my friends to suffer. (In fact, I wouldn't wish this problem on anyone, not even the woman who whipped her car in front of mine and stole the first-row parking space I was about to claim in the Krispy Kreme parking lot.) But knowing that other women (and men) struggle to change their bodies—or, at the very least, struggle to change how they feel about their bodies—makes me feel a little less…well…alone.
   Apparently we're all in this together. Even celebrities have this problem, which always amazes the rest of us because most celebrities have the money to hire personal chefs and personal trainers and personal fashion consultants, not to mention their own fleet of personal airbrush artists. I wouldn't be surprised if the wealthiest stars even hire personal binge doubles who wear the pounds in the relationship. Here's how it works: a movie star pigs out for a weekend and her binge double gains seven pounds. (If Dorian Gray had been raking in a movie-star salary, he would have gone this route instead of the more budget-friendly oil on canvas.)
   Yet, even with all these resources, many Hollywood hotties do the yo-yo thing too: fat, thin, fat, thin, fat, thin. And I understand their pain. It can unnerve a girl, never knowing what size she's going to be tomorrow morning. Consider Alice, for example. Within minutes of arriving in Wonderland, she took one measly bite of cake and blew up three times her normal size. It made her so upset that she cried a literal river of tears. (I can so relate!) But if there was all this drama over a single bite of cake, imagine how huge and hysterical Alice would get if, like me, she were in the habit of consuming an entire party-size box of Twinkies in a single sitting.
   I don't know about you, but as for me and Alice, there's not much we'd love more than getting our bodies to a size that feels healthy and good…and staying there. What about you?

      Does your closet contain more sizes than your local department store?

      Do you change diets more often than you change the cardboard empties in your toilet-paper dispenser?

      Have you been up and down the scale more often than a beginning piano student?

      Do you long for a committed, long-term relationship with your skinny jeans instead of all these short-lived flings?

      How many different diets have you tried? In fact, if you added up all the pounds you've lost over and over again,
would you make the cover of The Weekly World News? Would the headline read something like this: "Woman loses
6,811 pounds and lives to tell the story"? Don't feel bad. They ran the same story on me last month.

EISOPTROPHOBICS SHOULD NEVER APPLY THEIR OWN EYELINER

I can put on weight for months, all the while pretending not to notice. As you can imagine, this requires a carefully calibrated system of justification and excusification, not to mention an active avoidance of any reality-based information that might undermine my denial. This is why, if I have a doctor's appointment and the nurse needs to update my chart, sometimes I stand on the scale with my eyes closed, humming "The Star Spangled Banner." If she insists on knowing my weight, that's her business. All I know is that I don't have a burning need to see the numbers— or hear her announce the numbers. And I certainly don't want to hear her gasp and turn toward the nurses' station while she points at me: "Hey girls! Come take a look at this! Did anyone know the digits on this scale went this high?"
   Of course, if I really wanted to stay ignorant of the shape of my body, I could develop eisoptrophobia, which is a fear of mirrors. Except what if I were afraid of mirrors and then lost fifty pounds and wanted to admire my new shape? Or what if I ever wanted to go to counseling and my therapist asked me to take a good look at myself and do some personal reflection?
   Apparently I do not suffer from eisoptrophobia. I say this because last year I looked in the mirror and realized I was the heaviest I'd been in a long time. In fact, at 227 pounds, it dawned on me that I'd broken one of the first commandments of weight management, which is: "Thou shalt not weigh more than thy refrigerator." (You think I'm joking? My make and model of fridge weighs 187 pounds. I looked it up.)
   I don't know why my weight came as a surprise to me. After all, I'd not only been feeling fat and tired, but sad and hopeless too. You see, every time I lose weight, I feel great about my body and my life, while every time I gain it back, I feel angst and shame. And since my angst and shame had skyrocketed, it shouldn't have come as a surprise that the numbers on my scale had done the same thing.
   So I did what I always do when this happens, I started a new diet. At the time, this always seems like a good idea. And it probably would be a good idea if dieting didn't require the mastery of a particular substance that may seem simple, but in reality is about as simple as brain surgery or programming the TiVo.
   That substance, of course, is food.

SO MANY DIETS, SO LITTLE FOCUS

I don't know what your relationship with food is like, but to me, food always feels really complicated.
   I know it's supposed to be simple. Something to do with fueling our bodies. I hear it's supposed to work like this: feel hungry, eat nutrients, get energy, move around, feel hungry again, eat more nutrients. In fact, it's kind of like what we do with our cars: fill up and drive. Fill up and drive. Fill up and drive. Food is supposed to work like that, except it tastes better than gas and doesn't make us complain about the price at the pumps.
   To me, food has always seemed more complex than that. Take breakfast, for example. The remarkably simple question "Gee, what should I have for breakfast?" can turn into the kind of conundrum that would reduce Ernö Rubik to tears. Indeed, last year when I decided to start a new diet, I headed into the kitchen for breakfast, opened the fridge, and—true to form—felt a surge of panic. Here is a random sampling of the thoughts that went ping-ponging around my brain as I studied the contents of my General Electric:

Hmm…what kind of diet should I start? Maybe a low-carb diet? If so, for breakfast I could eat a three-cheese omelet and a half pound of bacon.
 
Then again, I could always make it a low-glycemic-index day and start off with oatmeal and a piece of rye toast.
 
Or maybe I should nix food altogether and stick with diet drinks all day. Come to think of it, that egg diet worked well for me once, although nine hard-boiled eggs in one day can get a little tedious.
 
Of course, I could always grab one of the Nutrisystem breakfasts I bought off that woman on Craigslist.
 
No, wait! I still have some of that grasslike substance from last year's colon-cleanse program. All I have to do is mix it with apple juice to create a nutrient- and fiber-rich cocktail that tastes like it was scraped off the bottom of my lawnmower.

With these thoughts swimming around in my brain like Goldfish crackers, it's no wonder I felt confused and decided to do the only thing that made any sense at the moment: I fasted.
   When you can't figure out what to eat, don't eat anything. I do this a lot. It works beautifully for me until about two in the afternoon, when I become so famished I scarf down a pound of bacon, four Nutrisystems, a Tupperware storage container full of leftover mac and cheese, a couple of bowls of Rice Krispies, and half a pan of brownies eaten with a spoon that I dip repeatedly in peanut butter. Which explains why—whenever I decide to get control of my body and my life—it usually only takes about seven hours to feel fatter and more discouraged than ever.
   But last year, as I stared into my refrigerator and pondered a new diet, something clicked. If I were going to kick this thing once and for all, I needed a new approach. Something I'd never tried before.
   It's not like I don't already know how to lose weight, what with losing the same forty to sixty pounds over and over and over. But I realized there were apparently some things I didn't know, because I'd been fighting the same battle again and again. I was not only exhausted from the fray, I was disillusioned with the chaos that characterized just about all my experiences with my body and with food.
   And that's when I came to a life-changing conclusion: I didn't need to figure out how to lose forty pounds. What I really needed was to figure out how to make peace with my body once and for all.

THE ODDS AREN'T EXACTLY IN OUR FAVOR
 
The more I've thought about it, the more I've realized how unpeaceful this part of my life has been. In fact, I struggle with angst and confusion in a lot of areas as a result of how I manage food, manage my body, and manage my emotions about my body.
   For example, just when I get my willpower working for me and I'm eating healthier meals, I get stressed, and my tastebuds start screaming for junk food. Shortly after I get my taste buds under control, my schedule gets crowded, and I stop going to the gym. By the time my schedule clears up, I've gotten discouraged over some relationship in my life, and I've turned to the mac and cheese. Just about the time I'm over that little setback, summer has arrived, and the thought of donning short sleeves or a swimsuit is enough to send me into therapy.
   And I'm not alone. Women everywhere agree: when it comes to managing our waistlines (or our emotions about our waistlines), the struggle can feel endless. Have you ever stopped to think about all the factors that work against us? Whether we're struggling to reshape our bodies or feel good about our bodies just as they are, you and I face opposition, temptation, or distraction in almost every area of our lives.
   For starters, our cravings work against us, sending us foraging for Ding Dongs and Little Debbies.
   Our busy schedules keep us from going to the gym and send us instead to the drive-through lane of the nearest fast-food restaurant.
   Our society's obsession with just one shape (skinny)makes us feel fat even if we're not.
   Entire industries conspire against us, enticing us with fatty foods and sumo-wrestler quantities, not to mention growth hormones that create plumper cattle but also make the people who eat them—pardon the pun—beefier as well.
   Emotional wounds and relationship ghosts can work against us, too, prompting us to try to protect ourselves from future hurt by piling on the weight. (Somehow, we believe the extra weight keeps potential heartaches
at bay.)
   Our lifestyles work against us, keeping us comfortably inactive and sweat free. And I haven't even mentioned age and gravity!
   Finally, you and I war against ourselves, giving in to deceptive thinking and self-defeating beliefs.
   With all this stuff conspiring to make us fat or make us think we're fat, is it any wonder our efforts to feel good about our bodies seem to go largely unrewarded?
   Making peace with our bodies doesn'tmean achieving amagic number on the scale. It does mean having the energy we need to live the lives we desire. It means feeling confident about the way we look. It means getting our cravings, schedules, and beliefs working for us instead of against us. It means (gasp!) making love with the lights on and loving every minute of it.
   So how do we begin?


GET A NEW BODITUDE

Questions for Personal Reflection or Group Discussion

Do you like your body? Why or why not?

Think about the other areas of your life that are affected by the way you feel about your body. (For example, your
relationships with men, friendships with women, how confident you feel in your career, how active you are with your kids, how much stress you feel at the start of the day, how happy or content you are in general.)

If you have tried (and failed) to get in better shape, what factors contributed to your lack of success?

If you could find a way to be at peace with your body, how would it change your life?