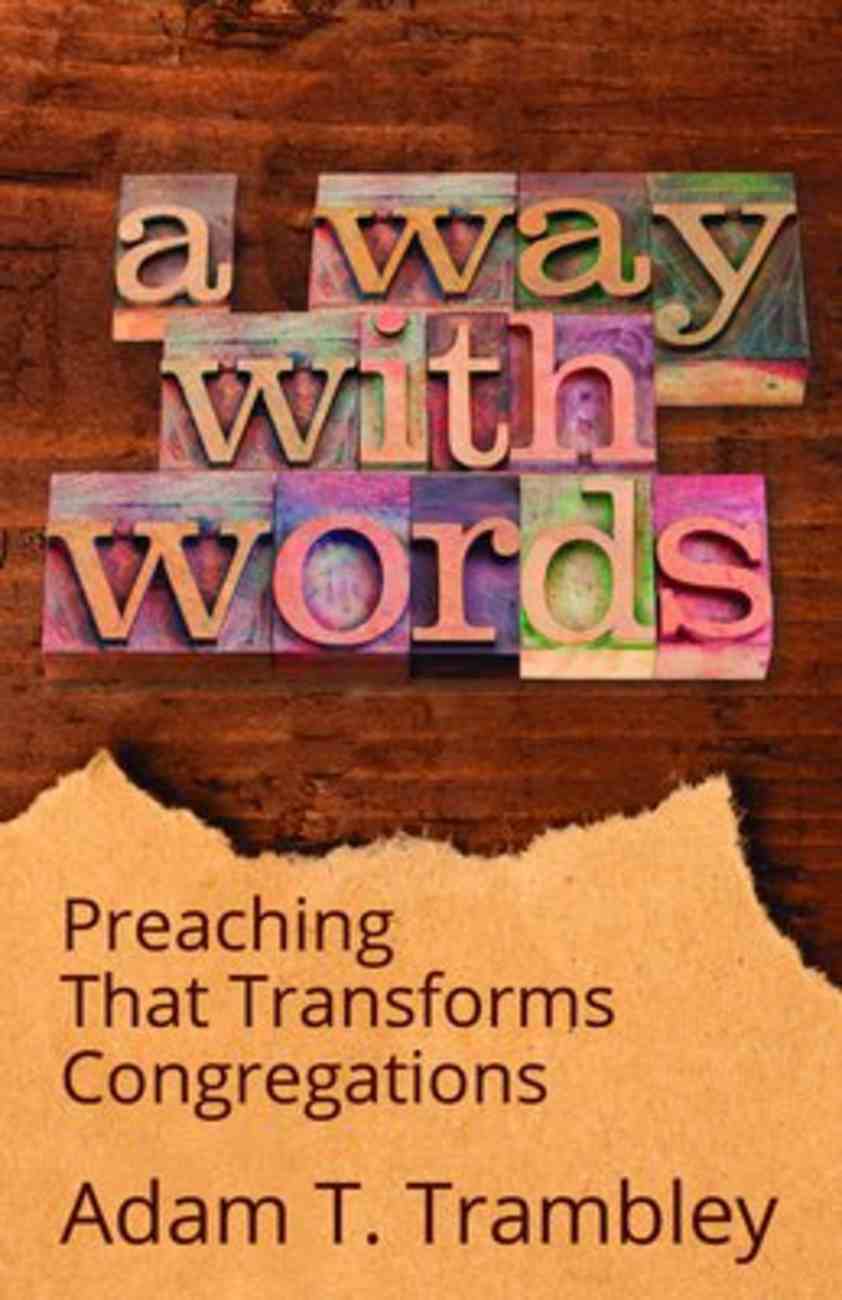 A Way With Words: Preaching That Transforms Congregations
* Shows how a consistent preaching focus can foster greater congregational vitality * Includes discussion questions for groups A Way with Words demonstrates the power of the weekly sermon to change the culture of a congregation. Using the analogy of...
Out of Stock
Available to Order
---
Expected to ship in 4 to 5 weeks from Australia.
---
Free Shipping
for orders over $99.
* Shows how a consistent preaching focus can foster greater congregational vitality * Includes discussion questions for groups A Way with Words demonstrates the power of the weekly sermon to change the culture of a congregation. Using the analogy of language learning, Adam Trambley shows how a consistent ministry focus over an eighteen-month period can help a church address areas that inhibit growth even as the pastor preaches on a diversity of subjects or uses a lectionary. The author explores how important focused preaching can be to moving church development forward and offers a long-term strategy particularly helpful for pastors looking to take full advantage of the opportunities their weekly sermons provide. Each chapter includes discussion questions and practical exercises that can be used as part of a preaching group or seminary class, or to aid the solo pastor in preparing dynamic sermons. This is a topic not generally taught in seminary, but vital for pastors who wear many hats as preachers, pastoral caregivers, and administrative leaders.
-Publisher
<p>foreword By Bishop Sean W. Rowe</p><p>introduction</p><p>part I&amp;nbsp; The Long-term Sermon</p><p>chapter One&amp;nbsp; &amp;nbsp; &amp;nbsp; &amp;nbsp; &amp;nbsp; &amp;nbsp; &amp;nbsp; &amp;nbsp; Teaching A New Language</p><p>chapter Two&amp;nbsp; &amp;nbsp; &amp;nbsp; &amp;nbsp; &amp;nbsp; &amp;nbsp; &amp;nbsp; Imparting New Language Elements</p><p>chapter Three&amp;nbsp; &amp;nbsp; &amp;nbsp; &amp;nbsp; &amp;nbsp; &amp;nbsp; Providing Theological Rationale And Practical Vision</p><p>chapter Four&amp;nbsp; &amp;nbsp; &amp;nbsp; &amp;nbsp; &amp;nbsp; &amp;nbsp; &amp;nbsp; Explaining How To Take The Next Steps&amp;nbsp;</p><p>chapter Five&amp;nbsp; &amp;nbsp; &amp;nbsp; &amp;nbsp; &amp;nbsp; &amp;nbsp; &amp;nbsp; Discerning The Next Stage</p><p>chapter Six&amp;nbsp; &amp;nbsp; &amp;nbsp; &amp;nbsp; &amp;nbsp; &amp;nbsp; &amp;nbsp; &amp;nbsp; Long-term Sermon Templates: Spiritual Gifts And <em>the Way Of Love</em></p><p>part Ii&amp;nbsp; Preaching With Prayer, Passion, Personality And Physicality</p><p>chapter Seven&amp;nbsp; &amp;nbsp; &amp;nbsp; &amp;nbsp; &amp;nbsp; &amp;nbsp; Prayer</p><p>chapter Eight&amp;nbsp; &amp;nbsp; &amp;nbsp; &amp;nbsp; &amp;nbsp; &amp;nbsp; &amp;nbsp; Passion</p><p>chapter Nine&amp;nbsp; &amp;nbsp; &amp;nbsp; &amp;nbsp; &amp;nbsp; &amp;nbsp; &amp;nbsp; Personality</p><p>chapter Ten&amp;nbsp; &amp;nbsp; &amp;nbsp; &amp;nbsp; &amp;nbsp; &amp;nbsp; &amp;nbsp; &amp;nbsp; Physicality</p><p>appendix&amp;nbsp; &amp;nbsp; &amp;nbsp; &amp;nbsp; A Curriculum For A Long-term Sermon Preaching Course</p><p>praching Course</p><p>&amp;nbsp;</p><p>&amp;nbsp;</p><p>&amp;nbsp;</p><p>&amp;nbsp;</p><p>&amp;nbsp;</p>
<ul>
</ul>
<p>&amp;nbsp;</p>