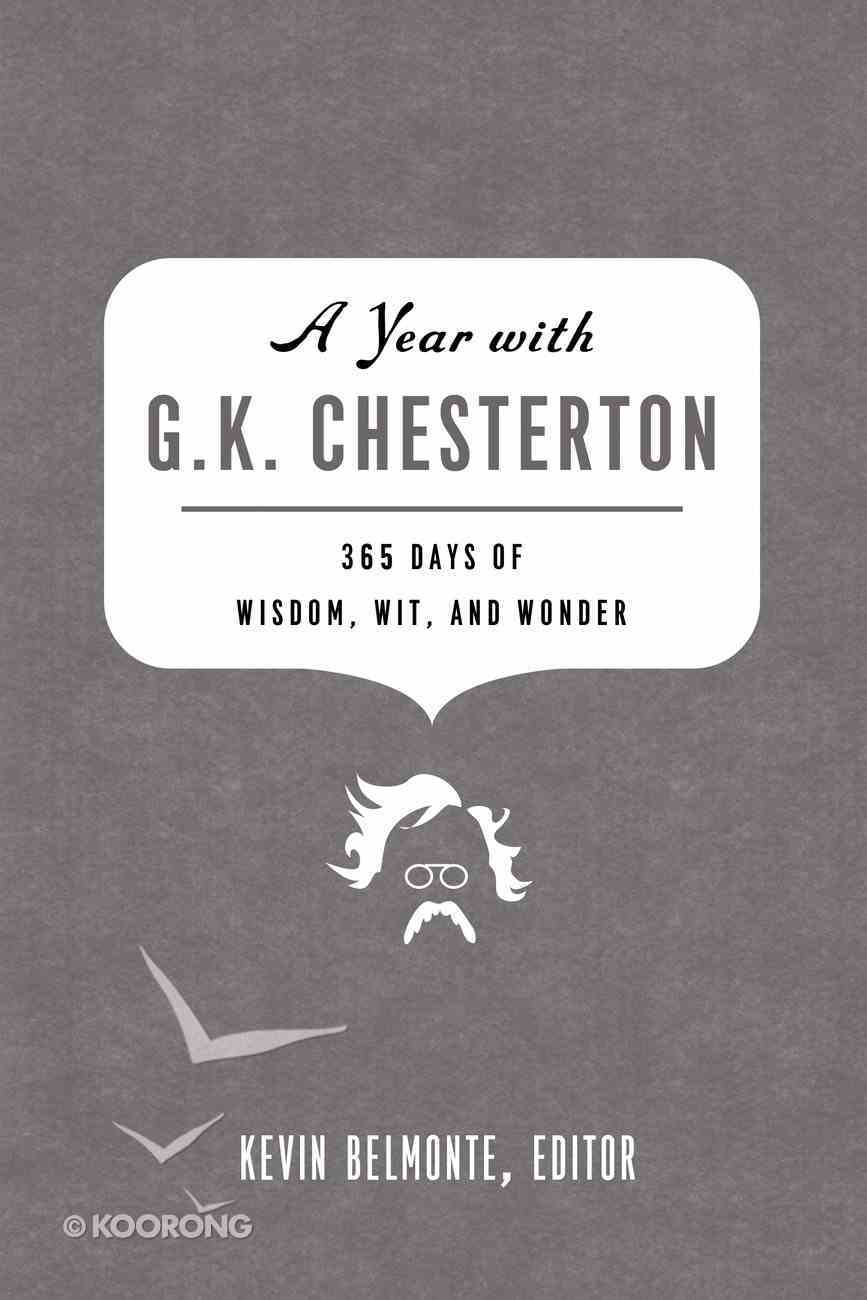 A Year With G.K. Chesterton
"A Year with G.K. Chesterton will be a treasure, both for those who are coming to his wit and wisdom as a fresh discovery, and for those who have known and loved his work for years... . Chesterton's talent for...
Available for immediate download.
---
Read using our free app on your tablet or mobile!
---
Free Shipping
for orders over $99.

"A Year with G.K. Chesterton will be a treasure, both for those who are coming to his wit and wisdom as a fresh discovery, and for those who have known and loved his work for years... . Chesterton's talent for paradox, and his ability to embody profound truth in simple images, makes him as compelling now as he was a hundred years ago... . He was a prophet in his own time and a prophet for ours, speaking out against insidious evils and kindling us all again to a common love of the common good."



-The Reverend Dr. Malcolm Guite, chaplain of Girton College, Cambridge University



"This world of ours has some purpose; and if there is a purpose, there is a Person. I had always felt life first as a story: and if there is a story, there is a Storyteller."


-G. K. Chesterton


A Year with G. K. Chesterton daily brings this truth to life. And we are heir to the winsome, arresting, utterly original outpouring of Chesterton's reasons for hope. During his lifetime, a host of perspectives clamored for his attention, but he saw nothing as vital and alive as Christianity. Readers of this book will find their faith strengthened and enriched, even as they see the many reasons why George Bernard Shaw called Chesterton "a colossal genius."



A true anthology, the best of Chesterton's many works are presented in concise, memorable selections. From New Year's Day to New Year's Eve, each page contains a passage of Scripture and myriad moments for reflection, appreciation, and laughter.


"Chesterton once a day? Well, that's a start. It is good to see that someone is finally recognizing the need for a daily minimum requirement of mirth and meditation from GKC."
-Dale Ahlquist, President, American Chesterton Society


"Kevin Belmonte writes in the preface to this excellent book that his editing of it has been a gift. As an author who has written regularly on Chesterton I can understand his sense of gratitude at having been able to spend so much time with a genius as genial as the great GKC. Thanks to Belmonte's labor of love we can all spend a few moments of every day of the year in Chesterton's inimitable company. All admirers of Chesterton and the Christian truth he explicates so sublimely will be grateful to Kevin Belmonte for this gem of a gift."
-Joseph Pearce, author of Wisdom and Innocence: A Life of G. K. Chesterton


"Who could not be grateful for a year spent with GKC? The great subverter of everything taken for granted, he stretches and deepens us with his insights, shakes us with his startling paradoxes and delights us with his wit. Thank God there is no getting to the end of Chesterton."
-Os Guinness, author of A Free People's Suicide




-Publisher