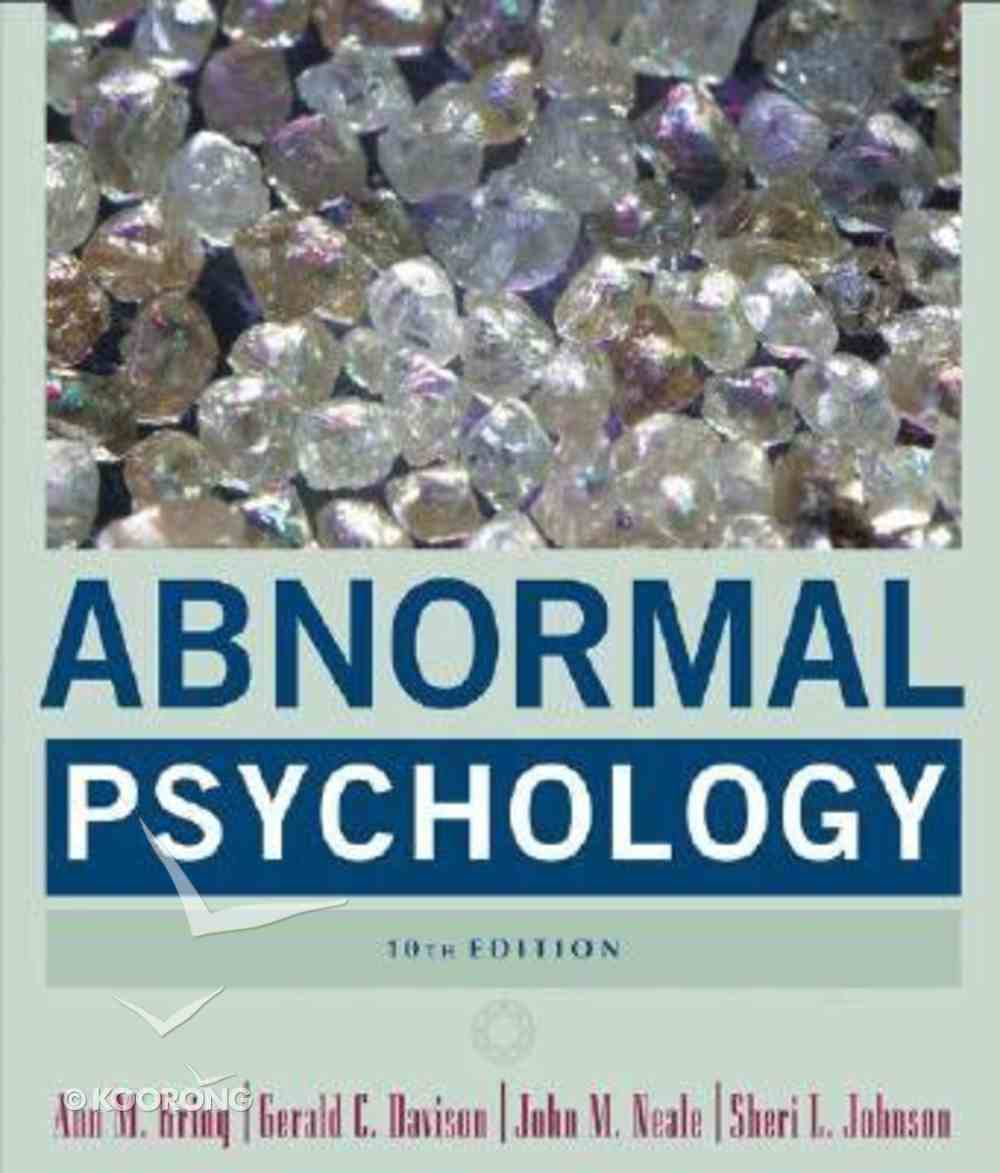 Abnormal Psychology (10th Ed)
1. Introduction and Historical.Overview 1. What Is Abnormal Behavior?Personal Distress.Disability.Violation of Social Norms.Dysfunction.History of Psychopathology.Early Demonology.Early Biological Explanations.The Dark Ages and Demonology.Development of Asylums.The Evolution of Contemporary Thought.An Early System of Classification.Biological Approaches.Psychological Approaches.The Mental Health Professions.Summary.2. Current Paradigms in...
---
Free Shipping
for orders over $99.
1. Introduction and Historical.Overview 1. What Is Abnormal Behavior?Personal Distress.Disability.Violation of Social Norms.Dysfunction.History of Psychopathology.Early Demonology.Early Biological Explanations.The Dark Ages and Demonology.Development of Asylums.The Evolution of Contemporary Thought.An Early System of Classification.Biological Approaches.Psychological Approaches.The Mental Health Professions.Summary.2. Current Paradigms in Psychopathology.The Genetic Paradigm.Behavior Genetics.Molecular Genetics.Gene-Environment Interactions.Reciprocal Gene-Environment Interactions.Evaluating the Genetic Paradigm.The Neuroscience Paradigm.Neurons and Neurotransmitters.Structure and Function of the Human Brain.The Autonomic Nervous System.The Neuroendocrine System.Neuroscience Approaches to Treatment.Evaluating the Neuroscience Paradigm.The Psychoanalytic Paradigm.Ego Analysis.Brief Psychodynamic Therapy.Evaluating the Psychoanalytic Paradigm.The Cognitive Behavioral Paradigm.Influences from Behavior Therapy.Cognitive Science.Cognitive Behavior Therapy.Evaluating the Cognitive Behavior Paradigm.Factors That Cut across the Paradigms.Emotion and Psychopathology.Sociocultural Factors and Psychopathology.Diathesis-Stress: An Integrative Paradigm.Multiple Perspectives on a Clinical Problem.Summary.3. Diagnosis and Assessment.Cornerstones of Diagnosis and Assessment.Reliability.Validity.Classification and Diagnosis.The Diagnostic System of the American Psychiatric Association (DSM-IV-TR).Specific Criticisms of the DSM.General Criticisms of Diagnosing Mental Illness.Psychological Assessment.Clinical Interviews.Assessment of Stress.Personality Tests.Intelligence Tests.Behavioral and Cognitive Assessment.Neurobiological Assessment.Brain Imaging: "Seeing the Brain".Neurotransmitter Assessment.Neuropsychological Assessment.Psychophysiological Assessment.A Cautionary Note about Neurobiological Assessment.Cultural and Ethnic Diversity and Assessment.Cultural Bias in Assessment.Strategies for Avoiding Cultural Bias in Assessment.Summary.4. Research Methods in the Study of Psychopathology.Science and Scientific Methods.Approaches to Research on Psychopathology.The Case Study.The Correlational Method.The Experiment.Integrating the Findings of Multiple Studies.Summary.5. Anxiety Disorders.Clinical Descriptions of the Anxiety Disorders.Phobias.Panic Disorder and Agoraphobia.Generalized Anxiety Disorder .Obsessive-Compulsive Disorder.Posttraumatic Stress Disorder and Acute Stress Disorder.Comorbidity in Anxiety Disorders.Gender and Sociocultural Factors in the Anxiety Disorders.Gender.Culture.Common Risk Factors across the Anxiety Disorders.Genetic Factors: Are Genes a Diathesis for Anxiety Disorders?Neurobiological Factors: The Fear Circuit and the Activity ofNeurotransmitters.Personality: Behavioral Inhibition and Neuroticism.Cognitive Factors: Perceived Control and Attending to Threat.The Social Environment: Actual Threats.Common Aspects of Treatments for the AnxietyDisorders.Commonalities across Psychological Treatments.Medications That Reduce Anxiety.Etiology and Treatment of Specific Anxiety Disorders.Etiology of Specific Phobias.Etiology of Social Phobia.Treatment of Phobias.Etiology of Panic
-Publisher
Kring, Davison, Neale, and Johnson's Abnormal Psychology sets the standard for clarity, cutting-edge coverage, authoritative content, and clinical emphasis. The authors invite students to examine the many different facets of psychopathology -- to search for clues, follow-up on hunches, and evaluate evidence on the origins of these disorders and the effectiveness of specific interventions.
Now in their new 10th Edition, the authors have also greatly expanded the text's pedagogical features, making it even more student-friendly, engaging, and informative.


"Current trends in the field are well reflected with the sections on genetics, neuroscience, and cognitive science." - Jack Nitschke,University of Wisconsin

"I was particularly impressed by the skill with which the authors were able to discuss complex material in a clear fashion." - Janice Kiecolt-Glaser, Ohio State University


WileyPLUS helps students reach their full potential
WileyPLUS provides everything needed to create an environment where students can reach their full potential and experience the exhilaration of academic success.

With WileyPLUS, students can:

Access a complete online version of the text with hyperlinks that extend content. Come to class better prepared for lectures. Receive immediate feedback and context-sensitive help on assignments and quizzes. With WileyPLUS, professors can: Assign automatically graded homework and quizzes. Track students progress through the course. Administer their course, even with existing course management systems (including WebCT and Blackboard).
Visit www.wiley.com/college/wileyplus or contact your Wiley representative for more information.


-Publisher
PRODUCT DETAIL
Catalogue Code 

271495

Product Code 

9780471692386

ISBN 

0471692387

EAN 

9780471692386

Pages 

720

Department Academic
Category Church
Sub-Category Care/counselling
Publisher John Wiley Press
Publication Date 

Dec 2005

Dimensions 

281 x 241 x 29

mm

Weight 

0.772

kg