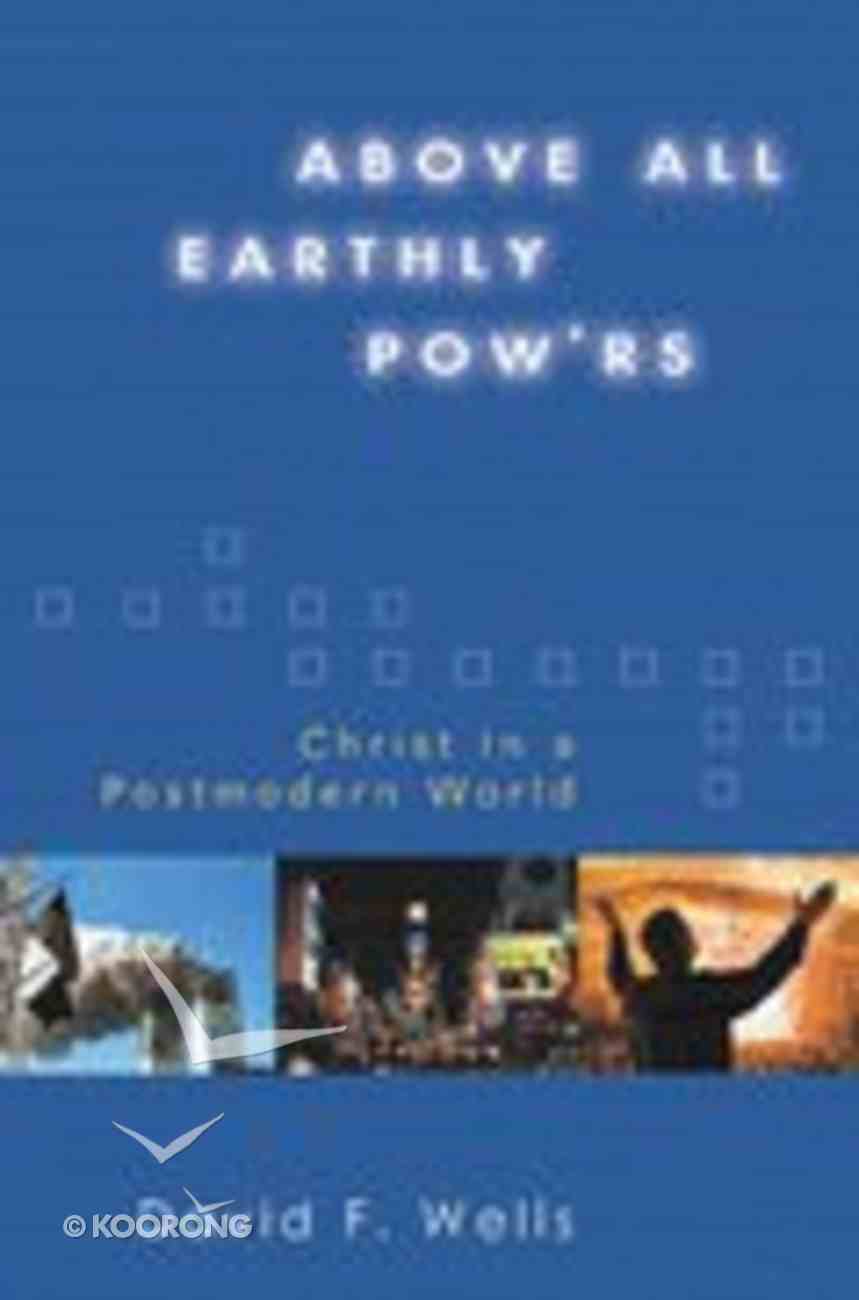 A prophetic call that the evangelical church cannot afford to ignore. In our postmodern world, every view has a place at the table but none has the final say. How, as Christian faith adjusts to new culture, should the...
Out of Stock
Available to Order
---
Expected to ship in 6 to 7 weeks from Australia.
---
Free Shipping
for orders over $99.
A prophetic call that the evangelical church cannot afford to ignore.

In our postmodern world, every view has a place at the table but none has the final say. How, as Christian faith adjusts to new culture, should the church confess Christ?

ABOVE ALL EARTHLY POW'RS, the fourth and final volume of the set that began in 1993 with No Place for Truth, paints a picture of the West in all its complexity, brilliance, and emptiness. As David Wells masterfully depicts it, the postmodern ethos of the West is relativistic, individualistic, therapeutic, and yet remarkably spiritual. Wells unabashedly locates American postmodernism's roots in the last century's waves of immigration – waves that, for all their diversity, have brought with them numerous new religions and a cultural relativism born out of confusion and a fear of offence. Wells also carefully differentiates between intellectual and popular postmodernism; while few Americans read Foucault or Derrida, nearly everyone is subject to the permeating flood of TV ads.

Wells's book culminates in a critique of contemporary evangelicalism aimed at both unsettling and reinvigorating readers. Churches that market themselves as relevant to consumption-oriented postmoderns are indeed swelling in size. But they are doing so, Wells contends, at the expense of the truth of the gospel, as the trappings they adopt come laden with theological consequences. By placing a premium on marketing, the evangelical church is in danger of selling authentic engagement with culture for worldly success.

Welding extensive cultural analysis with a formidable theological contribution, ABOVE ALL EARTHLY POW'RS will grip pastors, educators, and all serious readers concerned about the fate of evangelical Christianity.

"The efforts of David Wells to sound a prophetic note at the intersection between Christian confessionalism and our (post)modern world have produced three earlier thought-provoking volumes. This culminating fourth volume attempts something that very few have tried to do before: an analysis of where America is going that is grounded simultaneously in intellectual developments and sociological analysis. This merging of information from different disciplines provides many fresh insights, which become the focal points that prompt Wells to articulate the historic Christian gospel once again, with fidelity to the 'givens' of revelation and with relevance to the declining splendor of Enlightenment gods declining 'not with a bang but a whimper.' Those who are serious both about the gospel and about thoughtful cultural engagement will not want to miss this book."
D. A. Carson, Trinity Evangelical Divinity School

"Over the past generation David Wells has offered a piercing analysis of the evangelical church, its seduction by consumerist, postmodern (read ultramodern) culture, and its temptation to negotiate the gospel in the interest of an ephemeral relevance. In this volume Wells is at his theological best as he extends his analysis to the central fact of Christian faith the person and work of Jesus Christ. Wells has read widely and thought deeply about the connection between spirituality and Christology. This an important book for everyone who cares about the integrity of the gospel and the missional future of the church."
Timothy George Dean, Beeson Divinity School, Samford University, executive editor, Christianity Today

"This last of David Wells's penetrating four-volume investigation of the Zeitgeist envisions a duel between the plague of postmodernism (by which he means hyper-consumerism, functional nihilism, and meandering egotism) and the power of the Christian gospel understood in the classic formulations of the Reformation. Readers will be challenged as they grasp why Wells wonders if evangelical churches can survive the test. They should be heartened to discover why he believes that the risen Christ will prevail."
Mark A. Noll, Wheaton College

"With masterful breadth and penetrating insight, David Wells here rounds off his four-volume demonstration of the inauthenticity of much professedly evangelical church life. Hard thought and humility are required to appreciate the critique, though the light Wells throws on our secular culture and on key Bible doctrines makes the effort well worthwhile. There is prophetic perception here that needs to be taken to heart."
J. I. Packer, Regent College

"This is the finest critique of culture I have read since the late philosopher-theologian Francis Schaeffer. David Wells brilliantly outlines the lay of the cultural land and offers a type of GPS system for navigating it if we are to arrive safely at our final destination. Every Christian should read and internalize what Wells says in this powerful book."
Cal Thomas, syndicated columnist

Author details:
David Wells is Distinguished Professor of Historical and Systematic Theology, Gordon-Conwell Theological Seminary. He is an ordained Congregationalist minister and author of No Place for Truth, God in the Wasteland and Losing our Virtue (all IVP).

- Publisher
The deflation of the Enlightenment worldview and rise of the post-modern mood over the last decades has altered the relation of Christian faith to culture. How, in this new situation, should the church confess Christ? "Above All Earthly Powers" paints a picture of the West in all its complexity, brilliance, and emptiness. ^As David F. Wells masterfully depicts it, the postmodern ethos is relativistic, individualistic, therapeutic, and yet remarkably spiritual. By placing a premium on marketing rather than truth, the evangelical church is in danger of selling authentic engagement with culture for worldly success. Christians need to confess Christ as the center in a society lacking a center, as the sovereign in a world seemingly ruled by chance, and as the one who can give meaning in a nihilistic culture. "Above All Earthly Powers" issues a prophetic call to the evangelical church that it cannot afford to ignore.
-Publisher
David Wells is Librarian, at Curtin University of Technology, Perth.ý
Bestsellers in Christian Worldview