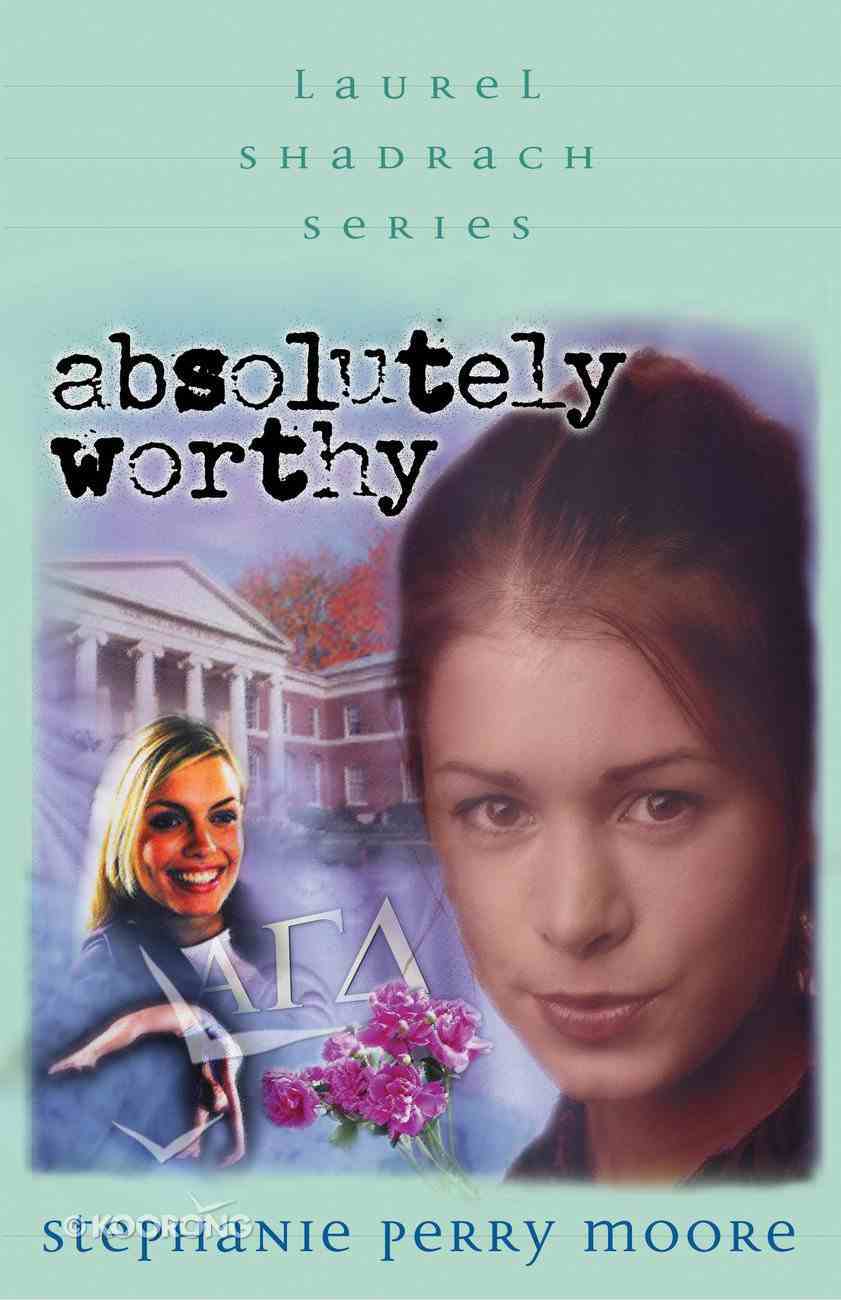 Absolutely Worthy (#04 in Laurel Shadrach Series)
Still haunted by the difficult and sometimes tragic events of her senior year, Laurel struggles to adjust to college life. Tormented by dreams of the past, she reaches out for Christ to give her peace even in her innermost thoughts....
Instant download
---
Expected to ship within 8 hours from Australia.
---
Read using our free app on your tablet or mobile!
---
Free Shipping
for orders over $99.

Still haunted by the difficult and sometimes tragic events of her senior year, Laurel struggles to adjust to college life. Tormented by dreams of the past, she reaches out for Christ to give her peace even in her innermost thoughts. Dealing with the choice between Foster, who is a Christian, and Branson, who has pressured her to have sex, only further complicates her walk with the Lord and her adjustment to college life. Will Laurel come to see her absolute worth in the eyes of God as most important or will she bow to the pressures of her peers?

^year, Laurel struggles to adjust to college life. Tormented by dreams of the past, ^she reaches out for Christ to give her peace even in her innermost thoughts. Dealing ^with the choice between Foster, who is a Christian, and Branson, who has pressured ^her to have sex, only further complicates her walk with the Lord and her adjustment ^to college life. Will Laurel come to see her absolute worth in the eyes of God ^as most important or will she bow to the pressures of her peers?

Laurel struggles to adjust to college life, tormented by the dreams of ^her past and difficult senior year. Pressures from her boyfriend only complicate ^her walk with the Lord. Will Laurel realize her absolute worth is in Christ?

STEPHANIE PERRY MOORE is the author of many Young Adult Christian ^fiction titles, including the Payton Skky series, the Laurel Shadrach ^series, the Perry Skky Jr. series, the Faith Thomas Novelzine series, ^the Carmen Browne series, and the Beta Gamma Pi series. She is also ^the co-editor for the impactful BibleZine, REAL. Mrs. Moore speaks with young ^people across the country, showing them how they can live life fully and do it God's ^way. Stephanie currently lives in the greater Atlanta area with her husband, Derrick, ^a former NFL player and author, and their three children. Visit her website at www.stephanieperrymoore.com.

TABLE OF CONTENTS

1. Recapping Senior Year

2. Wishing for ^Harmony

3. Giving My Pledge

4. Fretting the Day

5. Adjusting ^to It

6. Needing His Direction

7. Thinking I Can

8.Looking, ^Not Finding

9. Holding Life Steady

10. Having No Fun

11. Listening ^for Hope

12. Enjoying the Break

13. Studying Pays Off

14. Decorating ^with Care

15. Possessing True Happiness


-Publisher

Still haunted by the difficult and sometimes tragic events of her senior year, Laurel struggles to adjust to college life. Tormented by dreams of the past, she reaches out for Christ to give her peace even in her innermost thoughts. Dealing with the choice between Foster, who is a Christian, and Branson, who has pressured her to have sex, only further complicates her walk with the Lord and her adjustment to college life. Will Laurel come to see her absolute worth in the eyes of God as most important or will she bow to the pressures of her peers?


-Publisher
STEPHANIE PERRY MOORE is the author of many Young Adult Christian fiction titles, including the "Payton Skky" series, the "Laurel Shadrach" series, the "Perry Skky Jr." series, the "Faith Thomas Novelzine" series, the "Carmen Browne" series, and the "Beta Gamma Pi" series. She is also the co-editor for the impactful "BibleZine, REAL." Mrs. Moore speaks with young people across the country, showing them how they can live life fully and do it God's way. Stephanie currently lives in the greater Atlanta area with her husband, Derrick, a former NFL player and author, and their three children. Visit