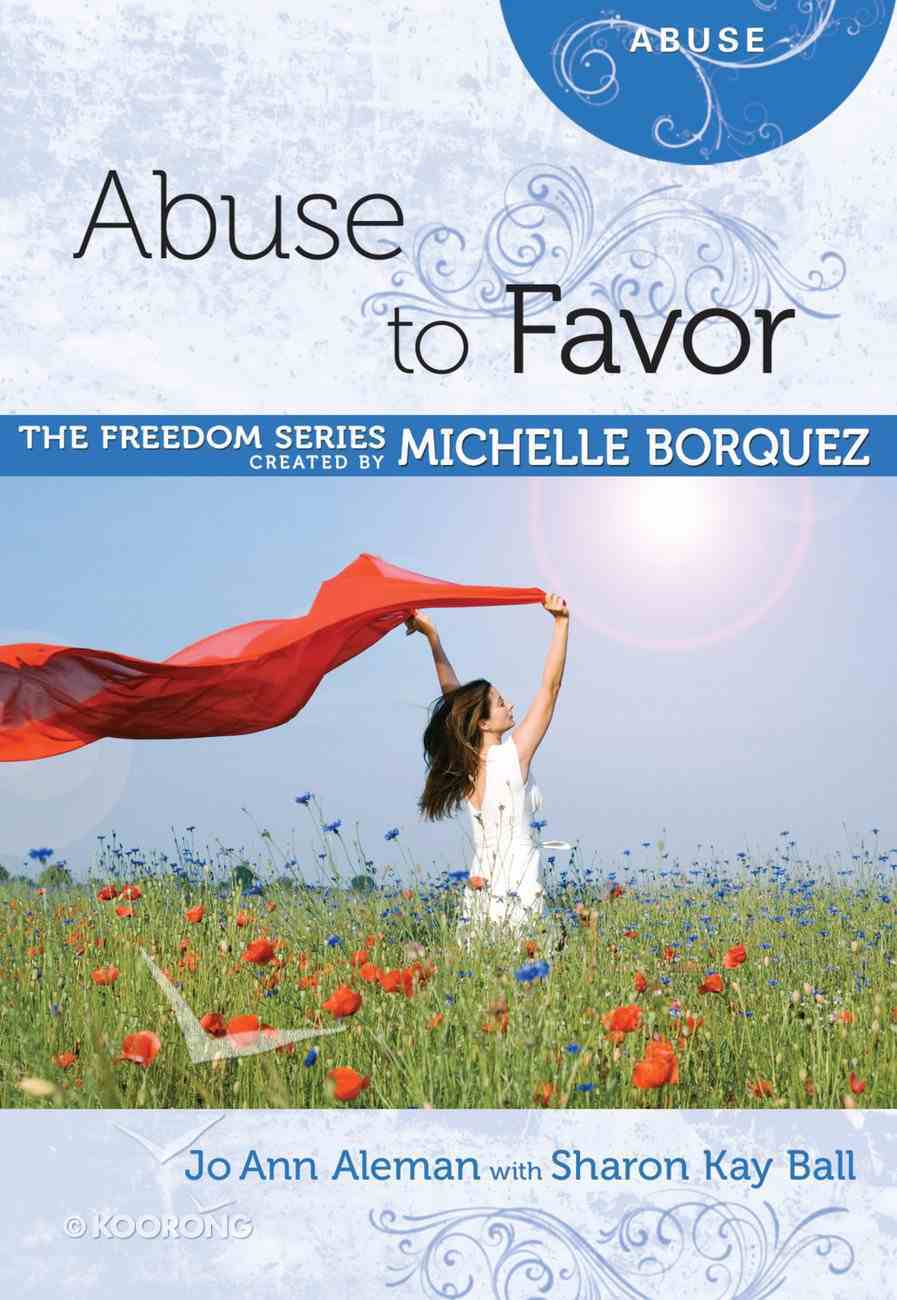 Abuse to Favor (Freedom Series)
Abuse comes in many forms, so what do you do when you realize you're being abused? There is help for abuse. Whether you're caught in domestic violence, or you're experiencing verbal abuse, this minibook will meet you in the trenches...
Available for immediate download.
---
Read using our free app on your tablet or mobile!
---
Free Shipping
for orders over $99.

Abuse comes in many forms, so what do you do when you realize you're being abused? There is help for abuse. Whether you're caught in domestic violence, or you're experiencing verbal abuse, this minibook will meet you in the trenches of hopelessness and give you the tools to deal with abuse. You don't have to endure an abusive relationship alone; you can be freed from abuse. Jo Anne Aleman writes about her past of abuse, and will open the door to your heart, letting God's truth set you free. Psychological abuse, emotional abuse, and physical abuse all share one common truth: they are not okay, and you do not have to withstand it any longer. You or someone you know can be freed from abuse.


Jo Ann Aleman tells her true story about the abusive relationships she endured as an adult, and how she watched the cycle of abuse between her father and her mother as a child. Though she knew that what she witnessed was not normal, her false attempts to find prince charming lead her from one abusive marriage to another. Before she knew it, she was empty, reaching out to the only one that could truly save her, Jesus.


Abuse to Favor includes a Bible Study by Paige Henderson that helps diagnose why women often stay in abusive relationships-deception. Paige takes you through the story in John 9:1-12, a story about spit, dirt, and a miracle. Learn what Jesus can do when he heals your wounds and helps you to see clearly.


Abuse to Favor will bring you hope and wholeness. It will speak to your heart and will strengthen your faith. It includes questions and Scripture passages ? along with space to journal.


Look for all 12 of the Freedom Series mini-books-These books are for women who need God's restoration and wholeness after the hurt of divorce, rape, paralyzing fear, abandonment, abuse, illicit affairs, and other tragedies.

See What Others Are Saying... ...About the Freedom Series...

"The Freedom Series deals with many issues that I have come across during the decades I have counseled people at my church. Each book is great for its designed application. However, the Fear to Courage book stands out the most to me since so many are driven by fear. This book is so Bible-based, very direct, easy to understand, and also applicable. It is refreshing to have a resource that doesn?t just talk about an issue, but shows how to apply biblical concepts to it. I highly recommend this series!"
Marlene Mancuso
Harbor City, CA

"Life is like a priceless crystal vase which falls from a safe shelf and explodes. Shatters. Broken. In a thousand ways we feel the pain of life. Oh it hurts ? to the point of hiding. Despair becomes relentless. Hate begins to consume us. Disillusioned. We search for wholeness. We pray. We need someone to show us how to pick up the pieces of our life. And then one day God answers our prayers with The Freedom Series. Lunch-size substantial intelligence from authors, with real stories of their own divorce, rape, paralyzing fear, abandonment, abuse, illicit affairs, and other tragedies. Each mini-book offers rich Bible based hope from God, expert counselors and no-nonsense how to recover steps. All designed so you can be free to smile again, trust wiser, grieve effectively and live with joy."
Pastor Roger Ball
Pastor of First Baptist, Tempe

"As a woman's ministry leader, I've seen the devastation of divorce crush a family. The loss of hopes and dreams, plus the fear and anxiety about the future, often cause women to go into a downward spiral. Without any help, many times the numbness and fear can cause them to make poor choices. The Freedom Series gives me tools to help them. The books are on the topics I face regularly: divorce, abuse, fear and anxiety, and recovering from affairs. I strongly recommend this series."
Comments from the Single Mothers Focus Group at Rolling Hills Covenant Church
...About Michelle Borquez...

"I have been blessed by the burning passion of the God Crazy message that has emanated in Michelle over the years. The vision God has placed within her heart is inspiring and transformational. She is a great woman of impact."
Dr. Catherine Hart Weber
Professor, Fuller Theological Seminary

"Michelle Borquez has been placed in all our lives to help us rejoice in our faith with the same spiritual gusto and love that pours from the God Crazy message. It is a journey that will change the way you think, feel, and believe."
Monica Crowley
Author, Radio Host, News Anchor and Talk Show Host on MSNBC and Frequent Commentator on NPR News Radio

"Michelle Borquez is a bundle of energy; a veritable wellspring of love, joy, and enthusiasm; and an incredible communicator of a message that can transform the world. Her passion for her work is only exceeded by her compassion for those who hurt. She truly brings life, hope, and healing to everyone she encounters."
Ken Abraham
New York Times bestselling author

"I was immediately drawn to the transparent style and heart in which Michelle communicates. Working in television for years I've met many leaders and personalities, and while Michelle is a great leader with many accomplishments, what I love most is her passion and real desire to see women healed and transformed. She personally touched my life with her God Crazy message and I know she will do the same for many others."
Dyan Jae
Bella Women Network Director of Programming and formerly TBN Atlanta Director of Programming

"Michelle is a visionary, passionate woman who will help you to develop a positive plan of action as you hold on to unshakable faith."
Carol Kent
Speaker, Author of A New Kind of Normal and Between a Rock and a Grace Place and Miracle on Hope Hill

"Master Communicator is an understatement for Michelle Borquez. Her entrepreneurial achievements include radio and television shows, a women's magazine, thousand-person conferences, a book series...even an industry advocacy organization. By blending her affable personality with unconventional life and corporate experiences, Michelle provides real value in the critical business arena of communications, branding and media!"
Steve Heinz
CEO Good Steward Software, Energycap.com

"This book was such a life changing experience for so many of us that we culminated this experience by hosting a ?God Crazy? retreat where we were extremely blessed to host the author Michelle Borquez as our speaker. There are no words that can capture what having Michelle personally minister to our women did. She is a woman that inspires both spiritually and in very practical ways. Each woman left that retreat with a renewed vision and personal plan for her life. We will never be the same."
Mary Merriweather
Pastor's wife and Director of Women's Ministries, Northeast Community Fellowship Foursquare Church, Portland, Ore.

"Bad things make most people bitter. But not for Michelle Borquez. Michelle is one of those unique individuals with awe-inspiring joy, exploding passion and rock solid confidence. Why? She knows how to trust and rest in the protective and liberating hands of God. She is a wise strategic planner. High Energy. With God, Michelle's has discovered great internal security and wisdom deep and wide like the Grand Canyon. Her life goals are divinely super charged and laser focus so be prepared when you learn from MIchelle you will learn many new life changing freedoms in Christ."
Pastor Roger Ball

"Michelle Borquez Thornton is a breath of God's fresh air in a Christian church culture that desperately needs to breathe something relevant and real. Michelle has a rare gift of being able to point us clearly to Heaven while still reaching us with a teaching that is easily applicable to life here on Earth."
Reverend Rudy Sheptock
Senior Pastor of The Lighthouse Church of the C&MA Cape May County, NJ

-Publisher
Bestsellers in Christian Living