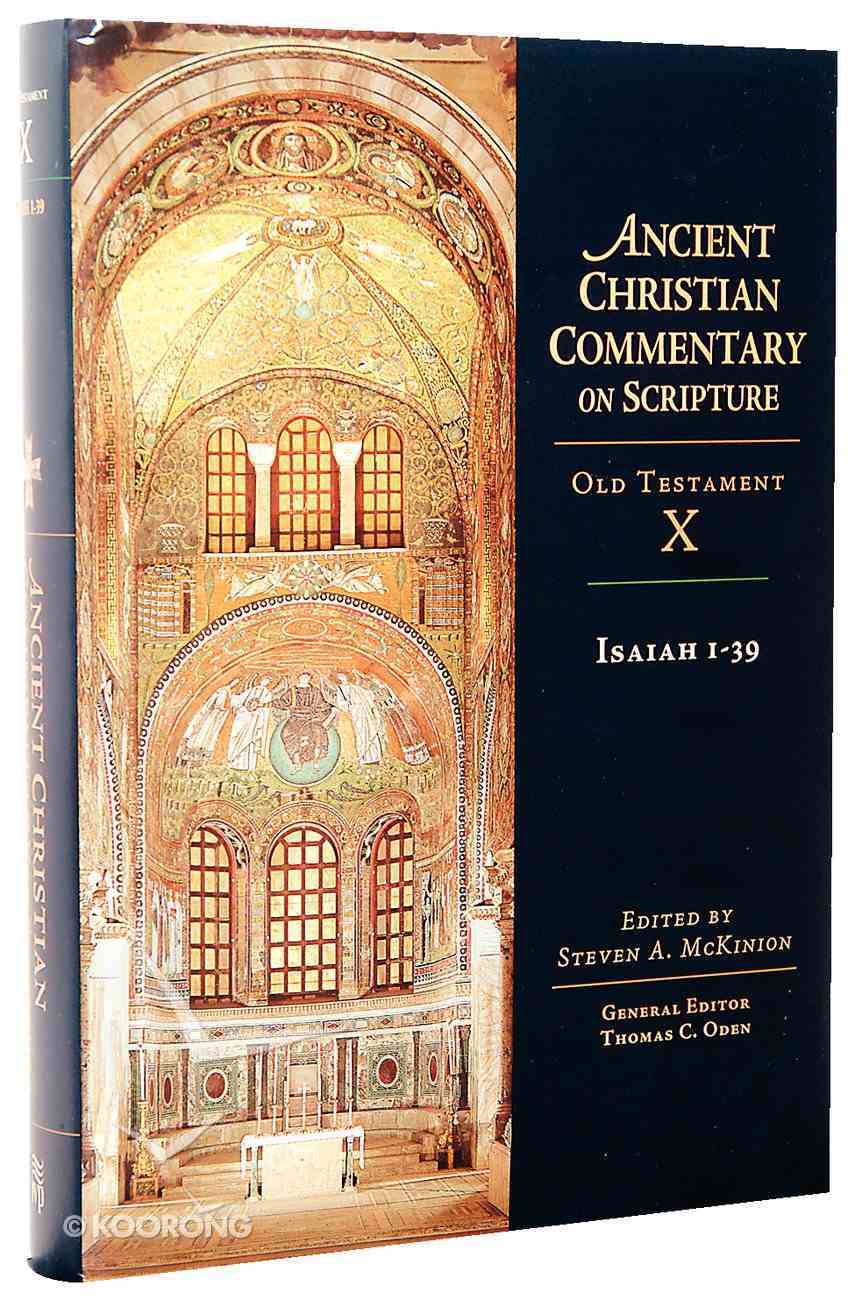 Accs OT: Isaiah 1-39 (Ancient Christian Commentary On Scripture: Old Testament Series)
For to us a child is born, to us a son is given; and the government will be upon his shoulder and his name shall be called Wonderful Counsellor, Mighty God, Everlasting Father, Prince of Peace. For the early...
Out of Stock
Available to Order
---
Expected to ship in 4 to 5 weeks from Australia.
---
Free Shipping
for orders over $99.
For to us a child is born,
to us a son is given;
and the government will be upon his shoulder
and his name shall be called
Wonderful Counsellor, Mighty God,
Everlasting Father, Prince of Peace.

For the early church fathers the prophecy of Isaiah was not a compendium of Jewish history or theology but an announcement of the coming Messiah fulfilled in the life and ministry of Jesus of Nazareth. As such, the prophet's words were a rich source of theological reflection concerning their Lord and a vital aid in their defence against the objections of the Jews that Jesus was the promised Messiah. The interpretation of Jesus' ministry in light of Isaiah's prophecy was not a theological innovation on their part, but rather a following of the path blazed by the New Testament writers and Jesus himself.

Among passage-by-passage commentaries cited here are those by Eusebius of Caesarea, Jerome, Cyril of Alexandria and Theodoret of Cyr, as well as one attributed to Basil of Caesarea. John Chrysostom preached a series of homilies on Isaiah of which most of those extant concern the first eight chapters, though Chrysostom frequently cites Isaiah in numerous homilies on other books. Augustine of Hippo, Gregory the Great and Bede the Venerable frequently cited passages from Isaiah 1-39 as did many other fathers in defending the Christian faith from Jewish critics.

Edited by Steven A. McKinion, this volume of the Ancient Christian Commentary on Scripture offers readers access to materials ranging from East to West and from the first through the eighth centuries, some appearing in English translation for the first time. Within this treasure house are riches to illumine the mind and fire the heart.

-Publisher
Features & Benefits- Makes accessible early Christian commentary on the first half of Isaiah - Covers the period from Clement of Rome (second century) to John of Damascus (mid-eighth century)- Informs postcritical Christian reading and exposition of Scripture- Draws on the resources and expertise of an international team of scholars from Protestant, Roman Catholic and Orthodox traditions
-Publisher
McKinion is associate professor of historical theology at SoMcKinion is associate professor of historical theology at Southeastern Baptist Theological Seminary in Wake Forest, Nortutheastern Baptist Theological Seminary in Wake Forest, North Carolina. He is also the author of Life and Practice in thh Carolina. He is also the author of Life and Practice in the Early Church: A Documentary Reader and Words, Imagery and e Early Church: A Documentary Reader and Words, Imagery and the Mystery of Christ: A Reconstruction of Cyril of Alexandrthe Mystery of Christ: A Reconstruction of Cyril of AlexandrC
Thomas C. Oden (Ph.D., Yale University) recently retired as Henry Anson Buttz Professor of Theology at The Theological School of Drew University in Madison, New Jersey. He is general editor of the Ancient Christian Commentary on Scripture; Ancient Christian Texts and Ancient Christian Doctrine Set and author of numerous theological works, including a three-volume systematic theology
General Introduction
A Guide To Using This Commentary
Abbreviations
Introduction To Isaiah 1?39
Commentary On Isaiah 1?39
Appendix: Early Christian Writers And The Documents Cited
Timeline Of Writers Of The Patristic Period
Biographical Sketches
Bibliography Of Works In Original Languages
Bibliography Of Works In English Translation
Author/writings Index
Subject Index
Scripture Index
Bestsellers in Old Testament Commentaries