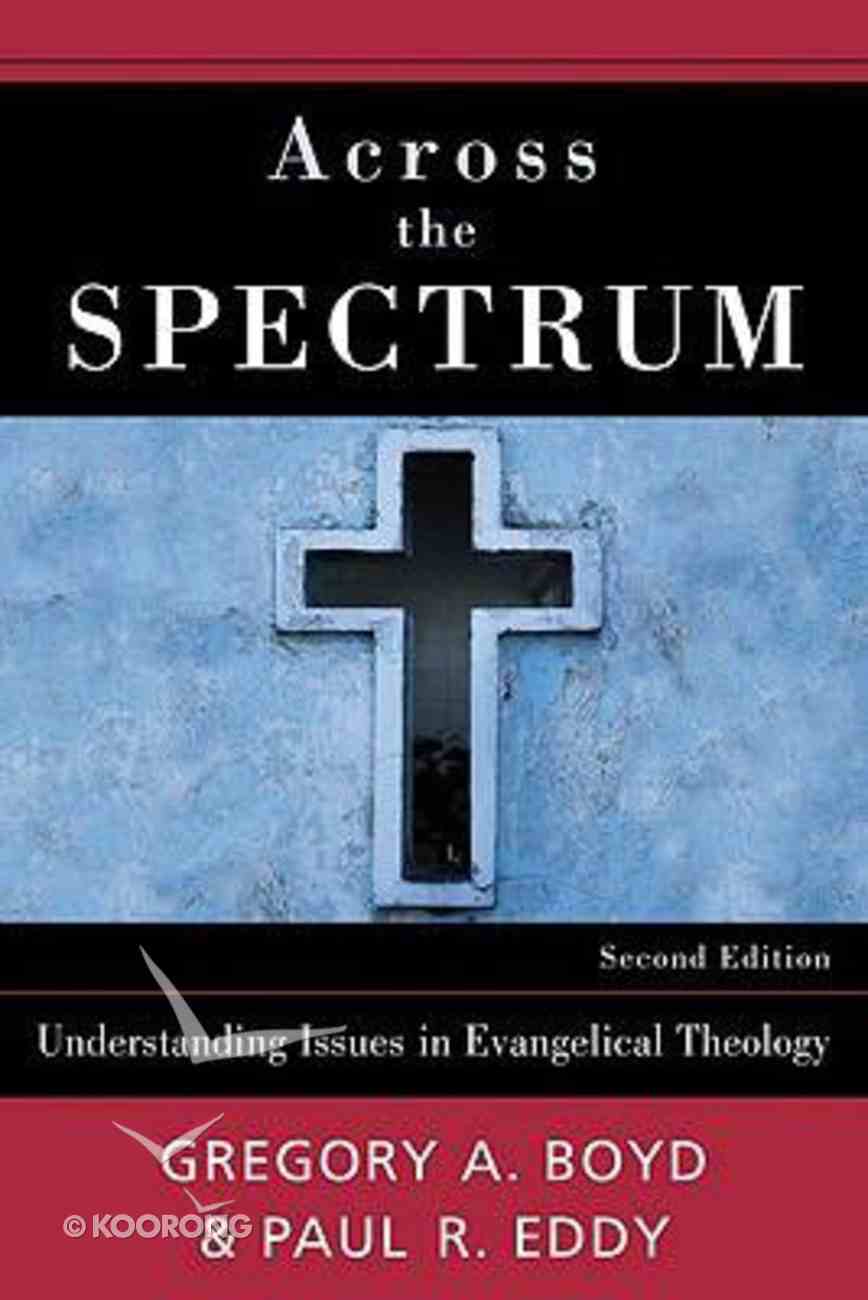 Across the Spectrum: Understanding Issues in Evangelical Theology (2nd Edition)
This new edition of a popular text presents an accessible yet comprehensive primer that helps readers understand the breadth of viewpoints on major issues in evangelical theology, with chapters using the popular three- or four-views book format. The authors carefully...
---
Expected to ship within 3 hours from Australia.
---
Free Shipping
for orders over $99.
This new edition of a popular text presents an accessible yet comprehensive primer that helps readers understand the breadth of viewpoints on major issues in evangelical theology, with chapters using the popular three- or four-views book format. The authors carefully examine positions taken by evangelical scholars on seventeen seminal issues. They lay out the biblical, theological, and philosophical arguments for each position in point-counterpoint fashion and discuss possible objections. The second edition retains the helpful features of the first edition--end-of-chapter "For Further Reading" sections and an extensive glossary--and adds an appendix that addresses thirteen peripheral issues in contemporary evangelicalism.
-Publisher
Praise for the first edition:"The authors have done a great service by bringing together in one volume an eminently useful summary of the main theological debates within evangelicalism. The chapters provide biblical and theological support for each position and demonstrate how each view answers the principle objections raised against it. The presentations are relevant, up-to-date, and incredibly evenhanded (no view is downplayed or criticized). Professors from all perspectives will find this work extremely helpful for introducing students to the issues in an unbiased manner. Beginners will benefit from the clear writing, glossary, and suggestions for further reading. This is a tremendous educational resource."--John Sanders, Huntington College"A collective sigh of relief will arise from the evangelical student body when it discovers this book! Across the Spectrum more than satisfies a felt need in evangelical scholarship. It helpfully and critically surveys the many legitimate evangelical theological options and convincingly demonstrates that there is no single authentically evangelical viewpoint on a wide range of controversial issues. It constitutes a small library between two covers."--Roger E. Olson, George W. Truett Theological Seminary, Baylor University"Some people think that all evangelicals are alike. Greg Boyd and Paul Eddy have provided students with a brief handbook of current issues in evangelical theology that explodes that stereotype. They have written a helpful and authoritative guide to the wide range of evangelical opinion in theology today. This volume will be a good companion to the typical introductory theology book."--Alan G. Padgett, Luther Seminary"Christians who want to understand the differences of conviction that exist among evangelical theologians will profit greatly from Boyd and Eddy's work. Boyd and Eddy demonstrate a fine knowledge of the major issues that divide evangelicals and offer a concise, evenhanded presentation of the options proposed. The book will enable readers to reach their own biblically informed conclusions on these issues, to understand better why other evangelicals disagree with them, and to identify the central truths that are mutually affirmed."--Terry Tiessen, Providence Theological Seminary"I've been waiting for this book for some time. Due to its brief, nontechnical format, it can be used in a variety of ways in undergraduate theology courses. Although a concise volume, it succinctly outlines multiple arguments, both pro and con, for (incredibly!) over two dozen issues in disputed, largely non-fundamental areas of doctrine. The professor can present positions in favor of particular views or leave the issues open. I just found what I have needed for years. It's settled--I'm requiring it!"--Gary R. Habermas, Liberty University "At a time when some are tempted to mistake the white light of evangelical orthodoxy for a single band in the spectrum, Boyd and Eddy remind us just how colorful evangelical theology can be. The authors do what no book on the market does: In one volume they faithfully present divergent views on the crucial issues that divide evangelicals, and they do so in an unbiased, succinct, and lively manner. This book is perfect as a supplemental text in an introductory theology course or as a manual for church study groups. It will help everyone arrive at his or her own conclusions within the parameters of the evangelical tradition."--Dennis Okholm, Azusa Pacific University
-Publisher
PRODUCT DETAIL
Catalogue Code 

285374

Product Code 

9780801037931

ISBN 

080103793X

EAN 

9780801037931

Pages 

352

Department Academic
Category Theology
Sub-Category General
Publisher Baker Academic
Publication Date 

Sep 2009

Sales Rank 

22059

Dimensions 

228 x 152 x 25

mm

Weight 

0.474

kg
Gregory A. Boyd (Ph.D., Princeton Theological Seminary) is a pastor at Woodland Hills Church in St. Paul, Minnesota. Previously, he was a professor of theology at Bethel College, also in St. Paul. His books include Cynic, Sage or Son of God?, Recovering the Real Jesus in an Age of Revisionist Replies, Letters from a Skeptic, God of the Possible, Repenting of Religion, Seeing is Believing, Escaping the Matrix, Is God to Blame?, and God at War and Satan and the Problem of Evil.

Koorong -Editorial Review.
Introduction <br>1. The Inerrancy Debate<br>without Error Of Any Kind (the Inerrantist View)<br>infallible In Matters Of Faith And Practice (the Infallibilist View)<br>2. The Providence Debate<br>all Things Happen According To God's Sovereign Will (the Calvinist View)<br>god Limits His Control By Granting Freedom (the Arminian View)<br>3. The Foreknowledge Debate<br>god Foreknows Future Free Actions (the Arminian View)<br>god Foreknows By Sovereignly Ordaining The Future (the Calvinist View)<br>god Foreknows All That Shall Be And All That May Be (the Open View)<br>4. The Genesis Debate<br>created In The Recent Past (the Young Earth View)<br>a Very Old Work Of Art (the Day-age View)<br>restoring A Destroyed Creation (the Restoration View)<br>literary Theme Over Literal Chronology (the Literary Framework View)<br>5. The Divine Image Debate<br>the Image Of God Is The Soul (the Substantival View)<br>the Image Of God Is Our God-given Authority (the Functional View)<br>the Image Of God Is Our Relationality (the Relational View)<br>6. The Christology Debate<br>the Unavoidable Paradox Of The God-man (the Classical View)<br>christ Relinquished His Divine Prerogatives (the Kenotic View)<br>7. The Atonement Debate<br>christ Died In Our Place (the Penal Substitution View)<br>christ Destroyed Satan And His Works (the Christus Victor View)<br>christ Displayed God's Wrath Against Sin (the Moral Government View)<br>8. The Salvation Debate<br>tulip (the Calvinist View)<br>god Wants All To Be Saved (the Arminian View)<br>9. The Sanctification Debate<br>sanctification As A Declaration By God (the Lutheran View)<br>sanctification As Holiness In Christ And In Personal Conduct (the Reformed [calvinist] View)<br>sanctification As Resting-faith In The Sufficiency Of Christ (the Keswick &quot;deeper Life&quot; View)<br>entire Sanctification As Perfect Love (the Wesleyan View)<br>10. The Eternal Security Debate<br>secure In The Power Of God (the Eternal Security View)<br>the Need To Persist In Faith (the Conditional Security View)<br>11. The Destiny Of The Unevangelized Debate<br>no Other Name (the Restrictivist View)<br>god Does All He Can Do (the Universal Opportunity View)<br>hope Beyond The Grave (the Postmortem Evangelism View)<br>he Has Not Left Himself Without A Witness (the Inclusivist View)<br>12. The Baptism Debate<br>baptism And Christian Discipleship (the Believer's Baptism View)<br>covenanting With The Community Of God (the Infant Baptism View)<br>13. The Lord's Supper Debate<br>&quot;this Is My Body&quot; (the Spiritual Presence View)<br>&quot;in Remembrance Of Me&quot; (the Memorial View)<br>14. The Charismatic Gifts Debate<br>the Gifts Are For Today (the Continuationist View)<br>&quot;tongues Shall Cease&quot; (the Cessationist View)<br>15. The Women In Ministry Debate<br>created Equal, With Complementary Roles (the Complementarian View)<br>the Irrelevance Of Gender For Spiritual Authority (the Egalitarian View)<br>16. The Millennium Debate<br>the Return Before The Reign (the Premillennial View)<br>working Toward And Waiting For A Coming Reign Of Peace (the Postmillennial View)<br>the Symbolic Thousand-year Conquest Of Satan (the Amillennial View)<br>17. The Hell Debate<br>the Unending Torment Of The Wicked (the Classical View)<br>the Wicked Shall Be No More (the Annihilationist View)<br>appendix <br>glossary <br>index