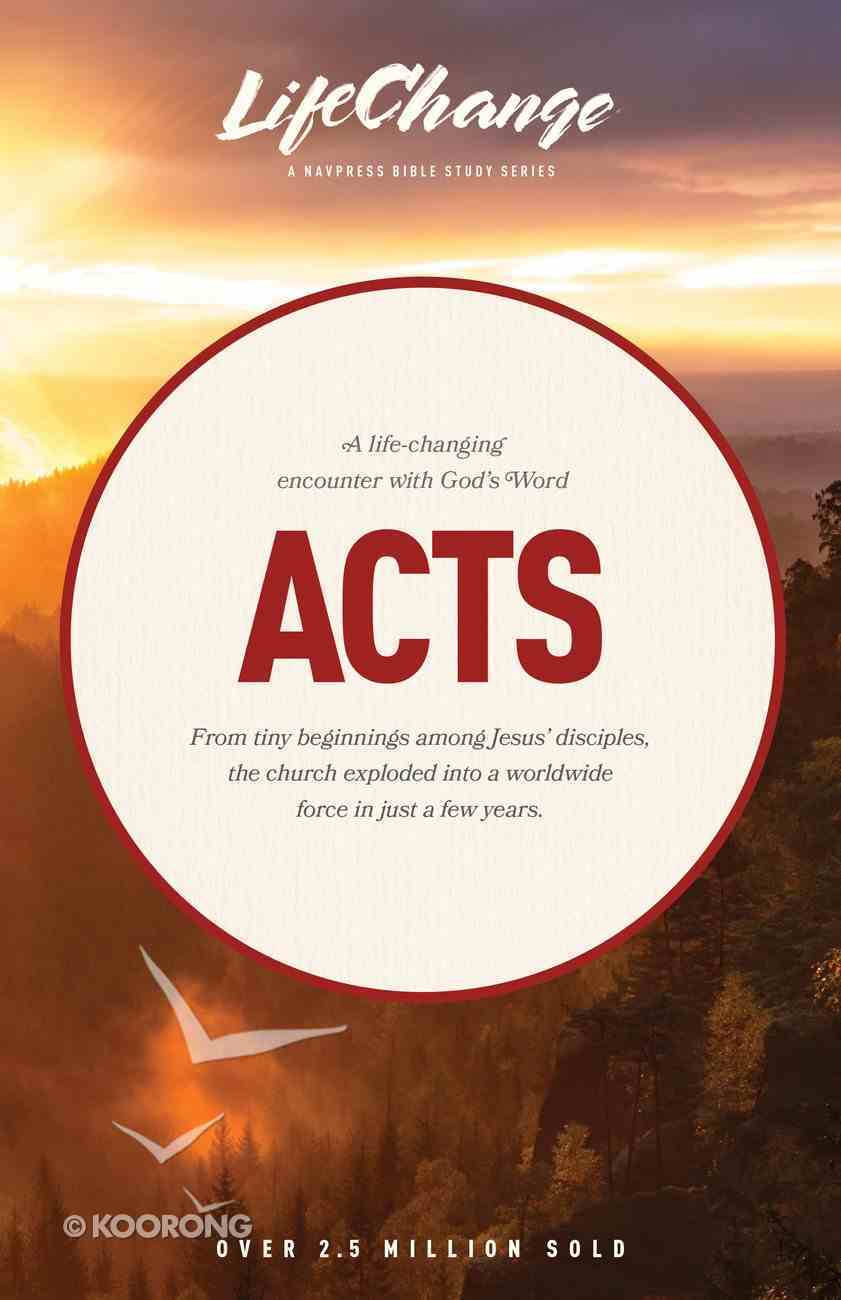 Acts (Lifechange Study Series)
From Jerusalem to Rome From tiny beginnings among Jesus' disciples, the church exploded into a worldwide force in just a few years. How? Jesus left His followers with a mission, and the Spirit of God moved mightily through them to...
Instant download
---
Expected to ship within 6 hours from Australia.
---
Read using our free app on your tablet or mobile!
---
Free Shipping
for orders over $99.
From Jerusalem to Rome
From tiny beginnings among Jesus' disciples, the church exploded into a worldwide force in just a few years. How? Jesus left His followers with a mission, and the Spirit of God moved mightily through them to fulfill it. Luke's account of how the gospel was carried from Jerusalem to Rome-despite every conceivable obstacle-assures us that God will also help us discover and live out our mission in the world.

LifeChange
LifeChange Bible studies will help you grow in Christlikeness through a life-changing encounter with God's Word. Filled with a wealth of ideas for going deeper so you can return to this study again and again.

Features Cover the entire book of Acts in 20 lessons Equip yourself to lead a Bible study Imagine the Bible's historical world Study word origins and definitions Explore thoughtful questions on key themes Go deeper with optional projects Add your notes with extra space and wide margins Find the flexibility to fit the time you have ^2. Preparation (1:1-26) ^3. Pentecost (2:1-41) ^4. Miracle (3:1-26) ^5. Confrontation (4:1-31, 5:12-42) ^6. Community (2:42-47, 4:32-5:11, 6:1-7) ^7. First Martyr (6:8-8:3) ^8. Philip's Journeys (8:4-40) ^9. Saul Appointed (9:1-31, 11:19-30)^10. Peter Moves Out (9:32-11:18)^11. To Asia Minor (12:1-13:52) ^12. Gentile Christians? (14:1-15:35) ^13. Paul and Silas (15:36-17:15) ^14. Athens and Corinth (17:16-18:23)^15. Ephesus (18:24-19:41) ^16. Paul's Farewells (20:1-21:16) ^17. Arrest in Jerusalem (21:17-23:11) ^18. Prisoner in Caesarea (23:11-26:32) ^19. Journey to Rome (27:1-28:31) ^20. Review ^^
-Publisher
From Jerusalem to Rome
From tiny beginnings among Jesus' disciples, the church exploded into a worldwide force in just a few years. How? Jesus left His followers with a mission, and the Spirit of God moved mightily through them to fulfill it. Luke's account of how the gospel was carried from Jerusalem to Rome-despite every conceivable obstacle-assures us that God will also help us discover and live out our mission in the world.

LifeChange
LifeChange Bible studies will help you grow in Christlikeness through a life-changing encounter with God's Word. Filled with a wealth of ideas for going deeper so you can return to this study again and again.

Features Cover the entire book of Acts in 20 lessons Equip yourself to lead a Bible study Imagine the Bible's historical world Study word origins and definitions Explore thoughtful questions on key themes Go deeper with optional projects Add your notes with extra space and wide margins Find the flexibility to fit the time you have
-Publisher