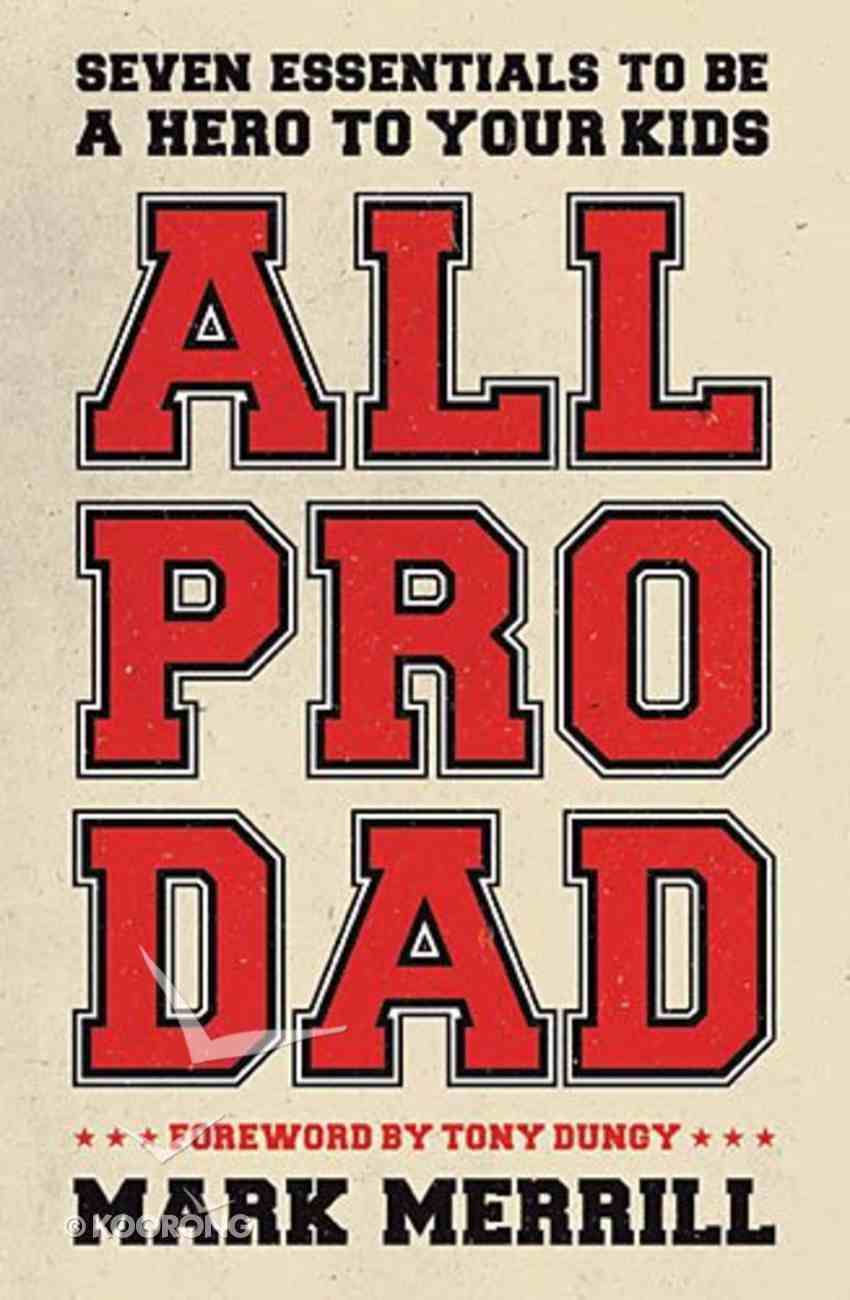 ?An NFL player becomes an All-Pro by relentlessly focusing on the fundamentals and executing them with sheer determination. The same is true to become an All Pro Dad. This book not only highlights the fundamentals of fatherhood, but also gives...
Out of Stock
Available to Order
---
Expected to ship in 5 to 6 weeks from Australia.
---
Free Shipping
for orders over $99.

?An NFL player becomes an All-Pro by relentlessly focusing on the fundamentals and executing them with sheer determination. The same is true to become an All Pro Dad. This book not only highlights the fundamentals of fatherhood, but also gives dads a winning game plan to do their most important job well.? ?Tony Dungy, Super Bowl winning coach and NBC Sports commentator


The game-winning playbook for every father



Dads, do you want to be a hero to your kids? A go-to coach for your teens? A husband your wife knows she can count on? All Pro Dad lays out a game plan built on seven essential fathering truths and ultra-practical insights for the questions every dad needs answered at some point. Like football, fatherhood is about winning. But it's more than just scoring points. It's about winning the hearts and minds of your children and leaving a rich legacy of love for future generations.


With gut-level ?huddle? questions to ask your children, and firsthand stories from well-recognized dads (CBS broadcaster James ?JB? Brown, Chick-Fil-A founder and CEO S. Truett Cathy, Grammy Award?winning recording artist Michael W. Smith, FedEx Express COO and president, international, Michael Ducker, and more), All Pro Dad will stir you, equip you, and inspire you toward the goal of being a champion father and a hero to your kids.


Endorsements:


"Leading a family is the hardest job a man can ever have. It is 24/7 leadership, teaching, modeling, forgiving, encouraging and loving?and there is always room for improvement. Mark Merrill has made a career out of teaching men how to raise their game as husbands and fathers, and his All Pro Dad lays out a solid game plan that will make a huge difference in your family." ?Dave Ramsey, New York Times best-selling author and nationally syndicated radio show host


"What I count as the greatest success of my life is not what goes on when cameras are rolling during our NFL television broadcast, but rather in those private, loving moments with my family. Through All Pro Dad, Mark Merrill inspires fathers to be champions in their homes and equips them to love and lead their children well." ?James "JB" Brown, host of CBS's The NFL Today


"Just as every executive needs to understand his mission, strategiesand responsibilities, every father needs to know those things as well. In this book, Mark Merrill lays out a clear fatherhood mission, strategic goals, and fine-tuned job description that will enable every dad to be a strong and respected leader in his home." ?Michael Ducker, COO and president,International, FedEx Express


"Chick-fil-A's success isn?t just found in chicken sandwiches. It's found in the emotional connection we have with our customers. All Pro Dad provides a great recipe for men to really connect with their kids. I applaud Mark for the nuggets of wisdom he shares that will surely motivate dads to be the best they can be." ?S. Truett Cathy, founder and CEO of Chick-fil-A, Inc.


?Mark Merrill has written a book that can help us all as parents be at our very best, in the most important areas of our life. Mark has combined practical applications with the unchanging principles of great parenting. These principles are Biblical and Godly and will stand the test of time.? ? John Harbaugh, Head Coach of the Baltimore Ravens


"Every dad needs a game plan, training, and a great coach . . . All Pro Dad gives you all three. An inspired game plan that WILL help you win . . . effective training that has equipped thousands of men . . .and an experienced coach in Mark Merrill who will encourage you to do your very best. Read this book and then get 4 other fathersin the huddle with you who will challenge one another to become All Pro Dads!" ?Dr. Dennis Rainey, host of FamilyLife Today


"It is no surprise that our communities are experiencing many difficulties which can be attributed to the degradation of the family structure. We all realize there needs to be a change! The father plays a pivotal role in this endeavor because he must assume his position and develop a significant relationship with his children and reinvigorate the noble ideas of parental responsibility. This book will provide helpful anecdotes,narratives, and directives for dads who are searching for a newway to enrich the family unit." ?Jim Caldwell, former head coach, Indianapolis Colts


"In coaching, we are constantly trying to find ways to create,simplify, and practice fundamentals which provide an opportunity to be successful, knowing full well they will be tried and tested in the heat of battle. Mark's seven essentials in this book give us practical tools to sharpen our skills as fathers. These fundamentals are tried, tested, and proven in the arena of our homes." ?Clyde Christensen, coach, Indianapolis Colts


"I know how important it is for your fans to feel connected to you through your music. The more you speak to their hearts, the more you can inspire and bless them. It's also my job as a father. All Pro Dad is a must-read book that encourages me to connect, love, inspire, and bless those closest to me?my family." ?Michael W. Smith, Grammy Award?winning recording artist


"My father was a heavy drinker for many years and, unfortunately, I followed in his steps. Take it from me, I am excited about the practical?God truths? that Mark Merrill shares in All Pro Dad that will help free men from their past and empower them into more godly, loving family relationships." ?Norm Miller, chairman, Interstate Batteries


"I know the importance of spending one-on-one time with each of my children. Mark Merrill gives me creative ideas on spending meaningful time with them and tips to build memories with my kids that will last a lifetime. This book is for every man who wantsto be an All Pro Dad!" ?Mark Dominik, general manager, Tampa Bay Buccaneers


"Mark Merrill describes the power of an All Pro Dad. Imagine a world full of strong, loving fathers!" ?Jeb Bush, former governor of the State of Florida


?Mark Merrill has written a book that can help us all as parents be at our very best, in the most important areas of our life. Mark has combined practical applications with the unchanging principles of great parenting. These principles are Biblical and Godly and will stand the test of time.? --John Harbaugh, Head Coach of the Baltimore Ravens








-Publisher
Mark Merrill is the founder and president of Family First, aMark Merrill is the founder and president of Family First, a national nonprofit organization dedicated to strengthening national nonprofit organization dedicated to strengthening the family. Mark hosts the Family Minute with Mark Merrill, the family. Mark hosts the Family Minute with Mark Merrill, a nationally syndicated daily radio program. He has appeareda nationally syndicated daily radio program. He has appeared on NBC's Today Show, numerous ABC, CBS, FOX, and NBC networ on NBC's Today Show, numerous ABC, CBS, FOX, and NBC networ