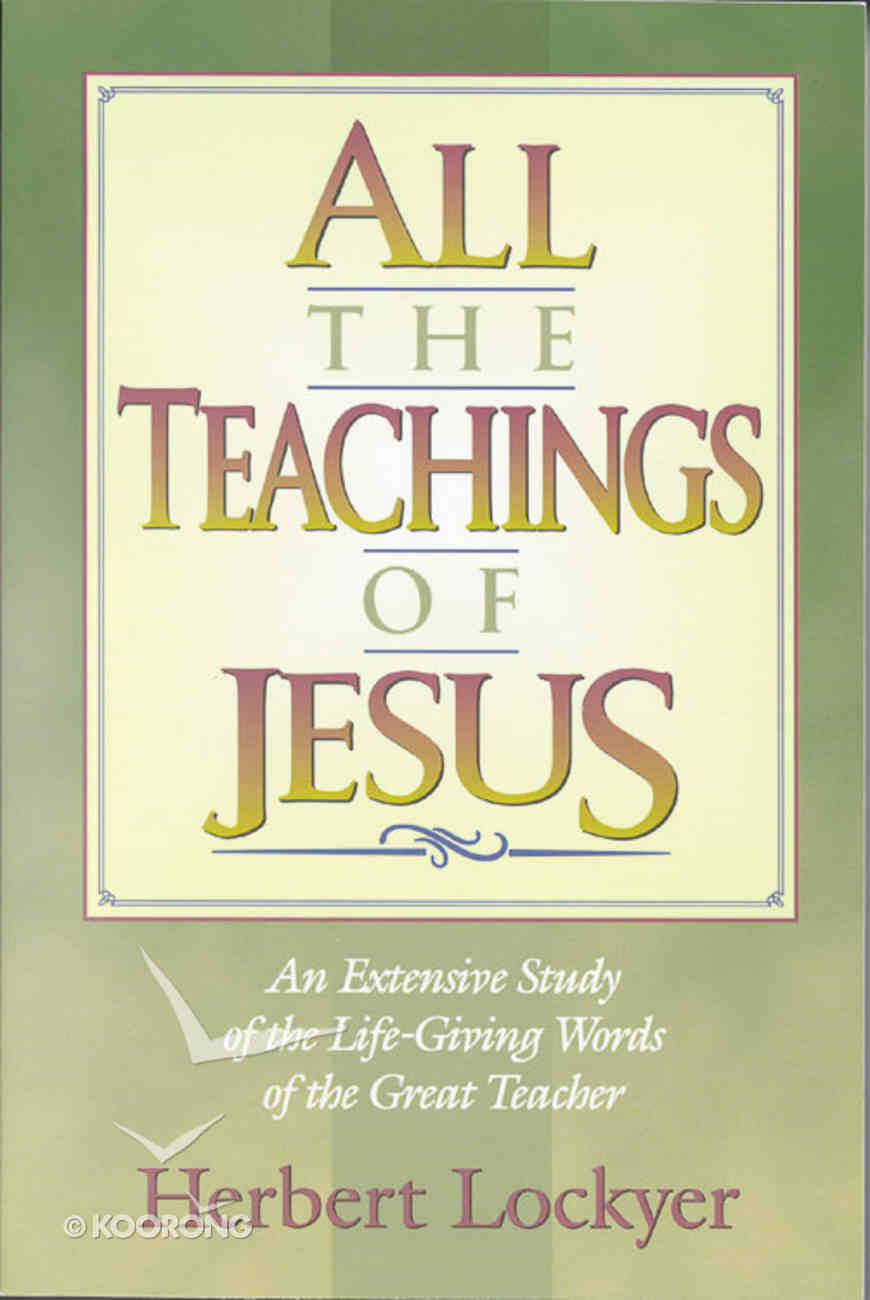 All the Teachings of Jesus (Henderson All Series)
The classic "All Series" books have graced the shelves of pastors, students, and laypeople alike for decades. "All the Teachings of Jesus" continues in the series' tradition of offering a faithful and comprehensive treatment of biblical subjects. Herbert Lockyer begins...
---
Expected to ship tomorrow from Australia.
---
Free Shipping
for orders over $99.
The classic "All Series" books have graced the shelves of pastors, students, and laypeople alike for decades. "All the Teachings of Jesus" continues in the series' tradition of offering a faithful and comprehensive treatment of biblical subjects.
Herbert Lockyer begins this enlightening book by writing that the words of Jesus "were not only 'thoughts that breathe, and words that burn, ' but mighty words that were to shape the destinies of men and nations." With the wisdom that comes from years of preaching and studying the Bible, Herbert Lockyer provides his readers with insights into the teachings of Jesus and encourages us to allow those teachings to shape our lives.


One of Jesus' main purposes during his time on earth was to teach. In this useful, heart touching book, Herbert Lockyer examines the nature and authority of the Great Teacher himself. He points readers to the life giving words Jesus spoke to his disciples and the multitudes. Jesus taught on a variety of topics that are as significant to believers today as they were then: sin, forgiveness, money, sickness and death, love, ministry, and many more. In his teaching Jesus invited repentance and belief in the gospel, and he instructed his followers in how to live sanctified lives.


-Publisher
The classic "All Series" books have graced the shelves of pastors, students, and laypeople alike for decades. "All the Teachings of Jesus" continues in the series' tradition of offering a faithful and comprehensive treatment of biblical subjects.
Herbert Lockyer begins this enlightening book by writing that the words of Jesus "were not only 'thoughts that breathe, and words that burn, ' but mighty words that were to shape the destinies of men and nations." With the wisdom that comes from years of preaching and studying the Bible, Herbert Lockyer provides his readers with insights into the teachings of Jesus and encourages us to allow those teachings to shape our lives.


One of Jesus' main purposes during his time on earth was to teach. In this useful, heart touching book, Herbert Lockyer examines the nature and authority of the Great Teacher himself. He points readers to the life giving words Jesus spoke to his disciples and the multitudes. Jesus taught on a variety of topics that are as significant to believers today as they were then: sin, forgiveness, money, sickness and death, love, ministry, and many more. In his teaching Jesus invited repentance and belief in the gospel, and he instructed his followers in how to live sanctified lives.


-Publisher
Dr. Herbert Lockyer (1886 1984) held pastorates in Scotland andý England for twenty-five years. As pastor of Leeds Road Baptist Churchý in Bradford, England, he became a leader in the Keswick Higher Lifeý Movement, which emphasized the significance of living in the fullnessý of the Holy Spirit. This led to an invitation to speak at the Moody Bibleý Institute's fiftieth anniversary in 1936. His warm reception at that eventý led to his ministry in the United States. In 1955, he returned to England, ý where he lived for many years. He spent the final years of his life iný Colorado








Bestsellers in Biblical Studies