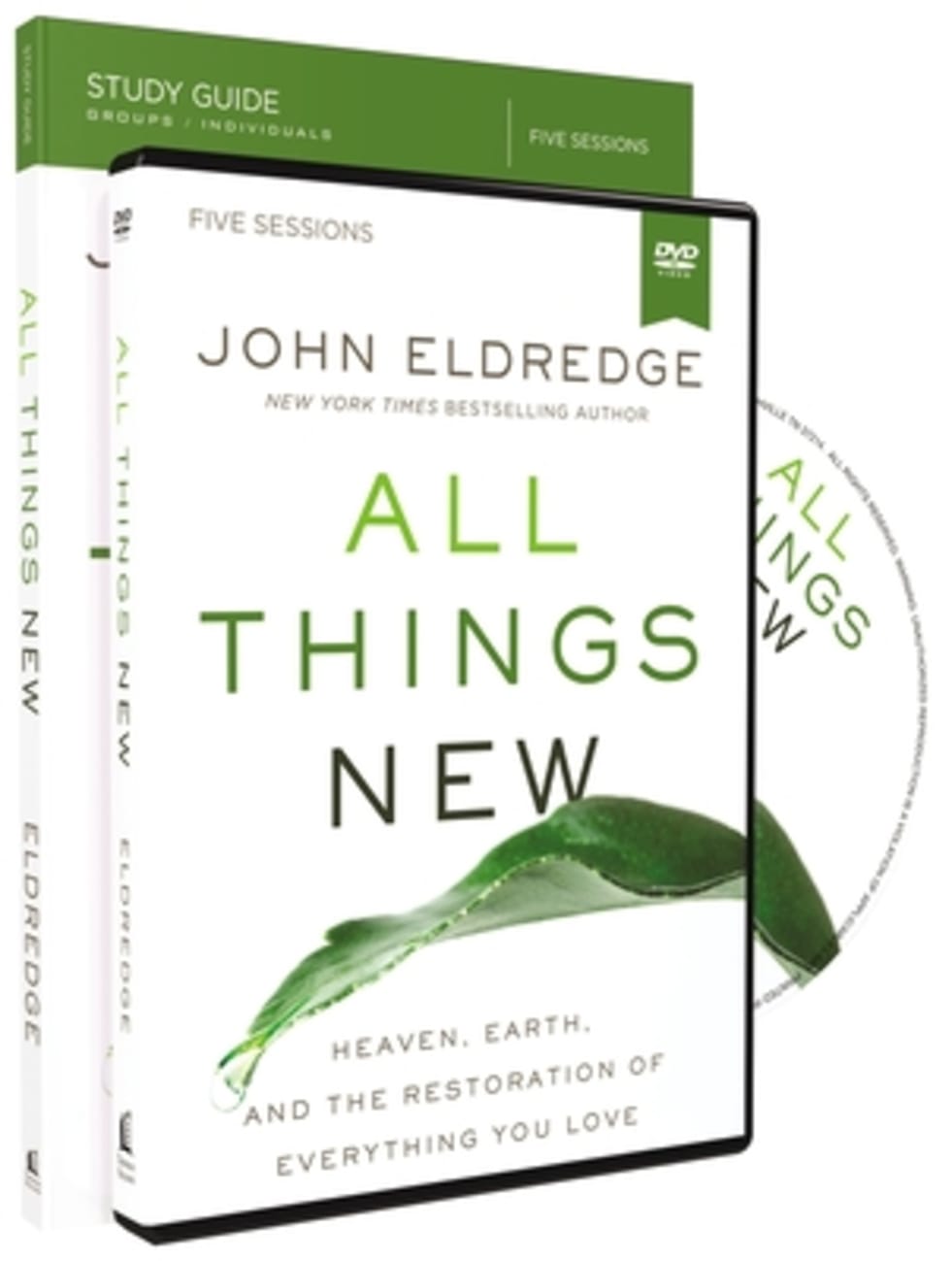 All Things New: A Revolutionary Look At Heaven and the Coming Kingdom (Study Guide With Dvd)
:
All Things New
is a revolutionary four-session video Bible study built on a simple idea: heaven is
not
the eternal church service in the sky. It is, in fact, not religious at all. Jesus referred to the next
...
---
Expected to ship tomorrow from Australia.
---
Free Shipping
for orders over $99.

Publisher Description


:All Things New is a revolutionary four-session video Bible study built on a simple idea: heaven is not the eternal church service in the sky. It is, in fact, not religious at all. Jesus referred to the next chapter of our story as "the renewal of all things" (Matthew 19:28). This means, literally, the renewal of the earth we love in all its beauty, the renewal of our own being, and the renewal of all those things that make for a rich life-music, art, food, laughter. All that we hold dear shall be renewed.


Most Christians (and most people, for that matter) do not really look forward to their future because their views of heaven are vague, religious, and appallingly boring. Our hope begins to surge when we understand that for the believer nothing is lost. Heaven is not a life in the clouds; it is not unending worship services with singing. Rather, the life we long for-the paradise Adam and Eve knew-is precisely the life that is coming to us. And coming soon.


This study begins with a reframing of what "heaven" actually looks like. God does not say, "I am making all new things," He says, "Behold-I am making all things new!" (Revelation 21:5). Familiar religious conceptions of heaven are gently dismantled, and the participant is invited into a new way of conceiving of their after-life. Imagery from fairy tales, books, and famous movies such as The Lord of the Rings is used to illustrate what "happily ever after" means in tangible, accessible, and-most important-desirable terms.


As C.S. Lewis said, "We can only hope for what we desire." The life we have been longing for is actually the very life that is about to be ours. The imminence of the coming kingdom of God is also clarified; living with an eager expectation of Christ's return is the practical power of the Christian life.


John Eldredge is an author, a counsellor, and teacher. He is also president of Ransomed Heart, a ministry devoted to helping people discover the heart of God, recover their own heart in his love, and learn to live in his Kingdom. He is also the author of numerous books, including Epic, Waking the Dead, Wild at Heart, and Desire, and co-author of Captivating and The Sacred Romance.



John grew up in the suburbs of Los Angeles (which he hated), and spent his boyhood summers on his grandfather's cattle ranch in eastern Oregon (which he loved). John met his wife Stasi in high school (in drama class). But their romance did not begin until they each came to faith in Christ, after high school. John earned his undergraduate degree in Theatre, and directed a theatre company in Los Angeles for several years before moving to Colorado with Focus on the Family, where he taught at the Focus on the Family Institute.



John earned his master's degree in Counselling from Colorado Christian University, under the direction of Larry Crabb and Dan Allender. He worked as a counselor in private practice before launching Ransomed Heart in 2000. John and Stasi live in Colorado Springs with their three sons.



While all of this is factually true, it somehow misses describing an actual person. He loves the outdoors passionately, especially living in the Rocky Mountains, and all beauty, Shakespeare, bow hunting, a good cigar, anything having to do with adventure, poetry, March Madness, working in the shop, fly fishing, classic rock, the Tetons, fish tacos, George MacDonald, green tea, buffalo steaks, dark chocolate, wild and open places, horses running, and too much more to name. He also uses the expression "far out" way too much.
Bestsellers in Ministry Resources