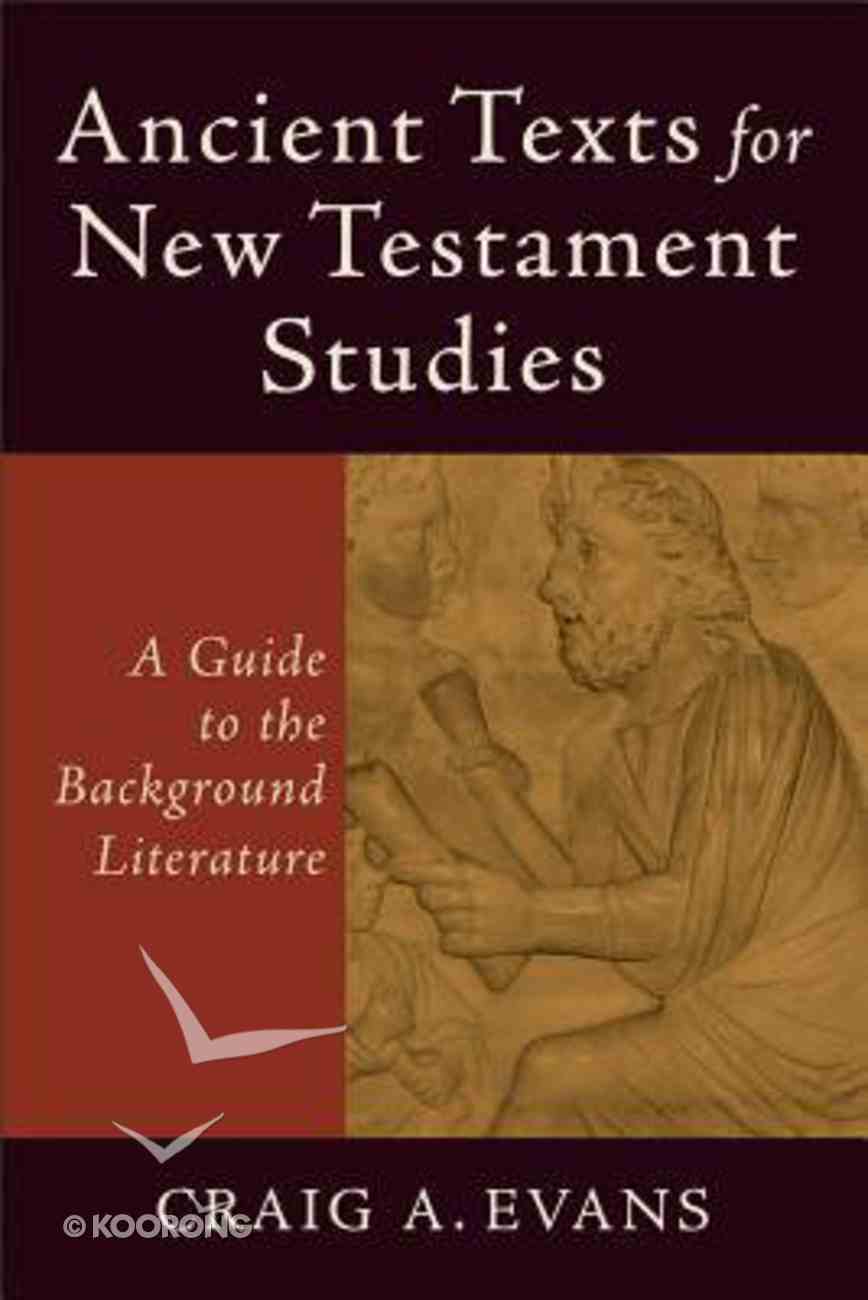 Ancient Texts For New Testament Studies
One of the daunting challenges facing the New Testament interpreter is achieving familiarity with the immense corpus of related literatures. Scholars and students alike must have a fundamental understanding of the content, provenance, and utility for New Testament interpretation of...
Out of Stock
Available to Order
---
Expected to ship in 5 to 6 weeks from Australia.
---
Free Shipping
for orders over $99.
One of the daunting challenges facing the New Testament interpreter is achieving familiarity with the immense corpus of related literatures. Scholars and students alike must have a fundamental understanding of the content, provenance, and utility for New Testament interpretation of a wide range of pagan, Jewish, and diversely Christian documents. Now in paperback, this thoroughly revised and significantly expanded edition of Noncanonical Writings and New Testament Interpretation examines a vast range of ancient literature, masterfully distilling details of date, language, text, and translation into an eminently usable handbook. Craig Evans evaluates the materials' relevance for interpreting the New Testament and provides essential biographies.
-Publisher
Craig A. Evans (Ph.D., Claremont) is Payzant Distinguished Professor of New Testament and director of the graduate program at Acadia Divinity College in Wolfville, Nova Scotia. He has written extensively on the historical Jesus and the Jewish background of the New Testament era. His books include Jesus and His Contemporaries: Comparative Studies, Luke (New International Bible Commentary), Mark (Word Biblical Commentary), Jesus and the Ossuaries, Fabricating Jesus and Ancient Texts for New Testament Studies. His edited volumes include (with Bruce Chilton) Studying the Historical Jesus: Evaluations of the State of Current Research, Dictionary of New Testament Background, From Prophecy To Testament and (with John Collins) Christian Beginnings and the Dead Sea Scrolls.
He has recently served on the advisory board on The Gospel of Judas for National Geographic Society and has appeared frequently as an expert commentator on network television programs, such as Dateline, and in various documentaries on the BBC, the Discovery Channel and the History Channel. He most recent work is Matthew (New Cambridge Bible Commentary.)


Introduction<br>1. The Old Testament Apocrypha<br>2. The Old Testament Pseudepigrapha<br>3. The Dead Sea Scrolls<br>4. Versions Of The Old Testament<br>5. Philo And Josephus<br>6. The Targums<br>7. Rabbinic Literature<br>8. The New Testament Apocrypha And Pseudepigrapha<br>9. Early Church Fathers<br>10. Gnostic Writings<br>11. Other Writings<br>12. Examples Of New Testament Exegesis<br>appendixes<br>1. Canons Of Scripture That Include The Apocrypha<br>2. Quotations, Allusions, And Parallels To The New Testament<br>3. Parallels Between New Testament Gospels And Pseudepigraphal Gospels<br>4. Jesus' Parables And The Parables Of The Rabbis<br>5. Jesus And Jewish Miracle Stories<br>6. Messianic Claimants Of The First And Second Centuries<br>indexes
Bestsellers in Biblical Studies