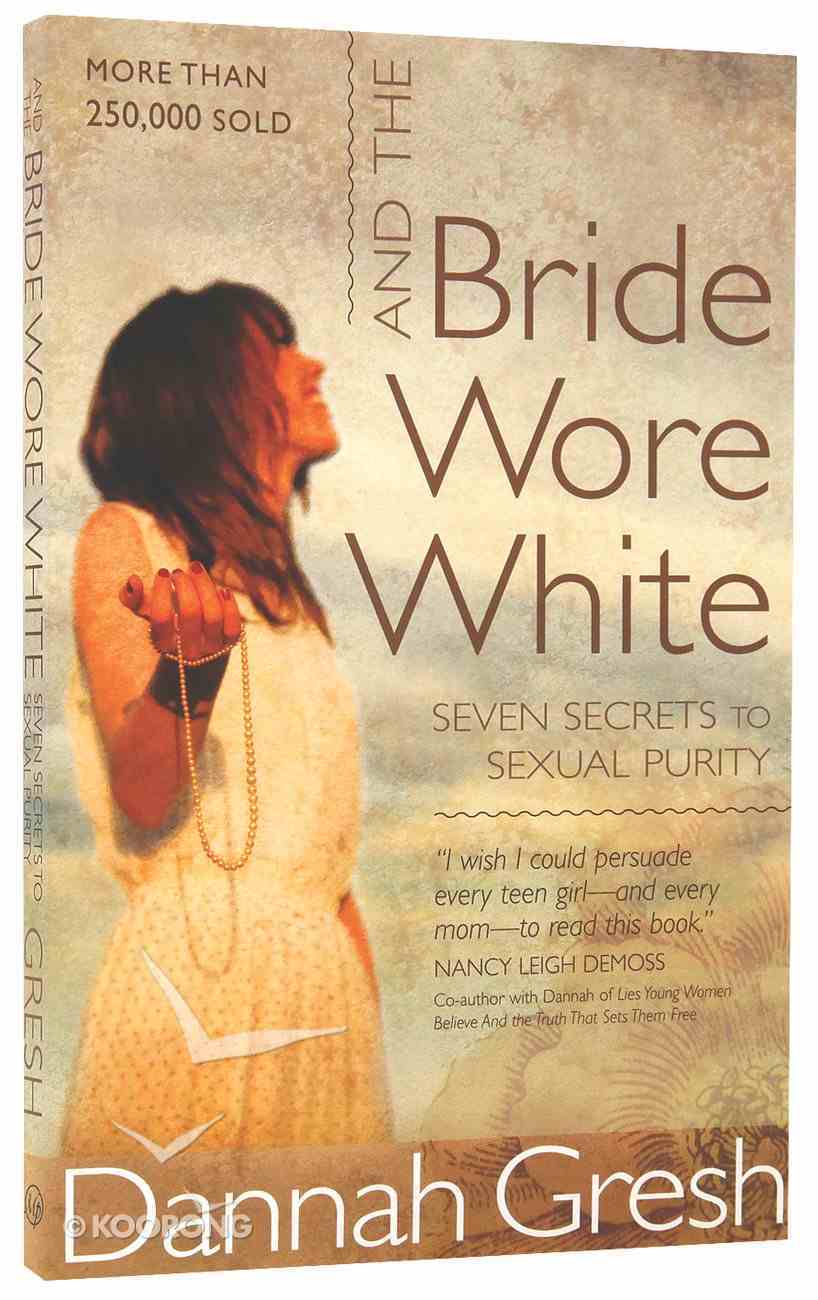 Reviewers continue to rave about And the Bride Wore White: Seven Secrets To Purity. But the greatest proof of it's effect is in the lives of tens of thousands of young women who've embraced the book's message. Each chapter of And...
---
Expected to ship tomorrow from Australia.
---
Free Shipping
for orders over $99.


Reviewers continue to rave about And the Bride Wore White: Seven Secrets To Purity. But the greatest proof of it's effect is in the lives of tens of thousands of young women who've embraced the book's message. Each chapter of And the Bride Wore White begins with a narrative of Dannah Gresh's young love life, taken from her own teenage journals. She transparently shares her struggles and successes, her moments of pain followed by healing and the moments of triumph. This story-line grips the young reader while they learn statistically proven risk-reduction factors. The end result are usable "how-to-say-no" skills that can reduce the risk of a young woman's heart being broken by sexual sin. In this update, Dannah and her friends share open letters of encouragement to young women, one for those who chose life and another to those who chose abortion, a letter to teen girls addicted to pornography and another to girls who have experienced sexual abuse, and many more specific to a young woman's unique circumstances. Over 250,000 copies sold!



-Publisher
Dannah Gresh, a mother/daughter communication coach, has sold well over three quarters of a million copies of her books including And the Bride Wore White and 2008's best-selling CBA youth book, Lies Young Women Believe (coauthored with Nancy Leigh DeMoss) - making her one of the most successful Christian authors targeting teens and preteens.
With the belief that today's culture has been seeking to rob little girls of their innocence, Dannah has been fighting on the front lines to protect them. Her fun line of Secret Keeper Girl mom/preteen daughter connecting resources and live events that tour the country provide moms with just the right tools to fight back.


She has long been at the forefront of the movement to encourage both tweens and teens to pursue purity and is often called upon to defend the conservative position of abstinence in national news media like USA Today, Time, Chicago Tribune, and Women's Wear Daily. She is also a frequent contributor to FamilyLife Today, Midday Connection, and Focus on the Family.


Dannah lives in State College, Pennsylvania, with her husband, Bob, and their children, Robby, Lexi, and Autumn, whom the family adopted from China in 2007. She and her husband founded Grace Prep, a new model in Christian high school education, which Bob administrates. She is shamelessly in love with her labradoodle, Stormie. (DannahGresh.com)


<div><p>acknowledgments&#160;&#160;&#160;&#160;&#160;&#160;&#160;&#160;&#160;&#160;&#160;&#160;&#160;&#160;&#160; </p><p>1&#160; And The Bride Wore White</p><p><i>&#160;&#160;&#160; Deciding To Live A Lifestyle Of Purity&#160;&#160;&#160;&#160;</i></p><p><i></i>&#160;2&#160; Satan's Big Fat Sex Lies</p><p>&#160;&#160;&#160; <i>learning To Recognize The Truth&#160;&#160;</i><i>&#160;&#160;</i><i>&#160;&#160;&#160;&#160;&#160;</i>&#160;&#160;&#160;&#160;&#160;&#160;&#160;&#160;&#160;&#160;&#160; </p><p>3 Satan's Biggest, Fattest Sex Lie</p><p>&#160;&#160;&#160; <i>resisting The Lure To Sin</i>&#160;&#160;&#160;&#160;&#160;&#160;&#160;&#160;&#160;</p><p>4 Satan's Second Big Fat Sex Lie</p><p>&#160;&#160;&#160; <i>hiding Behind The Fig Leaves</i>&#160;&#160;&#160;&#160;&#160;&#160;&#160;&#160;&#160;&#160;&#160;&#160;&#160;&#160; </p><p>5 Breakin' Up Is Hard To Do</p><p>&#160;&#160;&#160; <i>breaking Off Sinful Relationships </i><i>in Three Steps</i>&#160;&#160;&#160;</p><p>6&#160; Secret #1:purity Is A Process</p><p>&#160;&#160;&#160; <i>defining Innocence And Purity</i>&#160;&#160;&#160;&#160;&#160;&#160;&#160;&#160;&#160;&#160;&#160;&#160;&#160;&#160;&#160; </p><p>7&#160; Secret #2: Purity Dreams Of Its Future</p><p><i>&#160;&#160;&#160; Envisioning A Godly Husband&#160;&#160;&#160;</i><i>&#160;</i>&#160;&#160;&#160;&#160;&#160;&#160;&#160;&#160;&#160;&#160;&#160; </p><p>8&#160; Secret #3: Purity Is Governed By Its Value</p><p><i>&#160;&#160;&#160; Part A: Discovering Your Value </i><i>in God's Eyes</i>&#160;&#160;</p><p>&#160;9&#160; Secret #3: Purity Is Governed By Its Value</p><p><i>&#160;&#160;&#160; Part B: Demonstrating Your Value </i><i>in The Eyes Of Others</i>&#160;&#160;&#160;&#160;&#160;&#160;&#160; </p><p>10&#160;&#160;&#160;&#160; Secret #4: Purity Speaks Boldly</p><p>&#160;&#160;&#160; <i>preparing Your Tongue For Dates</i>&#160;&#160;&#160;&#160;&#160;&#160;&#160;&#160;&#160;&#160;&#160;&#160;&#160;&#160;&#160;&#160;&#160;&#160;&#160;&#160;&#160;&#160; </p><p>11&#160;&#160;&#160;&#160; Secret #5: Purity Loves Its Creator At Any Cost</p><p>&#160;&#160;&#160;&#160; <i>pursuing A Love Relationship </i><i>with Jesus</i><i>&#160;&#160;&#160; </i></p><p>12&#160;&#160;&#160;&#160; Secret #6: Purity Embraces Wise Guidance</p><p>&#160;&#160;&#160;&#160; <i>inviting Your Parents Into </i><i>your Love Life</i>&#160;&#160;&#160;&#160;&#160;&#160;&#160;&#160;&#160;&#160;&#160;&#160;&#160;&#160;&#160;&#160; </p><p>13&#160;&#160;&#160;&#160; The Truth About Sex: It's Out Of This World</p><p>&#160;&#160;&#160;&#160; <i>understanding The Heavenly </i><i>purpose Of Sex</i>&#160;&#160;&#160;</p><p>&#160;14&#160;&#160;&#160;&#160; The Truth About Sex: Getting Down To Earth</p><p>&#160;&#160;&#160;&#160; <i>preparing To Enjoy The Earthly </i><i>gift Of Sex</i>&#160;&#160;&#160;</p><p>&#160;15&#160;&#160;&#160;&#160; Not You Again, Satan!</p><p><i>&#160;&#160;&#160;&#160; Facing The Consequences </i><i>to Find Healing</i></p><p>16&#160;&#160;&#160;&#160; Secret #7: Purity Watches Burning Flames</p><p><i>&#160;&#160;&#160;&#160; Finding M.o.r.e. To Help You</i>&#160;&#160;&#160;&#160;&#160;&#160;&#160;&#160;&#160;&#160;&#160;&#160;&#160;&#160;&#160;&#160;&#160;&#160; </p><p>17&#160;&#160;&#160;&#160; The Payments On The Pearl Continue</p><p><i>&#160;&#160;&#160;&#160; Using The Seven Secrets After Your </i><i>wedding Day</i>&#160;</p><p>&#160;appendix : &#160;letters From The Heart: <i>seven&#160;burning Flames Tell Their Stories </i><i>and Their</i> <i>secrets</i>&#160;&#160;&#160;&#160;&#160;&#160;&#160;&#160; </p></div>