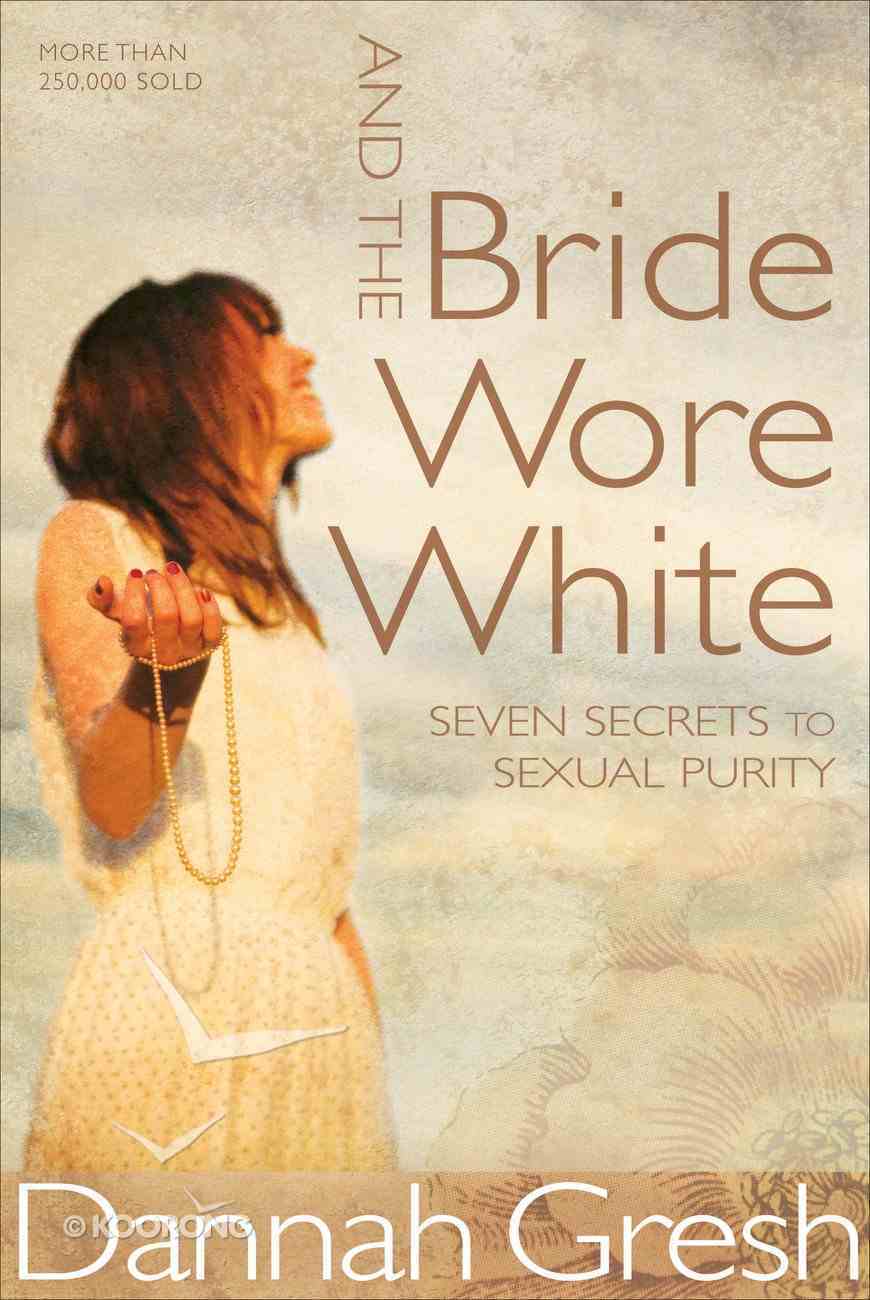 With over 250,000 copies sold, reviewers continue to rave about And the Bride Wore White: Seven Secrets To Purity . But the greatest proof of its effect is in the lives of tens of thousands of young women who've...
Instant download
---
Expected to ship on Monday from Australia.
---
Read using our free app on your tablet or mobile!
---
Free Shipping
for orders over $99.


With over 250,000 copies sold, reviewers continue to rave about And the Bride Wore White: Seven Secrets To Purity. But the greatest proof of its effect is in the lives of tens of thousands of young women who've embraced the book's message.


Each chapter of And the Bride Wore White begins with a narrative of Dannah Gresh's young love life, taken from her own teenage journals. She transparently shares her struggles and successes, her moments of pain followed by healing, and the moments of triumph. This story-line grips the young reader while they learn statistically proven risk-reduction factors. The end result are usable "e;how-to-say-no"e; skills that can reduce the risk of a young woman's heart being broken by sexual sin.


In this update, Dannah and her friends share open letters of encouragement to young women, one to those who chose life and another to those who chose abortion, one to teen girls addicted to pornography and another to girls who have experienced sexual abuse, and many more specific to a young woman's unique circumstances.


?Seven Secrets To Purity. But the greatest proof of it's effect is in the lives ?of tens of thousands of young women who've embraced the book's message. Each chapter ?of And the Bride Wore White begins with a narrative of Dannah Gresh's young ?love life, taken from her own teenage journals. She transparently shares her struggles ?and successes, her moments of pain followed by healing and the moments of triumph. ?This story-line grips the young reader while they learn statistically proven risk-reduction ?factors. The end result are usable "how-to-say-no" skills that can reduce the risk ?of a young woman's heart being broken by sexual sin.



In this update, Dannah ?and her friends share open letters of encouragement to young women, one for those ?who chose life and another to those who chose abortion, a letter to teen girls addicted ?to pornography and another to girls who have experienced sexual abuse, and many ?more issues specific to a young woman's unique circumstances.


Over 250,000 ?copies sold!


DANNAH GRESH is a bestselling author and co-founder of Pure Freedom. ? She has sold over 750,000 copies of her books, including And the Bride Wore ?White , What Are You Waiting For: The One Thing No One Ever Tells You About ?Sex, and Lies Young Women Believe (co-authored with Nancy Leigh DeMoss), ?in addition to the Secret Keeper series. She is also a frequent guest for national ?radio, TV and print mediums. Dannah lives in State College, Pennsylvania, with her ?husband, Bob, and their three children.


Reviewers continue to rave about And the Bride Wore ?White: Seven Secrets To Purity. But the greatest proof of it's effect is in ?the lives of tens of thousands of young women who've embraced the book's message. ?Each chapter of And the Bride Wore White begins with a narrative of Dannah ?Gresh's young love life, taken from her own teenage journals. She transparently ?shares her struggles and successes, her moments of pain followed by healing and ?the moments of triumph. This story-line grips the young reader while they learn ?statistically proven risk-reduction factors. The end result are usable "how-to-say-no" ?skills that can reduce the risk of a young woman's heart being broken by sexual ?sin. In this update, Dannah and her friends share open letters of encouragement ?to young women, one for those who chose life and another to those who chose abortion, ?a letter to teen girls addicted to pornography and another to girls who have experienced ?sexual abuse, and many more specific to a young woman's unique circumstances. Over ?250,000 copies sold!




Acknowledgments                ?


1  And the Bride Wore White


    Deciding to ?Live a Lifestyle of Purity    


 2  ?Satan's Big Fat Sex Lies


    Learning to Recognize the Truth                     ?


3 Satan's Biggest, Fattest Sex Lie


    Resisting ?the Lure to Sin         


4 ?Satan's Second Big Fat Sex Lie


    Hiding Behind the Fig ?Leaves               ?


5 Breakin' Up Is Hard to Do


    Breaking Off Sinful ?Relationships in Three Steps   


6  Secret ?#1:Purity Is a Process


    Defining Innocence and Purity                ?


7  Secret #2: Purity Dreams of Its Future


    ?Envisioning a Godly Husband                ?


8  Secret #3: Purity Is Governed by Its Value


    ?Part A: Discovering Your Value in God's Eyes  


 9  ?Secret #3: Purity Is Governed by Its Value


    Part B: Demonstrating ?Your Value in the Eyes of Others        ?


10     Secret #4: Purity Speaks Boldly


    ?Preparing Your Tongue for Dates                       ?


11     Secret #5: Purity Loves Its Creator at Any Cost


     ?Pursuing a Love Relationship with Jesus   


12     ?Secret #6: Purity Embraces Wise Guidance


     Inviting ?Your Parents into Your Love Life                 ?


13     The Truth About Sex: It's Out of This World


     ?Understanding the Heavenly Purpose of Sex   


 14     ?The Truth About Sex: Getting Down to Earth


     Preparing ?to Enjoy the Earthly Gift of Sex   


 15     ?Not You Again, Satan!


     Facing the Consequences ?to Find Healing


16     Secret #7: Purity Watches ?Burning Flames


     Finding M.O.R.E. to Help You                   ?


17     The Payments on the Pearl Continue


     ?Using the Seven Secrets After Your Wedding Day 


 Appendix ?:  Letters from the Heart: Seven Burning Flames Tell Their Stories ?and TheirSecrets         ?




What others are saying . . .


Dannah has tasted the pain ?and regret of opening God's good gift of sex before its proper time. She has also ?experienced the sweet healing, freedom, and joy of walking in repentance, forgiveness, ?and grace. Her message is one every teen girl-and each of their moms-needs to hear. ?I'm so thankful for the way she is allowing God to use her story, grounded in His ?Word, to speak into the lives of young women. God is using her to speak into the ?lives of young women in an engaging and powerful way. I wish I could persuade every ?teen girl-and every mom-to read this book. ~Nancy Leigh DeMoss, ?co-author with Dannah Gresh of Lies Young Women Believe


Dannah challenges ?young women to say "yes" to what the white wedding dress represents. In a warm, ?easy-to-read style, she counters the message of this sex-crazed culture with priceless ?pearls of truth. ~Mary A. Kassian,author of Girls ?Gone Wise in a World Gone Wild


I admire Dannah Gresh in so many ways. ?Her ministry is moving; her writing is relevant; she is a role model to women of ?all ages and seasons of life. As a survivor, speaker and author on the topic of ?sexual abuse, I constantly see and hear firsthand the pain of sexually broken and ?I understand the deep need for Dannah's message. The re-release of her best-seller ?And The Bride Wore White is an answer to the cry of our culture. This book ?is a timeless classic that will bring healing and hope to all generations. ~ Nicole ?Bromley, speaker & author, oneVOICEenterprises


I first read ?And The Bride Wore White when it was an unpublished manuscript and ?I was a freshman in college. I devoured it in a single setting and the lessons I ?learned made a huge impact on my life. as a woman who has now been married ?more than a decade I still remember and cherish the lessons Dannah presents ?in this book. Dannah doeswhat other authors do not by moving beyond God's call to ?purity and outlining a plan to make waiting possible and desirable. This book gave ?me the blueprint to build a pure marriage, a gift that I am eternally grateful for. ?Consider And The Bride Wore White a must read for every girl who's ever ?dreamed of a pure and holy marriage. ~ Erin Davis, author of Graffiti: ?Learning to See the Art in Ourselves


The loss of virginity is not simply ?a physical state of being, but effects the emotional, mental and spiritual lives ?of every girl. Which is why I appreciate Dannah Gresh and her passion to see girls ?not only value their virginity, but why the ought to do so. With vulnerability, ?humor and grace, this book provides girls with the tools they need to take ownership ?of their bodies, minds and hearts. ~ Crystal Renaud, author of Dirty ?Girls Come Clean


Human sexuality is at the center of most of the bitter ?cultural struggles being waged in our day.  Far too many young women don't ?know right from wrong when it comes to their bodies and their minds because they ?have bought into the low moral standards promoted on television and in contemporary ?movies and music.  In a friendly, personal manner, Dannah Gresh helps her readers ?understand that sexuality is a beautiful gift from God and that He intends it to ?be reserved for marriage.  I highly recommend And the Bride Wore White ?to any young woman who wants God's best for her life. ~ Richard Land, President, ?Ethics & Religious Liberty Commission & host, For Faith & Family ?Radio

Dannah has a fresh way of sharing important truths we need to ?hear.  In an age of moral decline even among our church youth, this message ?is needed now more than ever.  Give Dannah your ear.  You won't be disappointed. ?~ Anita Lustrea, host/producer, Midday Connection

As a mother ?of two teenage daughters, I cannot think of any book more beautifully inspiring ?than And the Bride Wore White.  My daughters loved Dannah's insights, ?her humor, and her call for a life without regrets.  I am deeply grateful for ?the realistic role model she is for my daughters...She has changed their lives, ?and in doing so she has changed mine. ~ Tammy Maltby, author and ?co-host of Emmy-nominated Aspiring Women




One of the biggest concerns our readers face is how to talk to their ?daughters about sex and sexuality.  I send them to Dannah's book without hesitation.  ?She's the wise big sister so many of these girls long to hear from.  Her warmth, ?compassion, and vulnerability make her words matter for young women trying to live ?pure lives in an impure world.
-Carla Barnhill
Editor, Christian Parenting ?Today

Human sexuality is at the center of most of the bitter cultural ?struggles being waged in our day.  Far too many young women don't know right ?from wrong when it comes to their bodies and their minds because they have bought ?into the low moral standards promoted on television and in contemporary movies and ?music.  In a friendly, personal manner, Dannah Gresh helps her readers understand ?that sexuality is a beautiful gift from God and that He intends it to be reserved ?for marriage.  I highly recommend And the Bride Wore White to any ?young woman who wants God's best for her life.
-Richard Land
President, ?Ethics & Religious Liberty Commission
Host, For Faith & Family Radio

Dannah ?has a fresh way of sharing important truths we need to hear.  In an age of ?moral decline even among our church youth, this message is needed now more than ?ever.  Give Dannah your ear.  You won't be disappointed.
-Anita ?Lustrea
Host/Producer, Midday Connection

As a mother of two teenage ?daughters, I cannot think of any book more beautifully inspiring than And the ?Bride Wore White.  My daughters loved Dannah's insights, her humor, and ?her call for a life without regrets.  I am deeply grate



Dannah Gresh, a mother/daughter communication coach, has sold well over three quarters of a million copies of her books including And the Bride Wore White and 2008's best-selling CBA youth book, Lies Young Women Believe (coauthored with Nancy Leigh DeMoss) - making her one of the most successful Christian authors targeting teens and preteens.
With the belief that today's culture has been seeking to rob little girls of their innocence, Dannah has been fighting on the front lines to protect them. Her fun line of Secret Keeper Girl mom/preteen daughter connecting resources and live events that tour the country provide moms with just the right tools to fight back.


She has long been at the forefront of the movement to encourage both tweens and teens to pursue purity and is often called upon to defend the conservative position of abstinence in national news media like USA Today, Time, Chicago Tribune, and Women's Wear Daily. She is also a frequent contributor to FamilyLife Today, Midday Connection, and Focus on the Family.


Dannah lives in State College, Pennsylvania, with her husband, Bob, and their children, Robby, Lexi, and Autumn, whom the family adopted from China in 2007. She and her husband founded Grace Prep, a new model in Christian high school education, which Bob administrates. She is shamelessly in love with her labradoodle, Stormie. (DannahGresh.com)