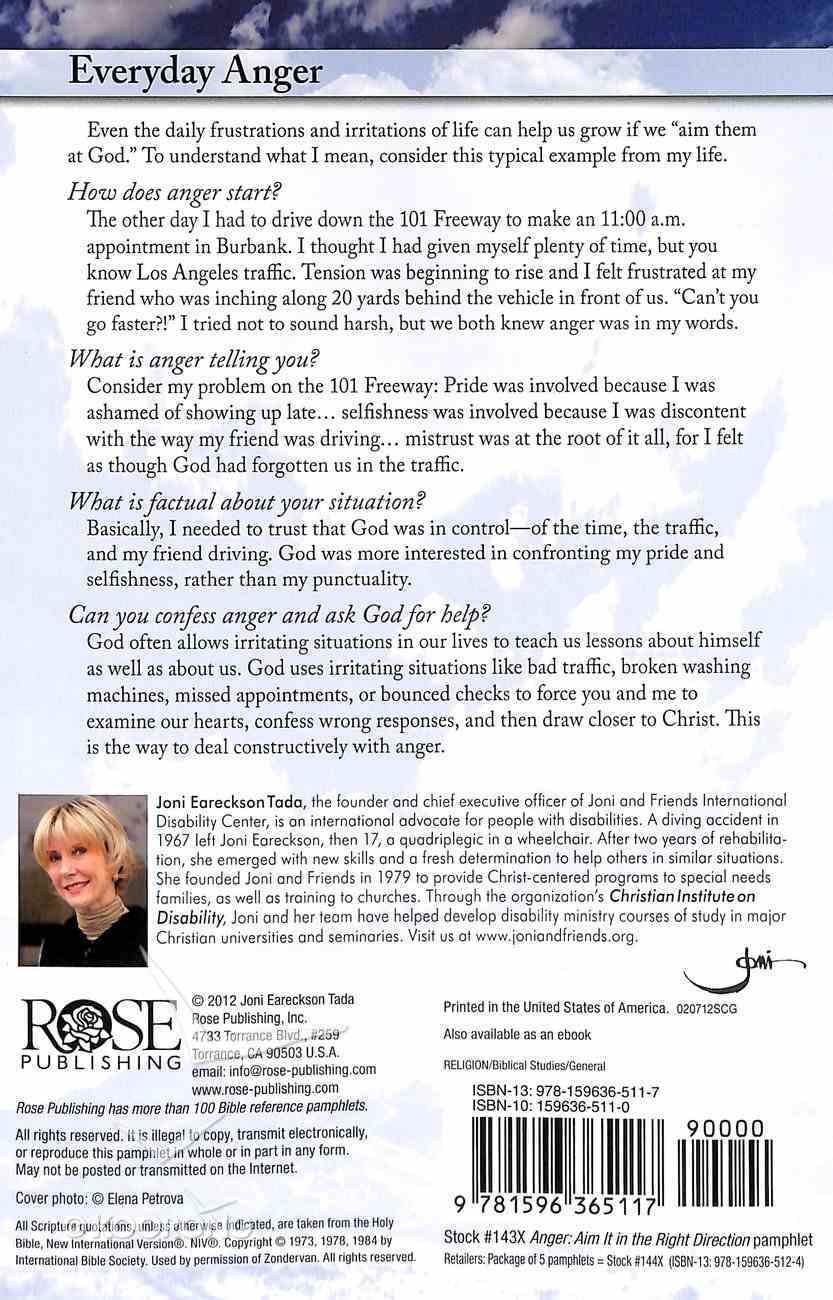 Anger: Aim It in the Right Direction (Rose Guide Series)
How to Aim Your Anger in the Right Direction God, why did you let this happen to me? The death of a spouse, the betrayal of a friend, and the disability of a child are often so painful that we...
---
Expected to ship on Monday from Australia.
---
Free Shipping
for orders over $99.
How to Aim Your Anger in the Right Direction God, why did you let this happen to me? The death of a spouse, the betrayal of a friend, and the disability of a child are often so painful that we want to blame God. We all have times of anger, disappointment, and frustration. But when we aim that anger at God, we end up feeling empty, frustrated, and lost. Our anger can either destroy us with self-pity, or God can use it to make us joyful. The key is to aim the anger in the right direction. To do this, we need to-- Learn to be transparent before the Lord. Complain to the Lord in the way that Bible characters did. Turn despair Godward. The topics of anger and bitterness are issues that author, Joni Eareckson Tada, can speak to personally: A diving accident in 1967, when she was 17, left her a quadriplegic. She has lived 45 years in a wheelchair and she has experienced her share of ups and downs. But, she says, oh, the difference the grace of God has made in my life. Let Joni tell you her secrets to peace and joy, despite her wheelchair. She has spent decades studying the Word of God. She knows that God does not enjoy seeing your pain and frustration. He has compassion for you and gives you many ways to deal with life so that you can have peace. She has taken her most important insights on turning anger into joy (not bitterness) and encapsulated them into this 14-page pamphlet. Whether you or a loved one is suffering. This pamphlet will bring you some help to break free from the strangle hold of anger. In this pamphlet, you will find hope. Joni tells her story of facing the news of being paralyzed the rest of her life. Joni shows you the right way and the wrong way of dealing with anger. She tells how she dealt with the anger and passes her tips onto others. You can find freedom from the bondage of anger. Joni has been there and she shows you the way using biblical principles. 14 pages, full color, glossy plastic coating for durability, 8.5 x 5.5 inches, fits inside a Bible cover. About the Author Joni Eareckson Tada offers hope to people struggling with health and emotional challenges. After a 1967 diving accident left Joni Eareckson Tada a spinal cord-injured quadriplegic, she embarked on a lifelong study to make sense of suffering from God's perspective. Joni Eareckson Tada is now an international advocate for individuals with disabilities, and the founder of the non-profit organization, Joni & Friends. When Joni Eareckson Tada writes about hardship, it's real. When she says good can come from suffering, I wanted to know how....I wanted to gain a deeper understanding of the adverse circumstance I'm in. I was surprised that such a small pamphlet could offer such a large portion of hope and courage. Carol WitteI love how the pamphlets get to the point, saying exactly what I needed to hear in an easy-to-understand way. Plus, they are light weight and can fit in my purse, making them easy to take to the doctors' office or to my chemo appointments. If you know someone fighting a terminal illness or even their family members who need encouragement as well, I highly recommend you check out these pamphlets. Cindy CurranThe new pamphlets from Rose Publishing by Joni Eareckson Tada are a treasure for both Pastors and Chaplains. Joni has the ability to answer so many hard asked questions by her experience. Her love of God and her knowledge of His Word linked with her genuine empathy for people that are suffering and questioning God is uncanny. Dr. Skip Lewis, Director of Chaplaincy, Heart of Florida Joni is at once a student and a teacher. She searches for answers, and then ably guides those who are seeking to understand some of the same difficult questions she has asked about suffering, anger, God's sovereignty and prayer. She is candid about her personal struggles, but addresses each of them by providing biblical illustrations of how God is always present and in control. Through her practical counsel, Joni empowers anyone who has endured painful experiences in life to trust and turn toward God. Jean Driscoll, Assistant Dean for Advancement, University of IL, College of Applied Health Sciences Jean was born with spina bifida (an open spine). She began using a wheelchair at the age of 15 and after learning about wheelchair sports, she started pursuing athletic opportunities. During her career, Jean was the first eight time winner of the Boston Marathon. She also won two Olympic medals, 12 Paralympic medals, and still holds the world record in the 10,000 meters set during the 1996 Paralympic Games in Atlanta. Jean remains the only 12-time champion of the Lilac Bloomsday 12K Road Race held in Spokane, Washington. Jean retired from her successful racing career following the 2000 Paralympic Games in Sydney, Australia. Study Questions: Read panels 1-2. What are some ways that people aim their anger in the wrong direction? What happens to people when they do this? Read panels 3-6. Joni tells her own story and admits the mistakes she made with turning her anger in the wrong direction. Why is self-pity so destructive? What ideas did you get to break free from self-pity? What does Joni mean when she says: "Gut-wrenching questions honor God"? Read panel 7. In this story about a common everyday frustration, Joni points out that she learned several truths about herself. Think of a frustration you once handled poorly. What did it show you about yourself? What would you do differently next time? Read panels 8-9. How do you think God feels when he sees you in pain? If God is more loving and compassionate than the most devoted human parent, how do you think he sees your current situation? Jesus cried out: "Why have you forsaken me?" What is the promise Jesus gives us? Read panels 10-11. Nighttime is often a breeding ground for worry, doubts, and anger. When do you find your hopelessness is at its worst? Which of Joni's recommendations works for you? Have you got other tips that work for you? Read panels 12-13. King David wrote many psalms that tells us (and demonstrate to us) what to do with anger. What was the most important insight you found in this section and why?
-Publisher
Joni Eareckson Tada, the Founder and CEO of Joni and Friends International Disability Center, is an international advocate for people with disabilities.

A diving accident in 1967 left Joni Eareckson, then 17, a quadriplegic in a wheelchair. After two years of rehabilitation, she emerged with new skills and a fresh determination to help others in similar situations.

She founded Joni and Friends in 1979 to provide Christ-centred ministry to special-needs families, as well as training for churches. Joni and Friends serves thousands of special-needs families through Family Retreats, and has delivered over 170,000 wheelchairs and Bibles to needy individuals with disabilities in developing nations.

Joni survived stage III breast cancer in 2010, yet keeps a very active schedule. Her newest book, A Spectacle of Glory, won best devotional book in the Evangelical Christian Publishers Association's 2017 Christian Book Awards - it contains fresh biblical insights from her battle with chronic pain. Joni is General Editor of Tyndale's Beyond Suffering Bible, a special edition published for those who suffer chronic conditions, and their caregivers.
Bestsellers in Tracts/booklets