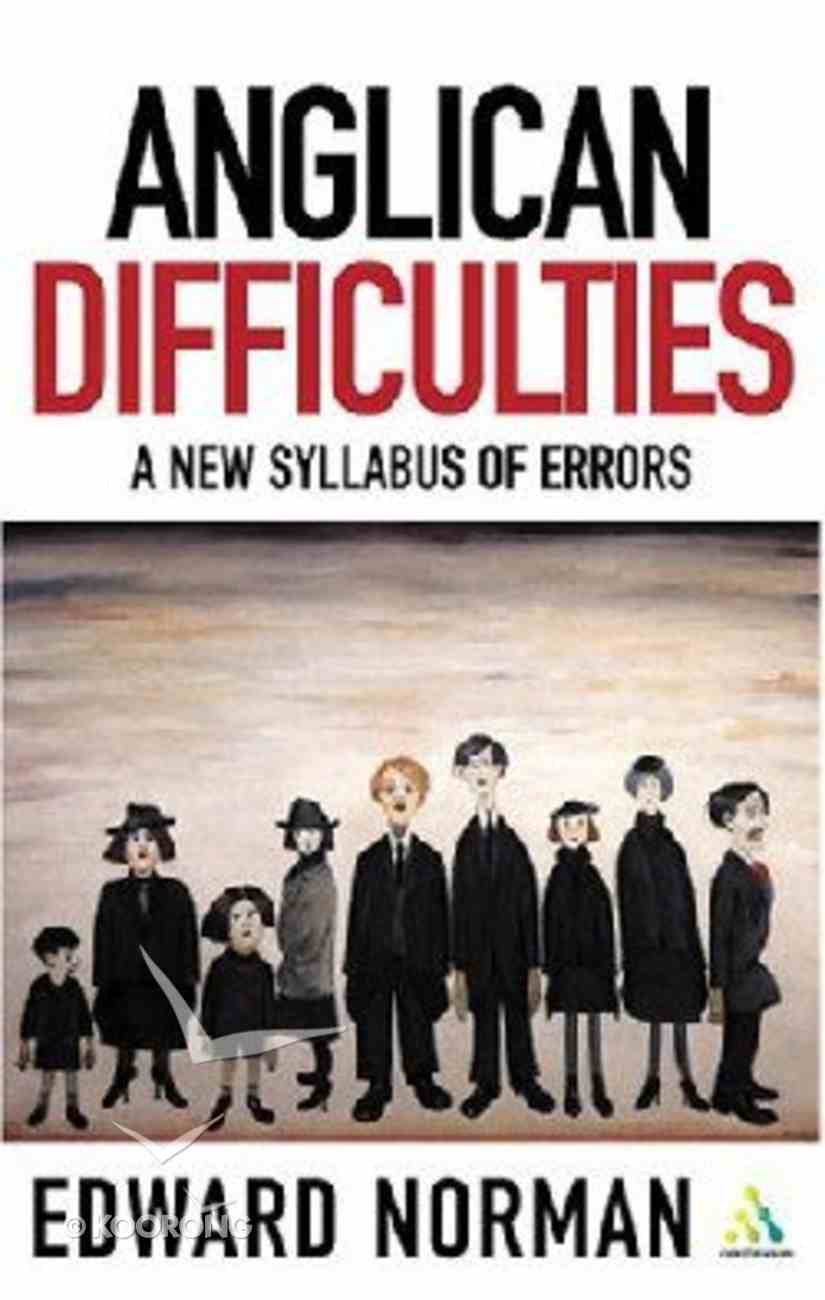 In this new study Edward Norman examines the state of the Church of England and the Anglican Communion, and argues that its patently ailing condition is not the consequence merely of a difference of view over major questions of belief...
Unavailable. Out of Print. Only available while stock lasts.
Out of Print
---
Free Shipping
for orders over $99.
In this new study Edward Norman examines the state of the Church of England and the Anglican Communion, and argues that its patently ailing condition is not the consequence merely of a difference of view over major questions of belief and practice but of problems intrinsic to its very nature. It is a book about authority: about how Christian truth is validated, and the means by which the institutional Church can resist the intrusion of error into its understanding of faith. In later chapters the author draws together his contentions around an analysis originally offered at a gathering of bishops attending the Lambeth Conference in 1998. What Anglicanism notably lacks, he believes, is a coherent basis of authority, a doctrine of the Church itself. It has in consequence and despite its seeming traditionalism more of the qualities of a religious society than of a church, and this is due to imperfectly addressing fundamental questions about its source of authority at the time of the Reformation.
-Publisher
Unfashionably, Norman writes extensively in Anglican Difficulties about authority, the deposit of faith, and tradition. God, he argues, provided a structured order in human relationships in order to coerce his people into a condition in which moral life can be pursued. This is a book that will delight or enrage people in equal measure. Either way, it will be widely noticed.Edward Norman is Chancellor of York Minster and is considered one of the most persuasive and articulate exponents of what has been termed the "new right" in the church of England. His previous books include Secularisation, Out of the Depths, and An Anglican Catechism, all available from Continuum.>
-Publisher
Edward Norman lectured in history at the University of CambrEdward Norman lectured in history at the University of CambrEdward Norman lectured in history at the University of CambrEdward Norman lectured in history at the University of Cambridge and is an Emeritus Fellow of Peterhouse. A former Reithidge and is an Emeritus Fellow of Peterhouse. A former Reithidge and is an Emeritus Fellow of Peterhouse. A former Reithidge and is an Emeritus Fellow of Peterhouse. A former Reith Lecturer for the BBC, his most recent books include "The Vi Lecturer for the BBC, his most recent books include "The Vi
Introduction 1. Authority In The Anglican Communion 2. Notes On Sanctity In Anglicanism 3. Ambiguous Ethical Teaching: Human Sexuality 4. Anglican And Roman Catholic Comparisons 5. Decline Of Anglican Learning 6. Disestablishment Conclusion