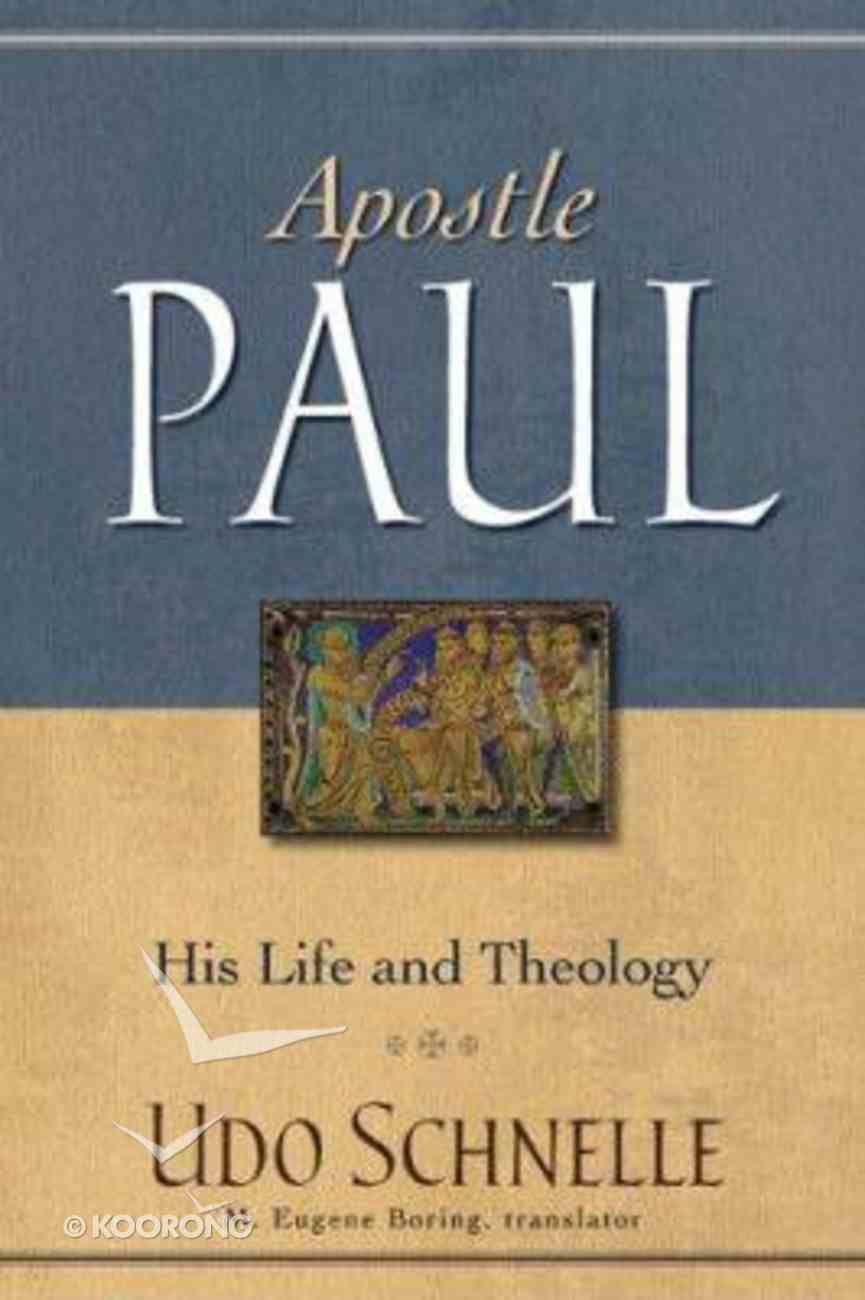 ---
Free Shipping
for orders over $99.
592 Pages
-Publisher
Paul's writings are centrally important not only for the establishment of the Christian faith but for the whole history of Western culture. The original German edition of Udo Schnelle's work has established itself as a leading introduction to Paul in Europe. Now in Eugene Boring's translation, and with his bibliographic revisions, it represents the state of the art in the English-speaking world. This comprehensive critical introduction combines historical and theological analysis. After essential methodological preliminaries, the first half of the book constructs Paul's biography: his pre-Christian life, his conversion, his missionary journeys, and the context of his writings. The second half is a synchronic exposition of the theological themes that run through his writings. Apostle Paul is an essential book for professors, students, clergy, and others with a scholarly interest in Paul.
-Publisher
"Among recent studies of Paul's life and thought, Schnelle's deserves to be ranked not only as one of the most comprehensive but also as one of the most compelling. With methodological clarity and exegetical skill, he demonstrates that the apostle's theology has to be understood in relation to his ministry and that this requires an examination of his letters individually, in the light of their respective historical, situational, and cultural contexts. Schnelle's exposition of the basic structures and overarching themes of Paul's theology is the more credible for being so carefully grounded and is an outstanding contribution to the ongoing discussion of this critical topic."--Victor Paul Furnish, University Distinguished Professor of New Testament Emeritus, Southern Methodist University"Finding the way into the complexities of international research on St. Paul's life, letters, and theology is far from easy. Professor Schnelle's richly documented and well-argued work, now in English, provides a very useful guide. It is to be recommended as indispensable to serious students in seminary, master's, and doctoral programs, not to forget us teachers who need to stay ahead of the best among the next generation."--Hans Dieter Betz, Shailer Mathews Professor Emeritus of New Testament, University of Chicago
-Publisher
PRODUCT DETAIL
Catalogue Code 

230515

Product Code 

0801027969

EAN 

9780801027963

Pages 

704

Department Academic
Category Biblical Studies
Sub-Category Paul
Publisher Baker Academic
Publication Date 

Nov 2005

Dimensions 

234 x 162 x 50

mm

Weight 

1.290

kg
Udo Schnelle (Dr.Theol., University of Gottingen) is professor of New Testament at the University of Halle. He is the author of numerous works, including History and Theology of the New Testament Writings, translated and revised by M. Eugene Boring. M. Eugene Boring (Ph.D., Vanderbilt University) was the I. Wylie and Elizabeth M. Briscoe Professor of New Testament at Brite Divinity School (now retired). He is the author of several books, including the Interpretation commentary on Revelation and (with Fred Craddock) The People's New Testament Commentary.
Part 1:&#9; The Course Of Paul's Life And The Development Of His Thought<br>1. &#9;prologue: Paul As Challenge And Provocation&#9;<br>2.&#9; Sources And Chronology For Paul's Life And Work: Definite And Hypothetical<br>3. &#9;the Pre-christian Paul: Open-minded Religious Zealot<br>4. &#9;the Call To Be Apostle To The Gentiles: The New Horizon<br>5. &#9;the Christian Paul: A Volcano Begins To Rumble<br>6. &#9;the Apostolic Council And The Incident At Antioch: The Problems Remain Unresolved<br>7. &#9;paul's Independent Mission: The Volcano Erupts<br>8. &#9;paul And The Thessalonians: Consolation And Confidence<br>9. First Corinthians: High And True Wisdom<br>10.&#9; Second Corinthians: Peace And War<br>11. Paul And The Galatians: Discovery In Conflict<br>12. Paul And The Church In Rome: High-level Encounter<br>13. Paul In Rome: The Old Man And His Work<br>part 2:&#9; The Basic Structures Of Pauline Thought<br>14. &#9;the Presence Of Salvation: The Center Of Pauline Theology<br>15. &#9;theology: The God Who Acts<br>16. Christology: The Lord Who Is Present<br>17. Soteriology: The Transfer Has Begun<br>18. Pneumatology: The Spirit Moves And Works&#9;<br>19.&#9; Anthropology: The Struggle For The Self&#9;<br>20. &#9;ethic: The New Being As Meaning Formation<br>21. &#9;ecclesiology: The Church As A Demanding And Attracting Fellowship<br>22. &#9;eschatology: Expectation And Memory<br>23. Epilogue: Pauline Thought As Enduring Meaning Formation&#9;&#9;<br>&#9;&#9;<br>&#9;&#9;selected Bibliography<br>&#9;&#9;&#9;i. Texts<br>&#9;&#9;&#9;ii. Lexica, Dictionaries, Concordances, Reference Works<br>&#9;&#9;&#9;iii. Commentaries, Monographs, Essays, Articles
Bestsellers in Biblical Studies