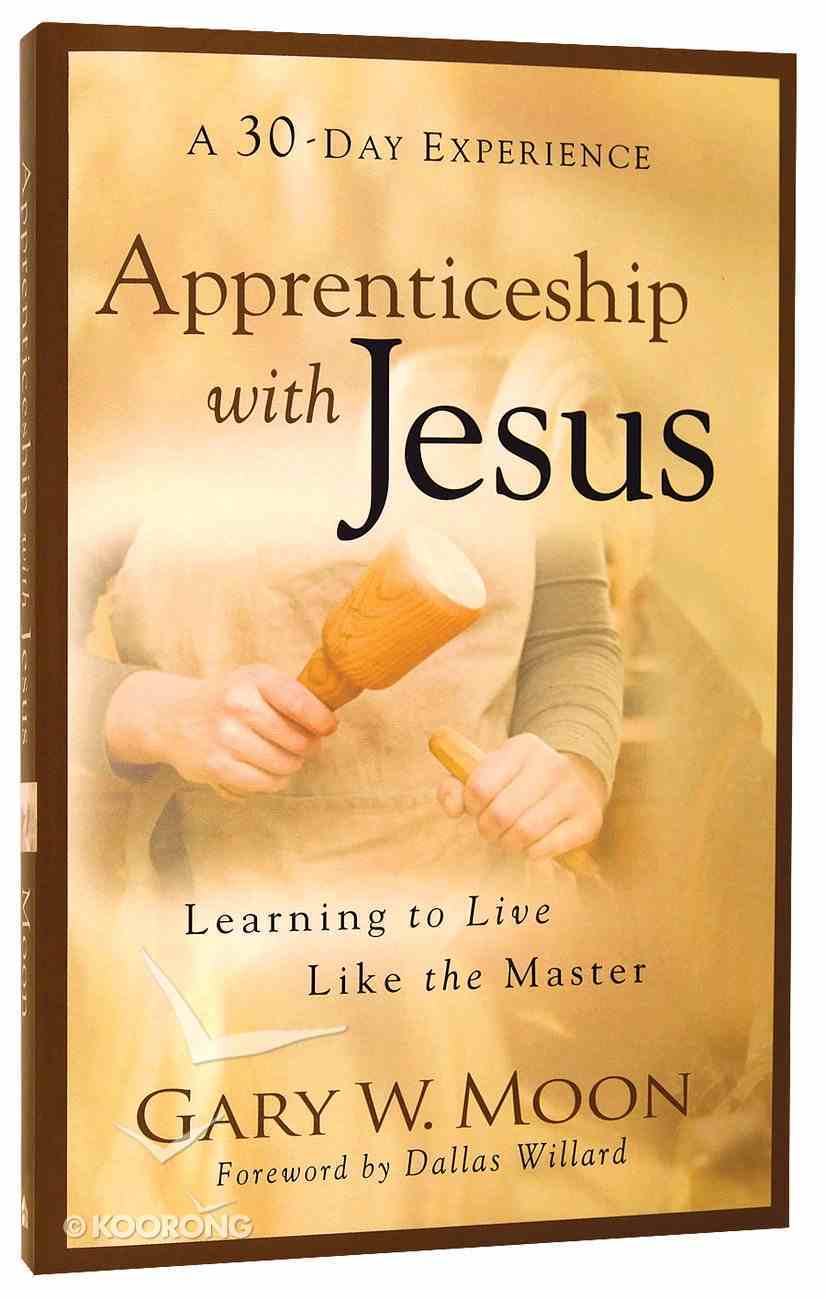 Apprenticeship With Jesus: Learning to Live Like the Master (A 30 Day Experience)
Ask a crowd of Christians whether they believe in Jesus as Lord and Savior, and all hands will go up. Ask the same crowd whether they live like Jesus, and most of those same hands will come down. Why is...
Out of Stock
Available to Order
---
Expected to ship in 5 to 6 weeks from Australia.
---
Free Shipping
for orders over $99.
Ask a crowd of Christians whether they believe in Jesus as Lord and Savior, and all hands will go up. Ask the same crowd whether they live like Jesus, and most of those same hands will come down. Why is this? Why is it so hard to bridge the gap between belief and real life?
^^Respected author, professor, and psychologist Gary W. Moon thinks it has to do with our hyper-intellectual but non-experiential method of living the Christian life. In this winsome book Moon provides a thirty-day apprenticeship with Jesus, whereby readers will actively practice being with Jesus day in and day out. Each day's reading uses compelling stories and scripture to illustrate a point and closes with a suggested apprenticeship activity.


-Publisher
Are you ready to really live your faith?Ask a crowd of Christians whether they believe in Jesus as Lord and Savior, and all hands will go up. Ask the same crowd whether they live like Jesus, and most of those same hands will come down. Why is this? Why is it so hard to bridge the gap between belief and real life?Our way of living the Christian life is often more about intellect than experience. In this winsome book Gary W. Moon offers a thirty-day apprenticeship with Jesus, a journey in which you can actively practice being with Jesus day in and day out. Each day's reading uses compelling stories and Scripture and suggests an apprenticeship activity to help you bring your faith into real life."A joy-filled resource for fleshing out the details of ongoing companionship with the Author of our salvation. Putting this book into practice day by day will substantially re-form the inner core of your life."--Richard J. Foster, author, Celebration of Discipline"Gary Moon is a friend, a guide, and a fellow apprentice. I wish every follower of Jesus could have Gary's wisdom on the most important subject in the world--where do we find life?"--John Ortberg, pastor, Menlo Park Presbyterian; author, Faith & Doubt"Gary provides wise guidance for our journey toward Christlikeness that is full of spiritual depth and good humor. What a delightful combination!"--Ruth Haley Barton, president, Transforming Center; author, Sacred RhythmsGary W. Moon (MDiv, PhD) is vice president and chair of integration at Richmont Graduate University in Atlanta, Georgia. He also serves as the executive director of the Renovare International Institute for Christian Spiritual Formation. His most recent books include Falling for God and Spiritual Direction and the Care of Souls.
-Publisher
Gary W. Moon (Ph.D., Fuller Theological Seminary) is vice president for spiritual development and professor of psychology and spirituality at the Psychological Studies Institute in Atlanta, Georgia. He is a visiting professor at Emmanuel College, Alliance Theological Seminary (Manila, Philippines) and Georgia State University, and he has also worked in clinical psychology practice for more than a decade.
Moon also serves as director of research and development for LifeSprings Publishing. He has written articles and presented papers on a variety of topics for a wide array of academic journals, popular magazines, and professional seminars and conferences. His books include Homesick for Eden: Confessions About the Journey of a Soul (LifeSprings, 1996, Servant, 1997), The Bible Ride (3 volumes, Servant) Falling for God (Waterbrook) and Apprenticeship with Jesus: Learning to Live Like the Master (Baker, 2009)


Bestsellers in Christian Living