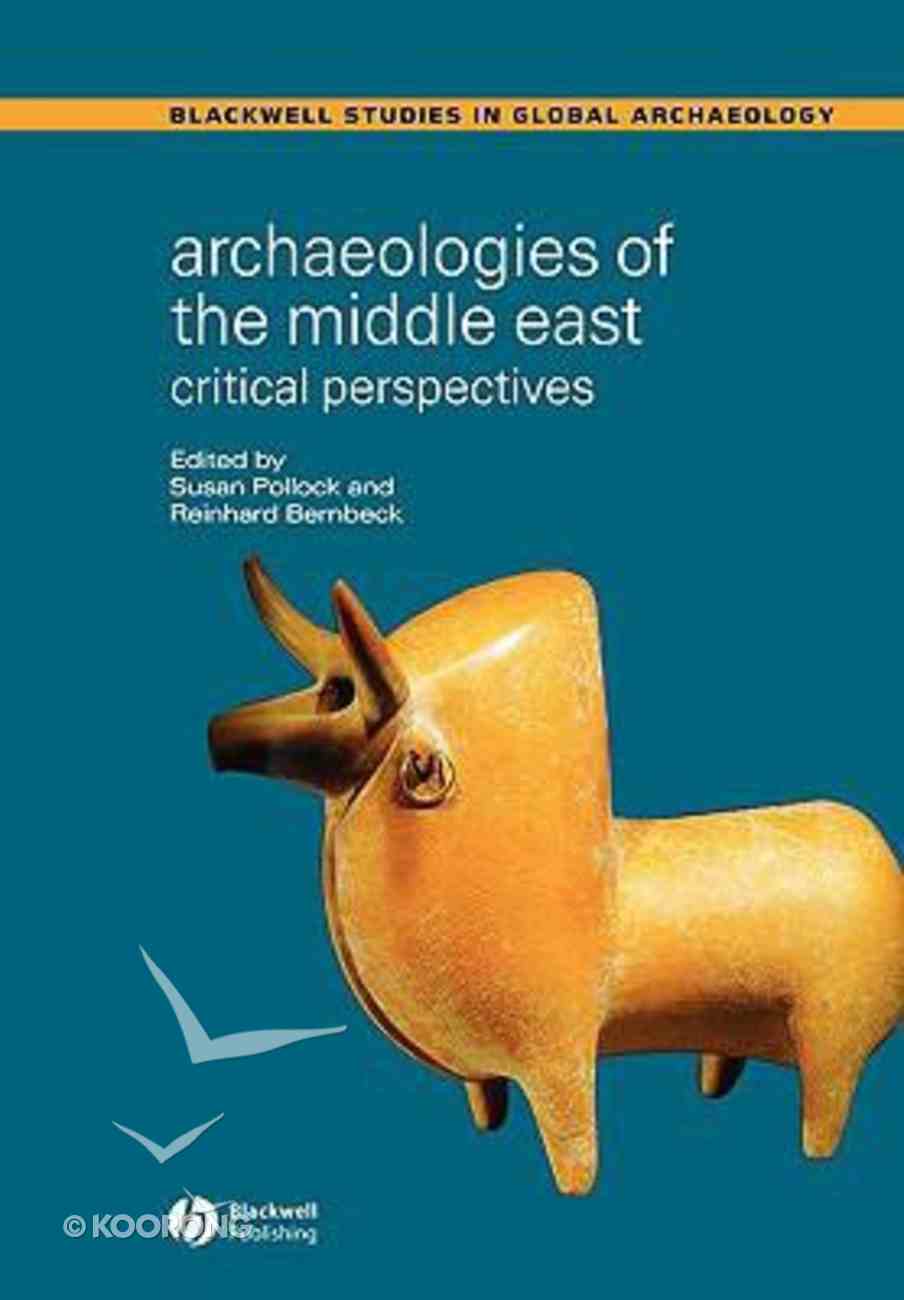 Archaeologies of the Middle East
List of Figures.List of Tables.List of Contributors.Series Editors' Preface.Acknowledgments.1. Introduction: Susan Pollock and Reinhard Bernbeck (Binghamton University, SUNY; Binghamton University, SUNY).2. A Cultural-Historical Framework: Reinhard Bernbeck and Susan Pollock.Part I: Producing and Disseminating Knowledge About the Ancient Near East: Reinhard...
Out of Stock
Available to Order
---
Free Shipping
for orders over $99.
List of Figures.List of Tables.List of Contributors.Series Editors' Preface.Acknowledgments.1. Introduction: Susan Pollock and Reinhard Bernbeck (Binghamton University, SUNY; Binghamton University, SUNY).2. A Cultural-Historical Framework: Reinhard Bernbeck and Susan Pollock.Part I: Producing and Disseminating Knowledge About the Ancient Near East: Reinhard Bernbeck and Susan Pollock.3. Who Has Not Eaten Cherries with the Devil? Archaeology under Challenge: Caroline Steele (Independent Scholar).4. Archaeology and Nationalism in the Holy Land: Adel Yahya (Palestinian Association for Cultural Exchange).5. Archaeology Goes to War at the Newstand: Susan Pollock.6. The Past as Fact and Fiction: From Historical Novels to Novel Histories: Reinhard Bernbeck.Part II: Reassessing Evolutionary "Firsts": Reinhard Bernbeck and Susan Pollock.7. Bleeding or Breeding: Neandertals vs. Early Modern Humans in the Middle Paleolithic Levant : John Shea (Stony Brook University, SUNY).8. Lumps of Clay and Pieces of Stone: Ambiguity, Bodies, and Identity as Portrayed in Neolithic Figurines: Ian Kuijt and Meredith Chesson (University of Notre Dame; University of Notre Dame).9. The State: The Process of State Formation as Seen from Mesopotamia: Jean-Daniel Forest (Centre National de la Recherche Scientifique, Paris).10. Archaeology, Bible, and the History of the Levant in the Iron Age: Israel Finkelstein (Institute of Archaeology, Tel Aviv University).11. Imperialism: Mario Liverani (University of Rome).Part III: Constructing Arguments, Understanding Perceptions: Reinhard Bernbeck and Susan Pollock.12. Ethnoarchaeology, Analogy, and Ancient Society: Marc Verhoeven (University Museum, University of Tokyo).13. The Ancient Sumerians in the Tides of Time: Petr Charvft (Academy of Sciences of the Czech Republic and Charles University, Prague).14. Reliquaries on the Landscape: Mounds as Matrices of Human Cognition: Sharon Steadman (SUNY Cortland).15. Archaeology and Texts in the Ancient Near East: Paul Zimansky (Boston University).16. Representations, Reality, and Ideology: Jennifer Ross (Hood College).Index
-Publisher
Archaeologies of the Middle East provides an innovative introduction to the archaeology of this fascinating region and a window on both its past and present.
Written by some of the top archaeologists of the Middle East: scholars from diverse backgrounds with a wide range of interests and intellectual approaches
Coverage spans 100,000 years: from the Paleolithic to Hellenistic times
Explores the connections between modern-day politics and the social context of archaeological practice and various underutilized approaches to archaeological interpretation
Designed for student use
-Publisher
:list Of Figures. <p>list Of Tables.</p> <p>list Of Contributors.</p> <p>series Editors' Preface.</p> <p>acknowledgments.</p> <p>1. Introduction: Susan Pollock And Reinhard Bernbeck (binghamton University, Suny; Binghamton University, Suny).</p> <p>2. A Cultural-historical Framework: Reinhard Bernbeck And Susan Pollock.</p> <p><b>part I: Producing And Disseminating Knowledge About The Ancient Near East:</b> Reinhard Bernbeck And Susan Pollock.</p> <p>3. Who Has Not Eaten Cherries With The Devil? Archaeology Under Challenge: Caroline Steele (independent Scholar).</p> <p>4. Archaeology And Nationalism In The Holy Land: Adel Yahya (palestinian Association For Cultural Exchange).</p> <p>5. Archaeology Goes To War At The Newstand: Susan Pollock.</p> <p>6. The Past As Fact And Fiction: From Historical Novels To Novel Histories: Reinhard Bernbeck.</p> <p><b>part Ii: Reassessing Evolutionary ?firsts?:</b> Reinhard Bernbeck And Susan Pollock.</p> <p>7. Bleeding Or Breeding: Neandertals Vs. Early Modern Humans In The Middle Paleolithic Levant : John Shea (stony Brook University, Suny).</p> <p>8. Lumps Of Clay And Pieces Of Stone: Ambiguity, Bodies, And Identity As Portrayed In Neolithic Figurines: Ian Kuijt And Meredith Chesson (university Of Notre Dame; University Of Notre Dame).</p> <p>9. The State: The Process Of State Formation As Seen From Mesopotamia: Jean-daniel Forest (centre National De La Recherche Scientifique, Paris).</p> <p>10. Archaeology, Bible, And The History Of The Levant In The Iron Age: Israel Finkelstein (institute Of Archaeology, Tel Aviv University).</p> <p>11. Imperialism: Mario Liverani (university Of Rome).</p> <p><b>part Iii: Constructing Arguments, Understanding Perceptions:</b> Reinhard Bernbeck And Susan Pollock.</p> <p>12. Ethnoarchaeology, Analogy, And Ancient Society: Marc Verhoeven (university Museum, University Of Tokyo).</p> <p>13. The Ancient Sumerians In The Tides Of Time: Petr Charvt (academy Of Sciences Of The Czech Republic And Charles University, Prague).</p> <p>14. Reliquaries On The Landscape: Mounds As Matrices Of Human Cognition: Sharon Steadman (suny Cortland).</p> <p>15. Archaeology And Texts In The Ancient Near East: Paul Zimansky (boston University).</p> <p>16. Representations, Reality, And Ideology: Jennifer Ross (hood College).</p> <p>index</p>
Bestsellers in Biblical Studies