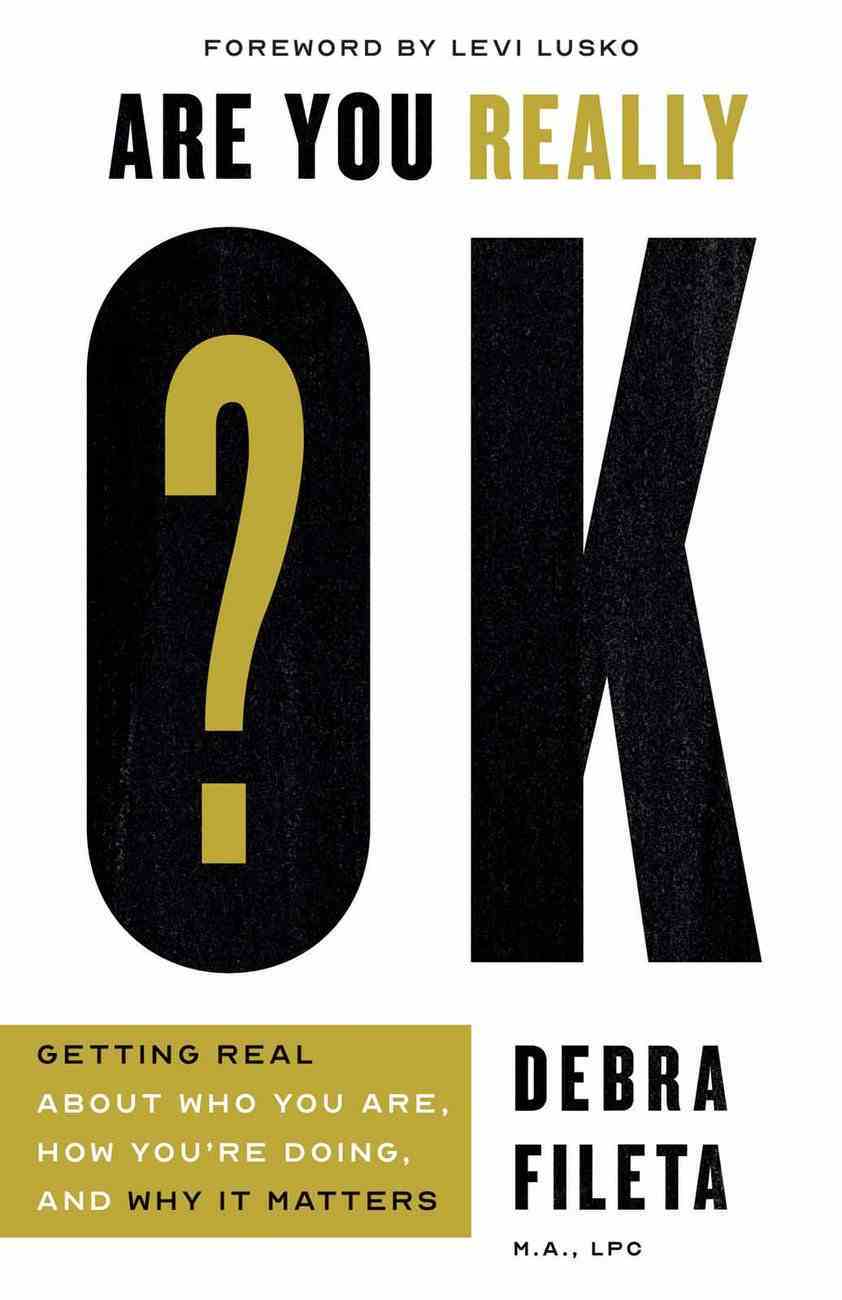 Are You Really Ok?: Getting Real About Who You Are, How You're Doing, and Why It Matters
:Just Because You're a Christian Doesn't Mean You're Healthy We tend to assume we're okay-until we're not. Getting healthy is an ongoing process that requires you to stop, dig deep, and ask yourself the hard questions. In ...
---
Expected to ship within 3 hours from Australia.
---
Free Shipping
for orders over $99.
:Just Because You're a Christian Doesn't Mean You're Healthy

We tend to assume we're okay-until we're not. Getting healthy is an ongoing process that requires you to stop, dig deep, and ask yourself the hard questions.

In Are You Really OK? author and licensed counselor Debra Fileta challenges you to get real with who you are and how you're doing spiritually, emotionally, mentally, and physically so you can recognize where you need growth and healing. You'll learn to… understand and express your emotions in healthy and helpful ways get to the root of what you believe about yourself, others, and God recognize the influences of past traumas and replace them with God's truth honestly assess your own mental health, and pursue help when it's needed prioritize your physical wellbeing and see how it affects every other area of your life It's time to get intentional about pursuing health in every part of your life. Using a combination of science, psychology, and faith, Are You Really OK? will help you get healthy from the inside out.
-Publisher
Debra Fileta is a licensed professional counselor and the author of True Love Dates . A passionate speaker, she challenges people to have a psychologically and spiritually healthy approach to relationships. Debra and her husband, John, have been happily married for more than a decade and have three beautiful children. www.TrueLoveDates.com
:<div><i>section 1: Your Heart --- Emotional Health</i><br /> &amp;#160;<br /> Chapter 1: Do You Feel What I Feel? Emotional Awareness<br /> Chapter 2: We Need To Come Up For Air - Emotional Expression<br /> Chapter 3: God Is More Real Than My Reality - Emotional Control<br /><br /> &amp;#160;<i>section 2: Your Soul -- Spiritual Health</i><br /> &amp;#160;<br /> Chapter 4: God Is _________ -&amp;#160; My View Of God<br /> Chapter 5: Hello My Name Is&amp;hellip;- My View Of Self<br /> Chapter 6: Significant Others - My View Of Others<br /><br /> &amp;#160;<i>section 3: Your Mind -- Mental Health</i><br /> &amp;#160;<br /> Chapter 7: What&amp;rsquo;s On Repeat?&amp;#160; Cognitive Distortions<br /> Chapter 8: Anxiety, Depression, And The Church - Why Mental Health Matters<br /> Chapter 9: Trauma Messes With Your Head - Peeling Back The Layers<br /> &amp;#160;<br /><i>section 4: Your Strength -- Physical Health</i><br /> &amp;#160;<br /> Chapter 10:&amp;#160; Back To The Basics - The Body-mind Connection&amp;#160;<br /> Chapter 11:&amp;#160; Go, Go, Go, Go, Stop - Learning To Rest<br /> Chapter 12: One Year From Today - Change Starts Now<br /> &amp;#160;</div>
Bestsellers in Christian Living