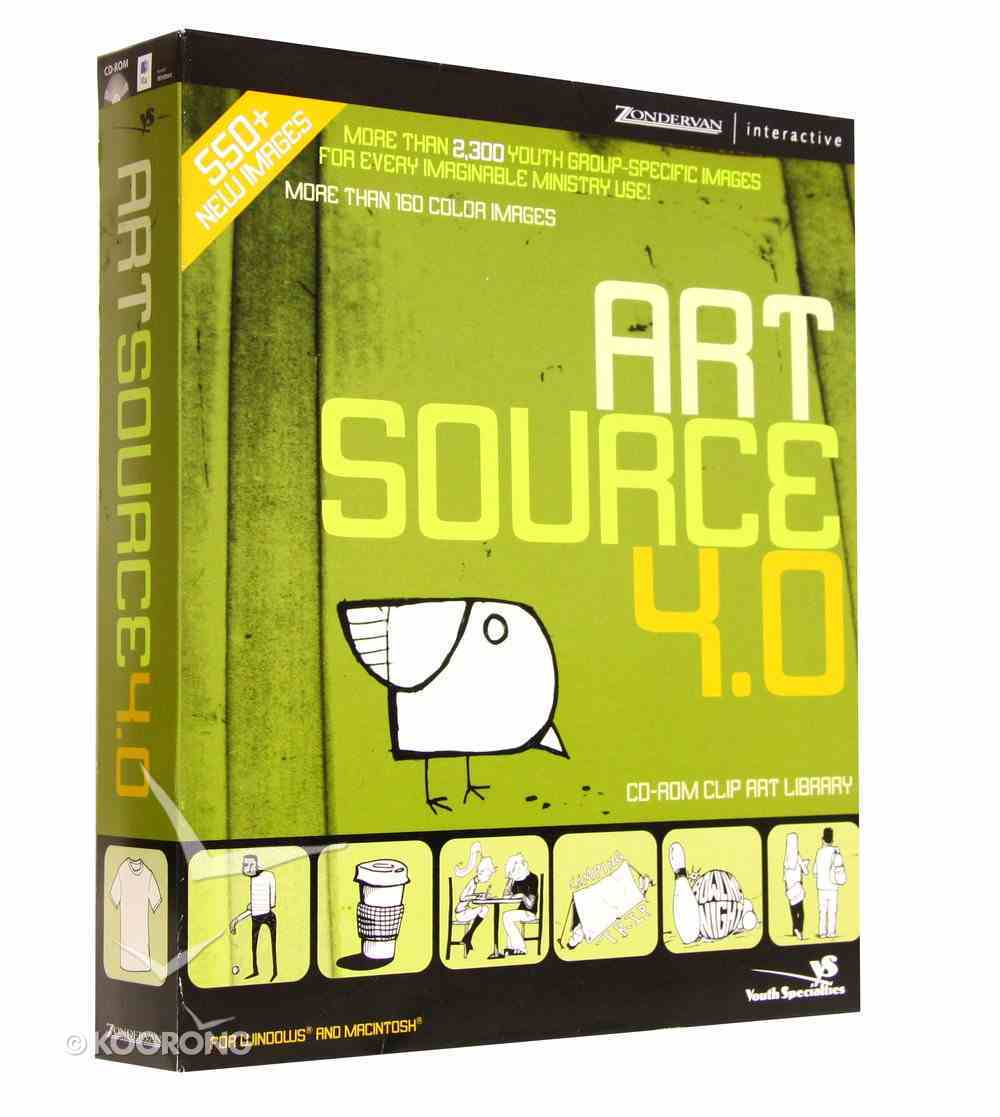 Art Source CDROM (Version 4.0)
More than 2,300 Youth Group-Specific Images for Every Imaginable Ministry Use! Everything you need-and more-for every imaginable use in every possible youth ministry publicity, promotion, and communications need! You know what you have to say-but what gives it the sizzle...
Out of Stock
Available to Order
---
Expected to ship in 5 to 6 weeks from Australia.
---
Free Shipping
for orders over $99.
More than 2,300 Youth Group-Specific Images for Every Imaginable Ministry Use! Everything you need-and more-for every imaginable use in every possible youth ministry publicity, promotion, and communications need! You know what you have to say-but what gives it the sizzle to get it noticed in brochures, calendars, mailers, handouts, posters, or the youth group's website? Here it is! ArtSource CD-ROM Version 4.0! This CD-ROM has 2,000+ images for youth group activities, borders, symbols, attention getters, holidays, sports, phrases, verses, oddities, and spiritual topics. Images of every kind of event, meeting, party, trip, or camp on your calendar are also included. Better yet, these images offer you layers of versatility- a guarantee of innumerable uses! Different art styles ... humorous and serious images ... sacred icons and popculture references! The easy drag-and-drop system lets you import the clip art images into your own digital or print applications. There are five hundred new black and white images and fifty of those are also included in color. ArtSource CD-ROM Version 4.0 can be used on Windows or Macintosh, so anyone involved in ministry- including youth pastors, youth group leaders, church event planners, retreat coordinators, volunteers, pastors, secretaries-will find this an invaluable resource. Pentium III processor Windows 98, ME, 2000 or XP Internet Explorer 5.5 (6.x) 128 MB RAM 800X600 minimum screen resolution 16-bit high color 15 MB of hard disk space Quicktime 6 or newer (not included-internet connection required for download) PowerPC G3 Mac OS X (10.1.x) 128 MB RAM 800X600 screen resolution Color settings: Thousands or millions 15 MB hard disk space Quicktime 6 or newer (not included-internet connection required for download)
-Publisher
More than 2,300 Youth Group-Specific Images for Every Imaginable Ministry Use!Everything you need--and more--for every imaginableuse in every possible youth ministry publicity, promotion, and communications need!You know what you have to say--but what gives it thesizzleto get it noticed in brochures, calendars, mailers, handouts, posters, or the youth group's website?Here it is! ArtSource CD-ROM Version 4.0! This CDROMhas 2,000+ images for youth group activities, borders, symbols, attention getters, holidays, sports, phrases, verses, oddities, and spiritual topics. Imagesof every kind of event, meeting, party, trip, or camp onyour calendar are also included.Better yet, these images offer you layers of versatility--a guarantee of innumerable uses! Different art styles ...humorous and serious images ... sacred icons and popculturereferences!The easy drag-and-drop system lets you import the clipart images into your own digital or print applications. There are five hundred new black and white images and fifty ofthose are also included in color.ArtSource CD-ROM Version 4.0 can be used on Windows(R) or Macintosh(R), so anyone involved in ministry--including youth pastors, youth group leaders, church event planners, retreat coordinators, volunteers, pastors, secretaries--will find this an invaluable resource.
-Publisher
More than 2,300 Youth Group-Specific Images for Every Imaginable Ministry Use Everything you need---and more---for every imaginable use in every possible youth ministry publicity, promotion, and communications need You know what you have to say---but what gives it the sizzle to get it noticed in brochures, calendars, mailers, handouts, posters, or the youth group's website? Here it is ArtSource CD-ROM Version 4.0 This CD-ROM has 2,000+ images for youth group activities, borders, symbols, attention getters, holidays, sports, phrases, verses, oddities, and spiritual topics. Images of every kind of event, meeting, party, trip, or camp on your calendar are also included. Better yet, these images offer you layers of versatility--- a guarantee of innumerable uses Different art styles ... humorous and serious images ... sacred icons and popculture references The easy drag-and-drop system lets you import the clip art images into your own digital or print applications. There are five hundred new black and white images and fifty of those are also included in color. ArtSource CD-ROM Version 4.0 can be used on Windows or Macintosh, so anyone involved in ministry--- including youth pastors, youth group leaders, church event planners, retreat coordinators, volunteers, pastors, secretaries---will find this an invaluable resource. Pentium III processor Windows 98, ME, 2000 or XP Internet Explorer 5.5 (6.x) 128 MB RAM 800X600 minimum screen resolution 16-bit high color 15 MB of hard disk space Quicktime 6 or newer (not included-internet connection required for download) PowerPC G3 Mac OS X (10.1.x) 128 MB RAM 800X600 screen resolution Color settings: Thousands or millions 15 MB hard disk space Quicktime 6 or newer (not included-internet connection required for download)
-Publisher