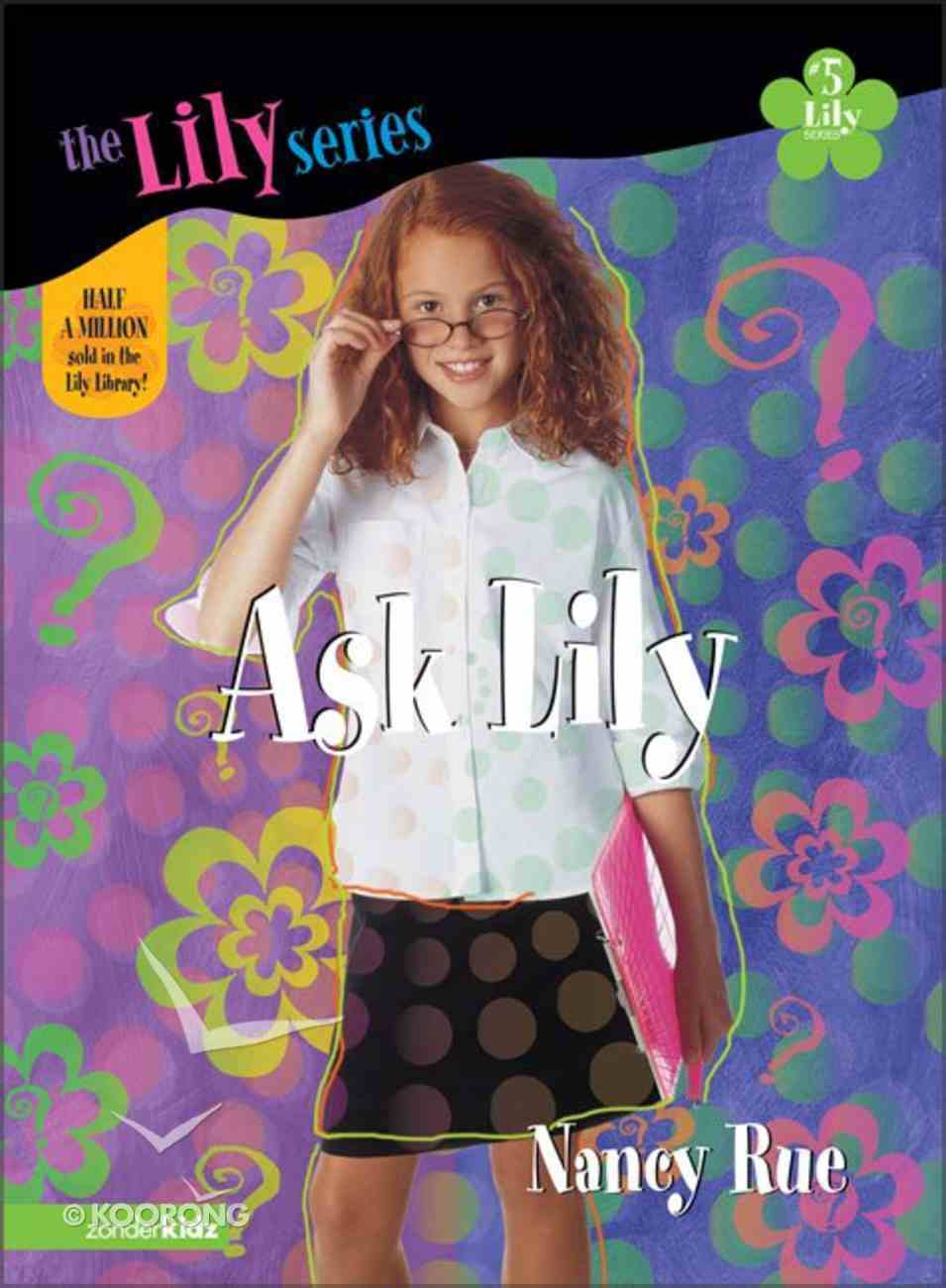 Ask Lily (#05 in Young Women Of Faith Series)
At last - Lily 's in middle school and it doesn 't take long for her to get right into the thick of things. She joins the school newspaper staff and becomes the anonymous writer of the "Answer Girl" advice...
---
Free Shipping
for orders over $99.
At last - Lily 's in middle school and it doesn 't take long for her to get right into the thick of things. She joins the school newspaper staff and becomes the anonymous writer of the "Answer Girl" advice column. It 's all in fun at first - Lily 's witty answers to such questions as "What do I do about a dog that keeps eating my homework?" Then Lily gets a more serious query and actually gives helpful advice, and it 's not long before word gets around that the mysterious "Answer Girl" can solve ANY problem. Before long Lily thinks she 's Dr. Know-it-all ,reading every sidewalk psychology and self-help book she can lay hands on, watching afternoon talk shows, and even tries to talk her parents into letting her see a therapist, just so she can get firsthand knowledge. But things quickly go sour and as usual Lily steps outside her boundaries. When her "expert" advice nearly cost her a close friend, Lily realizes there isn 't always a clear-cut answer, particularly in those grey areas. But once again, Lily learns that God is the REAL "Answer Man.
-Publisher
Nancy Rue has written over 100 books for girls, is the editor of the Faithgirlz Bible, and is a popular speaker and radio guest with her expertise in tween and teen issues. She and husband Jim have raised a daughter of their own and now live in Tennessee
Lily, come on! We're gonna be late!' 'I can't get this stupid locker open!' 'We're gonna get in trouble---you heard what Mrs. Reinhold said---' Lily blew her mop of red hair out of her face and attacked the lock again. 'Yeah, Reni,' she said. 'If we come to class without our literature books we're chopped meat. Do you remember my combination?' 'I can't even remember mine!' Reni glanced over her shoulder at the last of the kids streaming out of the locker area toward their classrooms. 'We're gonna get busted for being late, and Mr. Lamb's gonna hear about it, and that's gonna go against me making All-State Orchestra.' Lily gave the lock another vicious twist, and the locker door popped open. Adventures in World Literature tumbled out onto her foot. Reni snatched it up and made off for D--104. Still wincing, Lily slammed the locker door, slung her backpack (which was still gaping open) over her shoulder, and limped after Reni. You're going to like middle school so much more than elementary, Lily, Ms. Gooch, her sixth-grade teacher, had told her at the end of last year. 'Oh, yeah, I adore it,' she muttered to herself as she hobbled the last few steps to her classroom. There were two different locker combinations to remember---PE and a book locker---and seven different teachers' rules to follow---plus the nine hundred rules Cedar Hills Middle School had on its list. Even now, she realized she was walking on the wrong side of the hallway, and she had to swerve abruptly to get back to where she was supposed to be. Bad move. Three binders escaped from the unzipped backpack and dumped themselves and their contents in an arc across the floor. Last night's English homework made a beeline for the area right under the water fountain, where it soaked up the remains of someone's drink. Ink from Lily's purple gel pen oozed sickeningly down the paper. Reni turned from the classroom doorway, her brown eyes popping wide. 'Oh, no, you did not!' she said. 'Look at my homework!' Lily said. 'I am so busted!' Reni let her own backpack fall with a thud and dove for Lily's math binder that was splayed out near the trash can. 'No---get to class!' Lily said. 'No point in both of us getting in trouble.' But the bell rang before Reni could answer, and a shadow fell over them from the doorway. It was Mrs. Reinhold. 'We're not late,' Reni said to her, scrambling up with the last of Lily's belongings in both hands. 'Lily dumped her backpack.' 'I can see that,' Mrs. Reinhold said. She adjusted her almost-too-tiny-for-her-eyes glasses with the tips of both index fingers, as if she wanted to get a better focus on Lily, who was now using two arms to hug her backpack against her chest. Its contents poked out like yesterday's recycling pile. Haven't you ever seen anybody spaz out before? Lily wanted to say to her. She was sure Mrs. Reinhold had. She'd probably been a seventh-grade English teacher since Noah was in middle school, and she'd definitely brought her disciplinary methods with her off the ark. Right now she was directing her pointed nose at Lily and frowning. 'If you had given yourself less time for visiting and more time for getting to class, Liliana, this wouldn't have happened,' Mrs. Reinhold said in the voice that always reminded Lily of cobwebs. 'Are you gonna mark us tardy?' Reni said. ''Gonna'?' Mrs. Reinhold said. 'I'm not familiar with the word 'gonna.'' Lily pulled her full lips into the biggest smile she could muster in the face of fear and slipped past Mrs. Reinhold toward her desk in the first row by the door. At least she didn't have to parade her trash heap of a backpack in front of the whole class. But Chelsea Gordon was sitting in Lily's seat and curling her lip at her as if Lily had yet again proven herself to be the biggest geek on the planet. 'Liliana, you are now in the far row,' Mrs. Reinhold's cobweb voice rang out behind her. 'I've done some rearranging to eliminate the visiting that has been transpiring.' Lily's heart sank as her eyes moved in the direction the teacher was pointing. Ashley Adamson, Chelsea's best friend and closest clone, was sitting in front of Lily's new desk. No one could make Lily feel more like she'd just graduated from Un-cool School with high honors than Ashley. 'Do I have a new seat?' Reni asked. 'No,' Mrs. Reinhold said. 'I've separated you and Liliana as well.' 'But we don't talk!' Reni said. 'And I want to keep it that way.' Lily heard a few snickers as she crossed to her place by Ashley. At least Shad Shifferdecker's not in here, she told herself. He would already be standing on his chair, pointing out the purple gel ink that was now trailing down Lily's right leg. She slid into her seat, licked her fingers, and swiped at her leg. 'Please pass your homework forward,' Mrs. Reinhold said. 'And no, I will not answer any questions about it.' The Corn Chex Lily had eaten for breakfast turned to cement in her stomach as she looked at her homework paper. Only the parts around the edges were still legible. The rest looked like one of those inkblot tests they give mental patients. She raised her hand. 'I said no questions,' Mrs. Reinhold said. 'I just need to know if I can copy mine over really quick. It got water on it out in the hall---' 'Really 'quickly,'' Mrs. Reinhold said. 'And no, you may not.' Why was it that the woman answered every question with a grammar lesson? Lily was dying to know if Reni had noticed that, but there was no asking her, as far away as she was now sitting. Lily scanned the room again and found Suzy, her other closest friend. Mrs. Reinhold hadn't moved her either. Why would she? Suzy never did anything wrong. 'So are you gonna pass in your paper or what?' Lily jerked her head around. Ashley was looking at her, lip in its usual curl. The only time it wasn't rolled up under her nose was when she was flirting with some boy.
Bestsellers in Confident Readers (Age 8-12)